Travelers to Denver can keep their fitness schedules at the Grand Hyatt Denver, a gorgeous newly renovated hotel in the heart of the downtown's business and financial district. Not only does the hotel have a spacious 24-hour fitness center and large indoor pool, it added a rooftop jogging track and tennis court a few years ago—the only such facility in downtown Denver. The outdoor "Skycourt" overlooking Denver's growing skyline also has a shuffleboard court and fitness stations. The facility is open year round; and with Denver's mild climate, a game of tennis or a mile-long jog (12 laps) is not out of the question any time of year.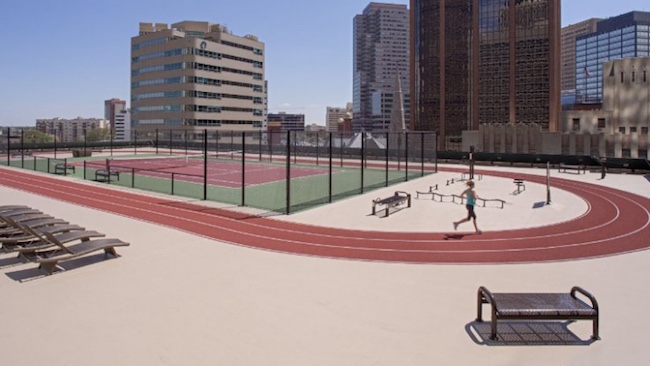 Grand Hyatt Denver for Business Travelers
The award-winning hotel caters to business travelers and conventions, as well as leisure guests. For one, high-speed Internet access is free in all 516 rooms. In addition, there's a huge 24-hour FedEx Office in the hotel's adjoining tower as well as a guest business center in the main lobby. A variety of tastefully decorated versatile meeting rooms and five beautiful ballrooms serve every kind of meeting and event. One of these is the spectacular Pinnacle Club (formerly the prestigious Petroleum Club) on the 38th Floor. With windows on all sides for 360-degree views—from the Rocky Mountains on the west to Denver International Airport on the prairie—the club claims to have the farthest views (10,600 miles) of any meeting facility in the U.S. I easily could see Pikes Peak more than 100 miles away. Beside the views and sunsets, the interior is stunning with handblown crystal light fixtures, rich cherrywood and brass accents. It's one of Denver's most iconic rooms.
Anchoring the hotel is a dazzling lobby with dozens of single lamps hanging from a 20-foot ceiling above groupings of comfortable chairs and sofas. Two linear fireplaces set in stone on the far wall mark the Fireside Bar, a busy gathering spot for happy hour and later. Decor is contemporary Colorado, reflected in the warm earth tones, stone and wood.
Room Amenities at Grand Hyatt Denver
Our corner king room with a large picture window overlooks the city. We opened and closed the blackout shade and sheer curtain by pressing buttons on a wall panel. Cool! A pensive buffalo in a painting looks down on a large two-sided desk with a desk lamp. Three large lamps light the room; and in the middle of the night, motion-detector lights under the nightstands and bathroom sink pop on to light the way. That is an amenity every hotel room should have! There's also a fridge, safe, iron/ironing board, coffee maker, TV and alarm clock.
Dining at Grand Hyatt Denver
In keeping with the hotel's relaxed Colorado ambiance, Pub 17 is a casual brewpub featuring more than 50 Colorado microbrews that pair with menu items sourced throughout the region. It serves breakfast, lunch and dinner. Dinner categories are starters, salads/sides, burgers/sandwiches and entrees. I liked the salmon entree glazed with bourbon from Denver-based Laws Distillery. For health nuts like me, breakfast selections include egg dishes from cage-free chickens, quinoa porridge, steel cut oatmeal as well as southwestern concoctions and a chef's French toast of the day. Another option is the hot and cold buffet.
There's also a Starbucks stand and apps at the Fireside Bar.
Special Offer for Beer Lovers
To lure the leisure traveler, the hotel offers some great packages that capture the city. The most popular is the Micro Brew Walking Tour. Called the Napa Valley of Beer, Colorado is home to more than 10 percent of the nation's craft breweries—more than 230—and Denver is ranked second "Best Beer City" in the country by Travel & Leisure. So visiting Denver without going to the breweries is like being in Paris and not going to the Eiffel Tower. Grand Hyatt's deal offers lodging with a $10 discount at Pub 17 plus complimentary beer at five microbreweries close by. I've done this, and it's a great walkabout for beer lovers. Check the website for other offers.
Things To Do in Downtown Denver
Denver is a walkable city, with restaurants, museums, attractions, theatres, shops, sports venues, convention center and state capitol all within a short walk from Grand Hyatt. A free shuttle travels the length of the 16th Street Mall to Union Station. Here you can board a train for the 35-minute ride to Denver International Airport. Click here for a complete list.
Grand Hyatt Denver, 1750 Welton Street, Denver, Colorado, USA, 80202; 303-295-1234; denver.grand.hyatt.com
Claudia Carbone is an award-winning travel writer based in Denver. Read about other hotels she's visited in Sleepin' Around.