It was our summer break, and winter in the southern hemisphere. Traveling to New Zealand during the "off" season seemed appealing – flights are cheaper, lodging is always available, and there's plenty of sheep to see (they don't mind the cold).
My husband, Cliff, and I embarked on a 30+ hour journey from North Carolina to Twizel, New Zealand with our two small children. For those who dread flying internationally with super small humans, I'm here to tell you that it is 100 percent possible. Just don't forget to charge up your iPad, and don't expect to sleep.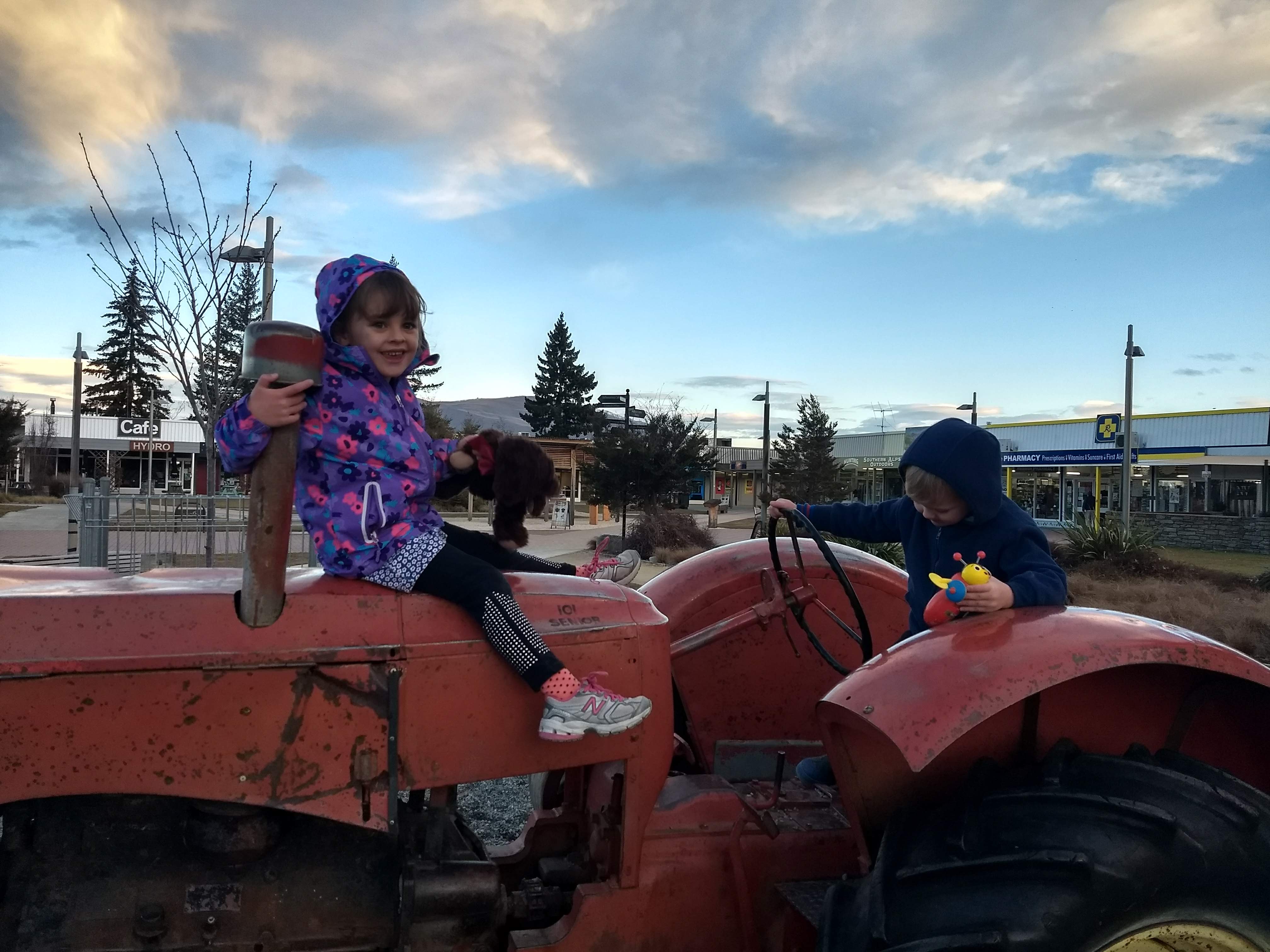 History of Twizel, New Zealand
Twizel is a small town nestled in the heart of the Mackenzie district deep in the South Island. It's about a 3.5-hour drive from the Christchurch or Dunedin airport (280km/174mi). You can also fly into Queenstown, which is a bit pricier, but will save you an hour or so of driving time (193km/120mi).
Want to ditch the rental car? There are a few bus services that pass right through Twizel. Or you can go the old-fashioned way: hitchhiking (totally legal there).
Founded in 1968, Twizel was created to fill the housing needs for construction workers at the Upper Waitaki Hydroelectric Scheme. This hydro scheme was this town's main claim to fame; in its height it boasted a whopping population of 6,000.
Currently, the population is 1,280, although it triples during the summer months, drawing New Zealand vacationers, as well as overseas tourists.
Many of the houses in Twizel are basic, non-insulated, prefabricated structures. They were originally designed to be moved to the next hydroelectricity project. However, when the hydroelectric project was ending in 1983, local residents fought to save their beloved town.
Thus, a new Twizel, New Zealand was born. This is the town my parents moved to almost 10 years ago.
Vacation in Twizel, New Zealand
Once we arrived, we dumped our oversized duffle bags, laden with endless baby gear, and took a brisk walk into the town center. We were surrounded by rolling snow-capped mountains and splendid fluffy clouds. This was a clear day for a Twizel winter.
Soon we were immersed by heavy, cold fog, one that dug deep into our bones, making us question our choice to leave behind swimming and frolicking in the hot North Carolina mountains. We pushed forward, determined to have our winter adventure.
Tekapo Hot Springs
First up was a long day soak at the Tekapo Hot Springs. This is a short jaunt from Twizel – about a 40-minute drive, but it's oh so scenic. The road winds past Lake Pukaki and its crystal blue, sparkling, postcard-like views will make you want to pull over to take a picture.
Tekapo Hot Springs is a man-made facility, although the name makes you believe that it's a true hot spring, complete with minerals and all that good stuff. It is heaven on a cold winter day.
Tekapo Hot Springs has multiple pools of varying degrees of hotness, all outside, surrounded by rugged stones and bubbling waterfalls. There's even a designated kid area, which wasn't heated but plenty of kids braved the freezing element anyway.
There's a cozy cafe to lounge in afterwards. Later in July, the snowy slope opens up for some fun tubing. There's also an outdoor skating area. And lastly, you can go at night for a soak under the stars.
Aoraki / Mount Cook

The next day we were ready for a real challenge. The kids were finally syncing up with the time change and the new climate. We packed up and headed to Aoraki (the Maori/native name), otherwise known as Mount Cook.
Mount Cook is a 45-minute scenic drive from Twizel. There's a great information center there, as well as the Sir Edmond Hillary Alpine Centre – which features informative 2-D and 3-D movies throughout the day.
We strapped the kids on us and did the 5km hike up to the iceberg-infused Hooker Lake. Even in the summer, there are big ice chunks floating in this lake. Reaching the top is a moment of grandeur – with the sun shining, the crisp wind whipping in our faces, and the stunning close-up views of Mt. Cook. Everyone stops to pull out bars of chocolate, little snack bags of chips, and their cameras/phones, of course. Selfie sticks seem to be a popular choice amongst many of the tourists.
The kids didn't seem to mind the cold, or the wind coming down from the Southern Alps. We changed their diapers and joined the others for snack time, before loading back up.
My favorite part of this track was the three massive swing bridges. I paused to watch the roaring water of the Hooker River racing below. Of course, it was at that exact moment my baby was hungry and I thought, "Why not?" and went ahead and nursed her, with her securely strapped in the baby carrier. I wonder how many others have nursed their babies while walking across this towering swing bridge.
Hiking, Skiing and Cycling near Twizel
Nature is always at your fingertips when in Twizel. There are several trails that surround the town, weaving down by the Twizel river, and heading up rolling hills. There's a great bike shop in town – Cycle Journeys – which has a wide range of bikes available to tour locally or to attempt the big Alps to Ocean trail.
This epic cycle trail is the largest continuous track in New Zealand and starts at the base of the Southern Alps, going through to the town of Oamaru. We weren't up for doing the Alps to Ocean trail this year, but we did ride our bikes up to a great look-out, dancing on the edge of a grassy green hill, feeling alive in the stimulating cold air.
Ski Areas Near Twizel

There are several ski areas near Twizel. The Ohau Ski Field is about 30 minutes away and many locals love to hit the slopes for a day, returning home in time for a hot dinner.
Mt. Dobson offers a wider range of ski trails, but it's a 1.5-hour drive. Although we're an adventuring family, we're not quite ready to put skis on our toddler. We can't even trust him to not fall off the couch.
And what about Twizel itself? This "town" is small; it's definitely more like a village. You can walk from one end of the shops to the other within minutes.
Where to Eat in Twizel
There are several great cafes to settle in for a good, hearty winter meal or a steaming cuppa (slang for tea or coffee): Shawty's, Ministry of Works, HYDRO cafe, The Musterer's Hut. Some local bands play in the cafes after dinner hours. And if you have children, there's a great playground right in the center square.
There are two small grocery stores, both named "Four Square" – odd, but each store carries slightly different products. You learn to get what you need from one, and then walk directly to the other to claim some of their deals. There's also the Twizel Events Centre, which offers a variety of local and touring productions.
At night the stars are completely visible, without the blur of city lights. Cliff, the ever-explorative scientist, was thrilled to finally see the Southern Cross. This was reason enough for him to come to the Southern Hemisphere.
If You Visit Twizel:
Author Bio: Jill Chafin grew up in a rustic log cabin without running water in the woods of Wisconsin. She is a free spirit who is always craving the next wild adventure. She is a freelance writer, an aerial dance choreographer/performer, and a fun-loving mama of two redheaded kiddos. Read more at www.jillchafin.com.