The cheery green and yellow Wengernalp Railway climbs its steep alpine route, and our sense of adventure heightens as the cogwheels hug an increasingly vertical slope.
It's a blue-sky autumn day, perfect for our hiking adventure to the car-free village of Wengen in central Switzerland.
Suddenly, coming into view from the window of the train, the glistening snow-capped peaks of the Jungfrau massif loom large.
We are in the shadow of the big three: Eiger, Mönch and Jungfrau, and I'm already awestruck by the views I might capture during our week in the Alps.
For six family members who all love to hike, Switzerland had catapulted to the top of our list of appealing destinations for a special trip, and we chose a rental chalet in Wengen as a base for exploring the Jungfrau region of the Bernese Oberland.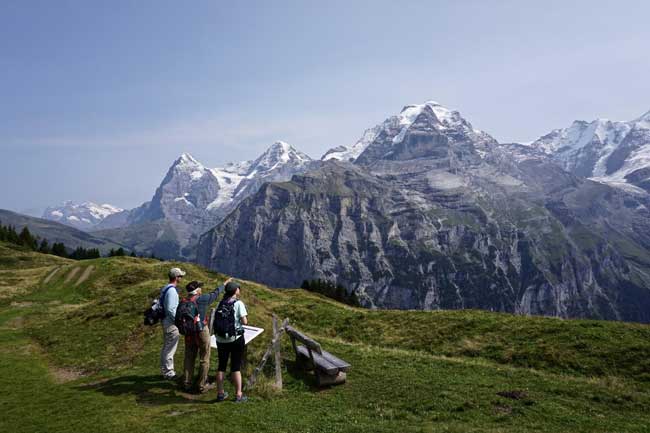 Hiking in Switzerland: A Hikers' Paradise
Perched on a natural mountain terrace above the Lauterbrunnen Valley, not far from Interlaken, Wengen is one of several car-free villages that is both a winter resort and summertime hub for hiking.
Throughout the valley and surrounding mountain terrain, hiking trails range from easy walks to challenging climbs, with options for all ability levels.
Trails are well marked with a color-coded system that informs the difficulty rating and average time required between points.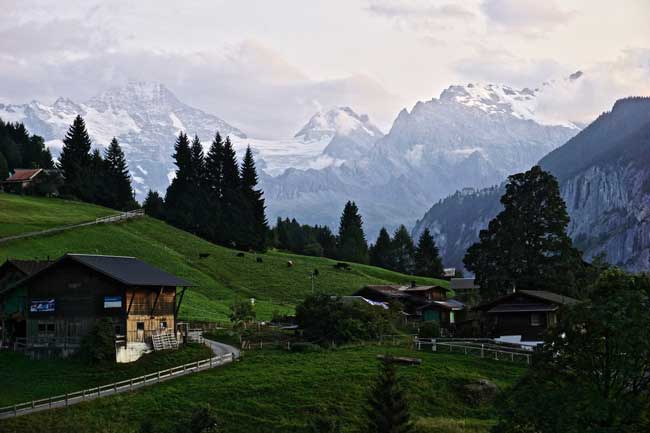 The guidebooks are right – while in Wengen, don't miss Mannlichen and Kleine Scheidegg. You can take the tram or hike the steep, switchback trail to Mannlichen, where there is a restaurant with amazing vistas, then follow the level path to Kleine Scheidegg for a leisurely walk straight towards the stunning triple peaks.

From here, you can return to Wengen by train or head up the mountain to Jungfraujoch, Europe's highest railway station.
Across the valley, the craggy Schilthorn peak dominates the landscape, which is famous for inspiring the filming of James Bond's sixth movie, "On Her Majesty's Secret Service."
From Lauterbrunnen or Murren, take the cable car (or hike up, as our daughters did) to the revolving Piz Gloria restaurant and the fascinating Bond World 007 exhibition.
Several times, our family split up to do different hikes, with some choosing the steep climb while others took a tram ride or gentler path.
Each day on the trail brought novel experiences, from meeting curious goats and canine friends to finding ourselves in the midst of a failed cattle drive, which sent us scampering for the nearest boulder in the open field.
We came upon welcoming alpine restaurants and even discovered a self-serve chalet offering cold drinks, cheeses and snacks with the honor system payment.
After daylong outings, we often prepared evening meals at our chalet, and the cooks among us took the initiative of gathering provisions at the village market, cheese shop, bakery and chocolatier.
Our host offered produce from the house vegetable garden, and fresh eggs and sausages were available from a neighboring farm.
Getting Around in Switzerland
Spectacular mountain settings that are accessible by cog rail, funicular or aerial tram are a hallmark of the Swiss outdoor culture, and many of these alpine hideaways support the adage, "Half the fun is getting there."
With Switzerland's efficient rail system connecting to most mountain destinations, we opted for the Swiss Travel Pass (which includes rail, bus and boat) instead of renting a car. The pass also allowed us flexibility to explore in different locations as desired.
Not surprisingly, the Swiss travel system is like clockwork. From point-to-point rail travel to daily mountain jaunts, we found the network to be pleasant and convenient, with short connections and no lost time. Select mountain excursions are included with the Swiss Travel Pass; others are discounted.
Best Views in Switzerland
I took extra time to explore other popular mountain destinations near Interlaken and Lake Lucerne – including the iconic Mount Pilatus, home of the world's steepest cogwheel railway, with a 48 percent gradient.
I also discovered some lesser-known gems, leaving countless others for another trip. Here are a few favorites: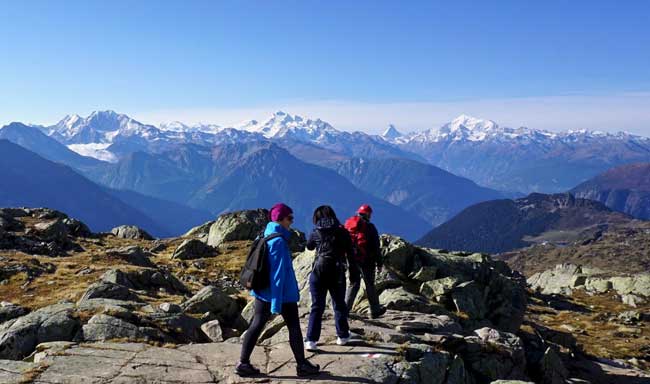 Bettmeralp
Accessible by mountain tram, this high-altitude car-free village feels a bit surreal, yet authentic; you may ride the morning tram with youngsters heading to school.
The village is a gateway for guided hikes to the Great Aletsch Glacier, a UNESCO World Heritage site. Take the aerial tram to Bettmerhorn or to the highest point at Eggishorn for glorious panoramas.
Brienz Rothorn
A clattering and chugging steam rack railway travels high above the turquoise waters of Lake Brienz to where you think no train could go.
Passengers enjoy open-air cars for unusual geologic scenery of high cliff walls and knife-edge peaks. On top, you can walk around the summit, stay overnight or have lunch at the lodge.
Engelberg
A favorite among locals for summer and winter alpine sports, this village is also home of Titlis Rotair, the world's first revolving cable car. Visitors can watch cheese-making at the historic monastery dairy and take a farmer's mini cable car, called a "Buurebahnli," for a lift to hiking trails.
Harder Kulm
Interlaken's local mountain offers a funicular ride to the top for a spectacular overlook across the valley floor between Lake Brienz and Lake Thun. Enjoy walking trails, dine at the Panorama Restaurant, or relax on the terrace against the backdrop of the mighty Jungfrau.
Schynige Platte
This small plateau surrounded by steep alpine meadows is reached by a scenic seven-mile journey on a nostalgic cog railway, dating from 1893.
There is a historic hotel, recently restored in its Belle Epoque-era style, and a sun terrace restaurant with long-range views. Visitors may enjoy alphorn music, a unique Alpine Botanic Garden, and walking paths that traverse the hills.
Find the best guided hiking trips in Switzerland at Explore-Share.com
Author Bio: Ann lives in Tennessee and is a member of Society of American Travel Writers. She contributes to regional print and online travel publications. Hiking, biking, and cultural quests are usually on her agenda, and always in search of postcard vistas, her mantra is, "On a clear day, get to the top!"