Is he smiling or frowning?  What is he thinking as he casts an eerie look upon the valley?
At first glance, I couldn't really see "The Face" of Aoraki/Mount Cook, New Zealand's tallest mountain, because its snow-dusted peak was shrouded in a cloud swirl.
But on a momentary afternoon clearing and against a solid blue sky backdrop, a look through my camera's telephoto lens revealed it: a circular countenance with seemingly furtive eyes and a protruding nose.
"I see 'The Face' each day and have the greatest respect for it. Some people can never see it, so you're very privileged," local restaurant owner and author Mary Hobbs tells me. "It's always there. It's just that some can see it and others cannot no matter how hard they try," says Hobbs, who writes about New Zealand's rugged outdoors.
"I send it love," she says. "I walk up some of these hills almost every day and just say thank you."
It's my second day touring the Mount Cook Region of New Zealand's cloud-piercing Southern Alps, stretching along the South Island's western edge. It's where the 12,316-foot high Aoraki/Mount Cook adds to the dramatic skyline of 10,000-foot and higher peaks forming mountain ranges with such names as Hells Gates and The Nuns Veil, all within the 270-square mile Aoraki/Mount Cook National Park.
The peaks tower over the park's several moving glacial fields nestled in valleys with commanding rocky ridges and sturdy pine tree forests, including where the Hooker and Tasman valleys merge. The latter bears the namesake and sits at the mouth of the 17-mile long Tasman Glacier, New Zealand's largest.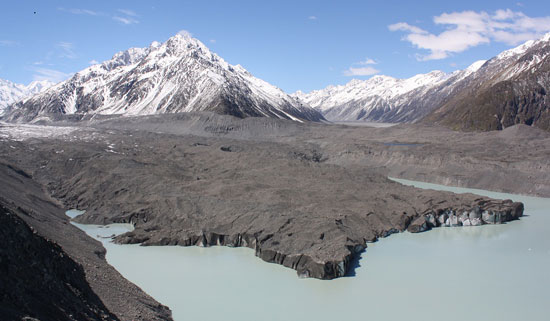 From my vantage point in Mount Cook Village, a tourist retreat of sorts nestled along Hooker Valley's mountainous edge, the locals here tell me "The Face" changes constantly. Some embrace the superstition with strong spirituality, but others scoff saying it's simply a result of blustery weather patterns, mini avalanches and shifting snow drifts.
"You always have that presence of the mountain and if you live in a place like this, it's very important never to forget the mountain," says Hobbs. "I think it's really to do with the spiritual nature of the mountains, what they give to us and the mood they set."
"Just a bit of imagination is needed on behalf of the viewer to transform rock, snow and ice into the outline of a face," counters Megan Calder, a spokesperson with Aoraki/Mount Cook Alpine Village. "I think it's a case of our locals spending so much time staring at our beloved mountains that the imagination runs wild and we start making out images in the surrounding landscape."
The name Aoraki comes from the native Maori people, whose legend has it that the mountain was formed when a boy named Aoraki and his three brothers came down from the heavens.
Sons of the Sky Father Rakinui, they came to visit their Earth Mother Papatuanuku, when their canoe became stranded on a reef and overturned. The brothers climbed atop the canoe, but were soon frozen by the south wind, turning them to stone. Their canoe became the South Island. Aoraki became the tallest mountain, and the brothers formed the rest of the Southern Alps.
The first European known to see the mountain was Dutch explorer and merchant Abel Tasman in 1642. British Admiral John Lort Stokes, however, named it more than 200 years later to honor Captain James Cook who sailed around New Zealand in 1770.
Since the late 19th century, Aoraki/Mount Cook has lured mountain climbers up its vast slopes. On Christmas Day in 1894, three self-taught New Zealand climbers scrambled to beat an English mountaineer from being the first to reach the top. Aoraki/Mount Cook later became a training ground for New Zealand native Sir Edmund Hillary, who climbed it in 1948. Hillary became a legend five years later when he and Nepalese Sherpa mountaineer Tenzing Norgay were the first known climbers to successfully scale Mount Everest.
With its sweeping views of Aoraki/Mount Cook and surrounding ranges, Mount Cook Village includes the multi-story and upscale Hermitage, the National Park's only hotel, and the Sir Edmund Hillary Alpine Center, a museum showcasing his mountaineering conquests. Outside the Center stands a statue of Hillary staring intently toward Aoraki/Mount Cook's snow-dusted peak.
The Center's exhibits highlight Hillary's first visit to the mountain during the summer of 1939-40, and how he returned for practice runs before successfully scaling it in 1948. Through photographs and displays, the museum also notes his expeditions up Mount Everest and to the South Pole.
During a quiet moment, I speak with local mountain climber Phurenje Sherpa, whose aunt married Tenzing Norgay's grandson. As a child, Sherpa attended one of the Himalayan schools Hillary established through his philanthropic trust.
"Sir Edmund Hillary was a mentor to me," he tells me. "When I came to New Zealand, I went to see him and he was so pleased that one of his students would come to live in New Zealand."
"He was such a wonderful person and that's why I named my son after him, to honor him," Sherpa says.
Mount Cook Village is also the starting point for numerous hiking trails winding through the lush alpine valley. Hikes range from easy one-to-two hour walks to overnight hikes, leading through rocky and forested terrain to the edges of glacial lakes.
I embark on a two hour roundtrip hike across Hooker Valley with its panorama of spectacular snow-dusted mountainsides. The trek leads us past the Alpine Monument, a pyramid-shaped stone structure topped with two pick axes, serving as a memorial to climbers who perished in the park. Our stopping point is an overlook with a view of Mueller Glacier Lake, although the trail continues a short distance farther to the chalky water, blue-tinted Hooker Glacier Lake.
The next day, we board a helicopter to the Tasman Glacier where, upon landing, I hear the crunch as my feet step onto freshly-fallen snow that will soon be part of thick glacial ice.
"It's just something that can't be touched – it's totally natural," says chopper pilot and guide Mark Hayes. "The glacier is alive – no two ways about that. It moves eight inches a day and changes all the time."
Slowly receding like most glaciers around the world, the Tasman Glacier's blackened rock-covered edge breaks apart into icebergs and melts into the milky blue waters of the Tasman Glacier Terminal Lake. The lake's opaque color is due to a high concentration of "rock-flour" or finely ground rock from the moving glacier. Local guides tell me the glacier is losing about 200 meters a year, but snowfall continues to add to its thickness, as it takes 30 feet of snow to compress into one foot of glacial ice.
In the afternoon, I gaze upon yet another view of the Tasman Glacier Terminal Lake from above – this time, by reaching the top of an adjacent mountaintop. To get there, we traversed rock and gravel-filled roads in 4×4 vehicles.
"It's a bit of a moonscape and it's so crystal clear up here," says guide Willy Nunn. "The air taste delicious."
As for Aoraki/Mount Cook, it's always in view – always looking over the Alpine Village and surrounding valleys. So what's it like living under its shadow?
"You're here on its terms of nature, and you're always reminded of that through the varying degrees of weather," notes Hobbs. "It can be fierce and wild. It can be sunny and beautiful, or it can be misty and ethereal. But it's always exciting and always very special."
"I think in an interesting way it gives you a sense of balance of life," she adds. "That's how I would describe it."
If You Go
https://www.doc.govt.nz/parks-and-recreation/national-parks/
https://www.hermitage.co.nz
About the author: A former television news reporter, freelance travel writer Richard Varr is a member of the Society of American Travel Writers (SATW).  His work has appeared in publications and websites including Porthole Cruise Magazine, Islands, Good Sam Club's Highways, AOL Travel, the Dallas Morning News, Christian Science Monitor and Sydney Morning Herald.  Visit his blog at: varrtravel.wordpress.com