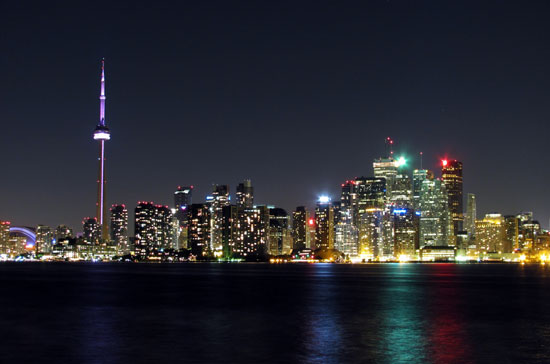 Tall, skinny row houses stand shoulder to shoulder like soldiers at attention. In narrow streets, people celebrate with abandon this June day—blaring car horns, flying green flags and shouting with glee. A national holiday? Well, sort of. The Portuguese had just won a game in the Soccer World Cup, and this is their hood.
Toronto is made up of many neighborhoods like this one: Little Italy, Chinatown, Greektown, Little India, Koreatown. Visiting this city in the Canadian province of Ontario is like taking a trip around the world.
From Europe to Asia, from the Caribbean to the Mediterranean—the diversity of more than 100 cultures gives the city its unique character. With each nationality lending its own cuisine, festivals, imports, music, language and traditions, Toronto is an inimitable place to visit and an even more wonderful place to learn about and appreciate other cultures.
Torontonians are proud of this multiplicity and take advantage of it to the fullest. You want beet borscht? Bagels and lox? Sushi? Right this way.
Sprawling on the edge of Lake Ontario, the largest city in Canada and the fifth largest in North America (after New York, Mexico City, Los Angeles and Chicago) is unexpectedly clean, pleasant and quite charming.
With a low crime rate, it lends itself to strolling at night without concern. Besides ethnic neighborhoods, other distinct hoods march to their own beat, and exploring them one by one is a good start to touring the city.
The Neighborhoods
Head to the bustling downtown area and Yonge Street, the world's longest street stretching from Lake Ontario to the far side of Lake Superior, and you'll find international shops, restaurants, bars and event venues. In its entertainment district, top Broadway shows, operas, classical and local productions enjoy long runs at a cluster of theatres.
Look down and see Canada's Walk of Fame, where national legends like Celine Dion, Jim Carrey and Wayne Gretzky are immortalized with buffed marble and granite stars of stylized maples leafs embedded in the sidewalk.
Here also is the Eaton Centre—a huge five-layered shopping mall enclosed under glass skylights and connected to the subway system—and the Hockey Hall of Fame housed in an ornate historic building at Yonge and Front St. The world's most comprehensive collection of hockey memorabilia lives here, including the Stanley Cup, the real Stanley Cup, as well as the traveling replica.
Have you ever watched a baseball game indoors or from your hotel room? You can do both at the Rogers Centre, a retractable-roof stadium connected to the Renaissance Hotel. The Toronto Bluejays play here, while the NHL's Maple Leafs, the NBA's Raptors and the Toronto Rock Lacrosse Team call the Air Canada Centre home.
Also in the downtown core is The Village, Canada's largest gay community, where Halloween is celebrated in shocking style.
In the elegant Bloor/Yorkville neighborhood, Victorian courtyards and alleyways are alive with outdoor cafes, designer boutiques, antique shops and art galleries. This trendy address is the perfect spot for Santé, the Bloor-Yorkville Wine Festival every May and the prestigious Toronto International Film Festival that takes place in September.
The city's waterfront district Harbourfront Centre is worth exploring for its shopping, cultural attractions and festivals. You can view the full scope of the city skyline from two very different perspectives: one from a ferry that shuttles tourists from the docks to The Island, a collection of car-free islands across the bay, or from the top of downtown's iconic CN Tower, the tallest freestanding building in the western hemisphere at 1,815 feet.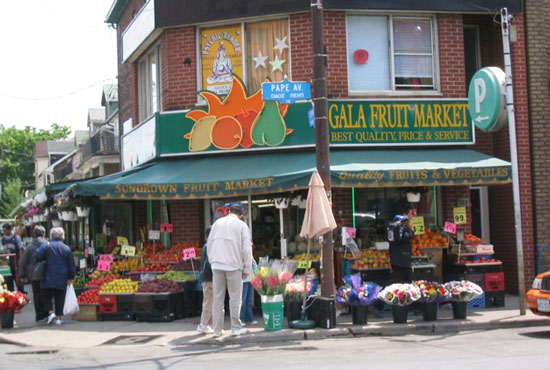 Besides serving as a huge tourist attraction, the needle-nose tower solved the city's telecommunications issues when it was completed in 1976. From the tower, you can see The Beaches, another neighborhood village 15 minutes from downtown Toronto. Complete with wooden boardwalk, clapboard cottages and biking trail, this laid-back area strikes a contrast to Toronto's urban lifestyle.
For history and architecture, visit Old Town where the city's first buildings were established in 1793. Fort York and a number of other historic houses and museums tell the Toronto story.
The world-renowned St. Lawrence Market operates a block from the site of the original market. Here local farmers and food artisans, antique dealers and flea marketers sell their goods. To get the full experience at the Saturday Farmers Market, enjoy Peameal bacon on a bun, a salt-and-sugar-cured extra lean ham rolled in cornmeal, a Toronto specialty.
Kensington Market is a multicultural neighborhood of several streets that used to comprise the Jewish community. Now heavily influenced by South and Central America, Asian, Caribbean and African immigrants, the eclectic market—indoor and outdoor—is the best place to shop for vintage clothing, among other unique treasures.
Many more neighborhoods and districts hold a myriad of interests for tourists, and getting to and around them is easy, thanks to the Toronto Transit Commission (TTC). One-way fares are interchangeable between buses, subways and streetcars. For longer trips, the GO Transit train links Toronto with areas outside the city.
If You Go
Ontario Tourism
Toronto sits across the Niagara River from Buffalo, NY, and is one of the southernmost cities in Canada with a latitude nearly equal to Northern California. Passports are required for all visitors. A Goods & Services (GST) and a Provincial Sales Tax (PST) are charged on nearly everything you buy in Toronto. You can apply for a rebate on the GST if you get your receipts validated by Customs upon leaving the country. Brush up on your French; it and English are the official languages. Other languages you likely will hear are Chinese, Italian, Tamil, Portuguese and Spanish.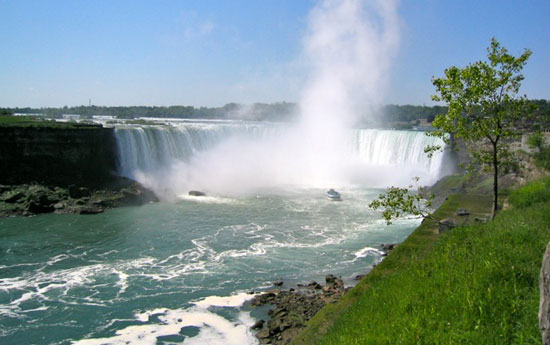 Day Trips
Though Toronto has many non-urban pockets like parks, gardens, golf courses, ravines and beaches, its countryside is worth exploring too. Some of Ontario's most fabulous places lie within 90 minutes of the city.
Take a day to visit the world's Seventh Wonder Niagara Falls, about 70 miles southwest. The falls straddle Canada and New York State, but their magnificent span is best seen from the Canadian side.
For a deafening close-up and often wet experience, board the Maid of the Mist tour boat that rides the waves of the Niagara River right up to the roaring torrents for an exhilarating view. Spotlights wash over the falls at night and fireworks light them up Friday and Sunday nights in the summer.
A short drive north of Niagara Falls takes you through Ontario's scenic wine country where two dozen or so wineries produce Icewine, a Canadian delicacy.
The jewel of the Niagara Peninsula is the picturesque historic town called Niagara-on-the-Lake. Its gentle climate and genteel way of life—with elegant homes and gardens, art galleries, upscale shops and restaurants—draw people from the city and around the country.
Its most famous cultural attraction is The Shaw Festival, a year-long theater season dedicated to the works of George Bernard Shaw, his contemporaries and the period of his lifetime. The festival is the second largest theatre company in North America after the Stratford Festival in Stratford, Ontario, another day-trip destination.
Ninety minutes to the north, the Georgian Bay lies at the end of the Niagara Escarpment, a long mountainous ridge that begins at Niagara Falls and runs through eight counties of Ontario. Its northernmost end is steep enough to be ski slopes for four private ski clubs and Ontario's largest public ski area Blue Mountain. By Colorado standards, its 720 vertical is a mere foothill, but Intrawest found it worthy enough to develop into a four-season resort.
About 40 minutes northwest of Toronto's back door, the escarpment cuts through a rural area called Hills of Headwaters, a rolling landscape dotted with charming historic towns boasting exceptional inns, restaurants, spas, shops and golf courses.
The Millcroft Inn & Spa was built as a knitting mill in 1881 and is a fine example of the area's heritage preservation efforts.
Niagara Falls
Niagara-on-the-Lake
The Shaw Festival
Stratford Festival
Blue Mountain