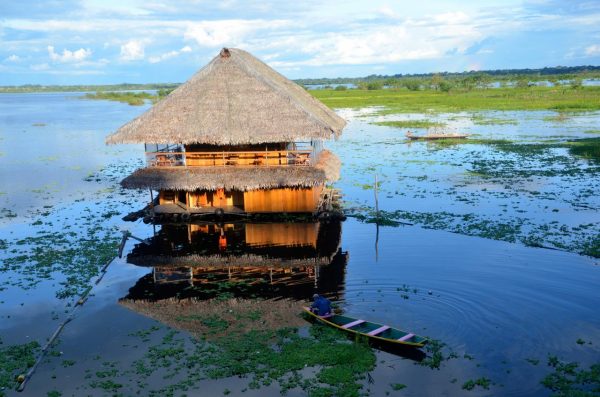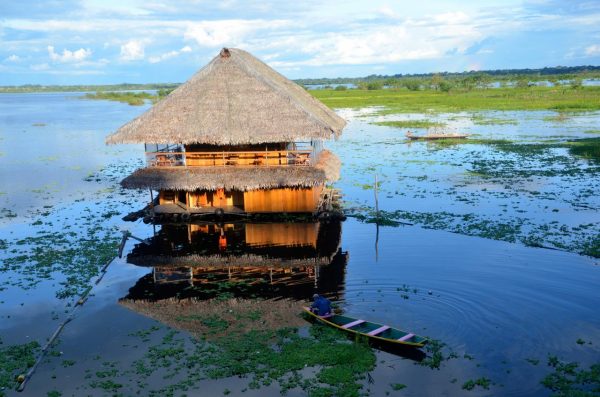 The humidity outside the airport in Iquitos had already slapped me like I was a newborn when the buzz of the city's activity hit me like a left-right combination on the receiving end of a boxing match.
Iquitos, Peru
After flying in from the drier, laid-back vibe of Lima and into "The Capital of the Amazon," as Iquitos, Peru, is commonly known, my senses were overwhelmed by a steamy confluence of color and noise.
The road leading from the airstrip was clogged with busses and moto-carros (often called tuk-tuks) – motorized rickshaws that raced around this jungle city and turned every street into a wild game of Frogger.
Situated where the Amazon and its tributary, the Itaya River, meet 2,300 miles upstream from the Atlantic, isolated Iquitos is a ragged shell of the city.
It was the center of the rubber trade and exported the valuable resource to America and Europe starting in the late 19th century, ramping up the export when the automobile began mass-production.
Nowadays, with a population of over 400,000, Iquitos appears as beaten as the backs of the native Indians who slave labored their way through decades of abuse at the hands of their foreign merchants.
Who nearly decimated the Yagua, Witonos, Matses, Boras and Huitoto tribes during that dark period.
The lavish, Spanish-style mansions of the wealthy rubber barons are still there. But time and neglect have reduced most to abandoned rubble.
Others have been reinvented as hotels with only remnants of the gilded, mosaic tile walls and ornate palace doorways remaining.
The Churches
Most of the churches where Jesuit missionaries left their stamp still chime on the banks of the Itaya. A wide walkway divides the beauty of what is the natural Amazon with the grim reminder of what The Rubber Boom wrought.
It is including the savage treatment of those indigenous tribes who, in a sense, are still enslaved 100 years after local labor laws were enacted.
Through it all Iquitos has maintained its importance as a major port on the Amazon. Under the dark blue gaze of an abandoned, ten-story former hotel, the city is surrounded by river on one side and green Amazon rain forest on the other three.
The only way to get here is either by air or, as most native visitors do, a long, crowded ferry trip.
My Room at the Hotel
As I settled into my room at the no-frills Shamana Hotel I was just thankful for the working air conditioner. I purposely scheduled my trip through Peru in May at the tail end of the rainy season (before the student tourists arrive) and was lucky enough to enjoy mostly dry weather throughout the month.
But this was the Amazon basin and I now had to contend with sporadic showers and the ever-present humidity which soaked me over my six days here.
From the comfort of my chilled hotel room I looked out my second floor window with its panoramic view of the swampy Itaya and all of the river life that surrounds it.
Women scrubbing their clothes outside their wooden shanties, children splashing through the garbage of the murky swill and unintentionally catching glimpses of men using the Itaya like a public bath house. And I do mean public!
The Itaya
The Itaya is an ever-changing being all its own — the terrain is unrecognizable from one season to the next. During the dry season (June-August), the banks of the Itaya recede so much men actually set out goal posts.
They play soccer right where the large passenger ferries now chart their courses. At the peak of the rainy season water levels may increase by nearly 20 feet flooding the garbage-strewn cliffs where people usually walk.
The morning action in Iquitos seems to kick off around 4 a.m. at the main dock on the Itaya and doesn't let up until nightfall. A loudspeaker blasts a mix of raspy dance music and garbled announcements to the hordes gathered on the water banks below.
Unluckily for me, I was sleeping in a hotel within ear shot. Luckily for me, I could photograph the madhouse of activity from my hotel window just as things started out in the morning sun.
The Banana Boats
And what I saw was a constant flow of motorized banana boats (called peka-pekas after the engine's putting noise) piled high with the green and yellow fruit.
They jostled with the larger ferries and fishing skiffs, all filled with baskets of giant catfish, piranha and other scaly delectables, as they putted into the docks (mainly planks stretched across floating logs).
Shirtless men covered their backs with sheets of cardboard and hauled the goods up a long, slippery staircase to the market on the muddy street above, while women barked out prices to buyers.
Larger ferries brought in everything from motor parts, lumber and tools, along with families who endured the weeklong journey down the Amazon, having slept on hammocks slung up in an open area.
Those who can afford it can tuck away in a few cabins outfitted with simple bunks.
Like lines of leafcutter ants in a jungle of boats, unending streams of men and women navigated the planks on the river and steps leading up to the street.
They carried anything from their body weight in bags of cement to so many bananas they toppled over their heads and covered their straining faces.
In one line I even spotted a man shoulder a whole motor scooter up the hundred or so stairs like it was nothing.
Just a short walk or boat ride from this mayhem and the main square of town lies a favella called Belén.
It is one of Iquitos' four districts where the rows of rickety wooden houses line up on the banks of the river.
Whether topped by tin or grass, the homes are propped up by stilts or floating on logs. They rise and lower at the whim of the rainy and dry seasons.
Many of the goods brought into port are headed to an area of Belén called the Merkato del Brujo, loosely translated as Market of Witchcraft or Shaman's Alley.
It is the highlands section where you can usually find anything the Amazon region has to offer.
The Market
It's the kind of market you find in most third world cities — an atmosphere that enchants tourists with the merchants' strange array of foods, crafts and wares. And it doesn't get any stranger than this place.
Every sense is overwhelmed by blocks of street vendors peddling everything from weird species of fish, fruits you won't find north of Colombia, exotic potions, coca leaves and tempting (but not for consuming) street food.
And although I didn't know if they were for eating or companionship, there were tiny monkeys and giant iguanas you could buy for less than a bag of socks in the U.S..
It was all under the watchful eyes of mangy street dogs and black vultures gazing down through the colorful tents.
Authentic for sure, but so was the possibility of getting robbed. So I was told.
Almost all of the tourist sites I Googled before my trip stressed how safe Iquitos was — red flag up — despite its reputation throughout Peru as being rough.
Visitors are warned to avoid Belén not so much for violence as the pickpockets and thieves. Still, during such petty robbery one can never predict how far an incident could escalate.
Hiring A Guide
So as a precaution I hired a guide named Christian to take me through the market on a private tour for a few hours one damp morning, although he seemed reluctant to go into Belén as a hired hand.
He warned me that my expensive Nikon would equal a few months wages to any quick-handed strap grabber and briefed me about a British woman who recently had her purse snatched while she was pole dancing on a boat (I didn't even ask) and lost everything.
Christian told me not to flaunt my camera or, basically, anything shiny. At his suggestion, he brought along another guide to trail me through the market so I wouldn't get jumped from behind.
I felt like Michael Corleone in that scene when he strolls through Sicily, or even a president with my own Secret Service — only without the agents procuring prostitutes which, sadly, are common in these slums.
I managed to make it through the crowded streets with more stares than jostles. The only things taken were the brightly colored images I got with my camera.
The real novelty of Belén is the watery roadways. Like a less romantic version of Venice — way less actually — locals go about their business fishing or heading to market cruising the murky canals in their crude, mud-caked dugout canoes.
You won't hear O Sole Mio being serenaded here. And even a cheerful tour guide can't sugarcoat the poverty, despair and abject conditions which permeate the area.
And as you coast by a quiet sawmill awaiting the next barge of timber to arrive, you can't help but notice the crude but colorful structures that the lowlands people call home.
Whether rising or lowering on logs or held steady by crooked stilts, the buildings have one thing in common — they all answer to the river's temperamental water levels.
These hovels are as bare-boned as you can get and many don't even have four walls. Using sheets of plastic to serve as rain shields and help keep bugs out at night, some structures are just patchworks of old fences and billboard signs.
During the day when the flimsy barriers are lifted, it easy to literally peer into the lives of its denizens and imagine the hardscrabble existence these people endure.
It's all right there. Their best chance for privacy might be behind the ragged curtains that hang from primitive outhouses bouncing on tiny rafts outside the homes.
Floating in one of the ubiquitous canoes, hiding behind the lens of a camera and gawking into these people's lives makes you compare them to your own.
That whole 'Well it's a simpler way of life' seemed just an excuse for those of us who have been dealt better hands. Like most children anywhere, the innocent ones here saw me as a curiosity while they frolicked among the filthy river banks.
But in the adults' unblinking eyes, it was easy to see that I was just another intruder. And just as hard as it was to blend in, it was even more difficult to be unaffected by their plight.
The Night In Iquitos
Nighttime in Iquitos becomes mostly a matter of safety and common sense for the curious tourist. And, like travel anywhere, being aware of your surroundings is a no-brainer — although maybe a little more so here.
Even if you tour in a group, just leave flashy valuables at the hotel. Employees at my hotel recommended I even leave my passport at the front desk.
Most Iquitos shops are closed at sundown and the nightlife is almost non-existent, but I took a short walk to an ex-pat hangout called The Yellow Rose of Texas near the center square.
It's a divey restaurant/bar where the waitresses wear University of Texas t-shirts, the bar stools are real western saddles and you can get American-style food your system won't regret a few hours later.
And while I'll admit I'm no beer connoisseur and couldn't distinguish an artisanal brew from Old Milwaukee, that frosted glass of Cristal was heaven to my parched throat.
Or, if you prefer, there's Ari's, a Chifa (Chinese-Peruvian fusion cuisine) that seems to be clean, with a friendly staff.
Try the juane — a flavorful combination of rice, chicken, egg and olive wrapped in a bijao leaf that is traditionally eaten for the feast of St. John the Baptist. For the more adventurous.
There is ceviche — but I wouldn't recommend it — at least not here in Iquitos.
After almost a week here, I'm just guessing that Iquitos may the most authentic Amazon city you will find in Peru — maybe in South America for all I know.
If You Go to Iquitos, Peru
Wanderers can enjoy day-long boat excursions up the Amazon to a village where you can meet and barter with the local Yaqua tribe and there are nighttime jungle tours.
For the off-beat, there are the shaman retreats where you can embrace Nirvana with the hallucinogen ayahuasca. And for animal lovers, there is a rescue reserve where you can see large anacondas, blue-beaked toucans and even cuddle a sloth.
What you won't see in Iquitos are McNuggets, super stores or city life as you knew it before. So if you want to experience the real Amazon, Iquitos is a good place to start.
Latest posts by Janna Graber
(see all)