Beach destinations are all about the sun, sand and sea. I usually assume there's not much else to such places beyond the proverbial trinket shops and restaurants. Virginia Beach, however, defies expectations.
This lovely, coastal community does indeed have wonderful, white sand beaches. But, there are so many more things to do in Virginia Beach that may surprise you.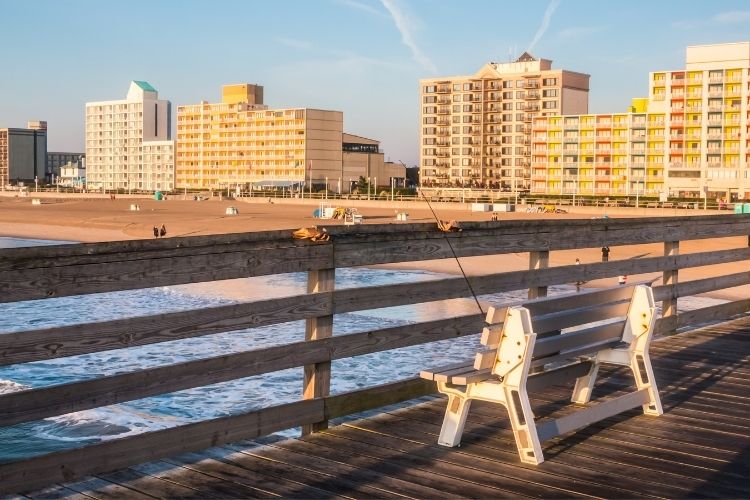 Discover Things to do in Virginia Beach
There are plenty of parks, museums, cultural attractions and historical sites. Plus, there is a vibrant culinary and arts scene.
The heart of the resort area is naturally the beach. The boardwalk is where you'll find both locals and visitors biking, jogging or walking the wide, three-mile stretch. Nautical sculptures and monuments dot the area, providing color and whimsy, with an occasional nod to history.
The iconic King Neptune Statue takes centerstage. It's nearly impossible to miss the enormous, 34-foot-tall, bronze God of Sea, grasping his trident.
This landmark pays homage to Virginia Beach's maritime legacy. It also serves as a reminder to be good stewards of the coast and ocean.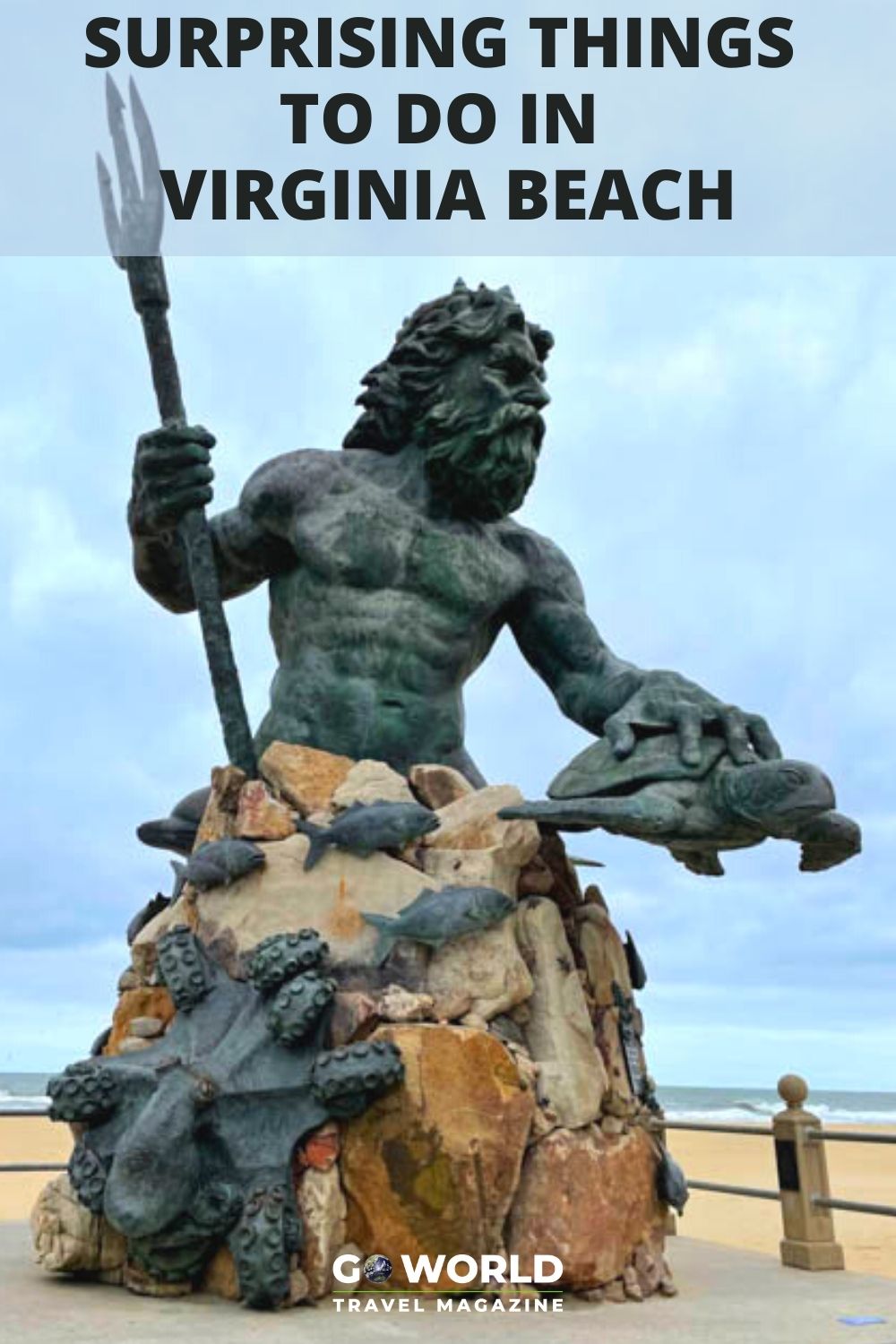 Another notable set of pieces stands in the Naval Aviation Monument Park. Nine bronze statues depict the story of Naval Aviation history through three significant times.
And don't miss the Virginia Legends Walk, in honor of great Virginians, who have made important contributions to our country and the world.
You'll recognize names like Ella Fitzgerald, Arthur Ashe, Woodrow Wilson, Edgar Allan Poe and others. Every year, a new inductee is added to the memorial.
Birthplace of East Coast Surfing
The surfing spirit runs deep in Virginia Beach. The town is considered by many to be the birthplace of East Coast surfing. It has a long and rich history, dating back to 1912 when local Walter F. Irwin brought a Hawaiian "Olo" surfboard back from Hawaii.
This was the first board of its kind on the East Coast. Surfing eventually grew from a recreational activity to a legitimate sport.
One of surfing's major competitions, The Coastal Edge East Coast Surfing Championships, takes place in Virginia Beach during the last week of August.
It is presented by Vans and you'll get to see entrants perform the most radical maneuvers on the biggest and best waves.
The event is part of the World Surf League International pro tour and hosts hundreds of professional and amateur surfers from across the globe. Also in attendance are surfboard builders, surf industry retailers and thousands of fans eager to catch the action.
But it's not just surfing. There are other competitions for sports like SUP, skimboarding and volleyball as well as live entertainment along the beachfront.
If you're interested in the surfing culture or actually getting out on the waves, check out Coastal Edge, a premier surf shop, where the staff will bend your ear on all things surfing in Virginia Beach.
They'll even teach you some surf slang if you ask nicely. If you're not into the sport, you can still look the part of a surfer dude or gal. as the store offers the latest in surfer wear.
An Education of Sea and Sky
Getting out on the ocean is a must, no matter whether you like water sports or not. Take a Pleasure House Oysters Boat Tour with Captain Chris Ludford and learn about what goes into growing and farming oysters.
Or go on a whale or dolphin watching excursion to get up-close sightings of these amazing creatures. You can also kick back and sip a few beers on a craft brews cruise.
Away from the beach, you'll find no shortage of activities and attractions. For an in-depth view of what lives in the sea, head to the Virginia Aquarium & Marine Science Center.
You'll be amazed at the assortment of creatures, including harbor seals, sea turtles, sharks, river otters and hundreds of other species residing in this world of wonder. Don't miss the mesmerizing jellyfish.
There are hands-on exhibits, a state-of-the-art Vet Center, a children's discovery zone and dozens of interactives.
Another visitor favorite is the Military Aviation Museum, which boasts one of the largest private collections of WWI and WWII-era military aircraft in the world. The planes have been impeccably restored and most are airworthy.
If you happen to be in town during a flight demo or air show, you can see these magnificent beasts in action.
Virginia Beach is for Art Lovers
Art aficionados will appreciate the Virginia Museum of Contemporary Art. As a non-collecting institution, the museum features different exhibits that change every few months. They often showcase local artists and young artists.
Plus, unique expressionists who use a variety of media to create works that inspire, encourage dialogue and evoke emotions, thoughts and ideas. Additionally, the museum offers art classes for all ages and family programming.
The town's artistic hub is the ViBe Creative District. Here artists and artisans, along with numerous creative businesses, work, collaborate and play.
You'll know you're in the right place when you see all the murals, sidewalk art and sculpture installations bedecking this cultural enclave.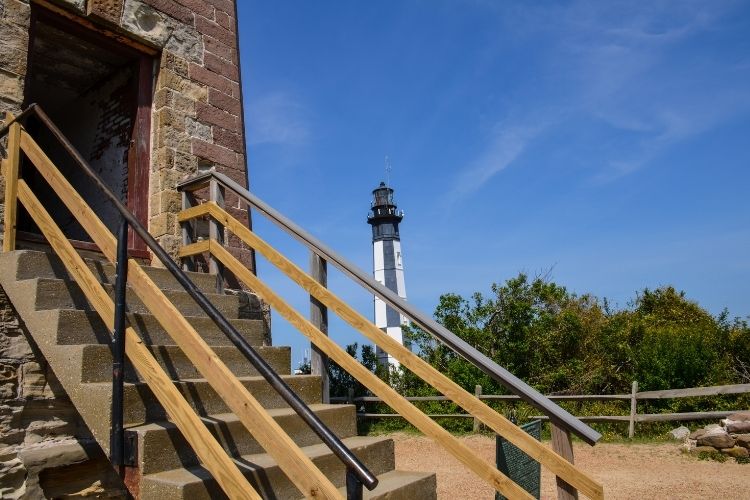 Historic Sights and Greenspace
Those interested in Virginia's history should make a beeline to the Cape Henry Lighthouse. The structure was the first Federal Construction project approved by the new government following the Revolutionary War.
Climb the 191 steps to the top and reward yourself with resplendent 360-degree views of the Chesapeake Bay and the ocean. Nearby is the new lighthouse, which is in use today, though closed to the public.
Across the street is First Landing State Park, the site of the English colonists' first landing in 1607. It's Virginia's most visited state park, as well as a National Natural Landmark.
This oasis has twenty miles of trails and 1.5 miles of beach frontage. Hike to your heart's content through bald cypress swamps, lagoons and forests.
Mount Trashmore Park is a local favorite and visitors seeking greenspace will want to check it out. The park encompasses 165 acres and is comprised of two man-made mountains, two lakes, playgrounds, multi-use paths and a skatepark.
The main mountain, Mount Trashmore, now 60 feet in height and 800 feet long, was created by compacting layers of solid waste and clean soil.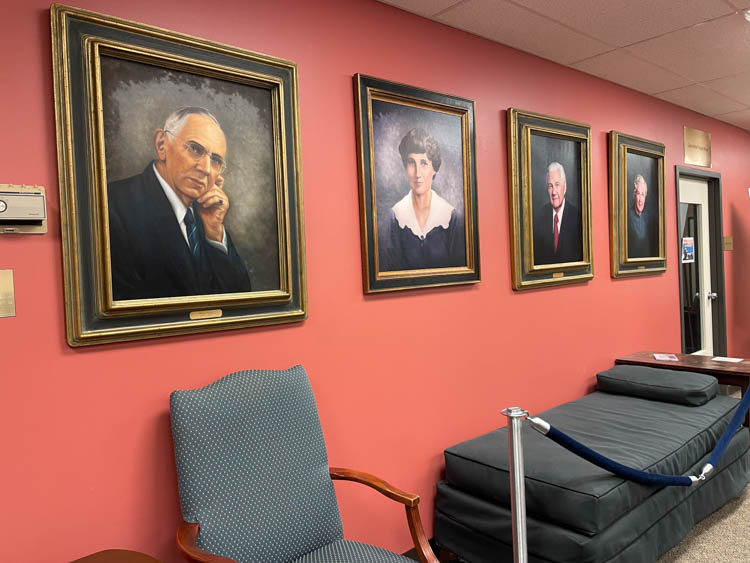 The Strange Story of Edgar Cayce
One of the more unusual attractions in town is Edgar Cayce's Association for Research and Enlightenment (A.R.E.). Edgar Cayce has been called the "father of holistic medicine" and is the most documented psychic of the 20th century.
He gave psychic readings to upwards of fourteen thousand people in his lifetime. While in a self-induced unconscious state, he would diagnose illnesses and outline treatment, reveal past lives and prophesize future events.
As a child, Edgar was labeled "strange." He played with imaginary friends, could memorize books by sleeping on them and speak to his deceased grandfather. He quit school after the eighth grade to help his family financially. Somewhere along the line, he lost his voice.
This issue spurred Edgar to give his first psychic reading for himself. He diagnosed his problem and regained his voice, which led him to start giving readings for other patients.
Flash forward to 1924 when Edgar, now married, moves his wife and family from Kentucky to Virginia Beach, based on information from his readings, which pointed him to this destination.
He hires a secretary, eighteen-year-old Gladys Davis, who would spend the rest of her life devoted to the preservation of the Cayce readings.
Take an Enlightening Tour of A.R.E
Edgar established the Association for Research and Enlightenment in 1931 with the mission of helping people transform their lives for the better.
Fourteen years later, he died of a stroke, at the age of 67. At the time of his death, he was scheduled to give up to eight readings a day for the next two years.
A.R.E. serves as a resource for body-mind-spirit materials and has a comprehensive library with thousands of books. There's a gift shop and bookstore, health center and spa, meditation room, labyrinth, meditation garden and lecture auditorium.
It's a spiritual oasis for scholars, researchers, health care professionals and visitors from around the world who want to explore the Cayce legacy.
You can take a guided tour, peruse the library, see the couch Edgar used while giving readings, attend a lecture on subjects such as dreams, health, intuition and more, see a film on Cayce, do a guided meditation and get a spa treatment, among other offerings.
Eating and Drinking in Virginia Beach
With all this activity, you're sure to work up an appetite. Seafood reigns supreme here with delicious sea-to-table fare. Enjoy the coastal flavors of such edible treasures as Lynnhaven oysters (the favorite bivalve).
Other favorites are She-Crab soup, flounder, rockfish, speckled trout, scallops, shrimp and soft-shell crab. The latter is found in abundance in the Chesapeake Bay.
You can find it served fried, atop a Bloody Mary, under a poached egg or whichever way you can imagine preparing them.
Dine with a view at any number of restaurants along the beach, like Waterman's Surfside Grill. The scene is lively and casual, the food, tasty, and the sunsets, memorable.
There's no shortage of watering holes in Virginia Beach. Try a refreshing and fruity Orange Crush, a local libation made with freshly squeezed OJ, Triple Sec and Sprite.
Follow the Virginia Beach Beer Trail for a taste of the area's thriving craft beverage scene. Or head to one of the town's distilleries, if your preference is for something stronger.
Where to Stay in Virginia Beach
Finding a place to stay is easy in Virginia Beach, as there are options galore. Choose from brand-name chain hotels, where you can take in views of the seascape from your oceanfront room to historic properties with class, such as The Cavalier Hotel and Beach Club.
This magnificent hotel dates to 1927. It was opened to rave reviews, and declared "the finest resort hotel in America," by General J. Leslie Kincaid, President of the American Hotels Corporation.
Built on a hill, up from the oceanfront, the property is notable for its Jeffersonian and Colonial era-inspired architecture.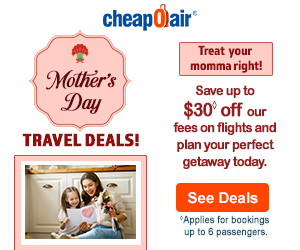 See design elements such as a rotunda-style lobby, a stone cupola, a columned portico and arched windows and doors. Visitors can also enjoy a sloping front lawn, a sunken garden and brick walkways.
The hotel's Beach Club became the most popular venue for big band entertainment, with names like Benny Goodman, Glenn Miller and Lawrence Welk pumping out their tunes.
In addition, famous singers graced the stage, including Frank Sinatra. Today, however, the Beach Club features a private beach, members' lounge, bar, infinity-edge swimming pool and spa.
Over the years, The Cavalier continued to be a hot vacation spot until WWII when the U.S. Navy conscripted the hotel for a radar training school.
Following the war, the place fell into disrepair, went through several ownership changes and declined due to a change in vacationing trends.
The New Cavalier
The hotel would have been demolished, had not for the foresight of one group of bidders, who stepped up with plans to preserve the property.
With the help of the city and historic tax credits, financing was secured and renovations began. The place reopened in 2019 as a member of Marriott's Autograph Collection and it's a standout.
If you don't book a room at the hotel, you can still take a free, self-guided tour of the elegant property and its lush gardens. During the tour, you will learn about all the U.S. Presidents and celebrities who stayed at the place over the decades.
The indoor saltwater pool, for example, was a favorite spot of the novelist F. Scott Fitzgerald. He was reportedly inspired to pen his classic, "The Great Gatsby" during one of his stays.
And, yes, The Cavalier has had its share of ghost tales and apparition sightings. After all, this beauty has seen and heard a lot in its lifetime.
Book This Trip
Start planning your fun-filled vacation to Virginia Beach today. Get prepared with knowledge on the best beach shops, hotel and VRBO reservations, local restaurant reviews and more through TripAdvisor and Travelocity.
For exclusive flight discounts and car rental options, check out CheapOair.
For all things Virginia Beach: www.visitvirginiabeach.com
Author Bio: Debbie Stone is an established travel writer and columnist, who crosses the globe in search of unique destinations and experiences to share with her readers and listeners. She's an avid explorer who welcomes new opportunities to increase awareness and enthusiasm for places, culture, food, history, nature, outdoor adventure, wellness and more. Her travels have taken her to nearly 100 countries spanning all seven continents, and her stories appear in numerous print and digital publications.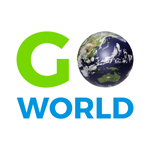 Latest posts by Go World Travel Magazine
(see all)