Editor's Note: We're all dreaming of travel ahead. Here's some inspiration for future adventures. We share places, products and activities we recommend. If you make a purchase using a link on our site, we may earn a commission.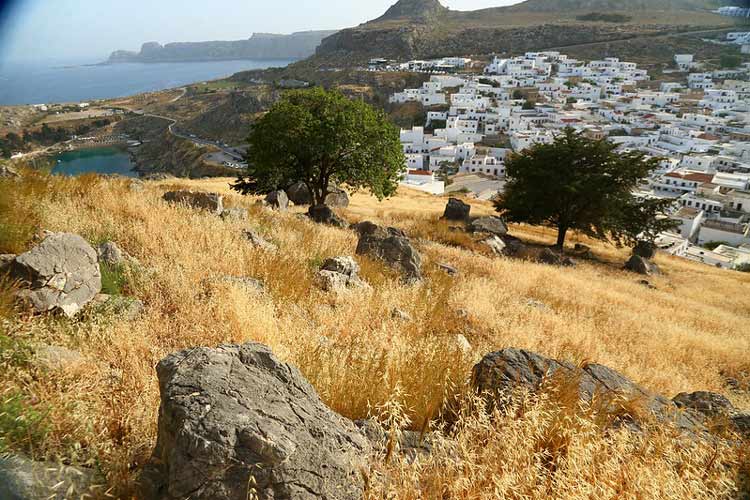 "You want to spend two weeks on Rhodes?" my Greek friend asked, the tone of his voice demonstrating great skepticism. "You'll go out of your mind."
Those words prompted me to fear that I had made a mistake traveling to Rhodes, but it was too late. Airline tickets had been bought, hotels had been booked.
Fast forward two months. After my trip, I recalled that warning and knew that those words of warning were wrong. In fact, I wish that I had stayed on Rhodes even longer.
Hearing the word "Greece" can conjure up multiple images. Whitewashed villages gleaming in the sun. Seas that range in a spectrum of color from light turquoise to dark blue. Archaeological sites which trace the roots of Western civilization.
Travel in Rhodes, Greece
Rhodes is the largest of Greece's Dodecanese islands. Conveniently packed into an area about one-third the size of Rhode Island, it has it all. That means visitors may discover the allures and attractions of Rhodes at a leisurely pace.
The entire island is an outdoor museum of reminders of peoples who have passed through before. They include the seafaring Phoenicians, Persians, the Roman Empire and Ottoman Turks.
The city of Rhodes is perched at the northernmost tip of the island where an ancient settlement rose more than 2,400 years ago. Monuments from every period since then stand in silent testimony to its long history.
The old walled section is the largest inhabited medieval town in Europe. Ancient buildings and fortifications manifest an atmosphere of the Middle Ages as authentic as that found anywhere.
Many of the most impressive structures date back to the period between 1307 and 1522 A.D., when the Order of Knights of St. John of Jerusalem ruled and left imposing evidence of their presence.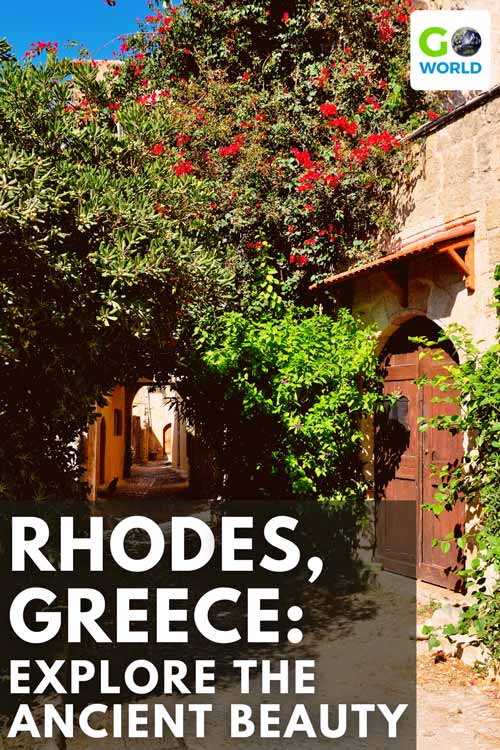 Grand Master's Palace
The Street of the Knights, lined by former residences, leads to the fortress-like Grand Master's Palace. An archaeological museum is located in what once served as the main hospital of the Knights. Hippocrates Square, the Old Town's main shopping area, is lined by imposing stone buildings that today house restaurants and bars.
Despite its population of only about 1,100 people, Lindos vies with Rhodes as a magnet for visitors. It's a quintessential Greek village of white houses dazzling in the sunlight, perched on the side of a steep hill. Looming above is the acropolis, a cliff topped by graceful columns that are remnants of the Temple of Athena. Also intriguing is an outdoor auditorium carved into a rocky cliff that once seated 1,800 spectators.
Find out more interesting history from the locals by learning Greek before you go. Rosetta Stone has lesson options that can be customized to fit your schedule and level of conversation. Check out their special deals and language options here.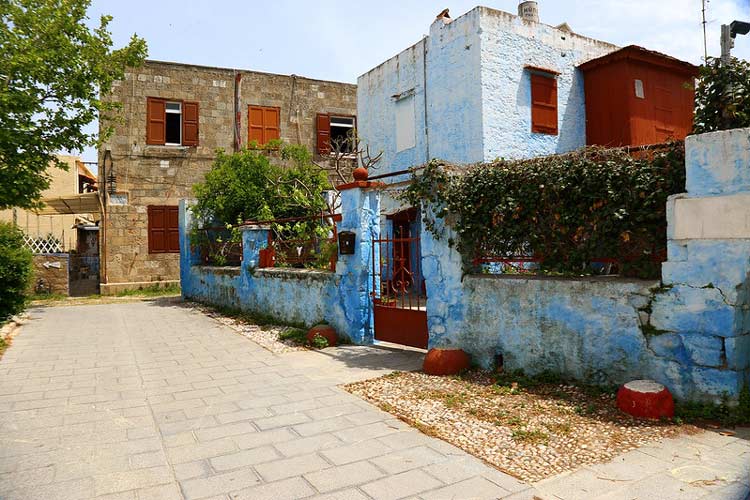 What to See in Lindos
Located near the middle of Rhodes, the town of Lindos is well situated for day trips to beaches and other attractions. Like many destinations in Europe, Rhodes is lined by beaches that range from soft sand to rounded pebbles. The most inviting stretches of sand are strung along the east coast of the island.
Despite the allure of sand and sun, I managed to tear myself away to delve into a mixed bag of historic sights. Driving through the countryside, I followed roads that snake over rolling hills and low mountains. Landscapes vary from arid, rocky terrain near the coastline to verdant forests in the interior.
A stroll through the extensive ruins of ancient Kamiros introduced the lifestyle of its original inhabitants during the 6th and 5th centuries B.C. The site spills down a hillside overlooking the sea. On the top level stood a temple complex of Athena and a covered reservoir, large enough to supply water to several hundred families through a network of terra cotta pipes.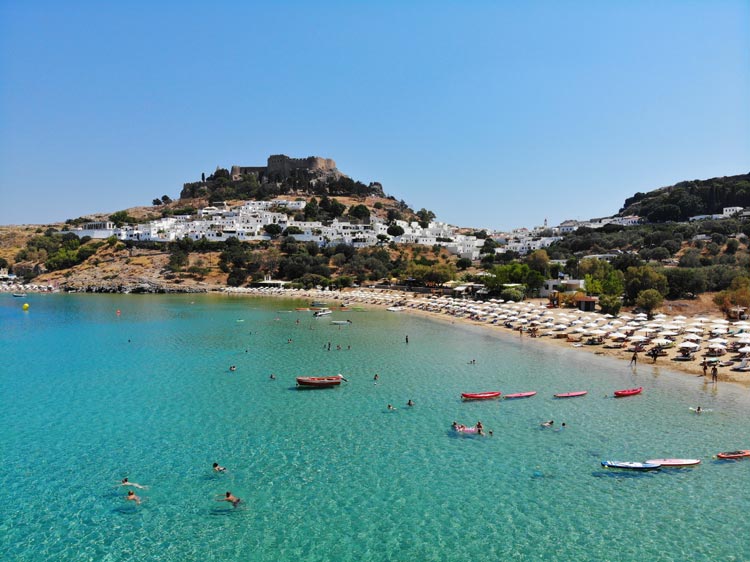 The main settlement, on a lower terrace, consisted of a grid of streets and houses adorned with mosaic floors and painted wall decorations. The remains of public baths include hot and cold chambers, and an underground system for heating the rooms.
Equally inviting is the contemporary life encountered in tiny unspoiled mountain villages, which in many ways has changed little over generations. Many town folk cling stubbornly, and proudly, to their traditional ways. Residents of Archangelos are known as master artisans who make pottery and weave carpets and tapestries, using the same time-honored methods as their forebears.
Anyone driving into the village of Appolonia need only follow the wonderful aroma to find the little bakery of the same name. It bakes breads and cakes that were mentioned in The Iliad, using recipes handed down by generations of local families. If you're ever there, be sure to sample melekouni, a sweet pastry revered in Homer's texts, and "spoon sweet," a popular Greek dessert flavored with a variety of fruits.
Visit Kritinia
Kritinia is one of the prettiest villages on Rhodes. Clinging to a hillside, the town of about 550 inhabitants offers panoramic views of the sea in one direction and, in the other, of Mount Attavyros, at 3,985 feet the highest spot on the island.
For an excellent meal, and opportunities to meet friendly locals, stop at any of the small tavernas that you pass when driving between and in villages. The owners are often the cooks and wait staff, and even if they speak no English, they go out of their way to help you order. Several times I was invited into the kitchen to see what was available and point to my selection.
Churches in Rhodes
As ubiquitous as tavernas throughout Rhodes are the churches, and they come in all sizes. While the major religious edifices attract most visitors, I found even more inviting the tiny white chapels that are scattered around the island. Many of these minuscule structures can accommodate only a handful of worshipers.
Those miniature places of worship stand in contrast to large cathedrals built when Rhodes was a power in the ancient world. The atmosphere in Rhodes and Lindos is very different from that experienced in villages elsewhere on the island. That diversity accounts for much of the appeal of Rhodes and introduces those who visit to all that Greece has to offer.
Book This Trip
Ready to travel back in time to the historic beauty of Rhodes, Greece? Let Kiwi do the searching for you and find the ultimate flight deals and ground transportation bundles here. When you're ready to book you can find the best local restaurants, VRBO or hotel options and insider tips on what else to stay during your stay through TripAdvisor and Travelocity.
Be sure to make the most out of your Greek adventure by booking with GetYourGuide. Find an activity for everyone, from the Symi Island Full Day Trip by Boat to the Guided Walk and Wine Tasting Tour in Medieval Town. Check out more tours here and book your dates today!
For more information log onto the Greek National Tourism Organization website at visitgreece.gr.
Author Bio: After gallivanting throughout the United States and to more than 75 other countries around the world, and writing about what he sees, does and learns, Victor Block retains the travel bug. He firmly believes that travel is the best possible education, and claims he still has a lot to learn. He loves to explore new destinations and cultures, and his stories about them have won a number of writing awards.