When we moved from our former home in Colorado to North Carolina, Maya went from being a mountain dog to a beach dog and she has embraced it. She loves chasing balls, burying her biscuits in the sand and trying to sneak up on sandpipers.
She's still unsure about ocean waves, but otherwise, she loves the seashore. Having her along made our first trip to North Carolina's Outer Banks even more memorable.
Dog-Friendly Towne Place Suites
Homebase for our stay, Towne Place Suites by Marriott Outer Banks, was welcoming to people and dogs. Located in the town of Kill Devil Hills only one block from the water, we chose this hotel for two reasons.
Firstly, it allows dogs of any size with a limit of two per room and with a $100/stay pet fee. Secondly, the rooms have a mini-kitchen so we could cook our own meals.
Not knowing if restaurants would accept Maya, we packed our own food for the trip. However, between the hotel's complimentary full breakfast every morning and an abundance of restaurants with dog patios, we didn't use the kitchen much.
Kill Devil Hills Park
History fills the Outer Banks and the first place we visited was the nearby Wright Brothers National Memorial in Kill Devil Hills, North Carolina.
Orville and Wilbur Wright from Ohio flew the world's first motorized aircraft from Kill Devil Hills on December 17, 1903. With the park's open spaces and paved trails, it was perfect for us dog families and we saw several as we roamed the grounds on an overcast day.
Above us a small plane's engines buzzed appropriately as we walked up to the monument on top of the mound where the brothers launched their glider.
A replica sculpture of the glider along with the people present at the first flight freezes that moment in time on the site's southern end. Visitors, including dogs, are welcome to sit on the glider for photos.
On the hill's northern side was a long, straight path with four granite markers representing the distances the aircraft traveled on those first test flights. The three of us walked out to the farthest one, 852 feet, to take it all in.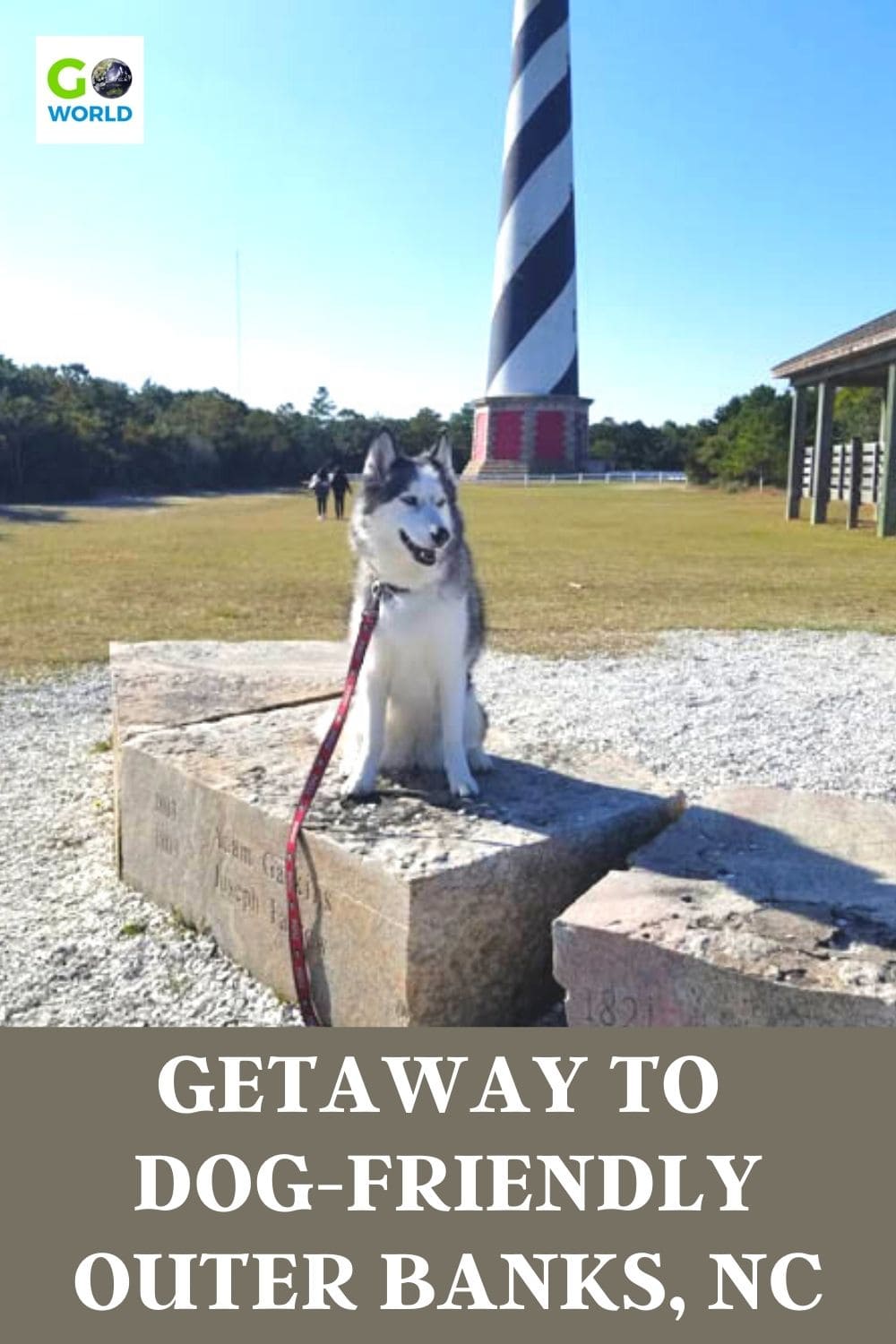 Dog-Friendly Outer Banks Brewing Station
Afterward, we stopped for lunch at nearby Outer Banks Brewing Station because of their large dog-friendly beer garden. She relaxed under a picnic table with a bowl of water and some dog biscuits while we ate a Backyard Pizza.
Our pizza choice came with sausage, marinara, pesto and mozzarella on top of a crust made from spent brewery grains. Although the yard was quiet on our weekday visit, the outdoor stage and kids' pirate ship play area hinted at eventful weekends.
Cape Hatteras National Seashore
Seeking lighthouses and beach time, we spent a day driving the 70 miles of Cape Hatteras National Seashore. This natural area along Highway 12 encompasses several islands roughly bookended in the north by Bodie Island Lighthouse and the town of Hatteras in the south.
In between were seaside villages, beautiful beaches and places where Off-Road Vehicles (ORVs) were allowed to drive and park on the sand. Also sprinkled throughout were wetlands for birdwatching, piers for fishing and two stunning lighthouses.
Near the end of the drive, we stopped at Cape Hatteras Lighthouse. A steady flow of people and dogs walked around the structure as we approached from the parking lot. The visitor's center and lighthouse interior were closed, but since pets are not allowed inside, we didn't mind.
We walked by a sitting area of large flat stones made from the lighthouse's original foundation blocks. Engraved on the blocks were the names and dates of every Cape Hatteras lighthouse keeper.
A nearby information marker featured a photo of a lighthouse keeper's family including their dog Pechichi, which gave me an idea. I sat Maya on one of the stones for a photo, but in typical husky manner, she stubbornly refused to look in my direction.
On the return, we stopped at Pea Island's Oregon Islet for some beach time. We enjoyed a walk along the ocean in the late afternoon sun while Maya spooked birds and got her paws wet.
Later, in the shadow of a giant sand dune, we threw her a tennis ball as she bounced on top of the sand like a puppy instead of the 12-year-old she is.
Evenings at Swells'a Brewing
That evening (full disclosure, it was every evening) was spent watching the sun fall behind Albemarle Sound from the rooftop deck of Swells'a Brewing only two blocks from our hotel.
This new brewery had a warm fireplace inside and served up 14 taps of brews and hard seltzers in an appealing variety of styles and flavors.
We toasted the sunset while sitting in sturdy, yet comfortable teak wood captain's chairs with seats made from marine rope. Maya kept watch on the action below in the brewery's beer garden.
She oversaw picnic tables filled with families and their dogs, kids playing cornhole and a busy walk-up order window. Dogs make it easy to meet other people. "Is that a husky?" "Can I pet her?" Refrains we heard often as we chatted with the brewery's mix of visitors and locals – and their dogs.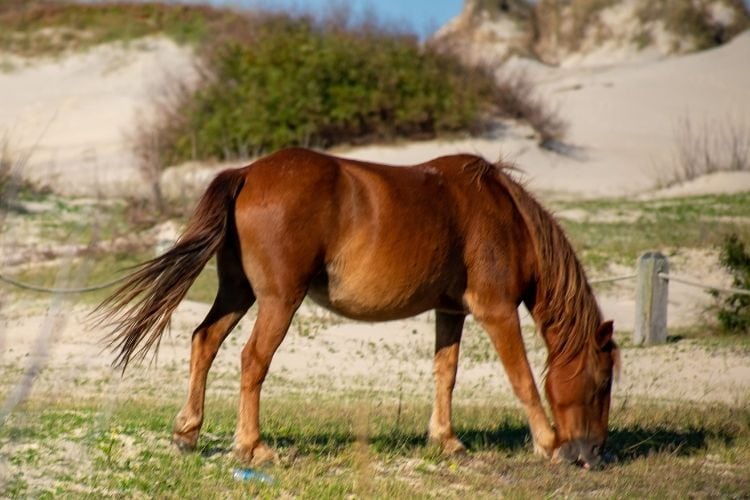 Wild Horses and Dolphins
The next day we turned our Tacoma towards the northern beaches in search of the Outer Banks' famous wild horses.
We cruised along Highway 12 through the towns of Duck and Corolla, which had a more residential vibe with people jogging and walking their dogs along the adjacent pedestrian path. We drove until the asphalt ended, switched into 4-wheel drive, and just kept going.
The beach was flat and wide at low tide and we joined a steady stream of other off-road vehicles. The plan was to drive north until we saw the horses. However, a movement in the ocean caught my eye – dolphins!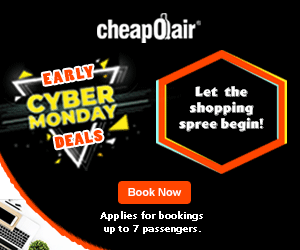 A half dozen were bobbing in the waves so we decided to stop. We spent the next two hours watching pod after pod make their way south. Who needs horses when you have dolphins?
Maya was unimpressed by the sleek cetaceans. She napped on a beach towel while we watched the dolphins from the truck's tailgate.
With the tide creeping closer and a cloud bank approaching the sun, we decided to head back into civilization. This included a stop at another historic site, Currituck Beach Lighthouse consisting of over one million bricks.
Lunch at Art's Place in Kitty Hawk
It was past lunchtime so we were hungry when we found Art's Place in Kitty Hawk, a brightly painted house-turned-burger joint within sight of the ocean.
The inside was tiny, with a short lunch counter and a few tables. Outside the front porch had a counter facing the water and a small side deck.
In the back was a beer garden. However, there wasn't any table service out there, so we opted for a spot on the deck under an ocean blue wall mural featuring a mermaid.
As we noshed on prime rib and Rueben sandwiches, our server brought Maya two slices of bacon. Easily her most memorable vacation meal.
Roanoke Island
Our final day was drizzly as we drove the Washington Baum Bridge to Roanoke Island, which lies between the Outer Banks and the mainland. Here we explored the colonial town of Manteo.
We started with a tree-covered trail walk around Fort Raleigh National Historic Site. The area is known for the mysterious Lost Colony where the first English settlement, in what would become the United States, was established in 1587.
Settled by 150 people, the first child of English descent was born here that same year. The settlement's leader then went to England for more supplies but couldn't return for three years.
When he did, he found the settlement abandoned and the people gone. An earthen berm where the fort once stood is all that remains. Today, visitors can wander around the fortress and walk a nature trail that loops from the fort to Roanoke Sound.
Exploring Manteo
We ate lunch in downtown Manteo at the Lost Colony Brewery and Tavern, another place with a large outdoor dining area. They even sold dog biscuits made from spent grains which Maya crunched, but she would have preferred our French fries.
After devouring lobster rolls, we walked round the historic district highlighted by our last lighthouse of the trip, Roanoke Marshes Lighthouse at the end of a long pier.
We capped the afternoon with a dessert cocktail from Outer Banks Distilling featuring their sweet Kill Devil Pecan Honey Rum and orange and chocolate bitters.
Shopping for Seaside Decor
We're not normally big "shoppers" while traveling, but there was one item we had to bring home: The captain's chairs we sat in at Swells'a Brewing.
Labels on the chairs revealed they were from Nags Head Hammocks and a retail store was only a few blocks from the hotel, so we stopped to place an order.
The store also had a variety of outdoor furniture and Adirondack chairs and a plethora of seaside décor, useful for turning any home anywhere into an Outer Banks beach house.
A Sweet Ending to a Dog-Friendly Outer Banks Getaway
Before driving home, we stopped at Duck Donuts in Nags Head for a sugary breakfast paired with a latte. Considered an Outer Banks institution, the store's warm fried cake donuts can be made to order by selecting from an amazing assortment of toppings, including flavored icings, sprinkles, nuts, candies, and even bacon.
I chose the cookies and cream donut with vanilla icing and crushed Oreos. My husband got two donuts, salted caramel and mint chocolate. A sweet way to end our visit.
Maya was disappointed she didn't get a donut, so we gave her the remaining brewery biscuits. The Outer Banks has treats for everyone.
If You Go:
Book This Trip
Ready to plan your paw-friendly getaway to the Outer Banks? Get prepared with insider tips on the best dog spots, VRBO accommodations, local restaurant reviews and more through TripAdvisor and Travelocity.
For the ultimate flight deals, car rental options and vacation packages, visit CheapOair.
Author Bio: A member of the North American Travel Journalists' Association, Carrie Dow is an award-winning travel writer based in Charlotte, North Carolina, and has written for a variety of publications including Interval World, Artisan Spirit, Our State, and 5280. She is also the founder of What's Pawsitive, a website covering animal welfare organizations and animal-based travel around the world.