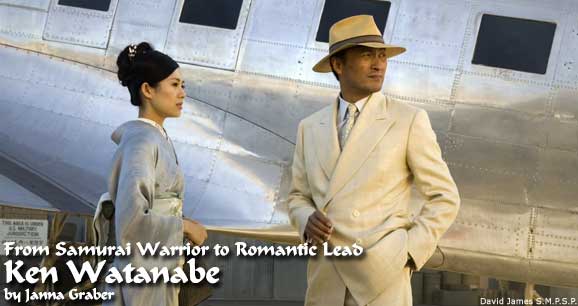 Several years ago, few people outside of Japan had heard of Ken Watanabe. But when he walks into a swank Beverly Hills restaurant for breakfast now, people know who he is. True, they may not recognize the tall, lanky film star in his black sunglasses and casual clothes, but mention The Last Samurai (2003) or the recently released Memoirs of a Geisha and heads immediately nod with approval.
Watanabe's stunning portrayal of the dignified samurai leader Katsumoto in The Last Samurai earned him an Academy Award nomination and the respect of a worldwide audience. Although it was Watanabe's first English-speaking role, the 47-year-old actor held his own opposite Tom Cruise, who played Nathan Algren, a disillusioned American soldier who is brought to Japan to train their armies. When Algren is captured by Katsumoto's warriors, the American is drawn into the ways of the samurai. He develops a friendship with Katsumoto, one that cannot be severed, even in death.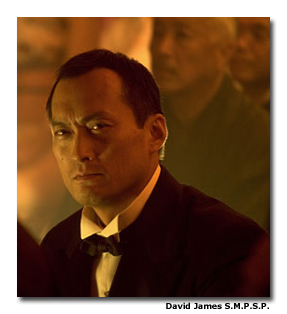 That friendship extended from film into real life. Cruise and Watanabe became good friends while working on Samurai, cracking jokes and even singing together on the set. Yet it was the quiet moments between the two characters that showed Watanabe's true talent. His stunning portrayal of the serene leader aptly demonstrated Katsumoto's inner strength.
"I liked everything about the role I played in The Last Samurai," Watanabe says. "It was one of the first Hollywood movies that portrayed Japanese culture in a true light. They put a lot of effort into reflecting the spiritual values that are part of Japanese society.
The film reflects Bushido, a code of ethics that emphasizes being respectful of elders, keeping promises and being honest." That code of ethics, Watanabe believes, can still be found in Japanese society today.
"Sure, values change as time goes by, depending on the generation, but the base of those values still exists," he says, at times speaking in English and other times using the assistance of his translator. "I think this movie gave Japanese people the opportunity to realize what they have. This code of ethics may have been inactive, but it hasn't been lost."
Since breaking into Hollywood with Samurai, Watanabe has been hard at work on new films. He appeared as Ra Al Ghul, an immortal criminal genius, in Batman Begins (2005).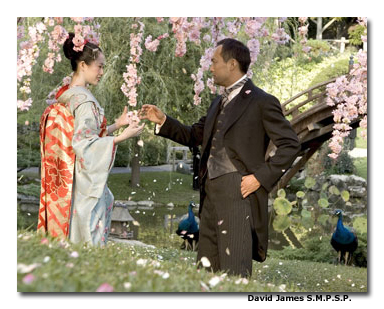 But it is Watanabe's role in the new film Memoirs of a Geisha that has the critics talking. In this movie adaptation of Arthur Golden's bestseller, a penniless Japanese girl is ripped from her home to work as a maid in a geisha house. Despite hardship, the young women blossoms to become the legendary geisha Sayuri (Ziyi Zhang).
Though Sayuri has almost everything she wants, she is haunted by her secret love for the Chairman, a man she cannot have (Ken Watanabe).
Playing a romantic lead was a new experience for Watanabe. "In the past, I've played characters who were the strong guy, but there is no fighting in this role," says Watanabe. "The Chairman character is gentle and passive. He grows by embracing the other characters, so I have to catch a feeling of all of them."
The film has an impressive cast of top Asian actors, including Ziyi Zhang (Crouching Tiger, Hidden Dragon, 2000), Gong Li (Raise The Red Lantern, 1991), Michelle Yeoh (Crouching Tiger, Hidden Dragon, 2000), Koji Yakusho (Shall We Dance?, 2004) and Youki Kudoh (Snow Falling on Cedars, 1999).
"We spent a month in rehearsal and there was a good chemistry between us," Watanabe says. "Director Rob Marshall would speak in English and then each of our translators would say their piece. Twenty seconds later, the rehearsal would move forward. After that, we didn't need the translators because we were all working together in English."
Watanabe's work has gained him the respect of director Rob Marshall. "Ken is not only an extraordinary actor, but he is also a great leader," says Marshall. "I truly believe he is the spiritual center of Memoirs of a Geisha."
For Watanabe, Memoirs of a Geisha is more than just a film. "This is an opportunity for Asia to come together," he says. "My hope is that it expresses Asian — and not just Japanese — culture. I like working closely with the people of Asia."
The film has brought increased interest in Japanese culture, especially in the geisha lifestyle. Geisha are professional entertainers who perform the Japanese arts; the profession is entirely voluntary. Authentic geisha are still seen today in the Gion District of Kyoto, one of the most traditional regions of Japan.
But while the film was set in Japan, production took place in California. "The traffic here in L.A. is just as bad as in Tokyo," Watanabe jokes. Yet the actor faced other adjustments while working in Hollywood. "People are more expressive here — maybe three times more than in Japan — in both a good and bad way. That's when I know I'm in America," he says. "And regardless of language differences, the people I work with are very professional and we respect each other."
Watanabe has come a long way from the boy who grew up in the coastal region of Niigata, where he enjoyed skiing with his older brother, Jun. Both of his parents were teachers — his mother teaching primary school and his father calligraphy — and music was an important part of Watanabe's life.
"I spent seven years studying the trumpet and wanted to go to music school," he recalls. "However, when my father retired due to illness, I couldn't go. So at the age of 19, I went to theater school in Tokyo. As a kid, I liked rakugo, which is traditional one-man comedy theater, so this influenced me."
Watanabe eventually joined En, a Japanese theater company, then made his television debut in 1982 with Michinaru Hanran (Unknown Rebellion). From there it was only a matter of time before he became a household name in Japan.
Then in 1989, Watanabe was diagnosed with life-threatening leukemia. It was a devastating blow. He had to stop work to fight the disease. "People often ask if being ill changed my view of life," he says. "Let's just say that if I were a ship, the size of the ship hasn't changed much. Yet I feel that if and when I come across obstacles, the bottom of the ship is now stronger and I won't be affected by problems so easily."
The experience changed the actor in other ways, too. He is careful about what he eats, and relishes every opportunity in life, not wanting to waste a single day.
"I want to live life seriously and sincerely," says Watanabe, who recently married Japanese actress Kaho Minami (the second marriage for both of them). "I try to have a good balance of seriousness and playfulness. I like reading, playing golf and walking my dog."
Yet it's obvious that Watanabe enjoys his work. "I want to be an actor who is flexible and can work anywhere in the world," he says.
No doubt he will do just that.
For More Information on Japan
Interested in learning more about Japanese culture and the geisha lifestyle?
Kintetsu International Travel Consultants, offers a geisha tour program to celebrate the movie Memoirs of a Geisha. The two-day program, along with the seven-day package, introduces visitors to Kyoto and the daily rituals of geishas living and working in Kyoto. For details, call KIE at 800-422-3481 or visit www.japanforyou.com.
The Hotel Granvia Kyoto is now offering guests the opportunity to spend an evening at a traditional teahouse, or ochaya, in the Miyagawa-cho district of Kyoto. Here, guests will not only be welcomed into a world of traditional Japan rarely seen by outsiders, but they will also enjoy an elegant Kyoto-style kaiseki dinner with entertainment provided by geisha. For further information, please visit the Hotel Granvia Kyoto website.
Japan National Tourism Organization: www.jnto.go.jp
Latest posts by Benjamin Rader
(see all)