I felt like I was hit by "the thunderbolt."
You recall, in Mario Puzo's novel-turned-Oscar-winning movie "The Godfather," when Michael Corleone, strolling around Sicily with sheep farmers, was stopped in his dusty tracks by the sight of Apolonia herding schoolkids on a field trip?
"You have been hit by 'the thunderbolt,'" Fabrizio told exiled mobster Michael, who was played by Al Pacino. Michael left behind a squeeze in the States – Kay, played by Diane Keaton.
"Mikey, why don't you tell that nice girl on the phone you love her? …'I love you with all my heart. If I don't see-a-you again ima-gonna die.'" Sotto capo Peter Clemenza teased Michael when he whispered to her sotto voice in front of the boys. They'd gone to the mattresses and were bunkered in with him making pots of pasta.
If you are lost in the vernacular, you haven't watched The Godfather seven million times as I have. This brings me back to "the thunderbolt."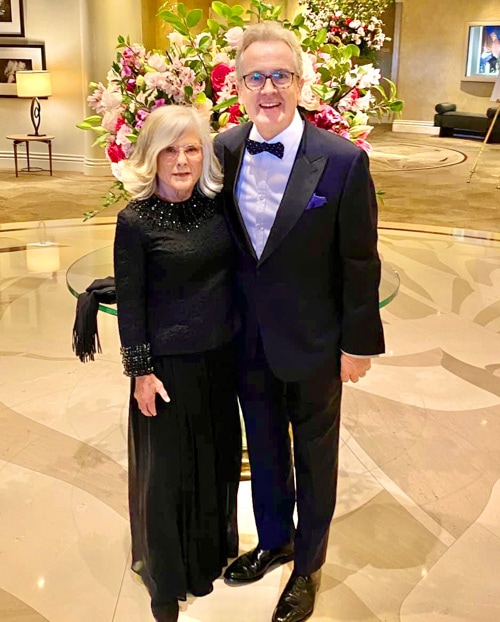 Star Struck by "The Thunderbolt" at Beverly Hills Hotel
The thunderbolt hit me while cavorting in the Beverly Hills Hotel's typically star-soaked Polo Lounge. In the fray, I think it was comedic writer Billy Riback who introduced me to the very tall, silver-haired and silver-tongued public relations professional Michael Levine.
Upon hearing I was a media type, he planted me in a banquette with a woman from Montana. Her name was Abby Moneyhun, and despite her name, was not in a 007 movie. She sat alongside her friend, a woman who'd traveled with her into Hollywood from Bozeman.
I was cozily couched next to the friend Levine introduced as Andrea Eastman. While I was admiring her super-stylish midnight designer blue suit and literally rose-colored glasses, Levine concluded his introduction by saying, "Andrea was the casting director for…The Godfather."
"Thunderbolt!"
Wait, what? Levine said: "The Godfather's casting director!"
I was already intrigued by Eastman's powerful presence and mystique. But that is the moment I was further struck by The Godfather Thunderbolt. And I didn't need Clemenza to goad me into telling this nice girl I loved her. I loved The Godfather, loved her casting, and, over the next few weeks came to love Andrea.
Andrea, I learned, was living in a suite at the Beverly Hills Hotel until the Academy Awards in early March, a night upon which she planned to attend the Elton John Oscar Gala.
An Offer I Could Not Refuse
Andrea had recently seen her life characterized in the Paramount+ streaming series "The Offer". It was a dramatization of the making and production, including the casting, of The Godfather, which took place more than 50 years earlier, when she was a prodigy executive in her 20s.
"I remember it like it was yesterday," Andrea told me. "It was Charlie Bluhdorn, who, as the owner of the Gulf+Western conglomerate, owned Paramount Pictures; Robert Evans, the head of the studio; Paramount's COO Stanley Jaffe…and little old me. If you watch "The Offer," you will see that Charlie yelled at a lot of people. But he never yelled at me. We had an incredible relationship."
Andrea's relationship with The Godfather's producer Al Ruddy was even warmer. Surreal as it must have been to see herself played by actress Stephanie Koenig on the television series, Andrea told me she thought the series was well done.
Candidly, she took issue with only one factual element.
"Al Ruddy was a great producer. A terrific person. In "The Offer" it depicts us as having a one-night stand. But indeed it was a yearlong love affair," she revealed. "I am still incredibly close to him all these years later. I am close to his wife and his daughter. It was a love affair and an incredibly endearing friendship."
As she shared all of this, I tried not to ask too many questions. Occasionally, though, the modest, soft-spoken Andrea would look up over the top of her glasses and tell me she felt like I was interviewing her.
"It was the happiest time of my life. I am most proud of being one on the team that cast The Godfather". She continued in a tone of voice one might use when recalling an old friend.
A New Friend
I was fortunate to feel like a new friend to Andrea Eastman, who'd befriended, and, in her post-Paramount career as an agent, represented, some of Hollywood's brightest stars. Dustin Hoffman, Billy Crystal, Katie Couric, Barbara Streisand, and Sylvester Stallone among them.
It was Andrea who discovered Jaclyn Smith.
"I was at a show and during intermission, I saw this woman and 'Bang!'"
Andrea said she asked Smith if she was an actress.
'No, but I want to be,' Smith answered.
"I gave her my card," Andrea recalled.
And just like that Jaclyn Smith had a career and went on to be one of "Charlie's Angels."
Eastman also told me a darling story about how Streisand was initially resistant to taking a role as Hoffman's spouse in the movie "Meet the Fockers."
"She didn't want to do it, so I tried to price her out of it, but no matter how high I went the producers kept saying 'yes,'" Andrea insisted. She then gave the hint of a humble smile.
That movie also starred Robert De Niro, who played young Vito Corleone in "Godfather II."
"I interviewed Robert De Niro before he was Robert De Niro," Andrea told me. "He didn't say much…but he didn't have to. He had a presence."
The Oscar Goes To…
Andrea, due to sensitive circumstances she seemed discreet about, chose to leave Paramount Pictures just before The Godfather won the "Best Picture" Oscar. "Someone disrespected me," she allowed. "But I was ecstatic it won Best Picture. We were all a family, including Godfather author Mario Puzo," she insisted.
The Academy of Motion Picture Arts and Sciences honored Andrea at their Academy Museum of Motion Pictures in Hollywood. They celebrated the 50th anniversary of the Best Picture-winning Godfather movie with a special exhibit.
I walked through the temporary Godfather Exhibit, with the iconic Nino Rota film soundtrack score piped in throughout, to see hand-edited pages of the original screenplay and script; costumes, such as the leisure suit worn by Michael Corleone in the "Havana" scenes and the silk and chiffon dress Mama Corleone danced in at the First Communion on Lake Tahoe.
The dental aesthetic device Marlon Brando wore to accent Vito Corelone's jaw was viewable under glass. And the life-sized set of the Godfather's desk office was set up for photographs. It was more exciting than the "Oval Offices" set up at each of America's Presidential Museums.
Her Place in History
"The ultimate lineup was iconic," read a display. Eastman's name and legacy, including casting Pacino (whom one of her studio bosses referred to as a 'little pip squeak'), was prominently displayed in the elaborate exhibit's "Casting and Performance" section of the extensive "Godfather" series of rooms. A film on the wall showed rehearsals with a closed-caption graphic across the bottom. It read; "Every member of the Corleone family was thoroughly researched, tested and selected."
"CASTING AND PERFORMANCE" the room's entrance plaque was headlined.
"Initiated by Andrea Eastman…casting for The Godfather entailed hundreds of auditions and screen tests, and became a point of contention. But the ultimate lineup was iconic: Marlon Brando, James Caan, Richard Castellano, John Cazale, Diane Keaton, Morgana King, Al Pacino, and Talia Shire. With the sequel adding Robert De Niro, Michael V. Gazzo, Bruno Kirby, and Lee Strasberg, among others…"
I stood there for a moment and stared at the name "Andrea Eastman" to soak in the giant part "little ol' Andrea" played in staking that Academy Award-winning team. To think I'd gone to the museum exhibit hoping it would somehow acknowledge her. It properly gave Andrea Eastman a starring role. Something she did for many others during her casting career and as an agent. Including the unlikely star of three, Best Picture-nominated Godfather films:
"…Pacino, then a relative unknown, would instantly become a star for his measured and intense portrayal of Michael Corleone."
Al Pacino Sighting
Fate would have it that days after my museum visit, during my month of memorable meetings with Andrea, I randomly encountered Al Pacino "Sunday brunching" with an apparent friend of his in the Tower Bar of the Sunset Tower Hotel. Tower Bar, a 1929, art deco bar overlooking Los Angeles had been recommended to me.
I had never been there. But for a reason unknown to me I woke up late that Sunday with the idea of going. I selected a seat on the edge of the veranda which overlooks the Los Angeles skyline. But, weirdly, I also chose to sit on the side of the table facing the room instead of the panoramic view over the pool and skyline.
Shortly after Barb, the hostess sat me, I began to relax almost to the point of being at ease. Leaning back in my chair, I barely noticed an older but suave man passing my table on his way to be seated. Without moving, or even changing expression, I realized that gentleman was Al Pacino.
It was like seeing a shark swim by. First I saw him; then I recognized him; then I processed it; and then I believed my eyes.
Al Pacino sat mid-room at a table with his long hair and back against the wall. He was hunched over, often looking at the screen of his phone. Of course, Al Pacino was all I could subtly see for the rest of the lunch. My table faced his, so I was sneaking peeks but not staring.
A Star-Studded Brunch
There were other giant, unbothered celebrities in the room – Ryan Reynolds and Christoph Waltz, to name two. But Al Pacino is an actor with his own orbit – an orbit I dared to enter by physically forcing myself to approach his table. This wasn't "Any Given Sunday" – one of Pacino's many film titles. This was a day on which I could meet "Michael Corleone." I simply had to invite myself to the party.
Nervous as a cat, I purposely pushed myself up from my table and propelled myself toward his. Knowing that once I was physically committed to a visible path toward the stars' table, there would be no turning back.
My mind, facing a split-second, impending deadline, would have to invent something to say. While walking the 10 feet from my table to Al Pacino's, so many of his screen roles flashed through my mind: Serpico; Aldo Gucci; the Devil; Tony D'Amato the Miami Football coach in "Any Given Sunday"; and more. But since I was in a restaurant with Al Pacino two tables away, my mind flashed through his iconic restaurant scenes:
"Scarface," for instance, when Cuban gangster Tony Montana, in his tuxedo, lashed out at all the other patrons staring at him as he defiantly described himself as "the bad guy."
Al Pacino's character, blind veteran Frank Slade, confidently approached and invited himself to Gabrielle Anwar's table. He then ended up dancing with her in "Scent of a Woman", at the Oak Room of New York's Plaza Hotel. A bold move that perhaps I took inspiration from as I approached his table at this moment.
Approaching Al
But most of all, I envisioned Al Pacino as Michael Corleone, in The Godfather, when Virgil Solozzo and Captain McClusky, took Michael into Louis Italian-American Restaurant in New York. We all know the scene where Michael goes to the restroom and gets the gun from above the toilet. Then with bangs, smoke, and an overturned, red-checkered tableclothed table, does them in with shots to the forehead and throat.
At his Tower Bar table on this day, though, I noticed Al Pacino kept taking his indoor sunglasses on and off. He was wearing a black wool overcoat, casual track-type pants and black sneakers. The Oscar winner did not look up when my shadow reached his table, so I tried to break the ice by saying, "Excuse me…"
When that went nowhere, I quickly explained why I stood there.
"I dined with Andrea Eastman last night…"
That got Al Pacino's attention and he looked up.
"…I know she'd want me to send her best," I offered.
He then smiled with his eyes and his mouth.
"Andrea and I go way back," Pacino told me. "She's in town? I should call her. How can she be reached?"
I told him how to call her. Then, since I sensed it going well, asked the screen legend who'd played Michael Corleone in three Godfather films, if he'd visited "The Godfather" exhibit at the Academy Museum.
At that point, Pacino's lunch partner finally chimed in…with a joke. "If people saw Al walking around in that museum, they'd think one of the statues came to life!"
We all laughed and, in the chuckles, I sensed it was time for me to exit, stage right.
Parting Words
Later Pacino and his pal happened to be leaving the restaurant at the same time. So, I took the opportunity to thank him again and, with less nervousness, attempted a joke:
"I kept an eye on you during lunch," I told Pacino, the man who, as Michael Corleone, offed the Turk Virgil Sollozzo and corrupt cop Captain McCluskey at that table with a pistol placed behind the toilet tank in Louis Restaurant. "If I saw that you went to the bathroom, I planned to run for the exit."
As I said it, I pantomimed my hand reaching up behind the toilet tank, as Michael Corleone did to find the gun.
"Oh yes. That's very funny." Pacino politely patronized me, managing the kind of smile he gave Carlo Rizzi just before he met his end with a wire around his neck and his feet through a windshield.
When we parted at the valet entrance, before Pacino got into his white Range Rover and drove himself off, I reminded him Eastman was back in residence at the Beverly Hills Hotel. The classic castle where she'd bumped into Pacino a decade earlier – a sweet story he confirmed.
"Al Pacino happened to be in hotel's Polo Lounge when I was there. Richard, the piano player, played the theme from The Godfather. So Al and I decided to dance together to that song," Eastman fondly recalled.
Imagine, just as Pacino's Michael Corleone danced with his wife Kay, played by Diane Keaton in the First Communion scene in Godfather II (a dance reimagined in Corleone's declining days at the end of Godfather III) Andrea Eastman dancing similarly with Al Pacino at the Polo Lounge piano.
Diane Keaton's Casting
When it came to Diane Keaton, Andrea explained to me how the romantic comedy character actress ended up with such a vital supporting role in the brooding Godfather.
"We had Diane Keaton on our list," Andrea assured me. "She had only done Woody Allen movies, so to think of her playing Michael Corleone's wife was a very unusual role for her."
Andrea said there is no secret to her success in terms of casting. But she shared some of her process with me. "You make endless lists when you are a casting director. When you do a movie, you try to think out of the box. For The Godfather, it was endless casting. We worked seven days a week. I was dreaming of Italians all night every night."
She said ultimately casting comes down to instinct.
"Some actors and actresses can go to acting school forever and the don't have 'it.' 'It' is a gift. Somebody walks in the room, and they have a presence."
You Have to Answer for Santino, Andrea
Andrea, in another of her patient conversations with me, revealed that it was close call for James Caan to get the part of hotheaded Santino Corleone.
"We all worked as a team, but I am responsible for Jimmy Caan getting the part of Sonny," she allowed.
I settled in for the story.
"Jimmy was amazing in his Godfather screen test for 'Sonny,' but he was out of the movie. Francis Ford Coppola, the director, had initially promised the part to a big guy named Carmine Creedy he'd met at a party. Coppola made him an offer in a bar, but it turned out Creedy wasn't quite right for the part. He was a big guy but not menacing. He was like a big Saint Bernard," Andrea explained. "Luckily, he'd never formally signed a deal, and Coppola trusted me. He was leaving for Sicily so he told me, 'Just cast my f-ing movie!'"
Andrea said she ran up to her office to make Caan's deal before anyone changed their mind. "Everybody in the world wanted to be in The Godfather. And we then had our dream cast: Marlon Brando, James Caan, Robert Duvall, Diane Keaton and Al Pacino."
A Scene Seen on Set
"Andrea, once you selected and secured the cast, did you ever get to see your actors in action before the film hit the screen?"
The gentle, sweet woman tolerated yet another of my questions. And gave me a colorful answer.
"Charlie Bluhdorn and I went to visit the compound they used as the Godfather's house. When we arrived, they were in between shoots. During that time the production team has to move the cameras and adjust the lighting and microphones and so there can be a lot of time waiting," she explained.
Imagine Andrea pulling up with Bluhdorn, the corporate owner of Paramount, seeing the cast in the compound playing frisbee.
"'What's going on here!?'' Andrea said Bluhdorn yelled. "'This is Paramount's money and you're playing frisbee?'"
Andrea understood the business and so she led Bluhdorn inside the house to calm him.
"But when we looked out the window, Marlon Brando and Jimmy Caan mooned us! It was pretty funny," Andrea said. "It was the happiest time of my life."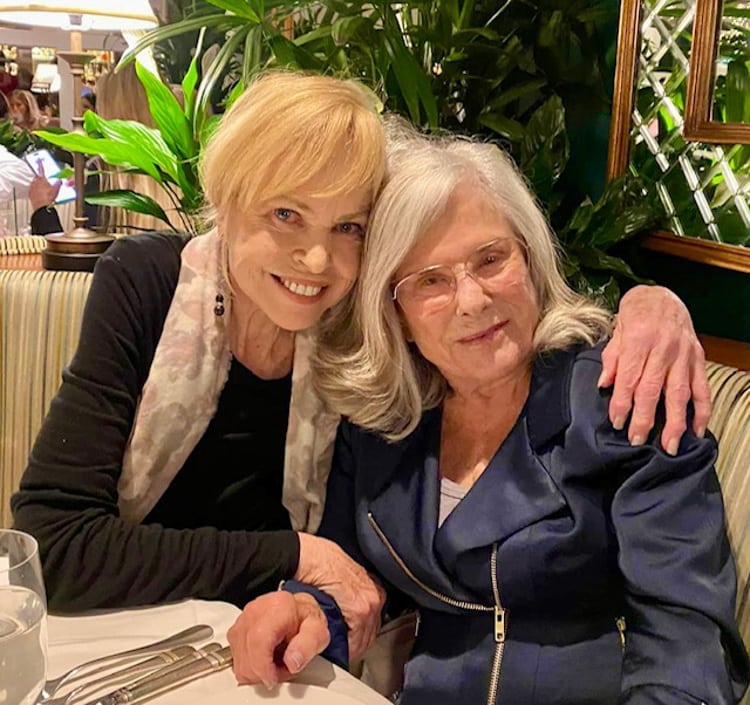 Hollywood Royalty
Andrea's wide-ranging career, which began after she graduated from Ohio State, has left an impact on Hollywood.
My "Johnny-come-lately" occasions spent visiting with Andrea over the month in Beverly Hills would be the "power meetings" she was accustomed to. But to me, they were significant and enjoyable. During "Award Season" residency at the Beverly Hills Hotel, we gathered time and again at Polo Lounge. And we chatted on the couch in her hotel suite with an outdoor balcony overlooking the gardens. A place in which I also came across her walking her dog one evening.
I sat next to Andrea on the second-floor dining room at Mastro's in Beverly Hills with late-night radio star George Noory and his radio executive friend Mark Rollings. Along with comedian and writer Billy Ribeck. A trio played music and it was loud in there. But the soft-spoken Andrea had us all leaning in as we feasted on her tales and charm.
To illustrate how connected Andrea still is, she had an idea for Pat Boone, the singing star now living in Beverly Hills who is a friend of Noory. Ribeck had an idea for Andrea because she is friends with acclaimed director Ron Howard.
For all her legacy and power, Andrea was unassuming. I found her, at times, opinionated and decisive. Other times she was modest and even shy.
Dinner at Spago
While speaking of local restaurants, Andrea mentioned she'd be interested in going to Spago.
"I would really love to see Wolfgang Puck again if he'd see me," Andrea mused.
Puck, the original celebrity chef, is Spago's founder and a wildly successful international entrepreneur. Spago, at its previous and current Beverly Hills location, has always been Hollywood's "it" restaurant for see-and-be-seen cuisine. Not to mention Puck's prominence as a caterer to the stars at the Academy Awards Ball.
I asked Andrea to let me arrange a Spago reservation.
The response I received from Chef Puck's assistant after emailing his office was rapid, enthusiastic, and warm:
"Chef Puck would be delighted to meet with Ms. Eastman. Would you please ask her if she can come to the restaurant on February 19?"
Andrea and I, as directed took a table that night at Spago. John Scanlon, the Irishman serving as general manager of the Beverly Hills Hotel, brought Andrea to the restaurant where my son Harrison Shiels and a pal named Tim McGuire gathered for dinner.
Our conversations fell silent when Wolfgang Puck appeared at the table. He and Andrea concluded they hadn't seen each other in a decade. But they hugged and instantly conversed like it had only been yesterday.
Drinking Like Wolfgang Puck
Chef Puck sat down, ordered up a table full of deserts and created a craft margarita for himself with jalapenos on the spot. Which he requested the server make and bring to him. The rest of us chose to "drink like Chef Wolfgang Puck," so the server brought a full round of them. We silently savored our margaritas while Puck and Andrea savored each other, laughing, smiling, and recalling good times and old friends.
The Austrian-born Puck talked about his operation exiting Hotel Bel-Air, which was owned by the same Dorchester Collection group as the Beverly Hills Hotel. This caused Scanlon, who previously worked with Puck in London, to shrug that while he was with the company, was not involved in the crosstown property.
But Puck then countered by telling us about an exciting new restaurant he was involved in at a popular beach spot in Malibu.
"Will you name the new restaurant?" I asked Puck.
"If I want to," he answered with a shrug.
I could see why he and Andrea got along so well. They were both significant, successful people…but they weren't outwardly impressed with themselves. It was a joy to see the two of them have such a fine, fun time together in that special starry space called Spago.
Puppy Love
Andrea was equally modest when the heartthrob singing star Paul Anka swept into Polo Lounge with a small entourage late one evening after his performance at the Saban Theater over on Wilshire. While we were seated in Frank Sinatra's old booth – yes, the one with the infamous telephone – Anka and company, including O.J. attorney Robert Shapiro, took a table in the back corner of the green and white-decorated dining room. (The same booth I'd seen Bono and his mates from U2 occupy one evening that month.)
Now both slightly more mature but still vibrant and stylish, Andrea expressed an affection for Paul Anka. She also explained she'd known him for years. Because she is dignified and classy, she declined my suggestion that she go say hello to the man who'd written "My Way" for Frank Sinatra. In addition to Johnny Carson's "Tonight Show" theme while collaborating on hits with Michael Jackson; Tom Jones; Michael Buble; Chicago's Peter Cetera, and more. Anka, still performed his countless other chart-toppers such as "Diana," "You're Having My Baby," and Kodak's "Times of Your Life" for sold-out crowds.
When it came to Paul Anka, Andrea, like all of us, had a lifelong case of "Puppy Love."
Andreas' Name Was Music to His Ears
Since it was the night of the Grammy Awards, and Clive Davis staged his legendary annual pre-Grammy gathering after party where we sat at Polo Lounge, I knew the room would soon be full of the famous. (Stevie Wonder was among those I'd spotted seated earlier.)
Fate found us in front of Anka's table just before he left. The sight of Andrea set Anka's eyes alight. They recalled the details of a first-class cross-country flight they once took together with amazing accuracy. Anka even recited the seat number. As Anka and Andrea spoke warmly and caught up on things Shapiro, wearing a fedora, chimed in asking Andrea why she hadn't cast him in any Godfather movies!
Another evening I saw Andrea dining with an additional longtime musical friend of hers Michelle Phillips – one of the original members of the Mamas and the Papas. They sat in the same Polo Lounge booth in which only days earlier she'd strategized with star news anchor Brian Williams and his wife Jane, who were in town for a meeting with Creative Artists Agency. Also, to visit their actress daughter Allison Williams, who lives in West Hollywood.
Bittersweet Memories
Andrea Eastman's special memories of the iconic pink hotel include a not-so-happy one, but one that does touch her heart. She was in residence with an extended stay to recover from her open-heart surgery during the pandemic. The hotel brought pleasure to her pain, as did her devoted dog Trooper.
"Sylvester Stallone flew Trooper and I from my home in Bozeman, Montana on a private jet to come to Los Angeles for my open-heart surgery," Andrea said with a swoon of appreciation. "He's a great person. I've known him since before 'Rocky.' We go back a long way."
Eastman's experience has been chronicled in a new book for travel types, children, and animal lovers entitled: "Trooper at the Beverly Hills Hotel." The coffee table-pretty book by Susan McCauley features charming illustrations memorializing Eastman's late golden retriever and the gilded hotel by Darlee Orcullo Urbiztondo.
Trooper Trots Through Hollywood's Beverly Hills Hotel
"Trooper would prance around the hotel and go behind the front desk each morning where the staff would greet him. He loved the hotel and the affection I got from Trooper in that peaceful, elegant setting hastened my recovery. The book makes people cry because of Trooper's loyalty and unconditional love for me and everyone," Eastman revealed.
The Beverly Hills Hotel's current general manager, John Scanlon, welcomed Eastman back with her new dog, a golden/dingo mix she named "Polo" in homage to the hotel's famed Polo Lounge.
As we talked, Eastman introduced me to her new canine companion.
"I rescued her from Korea, where, I don't even want to tell you, but they cook dogs alive. She's pretty cute and sweet. I love animals. They trust you and love you," she said, petting Polo, who'd jumped up from her plush pink and green Beverly Hills Hotel dog bed in the suite's vestibule at the door.
Some of Andrea's dearest clients, friends and associates rallied around. Some attending a book launch event at The Beverly Hills Hotel and some endorsing her beautiful book:
Stallone said, "This heartfelt story will move you for sure." Academy Award screenwriter Marshall Brickman compared "Trooper" with "Charlotte's Web."
"It's a delightful story for children, their parents and dog lovers," according to supermodel Cindy Crawford. And Ali McGraw, whom Andrea cast in "Love Story," says "The book will touch your heart."
Horsing Around in the Polo Lounge
Eastman is an animal lover. Though she's described making The Godfather as the best time of her life, there is one scene she lobbied against: the infamous "horses head in the Hollywood producer's bed incident" (which was filmed at a mansion behind the Beverly Hills Hotel with a genuine, previously butchered equine skull.)
Eastman has rescued horses at her home in Bozeman, Montana, near Big Sky Resort, owned by Michigan-based Boyne USA. She was also featured in the book "People We Know, Horses They Love," written by NBC "Today Show" correspondent Jill Rapaport. With images by her sister Linda Solomon, a celebrity photojournalist from Michigan.
And lest you think Andrea is a one-trick pony, she cast many other movies including 1970's "Love Story" starring Ali McGraw and Ryan O'Neal. This casting and picture also gave Tommy Lee Jones his film debut.
The lesson in all of this? Keep your friends close…and your pets closer!
Glitz and Glamour
On Academy Awards Sunday, I walked with the afternoon crowds around the Dolby Theater on closed Hollywood Boulevard. We were all trying to catch a glimpse of the glittering stars being delivered to the red carpet via chauffeur-driven black SUV's. Occasionally a black-tinted window would open and one of the attendees would wave to the crowd.
I did the same "through the looking glass gadfly routine" after the awards outside the Vanity Fair Party presented to the tuxedoed and gowned statue holders in an elaborate, gated-off tent venue on Santa Monica Boulevard outside the Wallis Annenberg Center for the Performing Arts in Beverly Hills.
I'd watched them building the tent city for two weeks on my walks in Beverly Hills. And, after dark, I saw the VF logo projected up onto the ornate Beverly Hills City Hall tower. Even the landmark, art deco-style neon 76 gas station across the street was closed that night in deference to the soiree.
Andrea Eastman, in as glamorous a gown as any partygoers wore that night, had a fine time at the Elton John After Oscar Party, escorted by Scanlon.
And with that, at sunrise on a March Monday, the curtain came down on the more-than-a-month-long award season. It had begun with Golden Globe Awards at the Beverly Hilton just after New Year's.
A Fond Farewell
By the next morning, a gray and chilly one, Andrea Eastman and her dog Polo decamped from the Beverly Hills Hotel. On her way out of Hollywood, which by all accounts was a meaningful memory lane return full of personal reconnections, she messaged me from LAX. I sensed she would miss everyone. But the Dame and her doggie were boarding the Bozeman flight back to her snowy mountain "home."
Her text read:
"Thank you xx. On the plane" (followed by a crying "sad face" emoji.)
I messaged Andrea Eastman back stating that, in addition to that days' weather, Tinseltown was already less glittery without her.
Then I sent Andrea a line Nick Carraway said to "The Great Gatsby" at the end of F. Scott Fitzgerald's book:
"They're a rotten crowd. You're worth the whole damned bunch of them put together."
Read more of Michael Patrick's work at The Travel Tattler and contact him at [email protected]

Latest posts by Michael Patrick Shiels
(see all)