Many don't know it exists. Others would never attempt the journey. With little written about it, and no signs marking its precise location, Italy's Bay of Ieranto (Baia di Ieranto) is a hard-to-find paradise.
It is a pristine inlet where the entrance to the trail is virtually undetectable. Cell reception is nonexistent.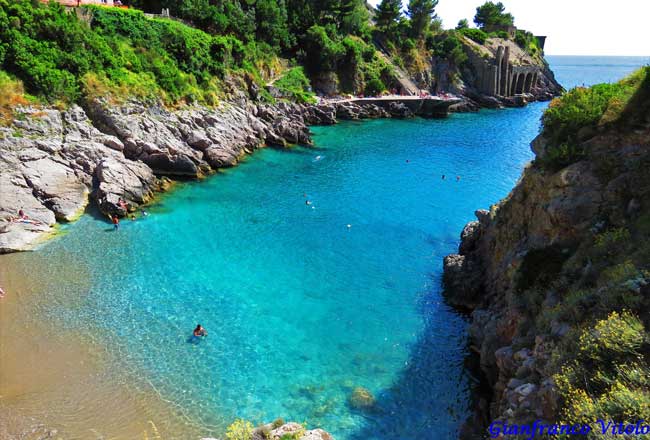 Bay of Ieranto in Italy
Situated on Italy's west coast, Ieranto requires a 40-minute drive from Sorrento followed by a 40-minute mountainous hike to reach the turquoise waters of the Tyrrhenian Sea.
When the path starts to descend the back side of the mountain, you'll find a bright blue bay and small sandy beach. In the distance, an 18-foot high platform extends over the water, inviting an adventurous leap into the glistening waters.
My friend and I were vacationing in Sorrent when we stumbled upon the Bay of Ieranto.
We weren't even aware of its existence until we spoke with a hotel worker named Lidia about another hidden beach we'd visited: Bagni della Regina Giovanna.
"Regina Giovanna," Lidia said in her wistful Italian accent. "That is heaven." She smiled as if this were rehearsed. "But the Bay of Ieranto, that is even more beautiful. Even than heaven."
She told us that it was near Nerano, a tiny town 40 minutes south of Sorrento. She also told us that the only way to reach Ieranto was to go on a 40-minute hike.
What she didn't tell us was that the entrance to the trail was impossible to locate. In our naiveté, we leapt into the journey.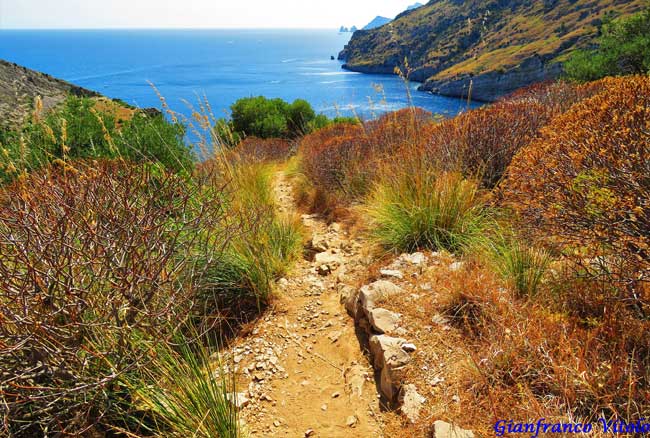 Visiting Nerano
The next day, we drove to Nerano, a fairly simple drive with the aid of a GPS. The most difficult part wasn't getting to Nerano so much as it was getting out of Sorrento.
Our faithful GPS guided us down some "streets" that were more like narrow corridors. We bent our side view mirrors in and even then, one still got scraped.
On the way back from Nerano, we discovered that these "streets" were completely unnecessary to take, and I learned that relying on a GPS isn't the same as always listening to it.
Once we extricated ourselves from Sorrento, we set on an idyllic drive, winding through verdant countryside and puttering through the centers of small villages.
It didn't take long for us to realize that we were seeing parts of Italy where tourists don't venture. While driving to the town of Nerano was easy, the problem we faced in getting to Ieranto was locating the trail entrance.
We drove up and down Via Amerigo Vespucci, the single road through Nerano. It wasn't until Marco, an elderly Italian man in a straw hat, told us to go a half-mile past the town of Nerano.
The trail entrance, it turned out, wasn't particularly close to the Italian town center.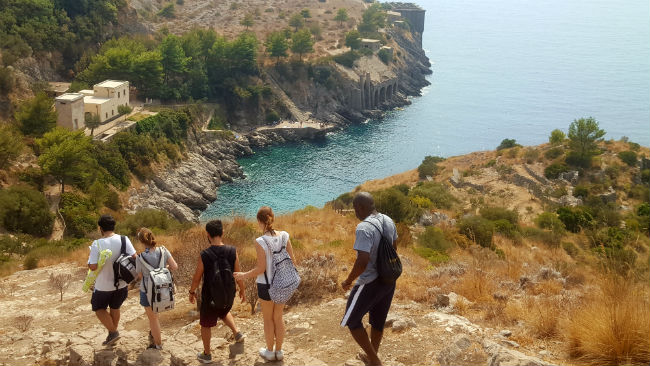 Casale Villarena
We parked in a lot across from a local hotel named Casale Villarena, and in the parking lot, struck fortune when we met a group of four Neapolitans who were on their way to Ieranto.
"Follow us," they said, beckoning us with their hands. "We'll show you the way."
While detecting the trail entrance would have been impossible without our Neapolitan guides, the trail itself was quite easy to follow.
The trail began up the front side of a mountain, and no more than 10 minutes into the ascent, we overlooked a surfeit of boats floating in the Marina del Cantone, the harbor where Via Amerigo Vespucci ultimately ends.
Once we crested the mountain and started our descent down the back side of the mountain, we encountered a post with two signs that pointed in different directions.
The sign pointing to the left indicated the easier, but slower way down. The sign pointing to the right indicated the more rigorous, but quicker way down.
We followed our Neapolitan guides down the latter, and it was but a couple of minutes before Ieranto came into view.
Every step brought us closer to its waters, and the moment we reached the fine sands of its tiny beach, I set my backpack down and ventured to the 18-foot high platform. I couldn't resist a leap into those turquoise waters.
And when I jumped, I knew our four Neapolitan guides were watching, appreciating the sight of their new friend falling into a paradise that few will ever experience.
If You Go to The Bay of Ieranto:
Casale Villarena should be your precise destination. They have a parking lot across the street and that is where you should park. (Note: You may have to go into the hotel to pay for parking.)
Walk north on the main road (Via Amerigo Vespucci). It is uphill and you will walk around a sharp curve before you reach the entrance to the trail that leads to Ieranto.
The walk is no more than a quarter-mile from the parking lot.
Above is a picture of what the trail entrance looks like, which is why nobody can find it. (We got lucky because we'd latched onto a group of four from Naples who led the way.)
Check out our Italy Travel Guide for more information on what to see and do in Italy.
Author Bio: Miles Ryan Fisher grew up in the suburbs of Philadelphia and currently lives in Washington, D.C. He works as Editor-in-Chief of Italian America® magazine. In his free time, he enjoys playing in an adult baseball league and coaching little league.