Go World Travel is reader-supported and may earn a commission from purchases made through links in this piece.
As Sorrento's iconic Hotel Continental is set to reopen in June 2022, it seems timely to spend 48 hours in this coastal township on Victoria's Mornington Peninsula. Much of the town's original charm has been retained, evident in the tradition of historical limestone buildings.
Dating back to 1875, the heritage listed 'Conti" has undergone a massive renovation, and I cannot wait to revisit. So here I am, planning 48 hours in this ambient seaside town, once known as Victoria's first European settlement. Exploring can be done on foot, so pack your walking shoes, and depending on the season, bring a coat, and an umbrella.
My agenda is to settle into the Hotel Continental on a Friday afternoon, check out the renovations and set off about two hundred metres down the hill to the beach with my camera. Port Phillip Bay shoreline is postcard perfect.
Norfolk pine trees frame the beach, small boats are moored offshore alongside the old jetty, and the Queenscliff ferry departs from the wharf. There are several cafe selections on the sidewalk for an afternoon drink or a coffee stop, including the strip alongside the old Koonya Hotel, or the Baths by the jetty, originally named after the Sorrento Sea baths from the 1800's in Australia.
Hikes in Sorrento, Australia
If you are feeling energetic, stroll up the hill just past the ferry terminal and stop at the Hotel Sorrento, another renowned historical pub, with a superb sunset lookout.
Back to the Conti for the evening, and I am looking forward to indulging in one of several new dining experiences created by an award-winning chef. This hotel was a regular haunt for my husband and I when we first met.
Many long winter lunches were spent by the open fire, accompanied by a selection of excellent peninsula wines. I plan to stay in for breakfast at the hotel, before setting out to follow the Millionaires Walk trail. I have enjoyed this track dozens of times, never tiring of the beauty.
The walk begins at Lentell Ave in Sorrento; if you are travelling on foot its about 1.5km walk from the Sorrento Hotel Continental. This stunning cliff top walk has magnificent views across the bay to the Bellarine Peninsula, Melbourne skyline, and Dandenong Ranges.
The gently undulating walk is about 1km long and passes by waterfront properties with private jetties. The walk is for public access, however, be sure to shut the gates along the track. Upon reaching Point King Road, backtrack to Lentell Ave, and don't forget your camera!
​Upon returning from Millionaires Walk, follow the hill down to the ferry terminal and take the 45-minute boat trip to Queenscliff for lunch. Capture views of the southern peninsula from the water as the ferry passes Port Phillip Heads enroute to the Bellarine Peninsula.
Be sure to watch out for dolphins playfully showing off alongside the ferry! The Queenscliff township is a scenic 1km walk from the ferry terminal, bursting with history and an array of elegant Victorian era hotels.
Personal favourites are the majestic Vue Grand or the Circa 1902 Queenscliff, both my recommendations following an impressive girl's weekend away! Alternatively, stay close to the ferry terminal where trendy cafes and boutique stores line the modern waterfront development.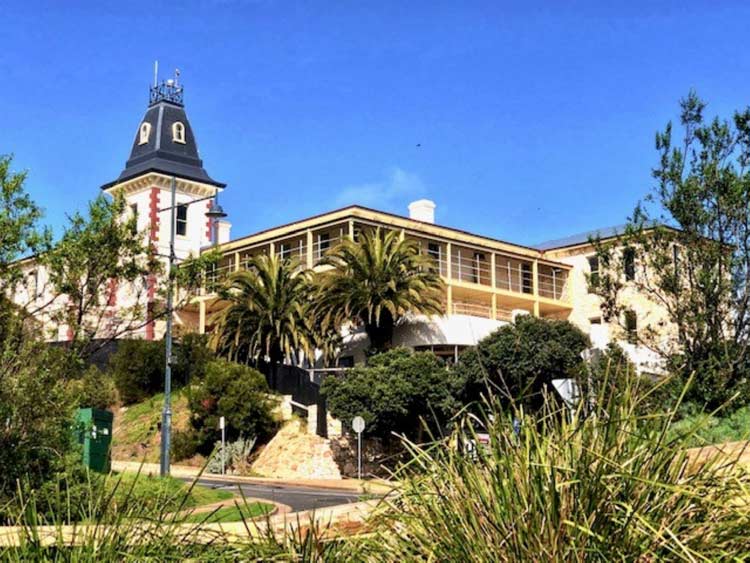 Shopping and Dining
Arriving back in Sorrento following a scenic ferry trip across Port Phillip Bay, and it's time for a coffee break. Stroll back up the hill into the main strip where tempting sidewalk cafes stretch the length of the street. There are so many mouth-watering selections and crowds are a good indication that the coffee and food are great!
My favourites are Stringers, just opposite the Sorrento Hotel Continental, or Buckley, located at the end of the street, selected undoubtedly due to my weakness for desserts!
There are dozens of evening dining possibilities in the main street, all within casual walking distance back to the Hotel Continental. Italico Sorrento, Bistro Elba, and Loquat are amongst my preferred dining venues, but be sure to book in advance.
​
Sunday morning and 8 hours left to absorb as much as I can. Following a lite breakfast, I'll be visiting the Manyung Art Gallery in Ocean Beach Rd, exhibiting one of Australia's largest contemporary displays of paintings and sculptures.
The surrounding cosmopolitan shopping village is alive with unique retailers, featuring fashion, several galleries, interior stores, antiques, and the historical cinema. I love this town!

Thus, the reason for my lite breakfast. I am saving the best meal until last and ordering fresh fish and chips from Fish Fetish in Ocean Beach Rd, before walking the 1.5km to Sorrento back beach at the end of Ocean Beach Rd.
Beach Time in Sorrento, Australia
The ocean back beach is popular for surfing, diving, and fishing, and the rock pools and rock ledges are great for exploring at low tide. A spectacular natural amphitheater like setting makes for an ideal picnic lunch setting.
The beach is accessed by stairs or a ramp, and there are several walking trails set within a landscape of coastal trees and shrubs. Looking out to the ferocity of Bass Strait is almost spellbinding. However, when swimming here, be aware of rips and rocks.
All Smiles Reception Venue is perched on the ledge of the rocks and sand dunes overlooking the beach. I attended a wonderful wedding here a few summers ago, and as expected the bridal photography within this setting was stunning.
No matter what season it is, Sorrento's combination of history, natural beauty, and fabulous food makes for a memorable weekend escape, however there is too much to cover in just 48 hours. You will just need to keep returning!
Book This Trip To Sorrento, Australia
Sorrento is a coastal town located on a peninsula, 90km (56 miles) south of Melbourne, Australia. At one end of the main street is Port Phillip Bay, while the ocean lies at the other end of the township.
Travel to Sorrento is by car, train/bus, or the ferry via Queenscliff in Australia. During the summer months the temperature ranges between 20-28 degrees Celsius (68-82F) and during the winter months 8-14degrees Celsius (46-57F).
Iconic hotel accommodation sites are at Hotel Continental https://.ihg.com or Hotel Sorrento https://hotelsorrento.com.au Private houses can be found at https://getawaypm.com.au/
The Sorrento/Queenscliff passenger and car ferry runs every hour during daylight hours. https://www.searoad.com.au
Depending on how much time you have, other popular activities include tours and sightseeing with http://victoriaexplorediscover.com.au – fishing, snorkelling and diving, bush walks, surfing, swimming, bike trails, and golf.
Author's Bio: Karin Mander is an Australian freelance travel journalist, with a passion for travel, photography, and documenting her journeys. After studying Eco tourism and Adventure tourism, Karin established Victoria Explore & Discover, a company specializing in sightseeing tours to her hometown region on Australia's beautiful Mornington Peninsula.