Editor's Note: We're all dreaming of travel ahead. Here's some inspiration for future adventures. We share places, products and activities we recommend. If you make a purchase using a link on our site, we may earn a commission.
Biking a thousand miles is a tough challenge at the best of times. But, throw in mammoth sand dunes, ferocious head-winds, extreme isolation and even lions and it becomes one of the toughest challenges on the planet.
This is what faced explorer Dr. Kate Leeming, as she set out to become the first person in history to cycle the entire length of Namibia's coastline, the Skeleton Coast.
It was 2019 when Dr. Leeming took on arguably her most challenging expedition yet. Her goal was to cover 1,621km of Namibia's Skeleton Coast by bike, a feat that had never been tried before.
We caught up with Kate to learn more about who she is, the inspiration behind this latest challenge and what her plans are for the future.
Meet Dr. Kate Leeming
Q: Please tell us a little about yourself and how you first got into exploration.
A: "I grew up on a wheat and sheep farm in Western Australia and was a highly successful sportsperson during my school and university years. Then, I dreamt of cycling through France or Italy.
But, it was only after I travelled to the UK for a field hockey tour that I discovered my passion for travelling by bicycle. Over the next couple of years, I pedalled about 15,000km as my personal exploration of Europe.
Fast forward to 2021 and I have pedaled a distance greater than twice the world's circumference and achieved four world firsts on my major journeys. So far, my longest distances have been across Russia from St Petersburg to Vladivostok at 13,400 km, west to east across Africa (from Senegal to Somalia) at 22,000 km, and through Australia (including the Canning Stock Route) at 25,000 km.
Since 2013, I have been working towards making the first bicycle crossing of the Antarctic continent via the South Pole. I've completed four polar training sessions and preparatory expeditions on every continent except Antarctica, in polar conditions, on the sand and at altitude.
I always try to use my expeditions to benefit the people and places I have the privilege of travelling to, bringing awareness and supporting causes that are helping to alleviate poverty, achieve equality and protect the environment. In 2016, I was awarded an Honorary Doctor of Education degree by The University of Western Australia for services to community and education.
Inspiration for Namibia's Skeleton Coast Expedition
Q: What was the inspiration behind choosing Namibia for your latest challenge?
A: "I had known about the Skeleton Coast since I read about it maybe 30 years ago when Namibia was gaining independence from South Africa. I cycled through northeastern Namibia (Etosha National Park, the Kavango region and Caprivi Strip) during my 2010 "Breaking the Cycle in Africa" expedition. I became intrigued by its ethnic diversity and deserts.
I thought of the concept of an all-wheel-drive fat bike when I was researching what would be the ultimate bicycle to cross Antarctica. Trialing the first Christini AWD Fatbike enabled me to dream of new and challenging expeditions that previously would have been deemed impossible.
Cycling on sand is similar to cycling on snow. The vision of cycling down the trackless sandy terrain of Namibia's entire coastline, into some of the most consistently ferocious trade winds on the planet was born out of the need to test my mind and body in preparation for Antarctica.
But, this was not only a preparatory journey, it was designed to be a credible expedition in its own right. Bringing together my interests in Namibia, its vast and desolate landscapes, the haunting history of the Skeleton Coast, its ethnic diversity and specifically adapted flora and fauna.
The icing on the cake was that no one had ever cycled the entire coastline before…if I could negotiate how to gain the necessary permits, that in some parts had not been granted in decades."
Q: What was the high point and low point of the journey?
A: "I can't really isolate a single high or low point. Pretty much every day I was in awe of my surroundings and had to pinch myself that this was really happening.
I love the serenity and purity of the desert, particularly the high dunes of the Namib, the oldest desert in the world and one of its driest. The coastline looks deserted but there were constant surprises; shipwrecks, mining ruins and skeletons washed up on shore and slowly returning to nature.
I saw all sorts of wild animals – oryx, desert elephants, giraffes, seals, jackals, rare brown hyaenas, flocks of cormorants and much more. Cycling through the Sperrgebiet, the forbidden diamond mining zone that had been locked to outsiders for over a century, was a huge privilege; a pristine environment where 70 percent of species are endemic and the ruins of diamond mining ghost towns are so interesting.
The start and finish were also huge highlights.
If there was a low point, I'd say it was probably being smashed trying to cycle into the constant gale force winds, mostly on soft sand due to the high tides. Over the first six days in particular, I could only progress at walking pace sometimes and struggled to make the minimum distance (50km/32 mile average).
I worried that I may not have time to cover the whole distance, all the way to the mouth of the Orange River on the South African border with Namibia."
Challenges of Namibia's Skeleton Coast
Q: Taking over a month to complete, were isolation and loneliness a challenge?
A: "No, not at all. I am totally in my element, this is what I am made to do. Every day was intense from the moment I awoke to when I finally wrote my journal before I fell asleep, exhausted.
Riding in such conditions requires full concentration just to stay on the bike; balancing on the soft sand with every pedal stroke, mapping the path ahead of me, filming and recording the journey and leading the support team.
My mind was always busy because there is so much to get right to make the whole journey a success."
Q: Your expeditions aren't just about challenging body and mind, they also have a humanitarian element. Namibia isn't a country that many would have travelled too, pandemic aside, what sort of challenges are they facing at the moment?
A: "The principal cities and towns of Namibia are generally well-developed and maintained. Namibia has a small population (approaching 3 million) spread thinly over the vast area. Its economy is largely reliant on the mining and tourism industries.
Being the first African country to have the protection of the environment written into its constitution, Namibia is a world leader in its conservation efforts. For example, it is the only country where the population of black rhino has increased in recent years and there are many instances of success stories.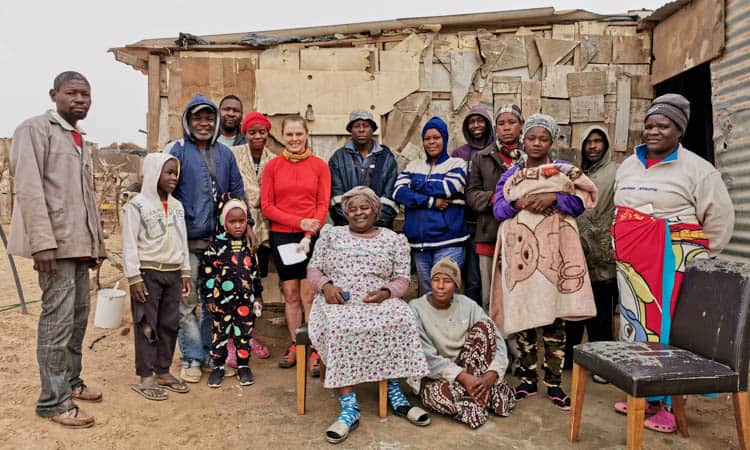 The main humanitarian issues I can see lie with marginalised ethnic groups. For example, farmers in the Kunene Region of the far northwest constantly struggle with drought and their geographical isolation results in a lack of many of the basic amenities – education and health access, water, electricity and fuel.
In recent decades, tens of thousands of people from the poorer margins of the country have migrated to the cities to look for decent work. The most heartbreaking experience of my journey was a visit to the Democratic Resettlement Community (DRC) on the desert fringe of Swakopmund.
Over the last 20 years, the temporary housing, largely made from repurposed materials from the city rubbish dump, has developed into a slum. The DRC is now home to about 20,000 people who struggle to make ends meet.
The small group I met were trapped, physically and mentally, in a cycle of poverty with little hope of breaking away."
Discover the Beauty of Namibia
Q: Is Namibia a country that our readers are able to explore themselves?
A: "Namibia is a very accessible and rewarding place to explore. It is visually stunning just about everywhere, from the Skeleton Coast, Namib and Kalahari deserts, rugged mountains, open grasslands, national parks and reserves teeming with wildlife, spectacular canyons and the wetter Kavango region that feeds into the Okavango Delta.
It is well-set up for tourism, whether it be a wildlife safari, a 4WD trip, adventure activities and luxury or budget travel.
One of the biggest surprises of the expedition came at the very end of my journey as I entered the town of Oranjemund. Dubbed as 'Namibia's most mysterious town', it was closed to outsiders for 85 years, as it existed to service a huge diamond mining operation.
As mining winds down, the diamond company is keen to support those who live there. The town has, for the first time now, opened its doors to the world. A juxtaposition in the desert, Oranjemund offers modern amenities, whilst wild oryx wander the streets and a 500-year-old shipwreck, the Bom Jesus, lies freshly excavated, complete with the 3000 gold coins that were found in the sand.
Right on the doorstep of the desert, I think Oranjemund is the perfect stepping off point for anyone wanting to make their own adventures in this part of the world.
Q: What is one of your favourite memories from your time in Namibia?
A: It's a toss-up between witnessing some of the animals in the wild, especially the desert elephants and the brown hyaenas at Mowe Bay in the north, and gliding down some of the most enormous sand dunes on the Namib Desert."
What's Next for Dr. Kate Leeming?
A: "On 1st May I will begin "Breaking the Cycle Across Australia", a 6000km, 11-week fat bike expedition from the continent's most easterly point, Cape Byron to its most westerly, Steep Point.
The journey will take me across the continent's sunburnt interior crossing the tracks of several intrepid pioneers and explorers while coming face to face with the cultures and nature that survive in some of the world's most remote deserts.
Q: And lastly, what's next for you?
Of course, "Breaking the Cycle South Pole" is very much on the horizon. I'm ready, but it is a question of finding the right sponsor partners."
Available to watch from the 7th of April on Outside TV, Kate has a new documentary series launching called Diamonds in the Sand, a four-part documentary series about Kate's incredible journey along the Skeleton Coast. If it's anything like Kate's previous documentary Njinga, about her ride across Africa, which won best cinematography and best sports documentary at the Action on Film International Film Festival in Los Angeles, it will be one to watch. Click here to watch the trailer.
About Kate Leeming:
As an explorer/adventurer, Kate has cycled a distance greater than twice around the world at the Equator. On August 16th 2010 she became the first person to cycle an unbroken line from Africa's most westerly to its most easterly points; from Pointe des Almadies, Senegal to Cape Hafun, Puntland, Somalia.
Cycling 22,040 km over ten months, Kate's Breaking the Cycle in Africa Expedition was not only a physical quest but an odyssey to highlight the development needs and activities of war-torn and poverty-stricken nations.
Cycling through twenty countries, Kate aimed to find out what is being done to give a 'leg up' rather than a 'hand out' – to shine a positive light on the issues, cultures and geography of Africa.
Kate has two earlier world firsts under her belt – the Trans-Siberian Cycle Expedition (1993) when she became the first woman to cycle across the new Russia unsupported (aiding the children of Chernobyl), and the 25,000km Great Australian Cycle Expedition (2004/05) which included the first bicycle crossing of the Canning Stock Route by a woman.
Kate's latest original expedition, saw her become the first person to cycle the entire Namibian coastline. A 1621km sand cycling expedition from the mouth of the Kunene River on the Angolan border to the Orange River mouth on the South African border.