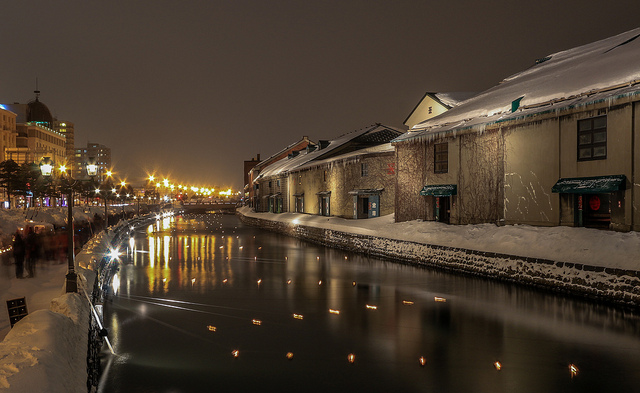 Below me, a weary man in green overalls and a fur-lined hat shovels snow from the doorway of his half-hidden log cabin. The gondola worker – who must be 70 years old – refuses a round of tea from his colleague, instead, plunges his shovel back into knee-deep powder.
In a place like Niseko, where 15m of snow blankets the village every season, his was a familiar struggle. I watch from the warmth of my sixth-floor hotel window and can't help but smile, because for the skier it means a day of pristine powder awaits, courtesy of last night's storm which swept in from Siberia.
Hokkaido, Japan
Natural hot springs, world-class cuisine and that famous 'champagne powder' have brought me to Hokkaido, Japan. A sleek Shinkansen (bullet train) has slashed the 513-mile Tokyo-Hakodate journey time to only four hours, enticing travellers who might previously have bypassed Japan's wildest island.
The clouds part to reveal Yotei-zan – Niseko's conical volcano – providing a dramatic backdrop unlike anything I've seen. But there's no time to ponder such a view. I meet my smiling guide Rupert, an Australian expat, who is keen to show me the terrain. Following a polite brush-down from a bowing gondola worker, we catch the Grand Hirafu lift and begin with a sweep down 'Stairway To Heaven,' before tackling the black 'Misoshiru' (miso soup), so-named because, like the soup, the piste (trail) is different each time you try it.
With 61 runs totaling just 29 miles, Niseko can't match European resorts for size, but while the Alps landscape is colossal and dramatic, these slopes are understated and somehow mystical. We go over to Mount An'nupuri to descend eastwards down well-groomed blue and red runs, ideal for intermediates that like to cruise.
"If that doesn't get your adrenaline pumping we can hike up Yotei-zan and ski inside its crater?" Rupert suggests. "It's the longest vertical descent in Hokkaido!" I take another look at the volcano, looming ominously across the valley, before politely refusing Rupert's life-threatening offer.
I had imagined futuristic gondolas whisking you off to the top of the mountain in milliseconds. This was Japan after all. But in fact, some lifts are surprisingly basic. One christened 'the meat hook' is just a single half-wooden seat with no safety barrier, swinging you up to the summit.
As the visibility drops, I thank Rupert before heading our separate ways. But there was no need to call it a day. Instead, the floodlights flicker-on to illuminate the mountain, so I head to Strawberry Fields – home to some of the world's most picturesque tree skiing.
Gliding through knee-high powder at night with snow tumbling around you is a magical experience. "One more run," I promise myself. Fast-forward two hours and I'm still floating through pillows of virgin powder. Strawberry Fields forever, indeed.
After long, thigh-burning days, the highlight of Japanese après ski is unwinding in an onsen. Forget hot chocolate, when you've been wind-slapped by a Siberian blast, nothing achieves rejuvenation like a mineral-rich thermal bath. I was staying at Ki Niseko: a new ski-in ski-out boutique hotel boasting male and female onsens, complete with saunas and plunge pools.
Continued on next page