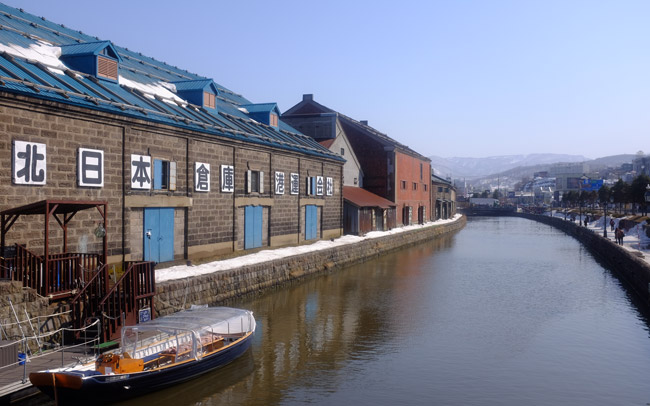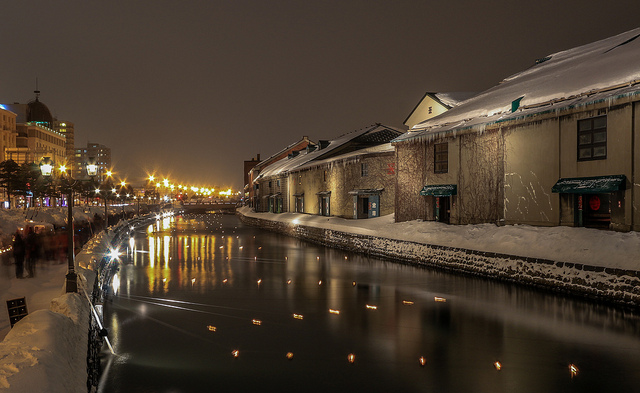 Below me, a weary man in green overalls and a fur-lined hat shovels snow from the doorway of his half-hidden log cabin.
The gondola worker – who must be 70 years old – refuses a round of tea from his colleague, instead, plunges his shovel back into knee-deep powder.
In a place like Niseko, where 15m of snow blankets the village every season, his was a familiar struggle.
I watch from the warmth of my sixth-floor hotel window and can't help but smile, because for the skier it means a day of pristine powder awaits, courtesy of last night's storm which swept in from Siberia.
Hokkaido, Japan
Natural hot springs, world-class cuisine and that famous 'champagne powder' have brought me to Hokkaido, Japan.
A sleek Shinkansen (bullet train) has slashed the 513-mile Tokyo-Hakodate journey time to only four hours, enticing travellers who might previously have bypassed Japan's wildest island.
The clouds part to reveal Yotei-zan – Niseko's conical volcano – providing a dramatic backdrop unlike anything I've seen. But there's no time to ponder such a view.
I meet my smiling guide Rupert, an Australian expat, who is keen to show me the terrain. Following a polite brush-down from a bowing gondola worker, we catch the Grand Hirafu lift and begin with a sweep down 'Stairway To Heaven,'.
Tracking to Misoshiru
Before tackling the black 'Misoshiru' (miso soup), so-named because, like the soup, the piste (trail) is different each time you try it.
With 61 runs totaling just 29 miles, Niseko can't match European resorts for size, but while the Alps landscape is colossal and dramatic, these slopes are understated and somehow mystical.
We go over to Mount An'nupuri to descend eastwards down well-groomed blue and red runs, ideal for intermediates that like to cruise.
"If that doesn't get your adrenaline pumping we can hike up Yotei-zan and ski inside its crater?" Rupert suggests.
"It's the longest vertical descent in Hokkaido!" I take another look at the volcano, looming ominously across the valley, before politely refusing Rupert's life-threatening offer.
I had imagined futuristic gondolas whisking you off to the top of the mountain in milliseconds. This was Japan after all.
But in fact, some lifts are surprisingly basic. One christened 'the meat hook' is just a single half-wooden seat with no safety barrier, swinging you up to the summit.
As the visibility drops, I thank Rupert before heading our separate ways. But there was no need to call it a day.
Instead, the floodlights flicker-on to illuminate the mountain, so I head to Strawberry Fields – home to some of the world's most picturesque tree skiing.
Gliding through knee-high powder at night with snow tumbling around you is a magical experience. "One more run," I promise myself.
Fast-forward two hours and I'm still floating through pillows of virgin powder. Strawberry Fields forever, indeed.
After long, thigh-burning days, the highlight of Japanese après ski is unwinding in an onsen. Forget hot chocolate, when you've been wind-slapped by a Siberian blast, nothing achieves rejuvenation like a mineral-rich thermal bath.
Staying at Ki Niseko
I was staying at Ki Niseko: a new ski-in ski-out boutique hotel boasting male and female onsens, complete with saunas and plunge pools.
Tentatively, I slide open the door to experience my first public bath.
There are two sacred rules of Japanese bathing: you must be naked, and you must be clean before getting in. I shed my clothes and scrub myself meticulously at one of the wash stations, seated on a teeny stool.
There is an even teenier towel I can only assume is for being stored on top of your head while soaking.
Thus clad, I descend into the decidedly hot, chin-deep bath. The soothing experience sends me into a state of almost comatose relaxation – so blissful, I fail to notice the Korean now lazing next to me.
Unfortunately, his broken English didn't surpass Queen song titles. Alas, I begin drifting away, before "Radio Ga Ga!" brings me back to earth.
Otaru, Japan
Next morning, under blue skies, I catch the train to Otaru, after stopping by a market for a breakfast bowl of warm rice topped with seafood: in this case, salty broiled salmon, which slipped down my throat like a sorbet.
The journey takes two hours – there are no bullet trains at these altitudes – and as the train takes its lazy path along Yoichi Bay as I stare contentedly out of the window, utterly stuffed.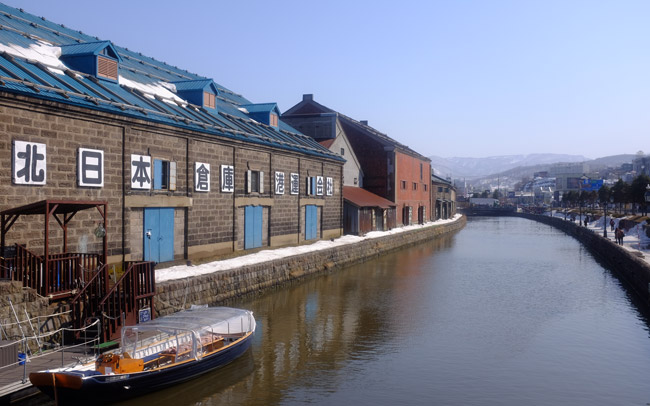 Otaru is a midsize port known for its picturesque canal, lined with Victorian-style gas lamps. 'The Town of Hills' is also home to a century-old former branch of the Bank of Japan, as highlighted by my authoritative taxi driver.
He stops and insists I take a photograph. Beaming with pride, he tells me this was a boomtown at the beginning of the 20th century, "Richest center of world herring industry!"
The City Museum
I'm dropped off at the City Museum and discover the industry soon collapsed due to overfishing. But the fisherman's loss is the modern tourists gain, as much of the herring heritage survived, including a timber warehouse.
It is converted into the legendary ice-cream parlour, Kita-no-aisukurīmu Yasan (a jet-black scoop of squid ink, anyone?)
Later, I wander Sakaimachi Street's assortment of glasswork studios and music box stores, before watching a large king crab being sold for 16,000 yen, or £103.
As the sun comes down, the canal begins to glow golden red and I retire to a little restaurant called Isezushi, packed with locals dining at the tiny counter.
The chef treats me to a masterclass in sushi: 12 blindingly fresh slivers of seafood, washed down with eye-watering sake.
Just 40km east of Otaru awaits Japan's fifth-largest city, Sapporo. With a population of nearly two million, it's a different world here, pulsing with energy.
I head for Ōdōri Kōen: a beautifully manicured, block-wide park that splits Sapporo into its north–south grid, before ascending the colossal TV Tower (147m) – offering views out to Okura and Maruyama.
In truth, central Sapporo's sights will only fill half a day; most make a beeline for the clock tower (which has not missed tolling the hour for over 130 years), or the Winter Sports Museum.
I decide to watch the world go by at Gyokusuien; a tiny teahouse serving exquisite brews from all over Japan.
Competing for attention with Sapporo's attractions is the needle-nosed shinkansen. From billboards to booklets, infinite train images pop-up across the city, alongside imaginative train-themed memorabilia.
In a moment of weakness I spend 2,000 yen on a bullet train themed stapler, despite having absolutely no need for it.
Stapler in-hand, I'm greeted by Motoi, who introduces me to the city's most famous export: beer.
After learning the methods behind Sapporo's liquid gold at the Beer Museum, I'm led into a handsome, late 19th-century brewery with a cavernous restaurant attached.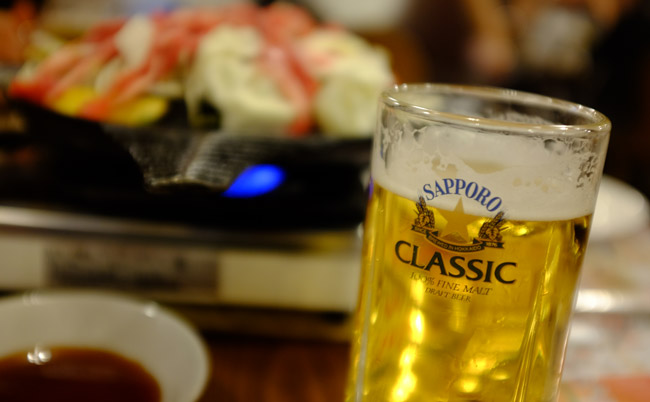 "Classic is saved for locals, and not sold outside Hokkaido," Motoi reveals whilst ordering. Soon, a flaming dish of mutton and cabbage – which the Japanese have nicknamed jingisukan (Genghis Khan) – has arrived at our table.
The beer, as always in Hokkaido, was about one-fifth froth, but a single portion of 'Ghenghis' was so huge that it took over an hour to eat; compensation for the loss of liquid.
Exploring the City
Later, I happily waste a couple of hours exploring the city's neon-lit streetscapes, before spotting a small basement bar.
I'm greeted at the door by a 'song-pusher' who thrusts a pen and paper in my hand and does a little jig to encourage me to sing. It works. I request the unexpected soundtrack of my weekend: Radio Ga Ga.
Hokkaido defies the image of Japan as a fast-paced, crowded nation and offers so much more than I was able to cram into a weekend.
I only skirted around the south-west, and didn't find time to visit Daisetsuzan (the country's largest National Park), Biei, a sleepy town bursting with rainbow-bright flower fields, or witness the leaping dance of the Red-crowned cranes.
But I saw enough to confirm Hokkaido is the wild, geological wonderland it is reputed to be – with fascinating ports and cities to boot.
Hopefully when that knee-deep powder clears, Niseko's hard-working shoveler will take a break and enjoy it.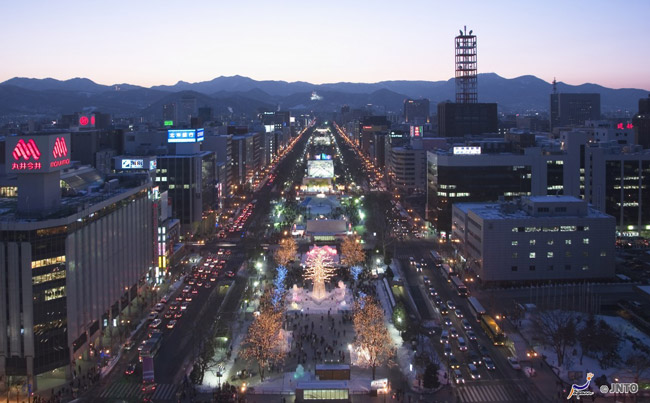 If You Go to Hokkaido:
Getting Around Hokkaido
The Japan Rail Pass is designed for tourists and can only be bought outside Japan. Passes are available from JTB and start from just £177 for 7 days. (japanspecialist.co.uk, 020 8237 1605).
Where to Stay in Hokkaido
Located less than 100m from the Grand Hirafu gondola, Ki Niseko's location is unbeatable. Some rooms offer breathtaking Mt Yotei views. (kiniseko.com, +81 136 21 2565).
Best Western Hotel Fino Sapporo:
Only 2 minutes from Sapporo station, this hotel makes a convenient base for both city sightseeing and access to Shinchitose Airport. (sapporo.bwhotels.jp, +81 117 29 4055).
Explore-Share
Hire a local certified guide and go back-country skiing in Hokkaido's best powder spots
Author Bio: Andrew Day's first job in the travel industry was for Punk Publishing as a researcher, writer and photographer on the popular Cool Camping series, which are now the UK's best-selling camping guidebooks. Since then, Andrew has made his living as a full-time travel journalist, with his work appearing in several esteemed publications, including The Telegraph, Herb Lester, Bradt Travel Guides and TNT Magazine. Based in London, Andrew also writes sitcoms and contributes to the satirical BBC Radio 4 Extra show 'Newsjack'. See: www.andrewjohnday.com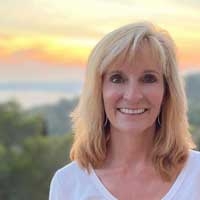 Latest posts by Janna Graber
(see all)