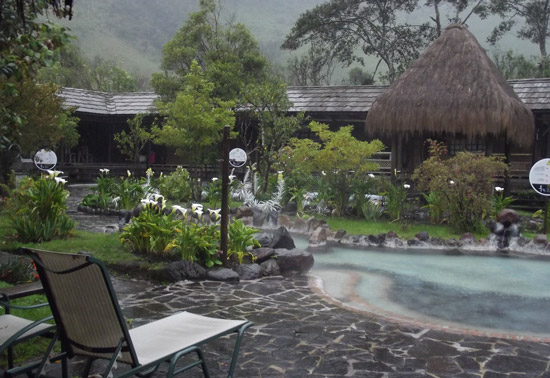 Thrilled, we then ended up at the biggest reward of all – a night of pampering at the Termas de Papillacta spa and hot springs resort. What could be more perfect for sore muscles than a cozy, cabin-like room fronting a series of hot springs pools, heated by volcanic waters?
Tropical Rainforests in Ecuador
Ecuador's enormous tropical rainforest region is filled with rivers leading to the Amazon. The upper basin of the Amazon is richly biodiverse in this always hot and wet region, known as "Oriente" by the Ecuadorians. One can arrange visits to small Quechua-speaking communities which welcome guests for tours.
Fantastically lush with dense plants, flowers and animal life, this really felt like the jungle. We saw tarantulas, huge millipedes, frogs, orchids, 40-foot wide trees, Tarzan-type vines, multicolored birds and yes, the experience was well worth sweating through. Miraculously, no one complained of mosquitoes. There are many ecolodges and small inns in the jungle regions, but again, it is recommended to use a tour operator for your Ecuador adventure travel.
The so-called Avenue of the Volcanoes in the Andes Highlands was quite magical. We stayed at the El Porvenir Hacienda, owned by a supremely warm, gregarious Ecuadorian couple. The hacienda has been in the family for 100 years, and is beautifully restored and modernized. This working ranch is furnished with charming native handicrafts and plump, cozy chairs and sofas, with delightful bedrooms featuring lovely wrapped hot water bottles in every bed. Maria and Jorge invite guests to take part in activities such as horseback riding, mountain biking, hiking, a ropes course and even cooking classes – delectable cheese empanadas and more.
We were immersed in the Ecuadorian "wild west," replete with cattle branding, horseback riding and hearty, succulent meals of fresh-caught river trout with pesto and sirloin steak topped with local huckleberry sauce and toasted red onions. Riders wear traditional wool striped ponchos and leather chaps, long goat hair and tooling adorning them.
Continued on next page