It's dark, but I stand outside on the deck, watching the twinkling lights of Manta fade in the distance as we set sail along the coast of Ecuador. This tiny mountainous country has more than 1,300 miles of coastline, and this week we plan to explore much of it.
My husband, Benjamin, and I are on a five-night cruise expedition on the Kontiki Wayra. While most cruises in Ecuador head to the Galapagos Islands, our itinerary will take us to nature preserves, rainforests and small coastal communities far off the beaten path.
Kontiki Expeditions
Kontiki Expeditions is among the first to bring visitors to this uncrowded coastal region of Ecuador. They are a new luxury yacht cruise line that has taken an innovative approach to cruising.
They term it "neo-luxury" and it means experiencing a destination in a deeper way. Yes, the Kontiki Wayra has all the touches of a luxury yacht but it also means seeing and experiencing places in an authentic way that goes beyond the normal tourist routes.
Onboard the Kontiki Wayra
The 128-foot Kontiki Wayra has the feel of a fine hotel. Kontiki Expeditions is the first Boutique Sea Expedition to become part of the Small Luxury Hotels of the World, a well-respected association of small independent luxury hotels.
The Kontiki Wayra reflects that designation. The ship is stylish with rich wood paneling, soft colors and contemporary furniture. My husband and I have a large cabin at the front of the ship with automated curtains that pull back to reveal a 160-degree view, a sizable bathroom with a roomy shower, a desk area and a big comfortable bed.
The Kontiki Wayra was designed to let passengers enjoy time in the sea. There is a three-deck water slide, a full floating deck that can be attached when we're at anchor, complete with a netted pool. There are wetsuits and snorkeling gear available and sea toys to play with, from paddle boards to kayaks to Sea Bobs.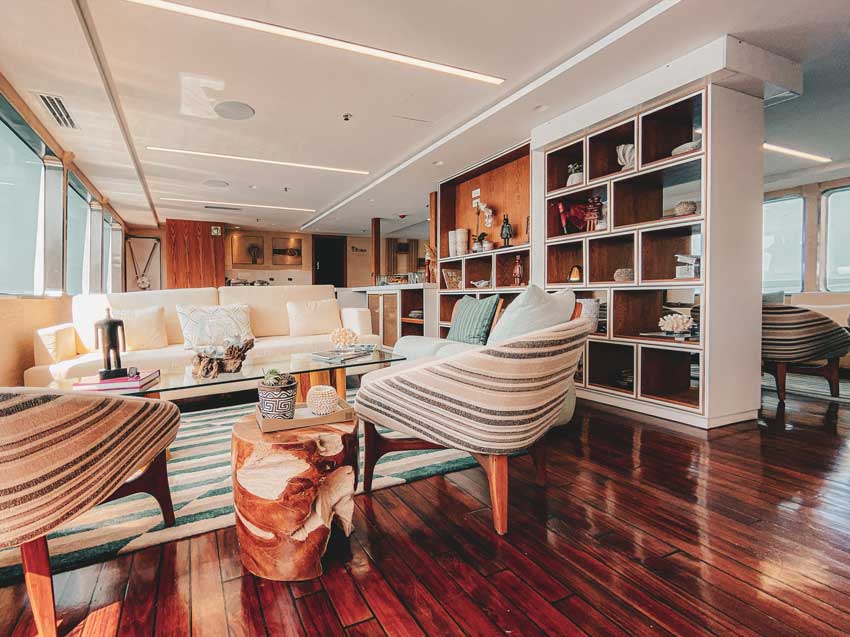 Looking at the luxurious Kontiki Wayra, you would never guess its humble beginnings. Ecuadorian Carlos Núñez found the ship abandoned in a local shipyard several years ago. He immediately saw its potential and considered restoring it for cruises to the Galapagos.
Then he got the idea of restoring it for expeditions along the Ecuadorian Coast. He wanted to showcase the region's nature reserves, traditions, culture and gastronomy.
"The coast is the perfect mix of nature and culture," he says. "Even Ecuadoreans don't know how much the coast offers. It's an untapped gem for tourism. There are no crowds; it's affordable and authentic."
The company began cruising in 2021, offering five-to-eight-night cruises. The 18-passenger superyacht has almost a 1:1 staff ratio, and our every need is fulfilled – even before we think of it. We're greeted with hot chocolate when we come in after swimming and the staff remembers the way I like my morning coffee.
Meals onboard are carefully prepared with fresh seafood and local ingredients. Many of the dishes are popular Ecuadorian favorites, highlighting the best of the region.
With such a small group of passengers, we get to know our fellow cruisers, which makes the experience even better. Ruhul Mescal – or Ruly as everyone calls him – is our onboard naturalist. He spent more than 30 years working as a naturalist in the Galapagos, which means he knows the country's wildlife and regions well. Each evening, we gather in the main room to learn more from him about the communities and regions we'll be visiting.
More to Ecuador than the Galapagos
"Ecuador is much more than the Galapagos Islands," he says. "The mainland of this beautiful country has a lot to offer. You read about the Galapagos, the Amazon and the Andean Zone, which are wonderful, but you rarely read about the coast of Ecuador. To me, it's a real pleasure to be a part of pioneering organized tourism at this level in such a beautiful place – the coast of Ecuador."
"The communities we're visiting along the coast are not touristy," he continues. "You'll still find little villages and people living the way their ancestors used to. There is a lot to experience. What I really like about this cruise is that we can introduce you to local Ecuadorians themselves. You get to experience our beautiful country in an authentic way."
True to his word, we meet many fascinating people and communities along the journey.
Ancient Clay Pottery in Ayangue
The next morning, our group take rubber Zodiac boats to the small fishing village of Ayangue. On its quiet beach, we watch as local children play with their dog in the surf, while two young men sit in their fishing boat, repairing nets for the next day's work.
We walk along the shore to the studios of the Orrala family. Their beautiful ceramic work is well known. The family has spent decades researching the ancient Valdivian people of the region, whose civilization dates to 3500 BCE. The Orrala family's archeological digs have located many well-preserved pieces of ancient pottery.
Today, the family produces beautiful pottery following those pre-Colombian ceramic traditions. At their studio on the beach, we take an outdoor pottery class from them.
We start by filtering red mud until it's a stick-free, lumpy consistency. Then they show us how to knead it into a lump of clay. Finally, we create our own bowls from dirt that was just minutes ago watery mud.

It's relaxing working the clay, and we laugh as we get our hands dirty. They give each of us a tiny ceramic pendant that will grace my Christmas tree in December, and I purchase a beautiful bowl that I know I'll use for years to come.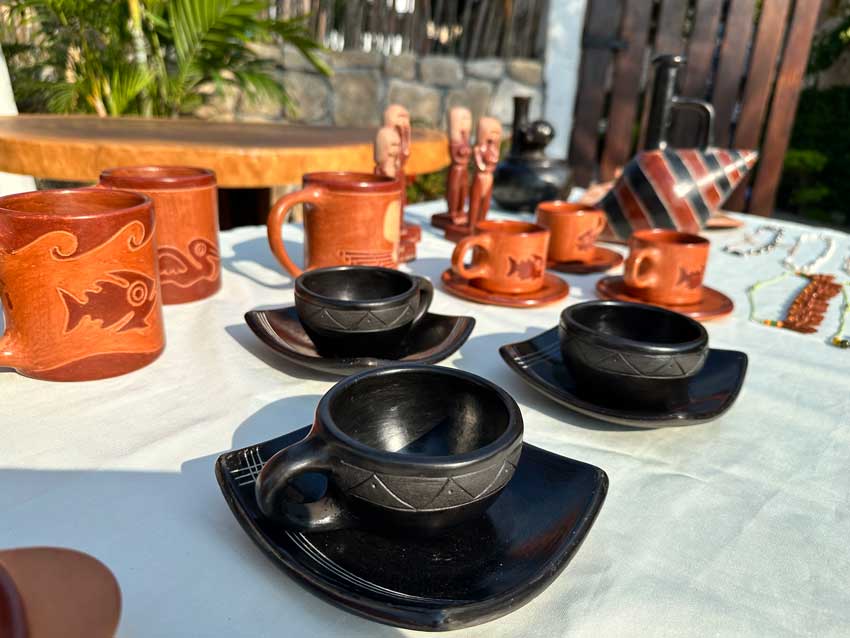 As we walk back along the beach, a bright orange sunset sweeps across the sky. It's quiet and peaceful. I walk slowly in the waves, soaking in the scene. Out in the bay, the Kontiki bobs in the sea, waiting for our return.
Dinner onboard that night is a lovely affair, with each meal showing careful attention to detail. Our group laughs as we discuss fun memories of the day.
Shaman Blessing at Agua Blanca

We have another special experience the next day in Agua Blanca, a small indigenous community in the Machalilla Parish near Puerto López. The community takes pride in their ancestral heritage, and they have developed an eco-tourism infrastructure that benefits the whole community.
Visitors are welcome. There's a small outdoor museum where we learn about the past, and then we walk through the forest, where we receive a blessing – a sort of purification ritual – from a local shaman.
He carefully explains the meaning of their peaceful ritual and then invites us to take part. We are each blessed with smoke and water, and then follow his lead as we stand to bless our brothers in the north, in the west, in the south and in the east.

At the end, he gives us each a hug. It's an experience I'll remember for years.
Hiking in Machalilla National Park on Isla de la Plata
The next day we get to see one of the celebrities of Ecuador, the blue-footed boobies that are often seen in the Galapagos. The unusual birds are found here along the coast, too, at Machalilla National Park on Isla de la Plata. The island is well protected, and you can only visit with a certified guide.

As we hike along the dusty trails, our guide tells us about the wildlife on the island. Then near the top, we see them – the famous birds with blue webbed feet.
Many have young ones, often at different sizes. The birds lay two eggs at different times in the hopes that at least one survives. We also see booby birds with white, red and brown webbed feet.
The birds pay us no mind. They often build nests along the well-trodden trail and ignore those who quietly walk by.
Iche Manabita Cuisine School and Cacao Beans
Incredible as its wildlife is, there's much more to see in Ecuador. The country is the birthplace of cacao, going back more than 5,000 years, and we learn about that the next day.
We take a short bus ride to Iche Manabita, a culinary school and out-of-this-world restaurant near San Vicente. The school has 12 very talented students who come for seven months to attend culinary classes led by head chef, Valentina Álvarez. They attend other classes too, including communications, history, archeology, and sustainable tourism.
While the students prepare our lunch, we meet Servio Pachard Vera, a local organic cacao farmer. His family's plantation has preserved some of the oldest cacao trees in the world.
They grow the rare, heirloom Arriba Nacional cacao. For centuries, it has been prized by chocolatiers for its fragrant aroma and signature flavor profile. Many Swiss chocolate companies use cacao from this region.
Servio shows us several types of cacao varieties, and we get to taste their sweet ripe seeds. Cacao beans are technically not beans, but the fruit of the cacao tree. Each pod produces about 35-50 seeds surrounded in sweet pulp. Sure enough, we can taste the subtle difference in each variety.

After separating out the beans, he shows us how to roast them over a fire. We take turns stirring and then grinding the roasted beans. Then, he mixes the ground cacao with a small amount of sugar and pours tiny cups of hot cacao to drink. It's like drinking a piece of dark chocolate. I'll never view hot chocolate the same.
Finally, it's time for lunch. The student chefs have created beautiful, delicious works of art that almost seem too good to eat. But of course, we do, enjoying every bite.
Hiking at Pacoche Wildlife Refuge
The next day, we head to the cloud forest at Pacoche Wildlife Refuge. Kontiki has provided all of us with rubber boots, so we can hike through small streams and the forest with ease. Our local naturalist guide shows us howler monkeys, lots of colorful birds and even a tarantula peacefully guarding her nest.
Master Hat Maker: Toquilla Straw Hats
Though I've heard about Panama hats, I learn here that they originated in Ecuador. This county has many fine hat makers, and we meet one of them — fifth-generation master weaver Domingo Carranza.
Carranza is a specialist in Ecuadorian toquilla straw hats, which are made entirely of palm fronds. Hats can take weeks or even months to make, depending on the weave.
He shows us how they are made, and we watch in awe as his hands fly across the weave. Having seen the work and artistry that goes into making them, my husband is happy to buy one to take home.

It will be another great memory of our time here in Ecuador.
If You Go
How to Get to Ecuador
Our international flight flew into Quito, which has a very nice airport. Kontiki had arranged a two-day pre-visit for us in Quito. We stayed at the ILLA Experience Hotel, a lovely boutique property near Quito's historic center. Our suite was huge and had a gorgeous soaking tub, comfortable sitting area and an excellent breakfast each morning.
Sightseeing in Quito

In Quito, our knowledgeable tour guide from Link Experiences showed us the city, from historic basilicas to its different neighborhoods.
My favorite stops were the Khoura Chocolate Factory, the Middle of the Word Monument in La Mitad del Mundo, where you can stand in both hemispheres, and the Intiñan Museum, where you can see and try science experiments around natural phenomena, gravity and balance manifested in the equatorial zone. Case in point? I was able to balance an egg on the tip of a nail while standing on the equator.
Flying From Quito to Manta
From Quito, we took a 45-minute flight to the coastal town of Manta, which also has a brand-new airport. We met the Kontiki Wayra in Manta and started our cruise from there.
To learn more, visit Kontiki Expeditions