The best travel stories come from unexpected experiences — and staying with a local is a perfect opportunity for something different. You can stay in a treehouse in Costa Rica, on an organic farm in Thailand or at a temple home in Bali. From quaint and quirky to weird yet wonderful, here are 12 homestays that will make you feel right at home.
This traditional Balinese house, steps away from Pulagan Rice Field UNESCO World Heritage Site, has its very own family temple, called a "mrajan," right on its premises. (From $14 per night)
In the hills of San Antonio de Escazu, this treehouse is perfect for spotting hummingbirds, admiring flowers and visiting fruit orchards. (From $71 per night)
Wah and Poh grow everything from bok choi and lemongrass to longan and lychee in Northern Thailand's Karen Village, which is home to Sino-Tibetan speaking groups of people.  While there, guests can learn the art of Karen weaving, go trekking, elephant riding, bamboo rafting, and bathe in waterfalls, which are all close by. (F
rom $29 per night)
Ever dream of staying on your own private island? On this 75,000+ square-foot Zopango Island, Casa Zopango offers families complimentary pick up from the marina and free kayak use. (From $169 per night) 
This classic stone French house with an artistic twist set in Provence has two boulangeries nearby and a farmer's market, plus has an enclosed garden with a barbecue and an alternative collection of books and films from which guests can peruse. (From $126 per night)
Tucked away in Kounapas, ten minutes away from the bustling nightlife of Mykonos and the island's beautiful beaches, this homestay boasts a rooftop on which guests can view the most striking sunsets.(From $131 per night)
Mountain Home, Zakopane, Poland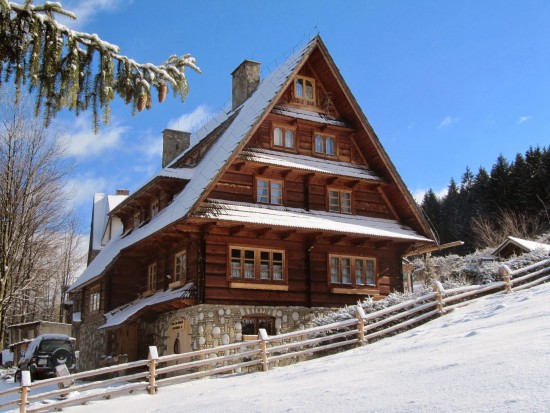 Mountain and outdoor lovers will find their delight at this wooden chalet in Zakopane, a resort town in the extreme south of Poland, at the base of the Tatras Mountains. Wintertime beckons skiiers, while in summer, mountain-climbers and hikers flock to the destination. (From $23 per night)
This modern, luxurious home has panoramic views of Rotorua, which is known for bubbling mud pools, shooting geysers and natural hot springs, as well as a cultural center for the Maori people. (F
rom $233 per night)
This converted barn overlooks Mount Taranaki, an active but quiescent volcano, and is ten minutes away from the small country town of Hawera.
(From $73 per night)
This secluded, one-of-a-kind home, which boasts a 2006 honorable mention in Architectural Digest and scenic lake views, is perfect for those looking for a weekend escape.
(From $64 per night)
This quirky, grass-roofed house, named Villa Nordica, is located in the Pernaja, six miles from the nearest city center, Loviisa.  For an extra cost, host Roya will take guests on a fishing trip to Merikarvianjoki. (From $71 per night)
If You Go:
Homestay.com is an accommodation marketplace dedicated to the homestay travel experience, where the host is present for every stay.