Bali – the Island of the Gods – is a world by itself, no matter which way you view this jewel box. With a long list of interests including cultural, architectural and gastronomical it's not surprising that Bali is on almost everyone's bucket list.
In fact, this little island is so much more popular than its motherland archipelago, Indonesia, that many travellers mistake it as a country of its own.
So Many Things to do in Ubud, Bali
This tropical island is famed for its beautiful ochre beaches. Furthermore, the coastline around Kuta is revered as a surfing Mecca, particularly sought after by neighbouring Australia.
Yet there is so much more to explore here. Of all of Bali's wonders, what impressed me the most in my travels was Ubud – the cultural capital of Bali.
Nestled in the heart of the island, Ubud is ensconced by highlands covered with tropical forests and rejuvenated by plunging waterfalls. It is a break away from Bali's conventional coastline brouhaha. Yet it has strong spiritual and cultural foundations. So much so that travellers who visit for a few days, end up staying for months.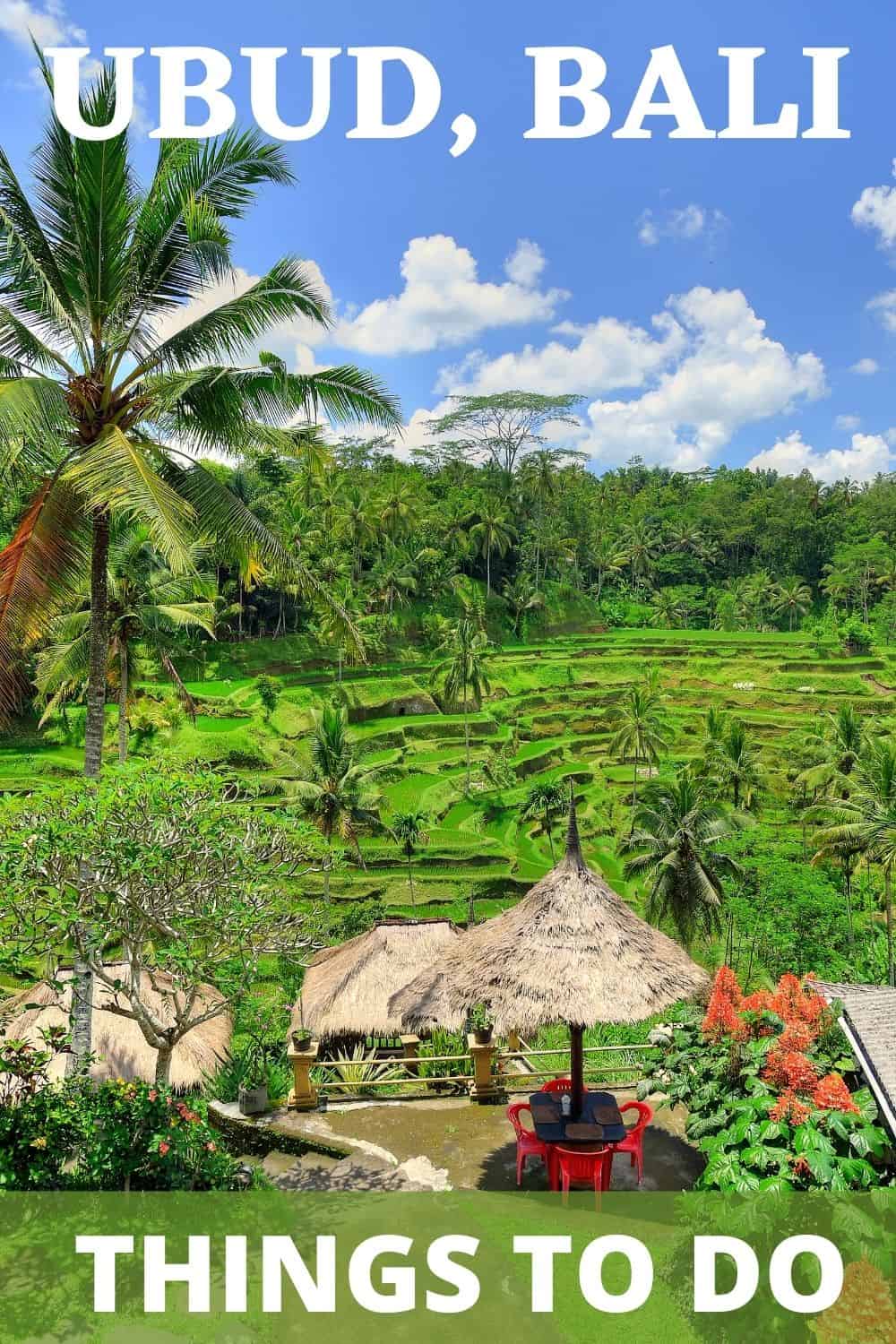 Discovering Bali's Ties to India
Ubud – and Bali in general – has strong roots in Hinduism, an export from India. I had read about this before my travels. But it was only when I visited this island that I realised its magnitude and cultural significance to the locals.
The Kalinga empire had apparently established prosperous trade ties with Southeast Asia way back in the first century AD. Today, locals in Orissa celebrate the 'Bali Yatra' festival in honour of their ancestors who went forth on these seafaring trade adventures.
There is mention of Sumatra in the Buddhist Jataka tales. While the Ramayana tells of the monkey king Sugriva sending his scouts to Java-dwipa in search of Sita. Trade ties were continued by the Chola Empire. Thus resulting in the proliferation of Hinduism and Buddhism in Southeast Asia for nearly two thousand years.
The Champa Kingdom of Vietnam, the Khmer rulers of Cambodia (the makers of Angkor Wat), the Srivijaya and Majapahit empires of Indonesia, among many others, had embraced ideologies exported from India.
The very name "Indonesia" translates to 'Islands of India' given the strong cultural ties and similarities between these two countries once upon a time. Today, only a few fragments of this rich legacy survive in all of Southeast Asia. Bali is the richest living remnant.
Unique Temples in Ubud
So, don't be surprised if you amble through the streets of Bali and stumble upon statues of Vishnu on Garuda in every other corner. Or if you find Ghatokacha fighting Karna outside the Denpasar Airport. Similarly, if you spot monster dwarpalas, or gatekeepers, guarding the entrance to the many temples of Bali.
While on a walk, I chanced upon the Pura Taman Saraswati. The Saraswati Temple ('pura' is Indonesian for temple), is popular among locals for its lavish lotus ponds. I couldn't enter the temple as I was outside visiting hours.
However, I loved the architecture completed only recently in 1952. In contrast, is the more popular sea-facing Uluwatu temple established way back in the 11th century.
A Long History of Artistry in Ubud
What impressed me was that the Balinese locals have fiercely protected and retained their artistry over hundreds of years. Sculptors, architects and painters continue their trade with the same meticulous eye for beauty as it was perhaps the case, hundreds of years ago.
This consistency became evident as I saw temples under construction. Most have the same styles and patterns as I saw in the more popular temples dating back centuries. In our own country, where the arts and dance forms from yesterday are declining rapidly, there is much to learn from this small island.
Ubud is appears blessed by the benevolence of Saraswati, the goddess of the arts, as it still houses artistic villages dedicated to woodwork, painting and sculpture. All of this makes for an interesting visit.
Row after row of houses in these villages are committed to creating traditional artworks. These beautiful pieces are exported, thankfully providing impetus to sustain these trades.
Balai Banjar Ubud Kelod
I continued my walk in this small town when I came across another beautiful edifice – Balai Banjar Ubud Kelod. It was a theatre, with its main attraction being shows for traditional Balinese dances.
Having read a lot about this, I picked my tickets for a dance show later that evening. It turned out to be a great introduction to Balinese music and dance.
The auditorium, aglow with rich golden-yellow lights, was flanked with ornate wall reliefs. There was also a statue tribute to Saraswati in the centre, guarded by dragons and other apsara-like celestial beings. The music was refreshingly new and was performed live by a gamelan orchestra: the traditional Balinese musical ensemble.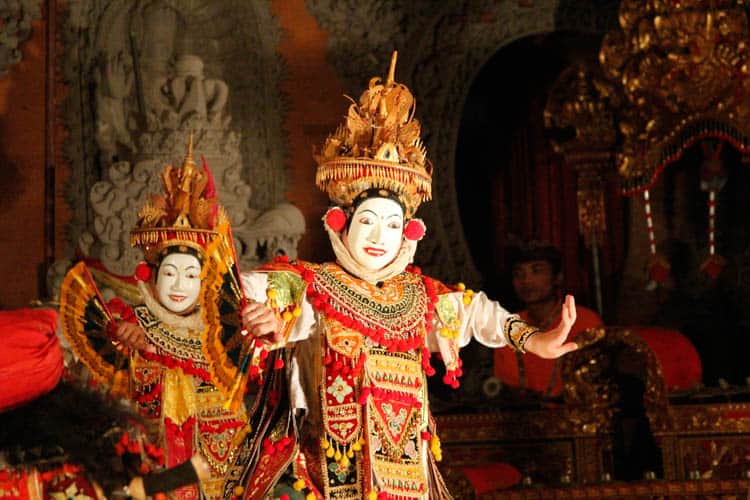 An Experience of Balinese Music and Dance
Musicians marched in first and tuned their metallophones (xylophone-like instruments played by mallets) along with hand-played drums called kendhangs. Then commenced the various dance forms for over an hour, each form as vibrant as the earlier one.
The dancers were bedecked with visually stunning headdresses, glittering garments and beautifully painted masks (or faces). It was all so very different to anything I had seen before.
Performances included a Sekar Jagat welcome dance, a Baris war dance and the popular legong dances characterised by intricate finger movements and punctilious facial expressions and fluttering eyes. Also, a solo Jauk dance by a masked demon with sinister long quivering fingers.
The climax came in the form of a Barong dance – a depiction of the eternal fight between good and evil. The Barong is the good guy, a traditional guardian spirit, depicted in this case in the form of a lion (two dancers dressed in an opulent lion costume and an extravagant lion mask).
The "good" lion faces Rangda, the evil spirit, culminating in a grand fight with the latter's defeat.
A visual treat, a traditional Balinese dance with its sinuous, graceful movements is a must-see in Bali. In Tagore's own words, when he visited this island in 1927, "Balinese dance is 'not like the patter of pouring rains, but like the flow of a wavy stream".
Indeed, the euphonic metallic notes and fluttering fingers of the dancers will keep you entranced long after the dance is over.
Setia Darma House of Masks and Puppets
I was so mesmerised by the masks in the dances that the next day, I headed to the Setia Darma House of Masks and Puppets. With a massive collection of over 1300 masks and 5000 puppets, mostly from Indonesia, the museum is a treasure trove of heritage art.
Keep an eye out for Ram, Sita, Ravan and many other characters from the Ramayan and Mahabharat.
Barong masks of guardians in the form of elephants, lions and boars will remind you of Miyazaki movies. Meanwhile, an immense collection of marionettes, shadow puppets and water puppets will remind you of rich art forms from all over Southeast Asia that are sadly on the wane.
Sacred Monkey Forest Sanctuary
On my way back, I visited the Sacred Monkey Forest Sanctuary, just adjacent to Ubud. It was established back in the 14th century, perhaps by the Ubud Royal Family. There are three main temples in this complex, dedicated to Ganga, Shiva and even Brahma.
Today, it is used as a sanctuary to house over 700 Balinese long-tailed macaque monkeys. The sanctuary attracts throngs of visitors interested in watching the playful primates.
The mission of the sanctuary is the conservation of the wild in line with the Hindu philosophical concept of Tri Hata Karna. The concept is that three relationships are required to reach spiritual and physical well-being; man's relationship with himself, the environment and finally, Supreme God.
As I stood in silence under a thick canopy of trees, my mind filtered the inanimate from the living. The world that remained was as esoteric as it was beautiful. There were hundreds of statues scattered across the complex.
Mostly monkeys, but also other marvelous beasts, mythical creatures, and life-sized anthropomorphic warrior animals. A lion here, a giant monitor lizard there and even a fantastic bridge sculpted in the shape of a long, fanged dragon.
To date, no one knows why this place was built or by whom. As the late afternoon sun streaked in through the thick foliage, my creative mind could not help imagining an old-world esoteric recreation of Kishkindha – the legendary kingdom of the monkeys hidden far away in these forests.
You might smile at the imagination here, but then, this was Bali. Its charms and wonders have that effect on you. It can make you an artist, a creator and a thinker at the highest level.
Natural Wonders of Ubud
If you love the wilderness, Ubud has beautiful walks in tropical settings with rewards of gushing waterfalls. The Tegenungan waterfall is the most popular. But you can go for long hikes and find many other cataracts all to yourself.
Then there are the Tegallalang rice fields – some of the most popular terraced rice fields in Bali – right in Ubud's backyard. These stepped fields, jade green with rice and peppered with palms and coconuts, are worth a visit just for their grandeur and scale.
Furthermore, these fields are part of a larger UNESCO world heritage site that celebrates the Balinese Subak system of sustained water management for irrigation.
Ubud Offerings
The offerings of Ubud include art markets, museums, endless curio and souvenir shops, classy cafes and restaurants. Also, water temples, towering and arcane rock-cut architecture that makes you feel like a Tomb Raider, bird parks, natural springs and baths plus volcano walks.
Ubud is an unending compendium. Each place is a blend of the past and the present, crafted so aesthetically that days can easily turn to weeks and weeks to months. Additionally, if you are an artist, Ubud is sure to fire your senses in some form or the other, as you find resonance with your ikigai.
If not, rest assured, you will return as one.
Book This Trip
Ready to explore the endless wonders of Ubud, Bali? Start preparing for your trip with hotel and VRBO reservations, local restaurant guides, insider tips on how to get around and more through TripAdvisor and Travelocity.
Have even more fun in Bali by booking unique Ubud activities, skip-the-line tickets, expert-led tours and more through GetYourGuide. Find more information and book your dates here.
Author Bio: Writer / Photographer – Ayan Adak, I am a consultant by profession and love travelling, writing and photography in my spare time. All photos were taken on a Canon EoS 60D.