I've had many things stolen on trips: passport, bike, art, wallet, prescription glasses, and outerwear. I must look like I'm from Milwaukee. In all events, I've grown to mind this annoyance less and less. First, for trips abroad I buy travel insurance. Second, I've come to realize an hour or two at the local police station is usually more eye opening than an hour or two at the next cultural stop.
I'll start with tips to avoid my blunders. I'll then illustrate with some cautionary tales with short digressions about travel insurance coverage. 
Some Travel Safety Basics
1. Leave passport, laptop, electronic devices, valuables, and cash (except walking around cash) in hotel safe.
2. Even now, travel with your original COVID vaccination records. Recently (May 2023) when entering Brazil, we had to produce our CDC card. Glad we had it.
3. Pickpockets and other snatchers of valuables circulate in big cities and congested areas. I have invested in pick-pocket proof travel clothing, undergarment waist pouches, and mobile phone tethers. According to several surveys, the pickpocket capitals of the world include Paris, Rome, Florence, Madrid, Barcelona, Amsterdam, Athens, and Prague.
4. Daypacks and purses invite trouble. Best not to even carry them. If you do, try to carry them in front. Wrap a strap around your leg when sitting. Do not put anything of value inside-including prescription eyeglasses.
5. Keep extra credit cards in your hotel room.
6. Travel with paper or electronic copies of the photo page of your passport, your vaccination records, driver's license, and eyeglass prescription. You can email these documents to yourself as attachments for access from any device or computer.
Best Tips & Tools to Plan Your Trip
Buenos Aires
Buenos Aires 2023. On May 19, 2023, I was sitting on an indoor bench at the Teatro Colon in Buenos Aires waiting for the tour. A man approached, handed me his phone, and asked me to take his picture. I did, and two seconds later I realized it was a set-up.
My small daypack sitting by my feet, and the guy, were gone. (He may have had a partner.) After the tour I approached a policeman and using Google Translate describe the theft and stated I needed a police report.
The officer gave me the location of the nearest police station that could handle the request. Interestingly, this was not the tourist police station. We were directed to Comisaria 4 about a mile away. It was starting to rain. We got into a cab.
The station was a series of offices around an open-air courtyard. There were benches outside the offices under an overhang. The shift was changing and there was a lot of activity. One thing that struck us was the large number of women officers.
Officers of opposite sex greeted each other warmly with air kisses. This was a good-looking cadre of cops. The command staff circulated around. We did not feel out of place. We got in the line and waited about an hour for an English-speaking officer invite us to her desk.
She took down the details and created the report. While waiting I listed the stolen items and ran the list through Google Translate. When speaking with the officer, this sped things along. My blunder was to have taken along my prescription (progressive lens) sunglasses. Next time I'll use clip-ons.
Read the Travel Insurance Details
Travel Insurance. Most travel insurance policies exclude eyeglasses, contacts, hearing aids, orthodontic items, prosthetics, bicycles (except when checked as baggage with the carrier), motor vehicles (you need separate coverage for car hire-primary or secondary coverage commonly included as a credit card benefit), boats, and loss resulting from "mysterious disappearance."
Covered items are insured up to certain limits, for instance $500 for the first item and $250 for each subsequent item. If an original receipt cannot be produced the maximum payable amount may be less than the cash value. Insure valuable items separately, don't take them on the trip, or leave them in the hotel. One more note.
Travel insurance is essential to cover medical expenses, hospitalization, or evacuation when abroad and to provide benefits for trip cancellation, delay, or early return. Buy the coverage immediately after making trip deposit or trip cost payment to qualify for any available preexisting condition waiver-you want the coverage to apply if any close family member's medical condition requires a change of plans.
Most travel insurance policies require a police report or "other local authority" documentation of theft. This might include the common carrier, travel supplier, tour leader, hotel manager, or a representative of the venue or location where the theft took place.
In some circumstances it is not possible to get a police report or other local authority documentation. Time may not permit, you may be in transit, or you may discover the loss after you depart the city. This happened to our son who in 2022 had his laptop taken at a Fiumicino (Rome) airport security screening checkpoint.
Some police departments in the U.S., including ours in Fox Point WI, permit residents to swear out a statement and file a police report for an incident that occurred elsewhere. That is what our son did. The insurance carrier accepted the report and paid the claim.
Athens
Athens 2021. My wife got her wallet picked from her daypack by a pair of women who jostled her as she was window shopping near Syntagma Square. We discovered the missing item at dinner. The hotel staff were helpful and directed us to the correct police station. We got in a cab.
The wallet contained about $100 in cash, a credit card, and a driver's license. Not terrible. We arrived at the station at dusk. We did not wait long. The officers were sympathetic and cautioned us to be on guard in such situations.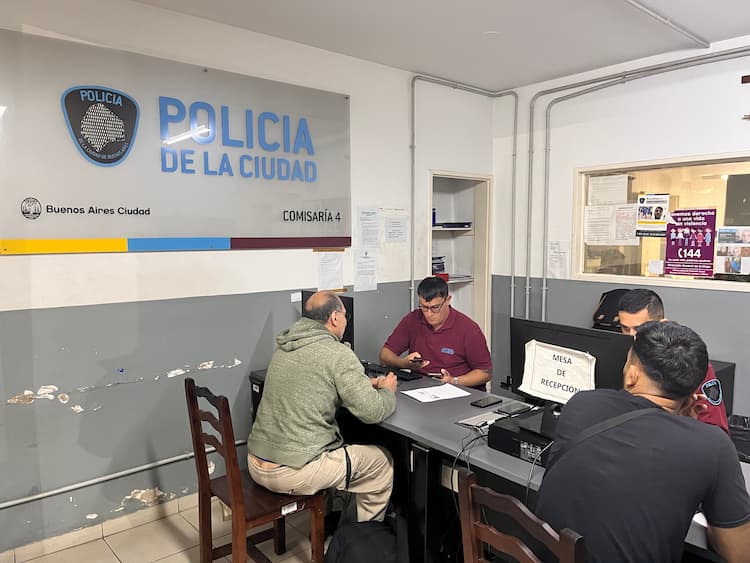 Panama
Panama 2015. We had a carry-on suitcase vanish next to a crowded carousel after deplaning from a flight from Boca de Toro to Panama City. By the time we got situated at the hotel, it was late. We felt uncomfortable going to a police station in the dark in an unfamiliar (and sketchy) area, and we were departing early the next morning.
We reported the theft to the hotel manager and later confirmed the exchange by email. The insurance carrier accepted the email exchange as evidence of the theft. Hotel staff can be a good resource in these situations.
Paris
Paris 2012. On a quiet Sunday morning, as I was riding up an escalator from the metro platform, a guy standing behind "accidently dropped" his cell phone in front of me and then leaned over me trying to pick it up. It was a pickpocket who got my wallet.
I knew what was happening, but I did not know how to stop it. I sprinted after the guy yelling but what was I going to do if I caught him? I was directed to a small office just below street level at the Commissariat du 7éme Arrondissement.
The process was quick and mechanical-just another stupid tourist needing a police report. I lost several hundred dollars of cash, my driver's license, and credit cards that I immediately canceled-but not before the thief (or his people) attempted several large charges. The incident occasioned my purchase of pickpocket proof travel clothing.
Jerusalem
Jerusalem 2005. The day before I was to start the Israel Ride from Jerusalem to Eilat I took a test ride on my rented bike. I got mugged on a dirt path adjacent to the Tomb of Absalom just southeast of the old city. It was a stupid and vulnerable place to be-within eyeshot but beyond earshot of nearby activity.
Two guys approached, one pulled out a knife, and together relieved me of my daypack (passport, credit cards, prescription eyeglasses) and bike. I walked to a military checkpoint at the entrance to the Western Wall excavations and reported what happened.
The soldiers dropped me off at the Russian Compound police station. A lot of action. Squads with tactical weapons, officers of both sexes, a mix of uniformed and plain clothes cops speaking Hebrew, Arabic, and English, many ethnic backgrounds, rotating in and out. They were young, tough-looking people. These were not patrol officers. These were special units on missions.
The desk officer was beautiful, professorial in black framed glasses, and efficient. She suggested for now I limit my solo touring to west Jerusalem. I nodded and silently hoped she would give me more advice. One of the ride directors by this time had located me, found my belongings at the hotel, and taxied over to drop off some cash, a credit card, and a copy of my passport page.
Next stop the U.S. consulate. The consular officer, dressed in a Kohls Department store kind of wardrobe, appeared to have been deposited behind the counter straight from western Nebraska. She had trouble finding me in the State Department database ("Sometimes it works, sometimes it doesn't").
It did not matter. She directed me to an enterprising photographer who had set up a passport picture storefront just outside the entrance, and I had a replacement passport within an hour. Then I went to a nearby optical store to replace my eyeglasses. It was getting late, but the optician, a French émigré, warmed to my story.
He read the prescription from my sunglasses, gave me an eye exam, found suitable frames, and persuaded his lens grinder down the street to prioritize my order and stay a bit late to fill it. The post robbery experience was so filled with acts of kindness it seemed worth the original scare. The travel insurance ended up paying for most of the loss-and by some miracle even the bike.
That's my story. Expect that stuff will happen. Buy travel insurance. It is expensive, but essential. Read the fine print. If you get pinched, go to the police station. Get a police report. Travel is an adventure. Treat it as part of the experience.
Inspire your next adventure with our articles below:
Author Bio: Douglas H Frazer https://dewittllp.com/people/douglas-frazer