It may play David to Dallas/Fort Worth's Goliath, but Granbury, Texas, just 33 miles (56 km) from Fort Worth, does a terrific job of publicizing its strong suit: its down-home appeal to all age groups.
Get away from adult stresses here, as you sit on the porch swing at a winsome bed and breakfast. Enjoy resort comforts on breezy Lake Granbury, with about a hundred miles (165 km) of shoreline right at the edge of town. Lap up an ice cream cone with the kids, or discover the treasures at more than 50 art, antique and gift shops.
Granbury, with a population of about 6,000, offers a wide range of entertainment choices. You can savor the cuisine at fine restaurants, fish your limit or take in some live theatre. Why not work in a round of golf? Granbury will accommodate, with lots of blue-sky weather and a number of fine courses. How about a visit to the place where dinosaurs once roamed? The children will love that.
You can do all of this in fascinating historic surroundings. In 1865, men returning from the Civil War created Hood County by piecing together land from the neighboring counties, Johnson and Erath. Out of a no-man's-land, used principally for disappearing from the law and worrying about Indians, they fashioned the town of Granbury, the new county seat. Granbury's first county courthouse was built of logs in the town square, which is now listed on both state and national registries. It presided over no less than seven saloons and saw some pretty rough-and-tumble days during the post-Civil War Reconstruction era.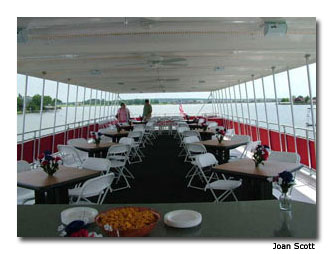 Today Granbury's courthouse is the glistening jewel in a remarkable setting. It's surrounded by some of the town's foremost attractions, including the Granbury Opera House and Granbury Live.
The Opera House was built in 1886. It closed in 1911 and languished for 64 years before local go-getters completed its restoration and reopened its doors. The theatre features plays, musicals, and melodramas eleven months out of the year. Fans have enjoyed "Annie Get Your Gun," "42nd Street" and "Guys and Dolls" over the years.
Around the corner, Granbury Live puts on great shows like "Elvis, Chuck and Buddy" and "Old Time Rock'n'Roll" in its art deco space.
Then there's the Nutt House (119 East Bridge Street). In 1866, two blind brothers, Jacob and Jesse Nutt, established a small business on a likely spot in the town square, erecting a hand-hewn limestone building on the site in 1893. The Nutt's establishment has been in use as a hotel continuously since 1919. The Nutt House Historic Hotel offers seven rooms with modern amenities. Try a massage in the Spa Room to get a new lease on life.
You can awaken the taste buds at the Merry Heart Tearoom on the west side of the square, Pearl Street Pasta House on the south side of the square, or at The Chopping Block (1470 East Highway 377). Another culinary choice might be a dinner cruise around the lake on the 96-foot (29 m) long Granbury Riverboat. On Friday nights guests are even invited to help solve the onboard murder mystery "Who Killed R.J." (a witty reference to the 1980's TV series "Dallas," in which the main character J.R. Ewing was shot). The Riverboat people have switched the initials as a spoof. You may figure out who was the killer and still have time to take a stroll on deck to watch the stars.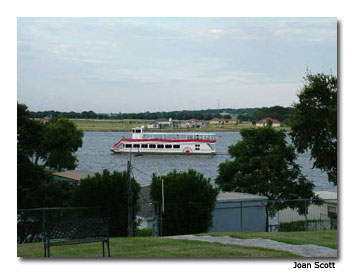 If you're an armchair paleontologist, take the kids 25 miles (40 km) down the road to nearby Glen Rose and on to Dinosaur Valley State Park; the park is about 3.5 miles (6 km) west of Glen Rose on Park Road 59. Walk along the Paluxy River to see some of the best preserved dinosaur tracks on the planet. The park has a visitors center, nature trails, picnicking and camping.
The Fossil Rim Wildlife Center is also found in Glen Rose. It offers 1,174 hectares of endangered and exotic animals on a scenic 8.5-mile (14 km) drive, providing close-up views. In case you work up a hunger, a restaurant and picnic areas are available.
Granbury has seven hotels and 27 bed-and-breakfast establishments. You can rest your head near Lake Granbury or closer to the square.
"We moved here from the hustle and bustle of the Dallas/Fort Worth area several years ago and never looked back," says Phyllis Arnold, a business coach and local resident. "There are plenty of grown-up activities and our little girl loves poking around the shops in the Town Square or taking a carriage ride through the historic district. We like to dress up and go 'downtown'."
Take it from Phyllis. There's something for everybody in this comely little Texas town. If you come to the Dallas/Fort Worth area,put a visit to Granbury at the top of your day-trips list.
If You Go
More information about the attractions, hotels and restaurants in this article can be found at the below website.
Granbury Convention and Visitors Bureau
116 Bridge Street
Granbury, TX 76048
817-573-5548 or 800-950-2212
www.granburytx.com