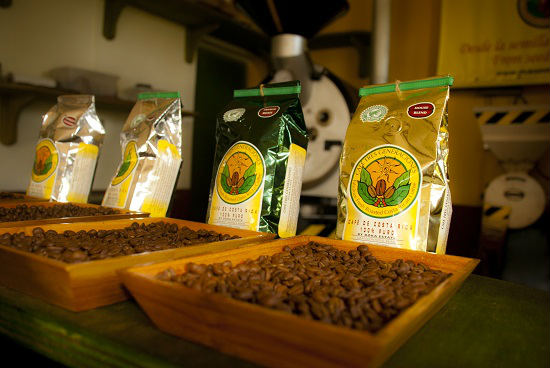 Warm espresso steam swirls upward from my little yellow cup in the rainy midmorning air. The smell of coffee hangs in the pavilion, and my group is sampling a variety of coffee from large pots before the tour officially begins. There is something for everyone, from house blends to French roasts, and much to my delight, espresso. A man from another group and I quickly seek out that pot and hunker down, sipping from cups marked Café Tres Generaciones while we wait for the rain to stop, or at least let up a bit.
The coffee tour in the coffee capital of Costa Rica, Alajuela, was subject to a sporadic mix of rain and sun on this particular Sunday. This is part of the key to great coffee. Due to its location near the Poas Volcano, Doka is fortunate enough to experience a wide variety of climate and weather changes, which allows for better growth of the coffee plant. That means better tasting coffee.
I was here on a service trip with Golden Key, an international honor society, and we had come to Doka Estate for a unique coffee tour. The coffee lover in me had rejoiced upon seeing this stop on the itinerary.
The Doka Coffee Farm is owned by Costa Rican locals, the Vargas Ruiz family, who have been making coffee for more than 70 years. The purpose of the tour is to educate people on the work and steps that go into making coffee. A company expert guides each tour from station to station, showing the coffee at each stage in the process.
We begin at the seedbed. At this stage, our guide shows us the coffee plant, green leaves with red berries blooming outward. I realize I had no idea before now what a coffee plant looks like, even though I drink at least a cup a day.
Our guide tells us how people live near the farm, and come to pick the berries. It's hard work. Each morning they tie a large laundry basket looking tub around their waist, and cross the fields picking the berries. Then they take them to be weighed, and they are paid for their work.
The rain picks up a little as we move to the next station. A sign on the outside of the building we approach reads, "Welcome to the oldest wet mill in the country!" We duck out of the rain and into a building that isn't like anything else I've ever seen.
The room has a large square hole in the ground that spans the length of the room. Above it are crisscrossing yellow metal platforms, and finally a funnel looking device that opens above the hole. The sign above reads "coffee receiving."
Our guide strides to the middle of the platform, and announces she will pick one person to taste the coffee bean at this stage. On this particular day that person is me. I walk forward across the yellow metal walkway to where she stands, hand outstretched. I open mine and take the coffee bean in my hand. She instructs me to peel the outside off and taste it. I pop the admittedly slimy piece in my mouth. At first, there's nothing. A few groups have gathered now, awaiting my reaction.
"What does it taste like?" She asks.
"Sour," I answer, and she begins to laugh. "It's supposed to be sweet! Everyone always says sweet." Well, maybe I wasn't the coffee connoisseur I thought I was. After all, I never really had thought about what it takes to make the coffee I drink. And it takes so much.
Our guide explains that they fill the hole with water, and the beans separate, leaving the ones that are no good behind. The good ones move to the next room, where they are separated further.
She shows our group a huge open patio. "We rake the coffee beans out under the sun to dry them," she explains. Someone in my groups asks what happens when it rains. She lets out a little sigh and says, "We have to flip the coffee and keep doing that until it finally dries."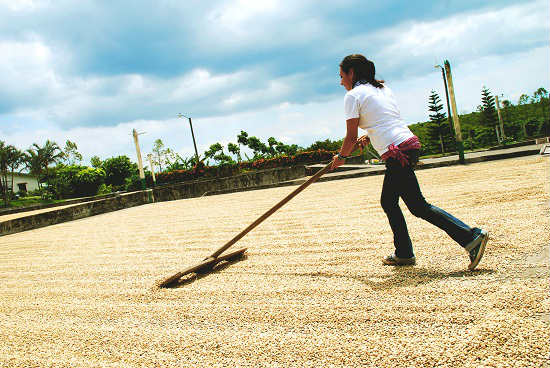 My group is led to a room full of coffee bags, and we're allowed to plunge our hands into the dried coffee beans. We are told that they ship out a lot of the coffee beans unroasted. When they arrive, other companies roast them to their liking.
The Doka Coffee Farm also has their own brand of coffee, Café Tres Generaciones, which is roasted and then exported or sold in Costa Rica.
The tour winds to an end, and we are free to roam the gift shop, where I admittedly spend most of my money I had brought that wasn't for necessities. Months later, I still enjoy a cup of French roast brewed through my chorreador, or coffee sock as it is sometimes called. This Costa Rican traditional way of coffee brewing is done by putting ground coffee in the sock part. Then, boiling water is poured on top, and the sock acts like a fabric filter, allowing the brewed coffee to drip down into your cup. The fabric part sits on top of a wooden frame, and there are a wide variety available. I chose one at the gift shop with a painting of Doka on it. There are replacement filters, or with some creativity you can make your own.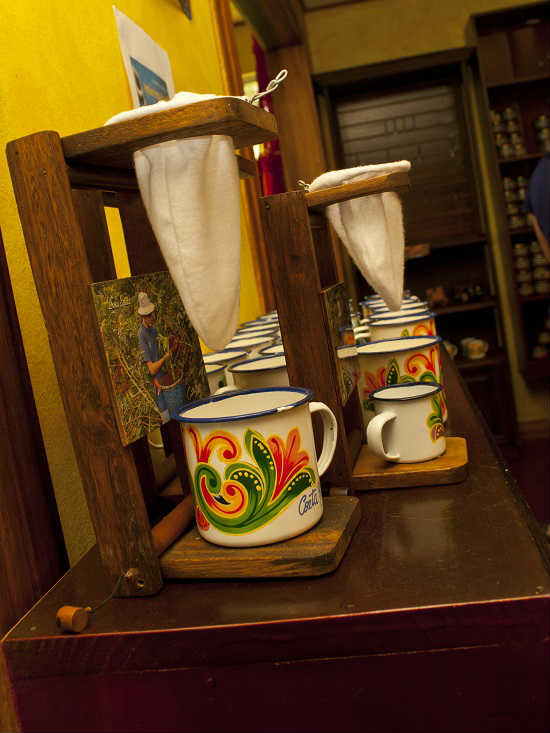 Be warned, you may need to leave behind some clothes and towels in order to get your coffee back in your suitcase, but don't worry, it's well worth it.
If You Go
Reservations for a tour at the Doka Coffee Estate can be made online, and they also have an option to live chat on their website. Even if you can't manage to make it there anytime soon, you can order coffee through their website.  https://dokaestate.com/coffee_tour/reservations.html
Hostels are a great option for accommodation in San Jose. A quick glance at the reviews can help you find one that matches what you like, from a calm private room to dorm style rooms with bars attached. https://www.hostels.com/san-jose/costa-rica
Visit Costa Rica: https://www.visitcostarica.com/