There's nothing quite like watching the World Cup Final in a country whose team has a shot at the title. If they win, even better. Being English, this had always been out of the question for me – until this year, when I found myself in Germany in the midst of World Cup fever. The whole city was decked out in the national colours: 'schwarz, rot, gold'.
More specifically, I was in Prater, a beer garden in East Berlin, drenched from the rain but nonetheless sitting it out with a large group of German and international fans. We huddled under umbrellas, all eyes on the big screen. It crossed my mind that I was a bit of a fraud, only having lived in Berlin for five months and yet muscling in on their country's moment in the spotlight.
I'm not even a huge fan of football. But it was impossible not to get a bit caught up in it all. The attitude in Berlin seemed to be the more the merrier. After Germany's success in the semi-final, an overjoyed man had handed me a red, black and yellow garland in the street, and told me "We need to believe!"
As the match got underway, the rain that had taunted the city all day started to ease off, and the crowd slowly swelled until there was only standing space left. Most of us were already soaked clear through, with face paint running down our faces. One man had to wring out his German flag-coloured wig.
It was a more subdued crowd than I would have expected, whether that was due to the miserable weather or the fact that this match meant so much, I didn't know. For the most part, the only sounds were soft groans at near misses, or a brief round of applause when something went well.
When Germany scored at long last, it was a different story. After a split-second to process the goal, the crowd roared. We leapt up onto the benches along with everyone else, cheering and hugging as fireworks erupted in the sky. A few minutes later, as Germany were crowned world champions, we rushed out into the street, where people were pouring out from their apartment buildings, bars and restaurants to celebrate together.
I've never seen a city so in tune. Everyone cheered and sang together. Curiously, the victory anthem of choice was England's 'Three Lions', but if I was going to join in the celebrations, I wasn't going to complain about them borrowing our song. Every passing car honked its horn.
I couldn't help wondering if part of the reason for the jubilation was that the last time Germany had lifted the trophy, the beer garden I was in and the neighbourhood I currently call home – Friedrichshain – were part of East Germany, and thus not part of the winning West German team. It was a fact that seemed to get glossed over by much of the media coverage. Yes, it was Germany's fourth World Cup win, but it was their first as a unified country. German reunification was realized in October 1990.
Germany's unification is a spectacular success story, and Berlin is a perfect example. Because it was the capital, the city was divided, with East Berlin placed under Soviet rule. The World Cup demonstrated the dramatic turnaround that Berlin has made since then.
Many of the most popular viewing locations were along the former border, and there was something poignant about seeing former places of division turn into the ultimate demonstration of togetherness. This included the 'Fanmeile' (fan mile) at Brandenburger Tor, which had been completely desolate during the time of the war. Yet after the World Cup win, tens of thousands of German and international fans, including me, gathered to cheer on the team. The team was welcomed home as heroes.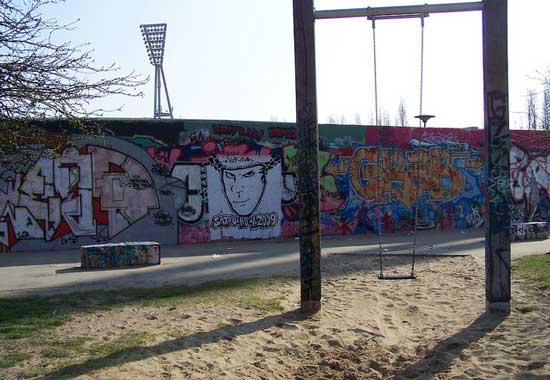 I watched some of the earlier matches at Mauerpark, which is another location that provides food for thought. This huge green space in Prenzlauer Berg is situated on the former Death Strip between the two sections of Berlin, where it was heavily guarded and little more than a wasteland. Now it's a common meeting space, and one of the first places I really felt at home in Berlin.
In Sundays, Mauerpark comes alive. There are markets selling vintage clothes and Cold War relics, stalls selling beer and currywurst (what else?), street performers from jugglers to gymnasts, impromptu games of Frisbee and basketball, and the Bearpit Karaoke, which is something of a Prenzlauer Berg institution.
Two Berliners have run the karaoke in the Mauerpark's stone amphitheatre for five years, using fairly basic equipment and inviting anyone to take the mic for a few minutes. I've witnessed good, bad and hilarious singing there – anything goes. You never know what it's going to be like; one week an elderly man assumed the role of backing dancer/hype man for all the singers, and once a singer proposed to his girlfriend in the crowd.
Further down the road from Mauerpark is Bernauer Strasse, the site of the Berlin Wall Memorial and a good alternative to the tacky tourist traps at Checkpoint Charlie. Rather than selling off the site of the Wall to businesses, here it has been preserved and looked after by local authorities. It's extremely well done, with reconstructions of watchtowers and markings of escape tunnels. Memorials stand for those who died trying to escape here, and there is information on the street and the families who lived there.
This autumn, the city will celebrate the 25th anniversary of the fall of the Wall. On November 9, 1989, the hated Wall was finally breached by jubilant Berliners, unifying a city that had been divided for more than 30 years. Berlin is marking this milestone year with exhibitions, a light installation along its former path, and a human chain in celebration of the peaceful protests and unity between East and West Berliners that succeeded in bringing down the Wall.
Seeing the city come together in celebration at the World Cup shows just far Berlin has come in that time, and just how much they have to be proud of.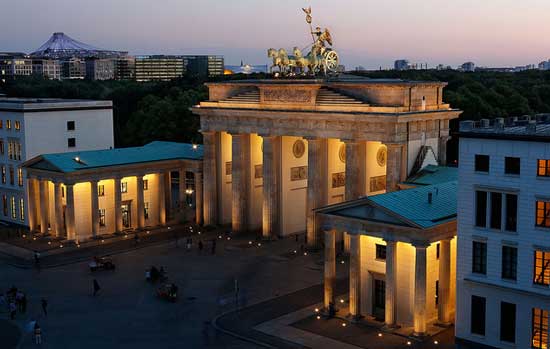 If You Go
Bearpit karaoke: https://www.bearpitkaraoke.com/
Prater, (beer garden) https://www.pratergarten.de/e/index.php
Information on the Berlin Wall Memorial at Bernauer Strasse: https://www.berliner-mauer-gedenkstaette.de/en/
Information on 25th anniversary of the fall of the Berlin Wall: https://www.visitberlin.de/en/event/11-09-2014/25-years-fall-of-the-berlin-wall
Bundesliga (German football league and many of 'Die Mannschaft') https://www.bundesliga.com/en/