Texas Hill Country is known for its rolling green terrain dotted with Lone Oak trees, cacti and the occasional herd of grazing longhorn. Views go on for miles and Wimberley and Driftwood offer plenty of opportunities to enjoy those vistas.
Located 45 minutes southwest of Austin, this area of Texas Hill Country offers many things to do year-round. Even in the winter average highs are in the low to mid-60s allowing for outdoor activities anytime. Then follow up with a delicious meal and a glass, or two, of wine.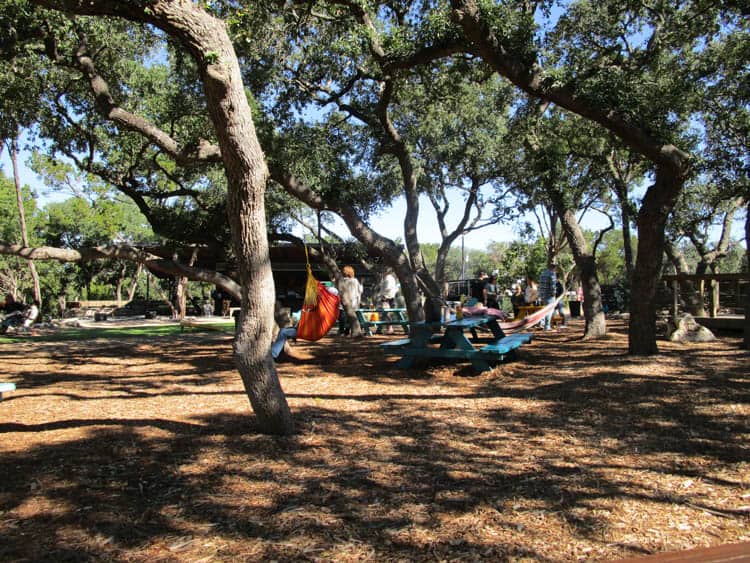 Spend the Day at The Shady Llama in Wimberley
The Shady Llama in Wimberley is located on 35 peaceful acres with sweeping views and much to do. Opened in 2018, it is dog and kid-friendly and has a bar, food trucks and activities.
You can come and enjoy all the offerings or sit back with a drink and just relax. The stars of the show are the llamas (and their miniature donkey friends) who provide entertainment for all ages.
Take in the seemingly never-ending vistas of Texas Hill Country, walk among the Live Oaks, play a game of cornhole or cozy up by the fire pit on cool winter nights.
When you're ready for a break you can order a drink and ease into a colorful chair or hammock and take in the scene. If hunger strikes grab a bite at one of the food trucks and pair it with a local brew.
Resident food trucks include Gringas Grub Shak (try the veggie taco or gringa burger served on a tortilla) and Kelly's Barbecue (featuring smoked chicken drumsticks and a brisket elote parfait).
Where to Eat and Drink in Driftwood
Wimberley Valley Winery is located on a lovely farm setting in Driftwood. It features tastings, live music on the terrace, wood-fired pizza and cozy places to sit among the trees. The atmosphere is casual and festive.
Adding to the charm is the retired London Double Decker bus. Here you can buy a glass of wine before wandering off to visit the adorable dapple-colored ponies in the adjacent field. Their Sweet Blush wine is refreshing and the Cellar Select is a bold red, perfect to pair with your own Texas-style chili at home later.
Driftwood's Duchman Family Winery was described by HGTV as one of the 20 most picturesque wineries in the country. Join them for a tour and tasting and you'll quickly see why.
Founded in 2004, they are proud to boast 100% use of Texas grapes. Grab a bottle of Canto Felice White Blend or enjoy some food from their kitchen. Favorites include truffle oil and parmesan fries and a delicious Margherita pizza.
Vista Brewery is a destination brewery set on 21 acres in Driftwood. With a focus on local foods, you'll find a beer garden, ranch views and live music. A fan-favorite brew is their Lambic-style ale with Texas peaches.
They offer seasonal menus at the Vista Grill and strive to source from local farms and merchants. For those with a sweet tooth, try their Wildflower Caramels made with Vista Beer.
Trattoria Lisina, located in Driftwood, has a rustic Italian feel with warm lighting, large wooden tables and soothing yellow walls. Both somehow elegant and casual, they fill the bellies of locals and tourists alike with dishes including Seafood Risotto and Lasagne Alla Bolognese. Top it off with Tiramisu or homemade sorbet.
Ask for extra napkins when you tuck in at Salt Lick BBQ in Driftwood. Since 1967, this popular spot has been serving up prime rib, baby back ribs and more to the thousands who visit annually.
Their legendary BBQ pit has been featured on many travel programs. Salt Lick BBQ offers multiple options for indoor or outdoor dining and there is often live music on the patio.
You might opt to dine "family style" with all-you-can-eat beef brisket, pork ribs, sausage, potato salad, coleslaw and beans. You are welcome to bring your own beverage. However, Salt Lick Cellars, located next door, also offers Texas wine and beer for sale.
Shopping Sweet Spots in Wimberley
Picturesque Wimberley Square offers up many independent businesses and galleries. Unique gifts from local artisans take center stage here. Among the shops that will put a smile on your face is The Senior Citizens' Craft Shop of Wimberley.
This co-op offers hand-crafted items including children's clothes and knitwear, jewelry, toys and more. And yes, it's all made by local seniors.
Vintage and new cowboy boots, clothes and accessories await you at Wimberley's Wall Street Western. Hankering for a hat? Whether you feel like a cowboy or a rock star, they have a wonderful collection sure to top off your Texas Hill Country visit.
Between San Marcos and Wimberley, you will find Wimberley Glassworks. Here they feature hand-blown glass in the form of lighting, art glass, vases, glassware and gifts. You can visit their gallery and perhaps even watch them create these lovely pieces in a glass blowing demonstration.
Texas Hill Country for Nature Lovers
Old Baldy offers a short (just over ½ mile), but steep hike with a rewarding 360-degree view of the landscape. You can even see the town of Wimberley. Located in Old Baldy Park, climbing the 218 rock steps is a great way to work off some of Texas Hill Country's fine meals.
Jacob's Well Natural Area is a popular stop for outdoor adventurers. This Hays County Park is located on 81 acres and is home to Jacob's Well. The well is an artesian spring releasing thousands of gallons of water daily.
Jacob's Well is part of an extensive underground cavern system and is the second-largest submerged cave in Texas. It is also the headwaters of Cypress Creek, which flows through Blue Hole Regional Park and feeds into the Blanco River.
While swimming is not available during the winter months, the area offers many opportunities for enjoyment. Activities include hiking trails, geocaching, birding, picnic areas, a labyrinth and places for kids to play. This scenic area is popular with both locals and visitors.
More to Explore in Wimberley
You may want to include a performance at the Wimberley Playhouse or a visit to the Wimberley Valley Museum. Located in the historic Winters-Wimberley house, here you will learn about the history of this lovely region.
Wine tours, horseback riding and scenic drives also await visitors. Check in advance for operating hours and performance schedules.
There is an abundance of lodging options in the region including boutique hotels, inns, vacation rentals and cabins. You may also elect to stay in nearby Austin. While the high temperatures in the 60s may be comfortable for many, remember the lows are often in the 40s (and sometimes 30s) so, bring layered clothing.
For a day trip, long weekend, or longer vacation, the towns of Wimberley and Driftwood have much to offer.
Book This Trip
Ready to start planning your western adventure to Texas Hill Country? Get prepared with insider knowledge on how to get around, hotel and VRBO reservations, tips on more amazing local shops and restaurants through TripAdvisor and Travelocity.
While you visit Texas, check out more fun activities near Austin, expert-led tours and skip-the-line tickets to popular attractions through GetYourGuide. Browse and book tour options here.
While your on the road, download the HearHere app to be your guide. This app founded by Kevin Costner features over 8,000 stories from each location you drive through so you can get the real feel for each town and the people who live there while you travel. Download the app here.
Author Bio: Mary Casey-Sturk is a travel and features writer based in Greater Cincinnati. Her work has appeared in Hyde Park Living Magazine, the Cincinnati Enquirer, Nashville Arts Magazine, Smoky Mountain Living Magazine, the Tennessean, Cincy Magazine, Long Weekends Magazine and more. Her book, "Eating Cheese Curds with Strangers: The Misadventures of a Travel Writer" is available now on Amazon
Latest posts by Go World Travel Magazine
(see all)