Explore a world steeped in tradition, rugged landscapes, and medieval treasures. Spain's Imperial City, Toledo, is a vibrant blend of diverse cultures, fascinating stories, and modern energy.
Toledo, a picturesque destination located in Castilla-La Mancha, Spain, boasts a breathtaking landscape that includes towering mountains, historic churches, mosques, synagogues, and convents. The city is also renowned for its delectable cuisine, rich culture, and tradition.
Top 10 Things to Do in Toledo, Spain
If you're searching for the top activities to enjoy, this in-depth guide outlines the 10 best things to do in Toledo.
1. Visit the Old Town of Toledo
Explore Toledo's Old Town by strolling through its charming narrow corners and winding streets. You'll be captivated by the mix of Islamic, Jewish, and Christian influences in the eye-catching architecture.
Read More: Top 10 Things to See and Do in Tenerife, Spain: The Beautiful Island of Eternal Spring
Best Tips & Tools to Plan Your Trip
This UNESCO-listed site has over two thousand years of history, with hundreds of museums and monuments to explore.
Enjoy a café con leche on a Gothic-esque terrace, shop for unique finds in a Medieval-made-chic boutique store, and discover the intriguing history of the ancient alleyways.
2. Toledo Cathedral
The Toledo Cathedral, also known as Catedral Primada, is a popular destination for visitors due to its impressive Medieval Gothic architecture and renowned artwork. Its many cloisters, naves, and modern additions are worth exploring, and be sure not to miss the beautiful light shining through the stained glass windows.
Take a Toledo Cathedral Tour with a knowledgeable local guide to learn about Spain's second-largest cathedral's unique history and art. Whether you're in Toledo for a short or long stay, this former Mosque and church are a must-see attraction.
3. Mosque of Christ of the Light
Located in the unique Casco Historico area, the Mosque of Christ of Light is one of Spain's most prized examples of Moorish heritage. It's the oldest building in the historical center and a perfect destination for architecture enthusiasts and history buffs.
Explore the picturesque corners, admire the ancient Arabic script, and marvel at the mosque's vaulted ceilings. This historic building is a testament to the cultural chronicles of difficult times and a must-visit destination for any essential guide to Toledo.
4. Plaza de Zocodover in Toledo
Come and explore the vibrant Plaza de Zocodover and immerse yourself in the local culture. Listen to the lively chatter of the streets, savor a delicious bocadillo in the morning sun, and bask in the historic atmosphere of this former horse market.
Throughout the year, various public ceremonies take place in the plaza, offering a blend of amazing concerts, stunning costumes, and high-energy dances. If you're seeking something unique to do in Toledo, let your instincts guide you to the festive celebrations at Plaza de Zocodover.
5. Alcázar of Toledo
Toledo boasts a plethora of breathtaking sights, but perhaps none as awe-inspiring as the Alcázar of Toledo. Standing tall above the winding Tagus River, this Renaissance-style building is a testament to the city's rich history.
Once a fortress, it is now a museum where visitors can marvel at the antique guns and admire the razor-sharp swords and knives on display. It's a must-visit attraction for anyone traveling from Madrid to Toledo on a day trip.
6. House Museum of El Greco
If you're an art lover exploring Toledo, the El Greco Museum is a must-visit attraction. Located in the vibrant Jewish Quarter, the museum showcases the stunning art from Spain's Golden Age and offers an intriguing insight into the life accomplishments of El Greco.
You can appreciate the divinely colored canvases, observe the antique furniture, and take notice of the pottery collection. The museum perfectly blends history and artistic beauty through a 16th-century house, a 20th-century extension, and a green-lined garden.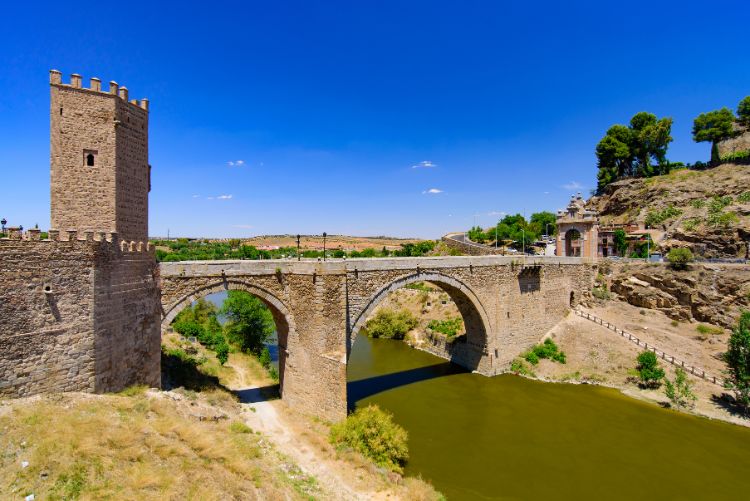 7. Puente de Alcántara, Toledo
Crossing the ancient Puente de Alcántara and glimpsing the glittering Tagus River below is a breathtaking experience. The Baroque-style triumphal arch adds a touch of grandeur and complements the teeming towers and time-told walls.
For a panoramic perspective on this 3,000-year-old city, taking a scenic hot-air balloon ride over Toledo is highly recommended. You can launch into the misty clouds, savor some delightful Spanish nibbles, toast over a glass of cava, and lose yourself in the lucent landscapes below.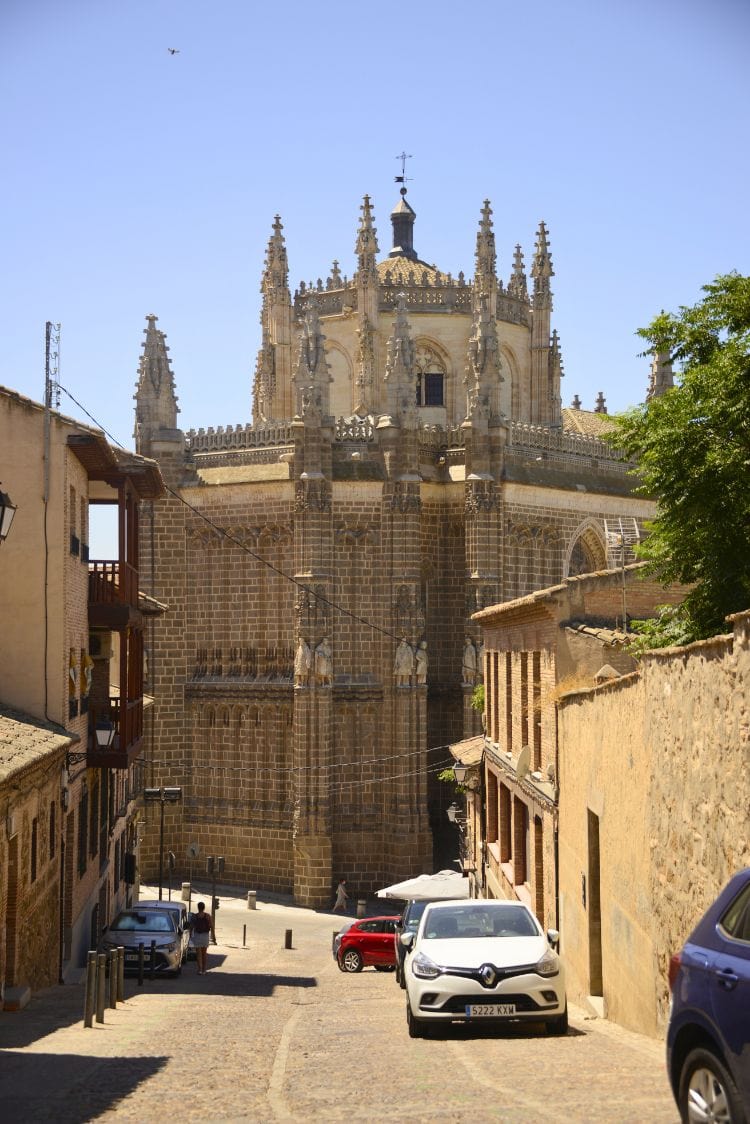 8. Monastery of San Juan de los Reyes
Toledo is a city that's filled with tourist attractions and activities that can get tiring after a while. Fortunately, the Monastery of San Juan de Los Reyes is an exception.
This 15th-century monastery is located at the western end of the lively Casco Historico, near the Bridge of San Martin. Its granite facade, Gothic cloister, towering walls, refreshing courtyard, and beautiful main chapel make it a must-see for anyone visiting Toledo.
Read More: Sleepless in Spain: Zaragoza
9. Iglesia de San Ildefonso
This stunning Baroque church boasts a mesmerizing interior with saline-white walls that contrast beautifully with the golden features. The high altar and dark side chapels create an intriguing interplay of light and shadows that add to the church's overall mood.
The detailed brickwork is also worth admiring, as it showcases the impressive craftsmanship of the past. It's an excellent opportunity to rediscover the era's cultural values and appreciate this architectural masterpiece's timeless beauty.
10. Mirador del Valle, Toledo
From this lookout point, you can enjoy breathtaking views of the River Tagus and Toledo's stunning monuments as they are bathed in warm orange and yellow hues. It's the perfect spot to enjoy a picnic with a bottle of Spanish wine and great conversation.
Located on the Carretera de Circunvalación, this lookout offers a unique perspective on the interplay between city life and nature.
Before you jet set off to Europe, save this in-depth guide to Toledo, Spain, for later.
Book the best hotels in Toledo here.
Author Bio: Jessica Bergin is a Barcelona-based Australian writer who's worked in the travel industry for half a decade. Her passion for adventure, travel, culture and lifestyle has helped her navigate a successful career in the writing industry.