Evening in Spain
Sitting in a quaint Irish bar on a cold, crisp January morning with a café con leche as my only source of companionship might not be the typical image people associate with Spain.
Like most Brits, the idea of sun, sea and sangria has been generated from years of holidays along the famous Costa del Sol.
These include a plethora of guiris, a jovial term Spanish people use to refer to the typical man who is seen at a beach with his pale skin and his unflattering socks and sandals combination.
Walking through the various districts of my adopted home town of Zaragoza, a vibrant little city situated between the more pulsating cities of Madrid and Barcelona, it is clear that Spain is a country more diverse than many are led to believe.
Visiting Pyrenees
The rolling hills of the Pyrenees, a place famous with skiers from across the world, are in stark contrast to the beautiful golden beaches of the south.
This diversity can be seen on so many levels, whether it is found in politics or food, giving people a cloudy sense of what is considered 'real Spain'.
Fiestas are a common trend throughout all regions, and there's no doubt that the Spanish know how to enjoy nightlife.
Most bars will remain dead until 1 a.m., a time when British people start thinking about what kebab to have in the taxi home.
However, this appears as one of the few customs that is consistent from one city to the next and it is clear that each of the 17 autonomous regions pride themselves on their own traditions and heritage.
Dining in Zaragoza
Being in the heart of Aragon, one is forever inundated with information about local sites and delicacies rather than Spain's most widely regarded trends.
Migas, a dish containing breadcrumbs and chorizo originally eaten as a breakfast dish, but which has now become more popular as a lunch or dinner plate, is a dish that Aragoneses hold close to their heart.
It's a dish they are likely to offer any foreigner visiting the region, whether it is in a restaurant or a family home.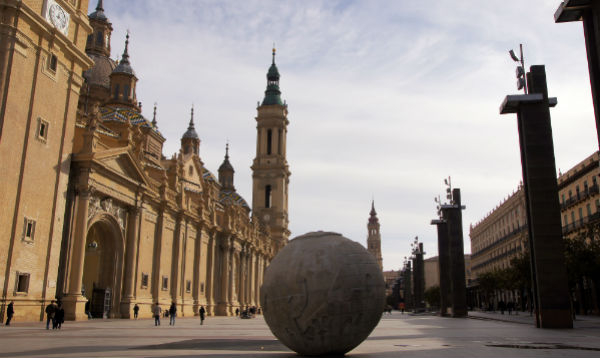 Dishes such as migas and paella, the latter being more universally recognized, provide the backbone of a culture which prides itself on having five meals a day.
Cenar, or lunch as foreigners know it, is usually consumed between 2 p.m. and 3 p.m. and is a perfect opportunity for families to get together and indulge in three home prepared plates.
This is swiftly followed by a siesta, a trend that few people need to have explained. The thought of eating so much food and remaining active appears too much for some.
Yet to the Spanish, an occasion without food would be as unthinkable as a Christmas without presents.
Barely a week goes by without a local or national holiday being celebrated somewhere in the country.
As I write in the aftermath of the New Year, local bakers prepare the famous roscon, a sweet bread ringed dessert filled with crème which is eaten by families in Zaragoza as part of San Valero (Jan. 29), a day in which locals have the day off from work to celebrate the city's patron saint.
It's a curious sight for an Englishman who celebrates Saint George's Day in the same manner he celebrates a normal Friday — by having a few bevvies at the end of a regular working shift.
Yet food and holidays are just a few things that make this one of the most intriguing of cultures.
For the past 40 years, Spain has been trying to move on from the leadership of Franco, the dictator responsible for some of the country's darkest days.
It has entered a world of globalisation. Influences from around the world are evident, whether it is a quaint Irish bar or even the local Chinese buffet.
For many employers, English is regarded as a necessity, making it easier for foreign people to explore parts of the mainland previously untouched by foreign foot.
With a population of more than 700,000, Zaragoza is quickly becoming popular with tourists from all over the world.
It has become one of the more prevalent destinations for Erasmus students looking to immerse themselves into the Spanish culture.
It has everything the big cities offer all within close proximity, and with a cinema providing original version films, it is sure to keep this boy from London here a while at least.
If You Go to Zaragoza, Spain
Plaza del Pilar
https://es.wikipedia.org/wiki/Plaza_del_Pilar
Aljaferia
https://www.turismodezaragoza.es/ciudad/patrimonio/mudejar/palacio-aljaferia-zaragoza.html
Puerto Venecia
https://www.puertovenecia.com/
Author Bio: Born and raised on the outskirts of London, Stuart Fitch is a journalism graduate currently teaching English as a foreign language. He has lived in Spain for over three years after spending one year working in China. Since graduating from University, he has continued writing as a way of relaxing and sharing his experiences. In his free time, he likes to read and go to the cinema as well as play weekend football with his friends.
[mappress mapid="959″]