In 2004 I put together a bucket list of "places to go". This was also the year of my first overseas travel. One destination on my list was the beautiful country of Japan. In addition, Mount Fuji topped my list of "must-visit places" in Japan.
As a photographer, I had one specific image in mind that I wanted to shoot. This image was of me with the entire volcano and blue skies in the background.
According to locals, this was a picture that is not easily taken. Would I get it done while only having a 2-day window to do it? I would find out in Spring, 2019.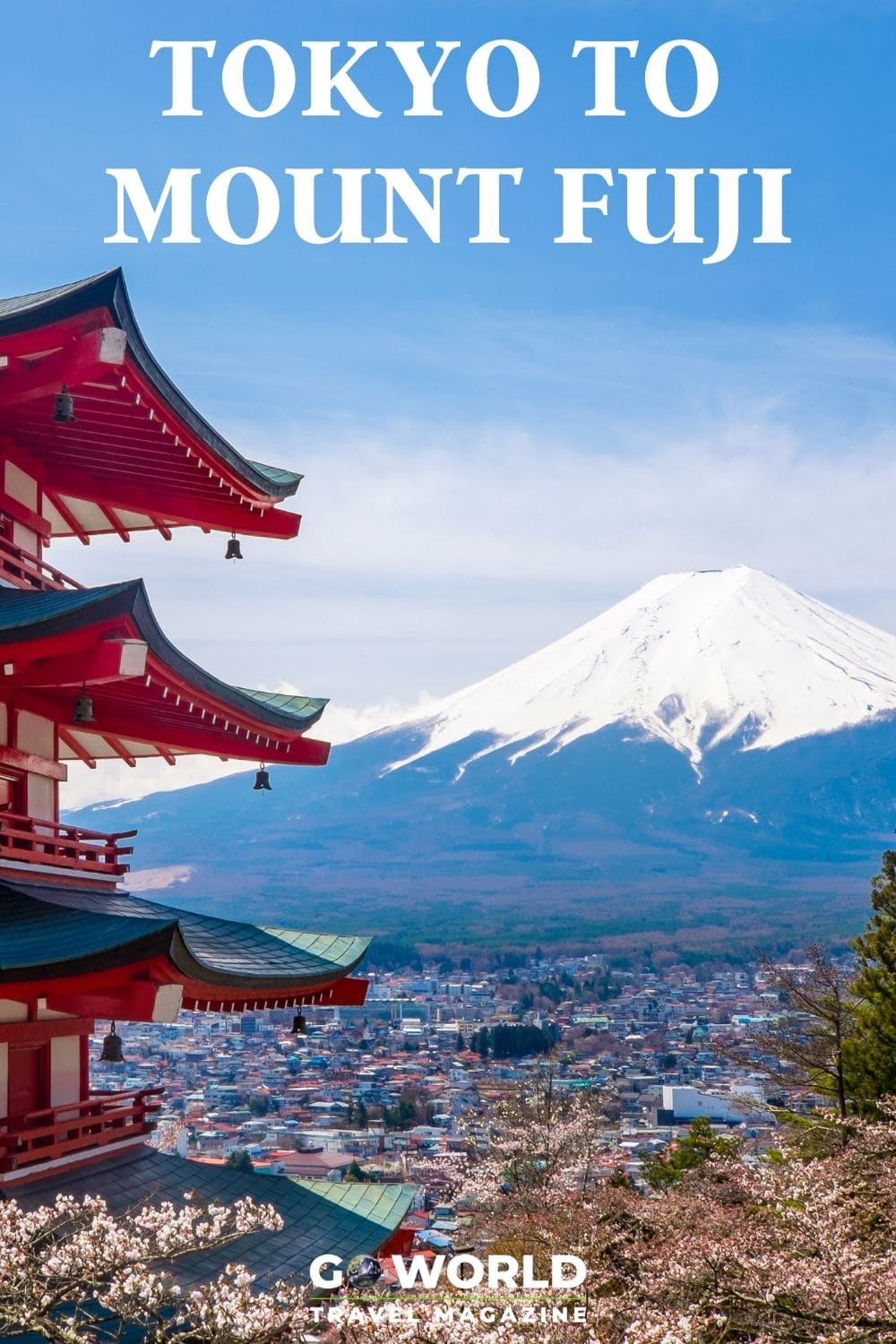 The Journey from Tokyo to Mount Fuji
As always, I had put way too many things on my itinerary. Too many places to see and too much ground to cover in the little time I had. I wanted to experience the city life of Tokyo, see both Osaka and Kyoto plus the historical remains of Hiroshima.
However, somewhere in between all of this, I had a 2-day window to take that picture I was eagerly aiming for.
Geographically, with only a little more than 100 km distance from Tokyo to Mount Fuji the iconic city was the best spot to begin my journey.
Luckily, the weather forecast showed "sunny to partly cloudy" for the 3 upcoming days. So, I planned to head out early in the morning of my 2nd day in Tokyo.
My friend and I booked a train ticket from Shinjuku to Kawaguchiko station, which is the closest train station to Mount Fuji.
The 2-hour ride from Tokyo to Mount Fuji on the famous Shinkansen train (or bullet train) itself was worth the journey alone. After about 90 minutes, I got my first brief look at Mount Fuji through the window of the train. However, what I also saw was a bunch of clouds coming in.
Apparently, the mornings are the best chance of seeing the volcano without many clouds. Seeing them coming in as I got closer to my destination stressed me out. After all, I haven't even scouted the area for the most suitable picture spot yet.
I frantically opened Google Maps and browsed the area for the most promising location to get my shot. During this search, I spotted lake Kawaguchiko nearby.
My hopes were to find access to the water's edge of the lake, which should then give me an unobstructed view of the volcano.
Feeling Unprepared
Upon arrival in Kawaguchiko, we grabbed our backpacks and ran to the taxi rank outside the station. We quickly learned that none of the taxi drivers spoke English.
Although we were able to converse with a few words here and there, we didn't know enough to articulate wanting to go to the northwest side of the lake.
Normally I  like this kind of situation. I love trying to get around without being able to speak a foreign language. It always somehow works out.
This time though, I was on a tight schedule. It was around 08:30 am and my best shot was walking over to the lake, which would take about another 75 minutes.
Unfortunately, neither of us had a working local phone number meaning no internet access. Therefore, we had to navigate solely on gut feeling.
Distracted by Cherry Blossoms
Our first move was walking toward the Kawaguchiko bridge. This seemed like the fastest and most efficient connection to the other side of the lake.
From there, it was pretty easy to navigate, since we only had to follow a trail that led around the lake. However, the trail was not always right at the water's edge, but often a bit further away.
As we moved forward, we were able to glimpse Mount Fuji more and more frequently. One little detail I had not even considered at this point was that it was cherry blossom season in Japan.
Although it can never exactly be determined when and where the flowers bloom, it so happened to start around Mount Fuji just a few days before our arrival.
On one hand, I knew that time was running against us as the clouds kept moving in fast. On the other hand, I also wanted to capture the beautiful blooming cherry blossoms.
Therefore we decided to stop occasionally. In fact, one of my favorite pictures was taken at a touristic landmark called Momiji tunnel, which refers to the "tunnel view" of Mount Fuji through some trees.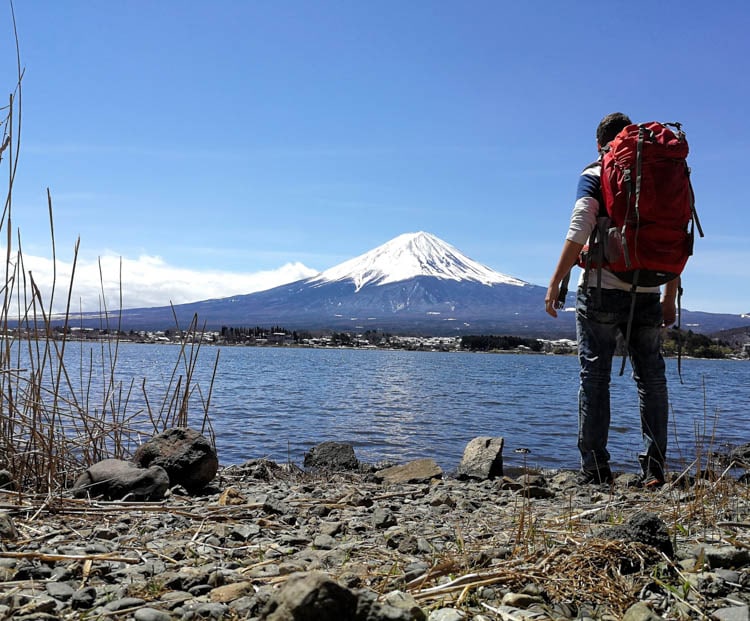 Finding the Best View of Mount Fuji
We were about to reach the west end of lake Kawaguchiko when I see a small path leading through the high grass to my left.
At this point, we were somewhere between the Momiji tunnel and Okukawaguchiko Sakuranosato Park. Not exactly knowing whether this path would allow us to walk all the way down to the water's edge, we tried it anyway.
The clouds now slightly touched the volcano, and I knew that this could now be the only chance I had. As I carefully pushed the dense reed aside while taking the final steps toward the lake, I couldn't believe my eyes.
The spot was perfect. A small bay of pebble stones with an open view of Mount Fuji.
I was carrying my camera gear in my hands, so I didn't even have to take off my backpack. I quickly positioned the DSLR on the tripod and hectically started to pose in different positions to see which one would look the best, as the timer of the camera kept counting down.
After about 30 minutes, I was satisfied and sat down to enjoy the scenery. Meanwhile, my friend, who had been waiting at the main trail, figured out that I must have found a spot and also made his way through the reeds to join me.
We sat there, talked about childhood memories, and took in the amazing silence and feeling of this place for almost an hour. Afterward, we headed back to the main trail and finished our loop around lake Kawaguchiko.
By the time we got back to the train station, clouds had surrounded the entire top of Mount Fuji. Eventually, we found a taxi driver that was able to take us to our accommodation, a cabin inside the forests surrounding lake Saiko, not far from Lake Kawaguchiko.
Reflecting on the Incredible Experience
After a good night's rest, we got up and hiked all the way back from our cabin at Camp Koyodai to the train station of Kawaguchiko.
This hike took us about 2 hours and was very refreshing in the mild morning breeze. Although it was quite cold during our trip in April, walking at a fast pace quickly warmed our bodies.
As we were hiking and talking we realized that, compared to the day before, it wasn't even sunny that morning.
This was surprising since the weather forecast gave us a steady "sunny / partly cloudy" heads up for a few days after we left Tokyo. During our hike, I would permanently look at the pictures I had taken the day before.
I was so happy about the outcome of my pictures that I asked my friend if we could go back to the water's edge one more time.
Unfortunately, we had already made plans for the night and needed to head back to Tokyo as soon as possible, which made me a bit sad.
Mount Fuji Disappears
We were walking right in front of the train station when I had a weird feeling. "This looks different," I said. We both looked around but couldn't determine what it was.
After about 15 minutes my friend said "It's Mount Fuji". I was confused, looked around, and asked him what he meant. "It's gone, it should be right behind the train station" my friend responded.
Indeed, there was no Mount Fuji. No top of it, no outlines of it, nothing could be seen of it at all. If we hadn't taken pictures of it the day before, we wouldn't have even known that it was there.
Once more I checked my pictures. A difference between day and night. It struck me that if we had left only one day later, my entire journey would have been for nothing.
Whenever I know look at that picture now, I don't only see the image itself. I see the effort I had to put into getting it, I feel the moment when we were sitting by the water's edge, and I remember how lucky I got this day.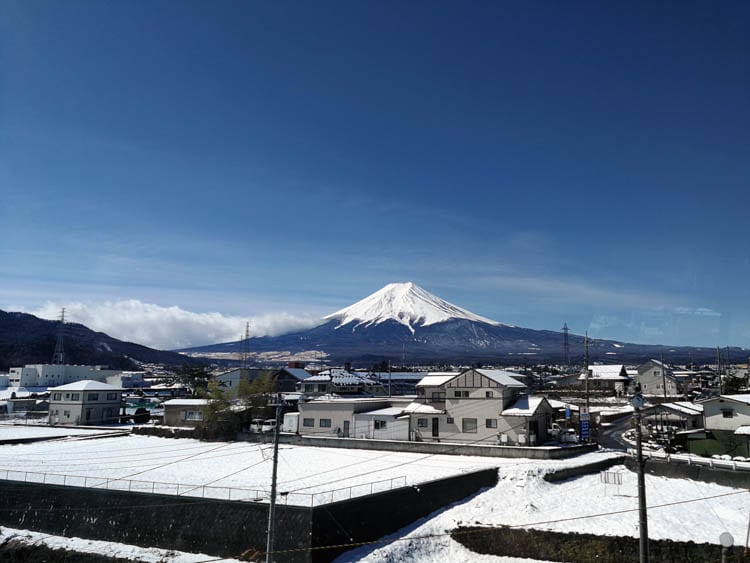 Tips for Seeing Mount Fuji
If you are interested in seeing Mount Fuji, there are several things to consider. For most people, Japan is a time-consuming overseas trip. Accordingly, Mount Fuji will most likely just be one of many stops along your journey.
To be sure to get a good view of the volcano, or maybe even hike it, it's important to keep an eye on the weather forecast.
Blindly just taking a trip from Tokyo to Mount Fuji will increase your chances of not even seeing this majestic landmark at all (an expensive waste of time).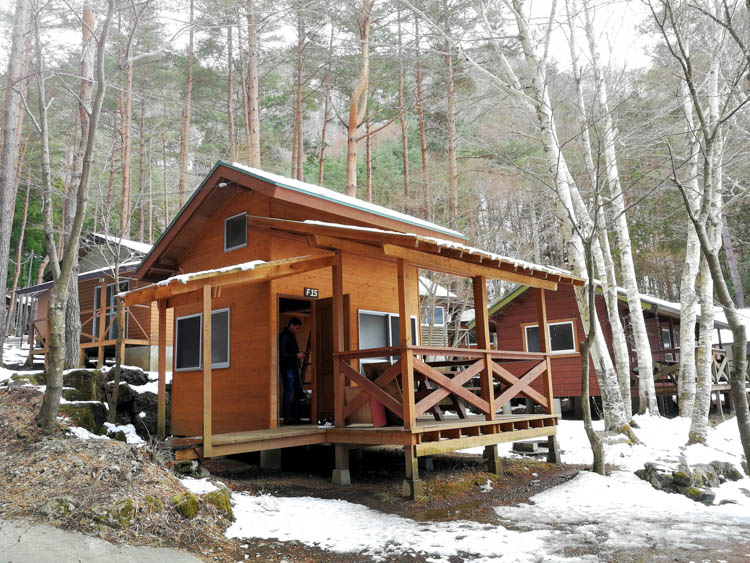 Where to Stay
Since Tokyo is extremely expensive, I recommend staying closer to Mount Fuji. This also gives you more flexibility as the weather may suddenly change on a daily (even hourly) basis. During our stay at the Koyodai campground, we were the only two guests.
The entire cabin lodging was "closed" and freezing cold. We only had a small heater and were advised to not leave it running throughout the night, since gases may cause health issues.
We were extremely cold and a bit sick the morning after. But, if you have proper sleeping bags, a cabin may be the cheapest option.
If you are looking for more comfort, get a hotel in Kawaguchiko. A local phone with internet access would also be very beneficial.
For detailed information, check out Tokyo Cheapo, a website that specializes in prepaid SIM card options for travelling in Japan.
As for the time, I highly recommend going from Tokyo to Mount Fuji during cherry blossom season. It is not always easy to predict, but Japan has a forecast website, which at least indicates the expected time throughout the entire country.
Book This Trip
Ready to plan a life-changing adventure to Mount Fuji? Start preparing with insider tips on the best hikes, hotel and VRBO reservations, local restaurant reviews and more through TripAdvisor and Travelocity.
Find exclusive flight deals and car rental options by checking out OMIO Travel Partner.
For the ultimate deals on outdoor gear, travel essentials and adventure clothes, check out the Sierra Trading Post selection.
Author Bio: Thomas Später is an experienced backpacking traveler that specializes in adventurous trips around the globe. He has traveled to remote and exotic places, such as Namibia or Mongolia and focuses on landscape and wildlife photography to share the beauty of our planet with others. In 2021, Thomas published a (german) book about Overpopulation and overconsumption (Die Überbevölkerung). With his awareness of current global issues, he uses his travels to support particularly local hotels and restaurants to raise awareness for the nature and culture of his destinations.