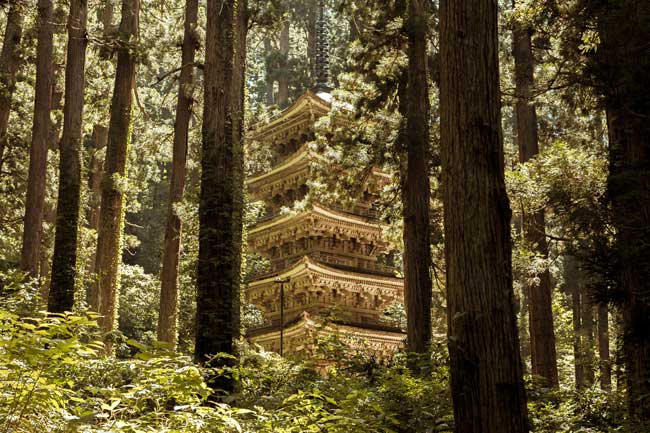 First-time visitors to Japan often hit the main spots on the so-called Golden Route – Tokyo, Kyoto, and Hiroshima – and they'll have a great time exploring these cosmopolitan, historic cities. However, as wonderful as they are, they only represent a tiny fraction of the nation's mountainous landscape. It's easy to miss the "real" Japan in an endeavor to catch "famous" Japan.
If you're looking for an authentic Japanese destination with an opportunity to experience what rural Japan has to offer, make sure you visit Shonai.
Where is Shonai?

Shonai is located on the northwestern coast of Japan in Yamagata Prefecture. It boasts breathtaking scenery and is blessed with the largest number of waterfalls of any prefecture in Japan, as well as some of the most snowfall in winter.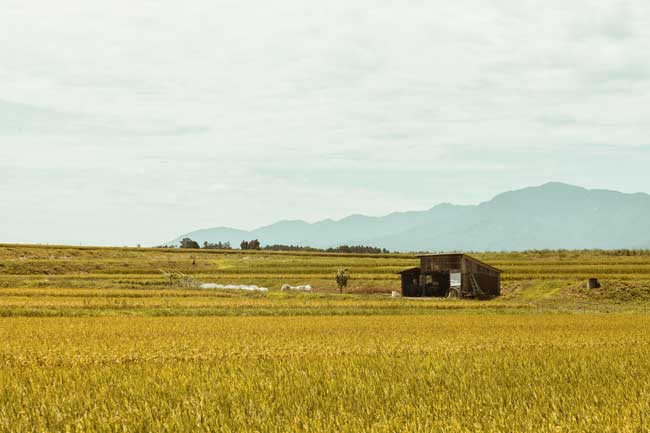 Feast in the Food Capital of Shonai
Its abundance of natural resources, combined with the know-how and innovation of local farmers, means that Shonai is famous for its food. Tsuruoka City alone has preserved approximately 60 heirloom crops that are vital to the diversity of the region's produce, earning it the honor of being a UNESCO Designated Creative City of Gastronomy (the only one in Japan as of 2018).
Shonai is also a famous rice producing region known for both its long tradition of farming and its recent innovations — the popular Tsuyahime rice strain was developed as recently as 2010.
So what should you eat in Shonai when everything is delicious?
Start out with some dadachamame, an heirloom type of edamame, coupled with a fresh draft of beer. Follow up with succulent Yamagata beef sukiyaki, or, if you're here in summer, try freshly harvested Iwagaki Oysters.
Vegetarians and non-vegetarians alike are also encouraged to try the simple but delicious shojin ryori, Buddhist fare available at some of the temples 'lodgings in the area.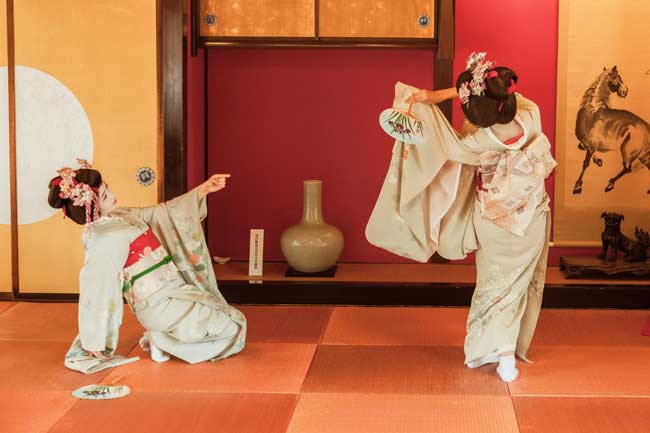 Kyoto Culture Lives on in Shonai
Centuries ago, the main connection between Shonai and the outside world was the Sea of Japan, which was used to transport tangible items like food and tools, as well as intangible things such as culture from the west of Japan.
Kyoto had a strong influence on Shonai, which is still visible today, especially at Somaro Teahouse in Sakata City. Here you can experience a rare slice of Kyoto geisha culture in the form of a maiko (apprentice geisha) dance performance as you enjoy a delicately put together bento lunch.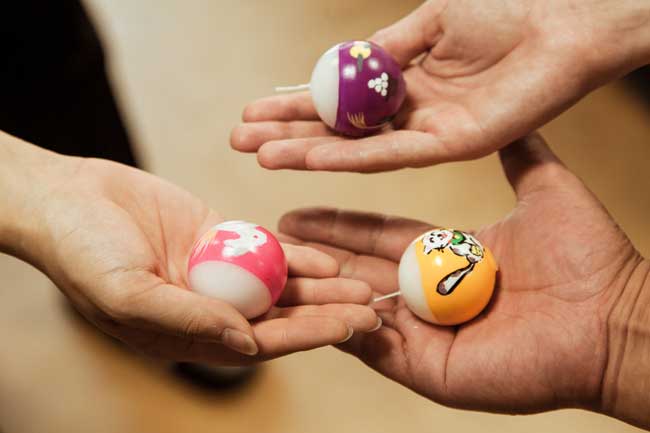 Make Your Own Shonai Souvenirs

Just down the road from Somaro Teahouse is Sanno Club, a unique historical wooden structure hiding many secrets of Shonai culture within its walls. You can also make your very own kasafuku charm here, guided by a staff member onsite.
Kasafuku (literally "umbrella luck") is a local good luck charm normally hung up on strings that hang from a circular frame, much like an umbrella. Locals make them for children in the hope that they will grow up strong and healthy. If sewing isn't your strong suit, you can try your hand at decorating candles — another traditional craft of Shonai.
Visit Shonai in Spring — or Any Other Season
Japan is famous for its cherry blossoms in spring, but unlike its southern counterparts, Shonai celebrates the season in mid-April rather than late March, giving visitors an opportunity to view them much later.
Tateyama Park in Tsuruoka has around 200 sakura trees planted in two rows, forming a canopy of pink overhead when in season. The blossoms are accompanied by a cherry blossom festival featuring local dishes and fun events like karaoke and golf competitions. It's a great opportunity to enjoy some stunning scenery and get to know locals in a casual atmosphere.
Spring isn't the only season for a trip to Shonai though, as each of its distinct four seasons has something different to offer: trekking in the snow-covered forest of Mount Haguro to see a five-story pagoda, sitting on Yunohama Beach watching the sunset in summer, or visiting the Kamo Aquarium — the world's largest jellyfish aquarium — for something to do indoors.
To find out more about this unique region and to book a tour, visit: odysseyjapan.com, facebook, @odysseyjapan