I'm on a treasure hunt for trolls at the Coastal Maine Botanical Gardens in Boothbay, Maine. Yes, trolls – five mammoth-sized creatures who want to impart lessons they've learned about trees to all who find them. And they're located deep in the forest, reached by a series of trails within this enchanting paradise.
The trolls are actually ginormous, recycled-wood figures crafted by Thomas Dambo. The Danish man is considered the world's leading recycled-materials artist, famous for his troll sculptures.
His pieces are immense and eye-popping and each invites seekers into the Maine woodlands, while communicating a story of conservation.
Teachings are aimed at encouraging people to save seeds and plant more trees. Also to reduce and reuse and become better stewards of the environment by getting to know the nature existing in their own communities.
The hope is that by sharing one's discoveries, it will help others expand their awareness and sense of wonder.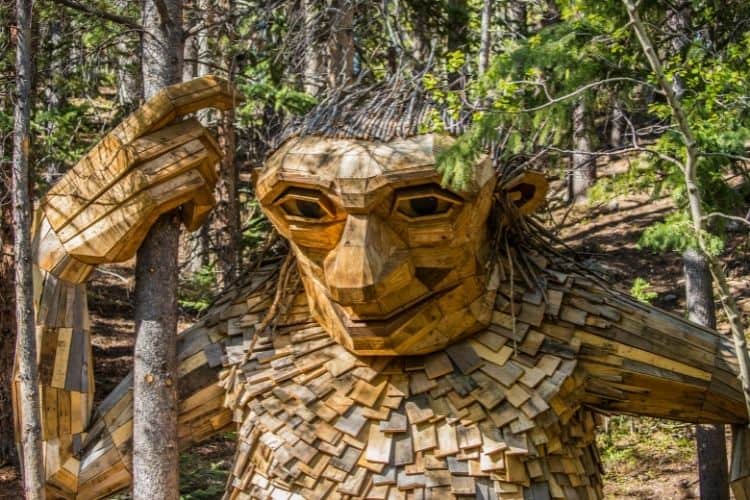 Meet the Trolls
There's Roskva, who stands for the trunks and is the heaviest and strongest of the trolls. He is also the one with the best memory. Lilja, the youngest of the trolls, holds the scent of the flowers.
She adores the colors and the aromas of the plants and is enamored when bees and butterflies flit among the branches. Then there's Soren, who sticks up for the branches.
He's a curious one and his head is always turning and twisting in a quest to search for higher places. When the wind blows, he rejoices with a special dance.
Gro smiles with the leaves. A wanderer, she disappears every fall, but then returns to the forest in the spring. Upon arrival, she creates a feast for the forest, making sure her friends are well-fed. Last but not least is Birk.
He holds the roots and is known as the wisest and most mysterious of the trolls. He hides in the shadows, listening to the whispers of the soil, and knows everything that happens in the wild.
Coastal Maine Botanical Gardens
When you're not searching for trolls, explore the beautiful gardens, many of which feature native plants of Maine. The place is expansive, with hundreds of acres of mature forest, wetlands and a mile of tidal shoreline.
The Dahlia Garden, for example, showcases five dozen varieties of these colorful flowers. It's a stunner in bloom, as is the Rhododendron Garden, with its floral feast, magnificent waterfall and sculptures.
The Great Lawn is a lovely open space, inspired by 19th-century landscape parks. One of its most distinctive features is Whale Rock, a large rock formation that rises out of the grass. And don't miss the Arbor Garden and its lovely arbor that's draped in climbing roses, wisteria, ornamental grapes and honeysuckle.
The Native Butterfly House and Gardens is a must. Dazzling butterflies abound amid the nectar plants, along with caterpillars munching off of their own special smorgasbord.
Other popular areas include the Bibby and Harold Alfond Children's Garden and the Fairy House Village. Whimsical sculptures representing story characters by Maine authors dot the children's garden, along with a treehouse, coloring playhouse and story barn.
The Fairy House Village is also a magical spot for kids. Here they are welcome to construct ephemeral fairy dwellings using any of the available natural materials in the forest.
Picturesque and Artsy Boothbay Harbor
After you've toured this unique place, drive to nearby Boothbay Harbor. This quaint town is perhaps one of the most picturesque in Maine. You'll be captivated by its quiet coves and rocky shores, island lighthouses and boating culture.
There are also eclectic boutiques and antique shops, and dockside restaurants, serving up some of the freshest local catches. It's a place that oozes quintessential coastal Maine allure.
A fun way to see the town is to follow the outdoor sculpture trail. There are 31 pieces installed around local businesses and within natural areas. Grab a free map and set off on a cultural adventure.
As you stroll the streets, not only will you get to enjoy some interesting local art, but you'll also get to absorb the ambiance of Boothbay Harbor one step at a time.
There are actually over 200 artists in the region, which likely means the temptation to peek inside some of the town's numerous galleries and studios during your walk will be strong. Looking doesn't cost anything and the artists are always keen to talk about their work.
Of course, you'll most likely be enticed to shop and eat. Handmade treasures abound for some great souvenirs. And with over fifty restaurants and cafes (in-season), going hungry in Boothbay Harbor is never an issue.
For lobster roll fanatics (guilty), head to Shannon's Unshelled. This unassuming seafood shack really delivers.
Boating and Hiking
Boothbay Harbor has been referred to as the "Boating Capital of New England" due to the number of seacrafts in town. So, if you visit the area in summer, you'll definitely want to take one of the many boat excursions that depart right from the bustling harbor.
Such trips offer an opportunity to see the surrounding islands and espy puffins, seals and even whales. Or opt to rent a kayak and paddle around the area on your own steam.
There's also plenty of hiking to be found, from easy trails to challenging treks. If you're short on time, but still want to take a peaceful walk in the woods, I suggest Porter Preserve.
You'll meander through an old-growth forest that has a stretch of shorefront on the Sheepscot and Back Rivers. Coastal views are plentiful and there's access to a small beach overlooking an island.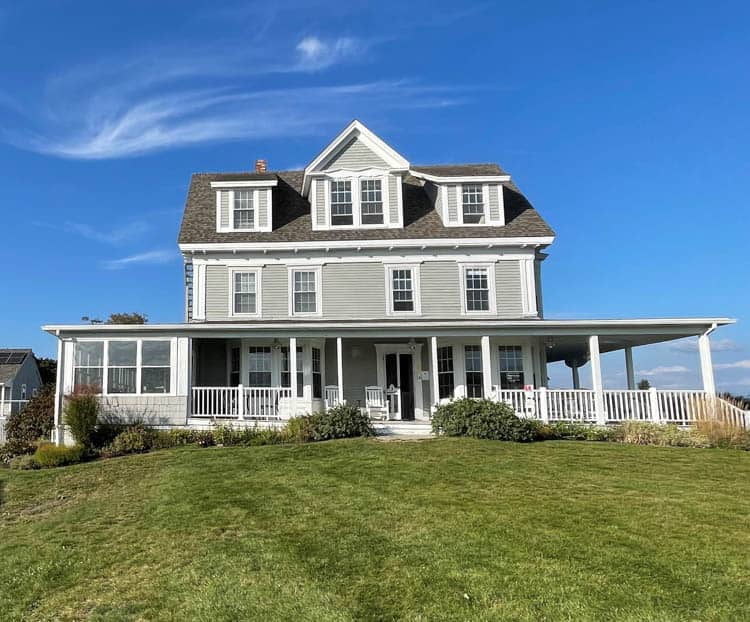 Stay at the Historic Topside Inn
Charming accommodations abound in this delightful town, but the historic Topside Inn with its laidback, coastal Maine vibe, is a standout. It was love at first sight for me, but the panoramic harbor views from the property's stunning back lawn sealed the deal.
The inn is a serene retreat, yet it's just steps from the waterfront and main street. This is a place you want to move into and never leave. And yes, I'm planning on putting my name on one of those Adirondack chairs!
You'll have your pick of accommodations in the main house or the guesthouses with their private porches. Or up the ante and book the suite with its spacious living room, vaulted ceilings, fireplace, kitchen and master bath with soaking tub.
Every detail is accounted for, from the comfy beds and lux spa products to the sun-filled lounge areas and quiet nooks, 24-hour guest kitchen with an assortment of beverages and snacks, an intimate bar for those late afternoon libations, homemade cookies of the day and the delectable breakfasts.
Fabulous Food at Topside Inn
I could wax rhapsodic about the breakfasts, which are prepared and cooked to order by the innkeepers and are a showcase for local, seasonal ingredients. Onsite gardens provide a bounty of produce and other offerings come from the nearby farmer's market.
You'll dine on such delights as banana bread French toast; lemon ricotta pancakes with blueberry compote; sour cream waffles with cherry-bourbon sauce; organic grits with Maine lobster and a sunny-side egg; pear, potato and lentil hash with house-smoked salmon; and other signature dishes.
Accompany your entrée with fresh fruit, in-house baked goods, homemade granola, yogurt and more. You'll have no problem fueling up for a full day of adventure.
And if you want to keep the breakfast love coming when you get home, there's now an official Topside Inn cookbook available for purchase. So, you, too, can learn how to dazzle your friends and family with impressive breakfast creations.
From the Corporate World to Award-Winning Innkeepers
Interesting to note is that owners Mark and Buzz had careers in the corporate world before making the move to the hospitality sector. The men took to their new career with relish and it's obvious they take pride in providing a memorable vacation experience for their guests.
They enjoy every aspect of running the inn and aim to please on all levels.
Topside and its owners have been recognized by several entities in the industry. Mark and Buzz were named innkeepers of the year in 2020 by Hospitality Maine and the property was named the number one inn in the state by Down East Magazine for 2021. The accolades are entirely well-deserved.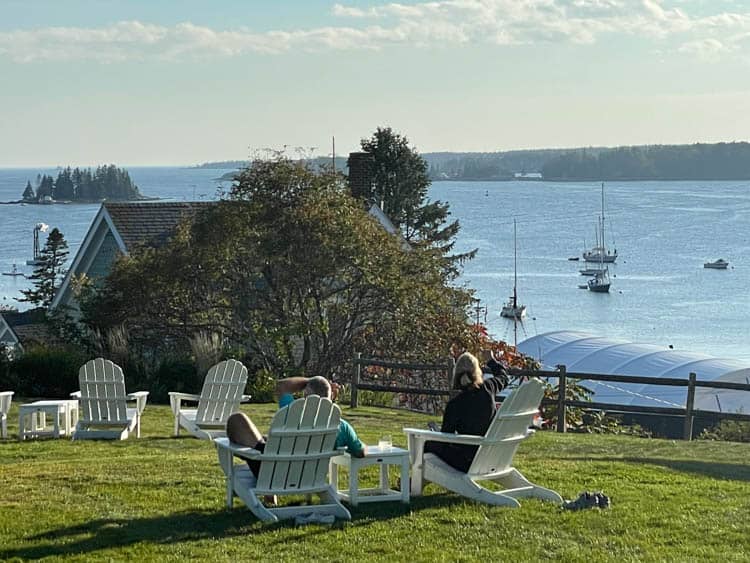 Book This Trip
Start planning your harbor getaway to Maine today. Get prepared with insider tips on the best shopping, VRBO rental options, locally-rated restaurant favorites and more through TripAdvisor and Travelocity.
Enjoy even more fun in Maine by booking some expert-led tours, harbor activities and skip-the-line tickets to major attractions through GetYourGuide. Find more information and book your trip dates in advance here.
More helpful links:
Author Bio: Debbie Stone is an established travel writer and columnist, who crosses the globe in search of unique destinations and experiences to share with her readers and listeners. She's an avid explorer who welcomes new opportunities to increase awareness and enthusiasm for places, culture, food, history, nature, outdoor adventure, wellness and more. Her travels have taken her to nearly 100 countries spanning all seven continents, and her stories appear in numerous print and digital publications.