I am looking through the window of The Village Toy Store in a living history village/collection of Americana called Boothbay Railway Village, a few miles inland from the cozy community of Boothbay Harbor on the central Maine coast.
The stock consists of kids' amusements from the mid-century. There are books with titles like Buttercups and Babies and Funny Folk Tales: a record player (not a stereo system, definitely not a streaming device) built into a shoebox-sized, plaid-covered container; a couple of wooden rocking horses; and Tinkertoys, sort of like the ancestor of Legos. And I am thinking, "When did the things I played with as a kid become relics?"
Admittedly, though, it is fun to show today's kids what state of the art toys were like when their parents – and grandparents – were growing up, and to answer their inevitable question with, "No, we didn't plug them in anywhere. They didn't have plugs."
The toys are just one mass of Americana on display here. Another building is home to sets of salt and pepper shakers in shapes of everything from oil lamps and Liberty Bells to all sorts of animals to Schlitz beer bottles. Yet another has over 200 outboard motors and another had over 60 classic cars, most luxury models, dating from 1902-1962.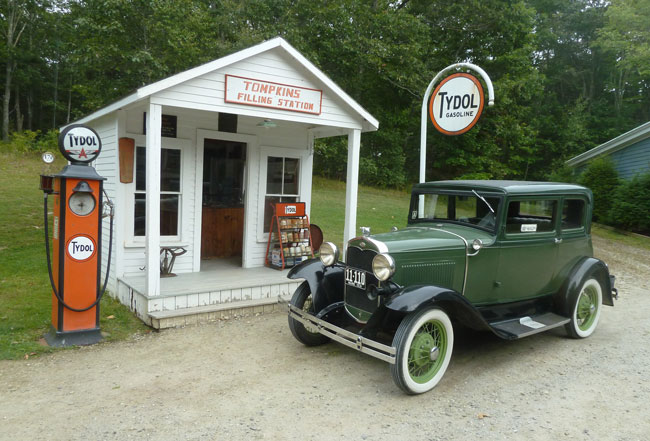 The centerpiece of this recreated village is the railroad. Its three steam-powered train engines were built from 1913 to 1938 and while the rides are short, 15 minutes or so around the village perimeter, they afford a taste of life at the time when coal ran the country.
The two village train stations date from 1871 and 1912. The engine house dates from 1899 and the octagonal gate-tender's quarters (officially the crossing shanty) was built in 1908. And each was moved here from an original location not far away along the central Maine coast.
Boothbay Harbor, Maine
Of course, this is the coast and salt water beckons. For those who prefer landlubbing to boating, there are always the views. The water along Boothbay Harbor, a small town with 2,165 residents, is blue and placid, and the sight from an outdoor dining deck is too alluring for me not to preserve it.
I finish some fried scallops, put down my fork and walk to the edge of the deck where I ask a gray-haired couple if they minded if I stood by them for less than a minute to take a picture.
The 60-something man has no problem. "Go right ahead," he offers.  "That's a million dollar view."
"I think you are undervaluing it," I answer.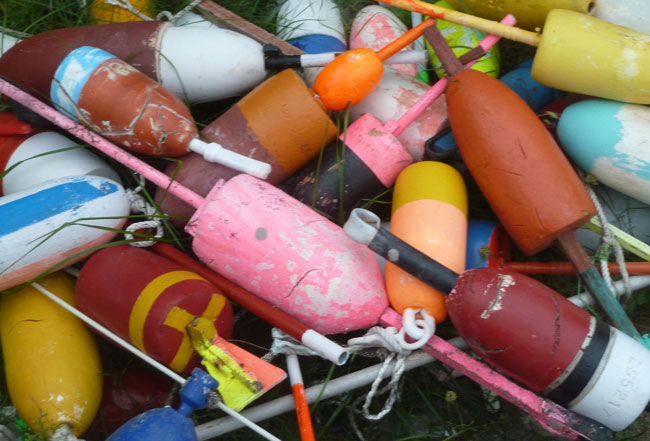 Dining in Boothbay Harbor
There are a multitude of seafood shacks in Boothbay Harbor, and Harborside Tavern and McSeagull's are highly recommended. So is Trevett Country Store, part general store, part snack shack, on Barter's Island.
Like most others, Trevett's comes with a view, a peculiarly Maine view. Have a lobster roll or a haddock sandwich as you watch boats cruise under the neighboring hand-cranked, swing span bridge. If you are there at the right time, dine while watching fishermen unload their daily catches.
Plenty of dining opportunities are available in downtown Boothbay Harbor as well, but we save downtown for dessert as we indulge at the Down East Ice Cream factory.
Shopping in Boothbay Harbor, Maine
Shopping opportunities, too, are plentiful.  At first, we are a bit disappointed to turn over what seemed to be homespun Maine mementos to see them stamped with "Made in China.'  But downtown does have its share of stores selling bona fide Maine-made crafts.
Dirty Bird Pottery sells incredibly creative works, such as the cat-faced bird feeders and the tea mugs with side pockets for tea bags. Seawicks Candles are made right in Boothbay Harbor and Mung Bean sells only handcrafts, all made in the United States and many in Maine. Abacus is a fine art gallery selling everything from jewelry to sculpture.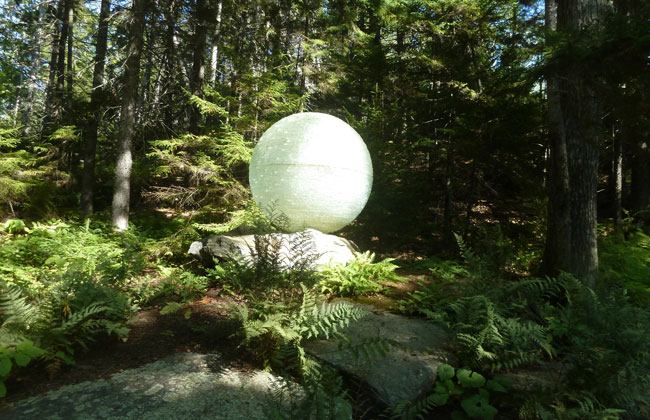 Innovative sculptures can also be found at Coastal Maine Botanical Gardens, where the best works of artists share nearly 300 acres with the cream of nature. The vast complex was named one of the 10 best public gardens in North America by USA Today in 2014. So cropping up among the rhododendrons, black-eyes Susans, herbs, and evergreens are art works including Steve Lindsay's bronze and wood, The Codfather; Dick Alden's carved marble and granite abstract Mother Earth; Carole Hanson's stone Whales; Henry Richardson's Chiseled Glass Orb, which a layman said looks like a disco ball on steroids; and Steve Tobin's larger than life metal Pine Cone.
What you see on depends much on the time of year you visit, but there is always something to allow visitors to utilize all their senses. Just keep an eye out for scampering chipmunks or frogs, which can scoot by your feet in an instant.  One can take a barefoot walk along the Reflexology Garden and grab a nibble in the Burpee Kitchen Garden.
There is Swiss chard for the tasting as well as a potpourri of herbs. Sage, oregano, basil, thyme, and dill taste exactly as they should taste, although straight mint from the garden was exceedingly strong to us. Anyway, most of the herbs taste better as part of a prepared dish than right from the garden.
Kids can relieve restless energy in their own garden, officially the Bibby and Harold Alfond Children's Garden where they can climb a tree house, explore a fairy house, walk a rope bridge and curl up with some good books in the Story Barn, a tribute to Maine's children's authors.
Perhaps the most famous is Robert McCloskey of Make Way for Ducklings fame. He is celebrated here for his lesser known, but still classic Blueberries for Sal, about a Maine girl and a bear cub. The determined-looking bronze cub here was sculpted by Nancy Schon, who also created the renowned Make Way for Ducklings statues in the Boston Public Garden.
A 20-minute walk from the visitor center is the Vayo Meditation Garden. With its reflective pool and Back River vistas it is as serene as it sounds, although the level of serenity is often proportionate to the number of visitors in attendance. And while these botanical gardens have plants you have seen elsewhere, depending on your knowledge of horticulture, you may stumble upon some surprising flora. We all know of weeping willows but weeping evergreens?  They are here.
Is there any better way to wrap up a day of oceanside activity than with s'mores cooked over a campfire? We spent a couple of nights at the Spruce Point Inn, a complex of lodges, townhouses, cottages and a main inn building that overlooks Boothbay Harbor and has been welcoming visitors since 1902. We stayed in one of the property's lodges, Evergreen, in a spacious room with a welcoming balcony and a somewhat obstructed water view.
S'mores at a campfire is a regular evening event on the Spruce Point's grounds. Also, on the grounds are two swimming pools, a spa, two tennis courts, and two miles of hiking trails, but we are just as happy to grab a seat on one of the inn's numerous Adirondack chairs, engross ourselves in some catch-up reading, and taking in the panorama.
As we leave, another visitor comments, "Boothby Harbor is what Maine should look like."
We agree.
If You Go
Visit Maine
www.visitmaine.com
Boothbay Harbor, Maine
https://www.boothbayharbor.com/
Author Bio: Award-winning travel writer Michael Schuman is the author of 46 books and his travel articles have been featured in 200 newspapers and over two dozen magazines. He has a BA from Syracuse University and an MFA from the University of Southern California. His web site is www.michaelschuman.com