When most tourists envision Maine, the image is of coastal fishing villages, rocky island resorts and stately lighthouses. A visit to Western Maine, however, is a lake and woodland experience in a region dotted with real and fictitious sites related to novelist Stephen King.
Home to Stephen King
King, who lived in Durham during his early childhood, is among the state's best-known natives. From Bridgton, where King lived at one time while raising his children (cast as the town of Castle Rock in his stories) to Kezar Lake, where the writer vacations, one can drive the landscape and collect King stories by the blueberry bushel.
Whether a King fan or not, a southwestern tour of the state offers numerous attractions, including snowmobiling and skiing at Sugarloaf or Sunday River; wild blueberry picking with the kids; romantic lakefront bed and breakfasts; and scenic steamboat rides on the Songo River Queen II on Long Lake, at Naples.
A Visit to Western Maine
Southwestern Maine is the place to canoe, go antiquing or savor a warm bowl of the local chowder.
Yet there is another story, part fact, part fiction, one told by King in his best-selling tales, and by his neighbors and associates who are residents.
A tour of this woodsy, historic region takes one into the state's past as a logging center. Here, hearty men, many French-Canadian, worked in logging camps from September through April, sharing labor, meals and folklore.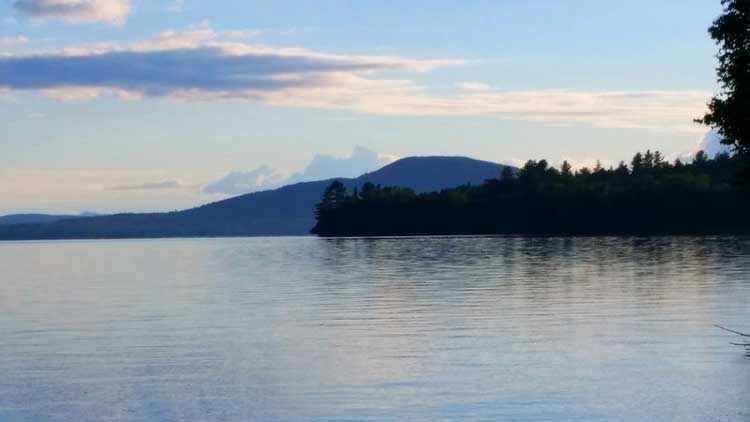 Rangeley Lakes
This history becomes apparent if one visits Rangeley, a town in the popular Rangely Lakes region, to see The Mad Whittler, a shop run by R.J. Richard. Richard, the son of a logger, carves out a living making lifesize figures with a chainsaw. He'll induct women tourists into his worldwide "Bunny Club" by giving them a tiny carved rabbit.
Rangeley also has a logging museum, Rangeley Lakes Logging Museum, where one may view artwork celebrating the woodsman tradition; hear "The Mad Whittler's" tales of the old logging era, and read scrapbooks and journals kept by those who worked the camps.
Staying the night and got the kids along? Ask your innkeeper or hotel staff for a prime spot to pick wild blueberries, if the season's right. Antique and craft shops also abound.
While in the Rangeley Lakes area, dine on homestyle foods or lobster at the Kawanhee Inn and Restaurant, situated on Lake Webb in the tiny town of Weld. The young Stephen King worked as a dishwasher at this rustic lodge. Order a blueberry dessert, as the fruit is fresh and locally picked.
Naples, Maine
From there it's a 74-mile drive south to Naples, a lakefront town where King once served as a kitchen hand for a defunct hotel called The Woodlands. There, the budding author met an African-American cook who served as the model for Dick Halloran, the clairvoyant chef in The Shining.
The rest of the impetus for this tale was King's real-life winter visit to the grand Stanley Hotel in Estes Park, Colorado, built by Francis Edgar Stanley, who, with his brother, built America's first successfully marketed steam-powered automobile, the Stanley Steamer.
King readers and auto lovers may enjoy The Stanley Museum in the appropriately named Kingfield, Maine, near the ski resort Sugarloaf Mountain.
Once a schoolhouse, this white-columned edifice houses the vintage turn-of-the-20th-century cars that shattered land speed records.
Skiing at Sugarloaf
For ski buffs, Kingfield means a visit to Sugarloaf, the most popular ski destination in New England. Olympic skiers such as Bode Miller and Kirsten Clark were trained here.
In Kingfield, the stately, restored Herbert Grand Hotel, established in 1917-1918, was one of the first lodgings north of Boston with telephones. In the 1930s the hotel's restaurant had a phone jack at every table (they are still there).
Moving still further southwest, Bridgton is a woodsy community of nearly 5,000. Here the local attraction is kayaking on the Bear River. This town is cast in fiction as "Castle Rock," which not only appears in King narratives but is the name of the production company that gave us some of his novels as feature films.
The Food City supermarket, in a little mall at 119 Main Street here, is a dead ringer for the grocery store in King's surreal novella The Mist. A trip King made to a grocery store following a storm generated the idea for the novella.
In the story, a strange mist begins in the supermarket parking lot before overtaking the town. The fog conceals creatures such as lobsters, spiders and squid, and townspeople attribute it to an interdimensional rift caused by "The Arrowhead Project," rumored to be conducted at a top-secret military facility.
Kezar Lake Region
Venture a bit north to Lovell, where King summers on Palmer Lane in the Kezar Lake area. Want to see a real King hangout? Stop by the unassuming Melby's Market and Eatery, on Route 35 in North Waterford (5 miles east of Center Lovell and 11 miles north of the town of Lovell and King's summer home). The master of suspense frequents the joint.
North of here is Bethel, a postcard-perfect provincial New England town with white churches, a town square and a short Main Street. You can lunch or play 18 holes at the Bethel Inn, a stately white lodge off the town square. The inn offers comfortable suites; a sunny dining room; a golf academy (where pros teach a three- or four-day course featuring video analysis of one's swing); and a piano lounge.
No trip to this region would be complete without a pilgrimage to Poland Spring, located southwest of Lewiston-Auburn and halfway between Stephen King's boyhood home of Durham and his former summer dishwashing workplace in Long Lake.
The elite have flocked here to hobnob, golf, and partake of the healing waters since the 1910s. Tours of the buildings, tranquil grounds and original water-treatment facility are given daily. The area was once home to Shakers; today a tiny Shaker community still remains; visitors may tour historic Shaker homes and the meeting house.
After you have swum, shopped and snooped about in Western Maine for a legendary writer, you'll have your own stories to tell and memories to treasure.
If You Go
Rangely Lakes Region Tourism
www.rangeleymaine.com
Maine Office of Tourism
www.visitmaine.com