Editor's Note: While traveling is different this year, you can still plan for a future sailing adventure on a Maine Windjammers. Reservations for next year are available.
In Maine, cruising takes on a whole new meaning. The state is home to a unique fleet of "windjammers" which offer small-group sailing cruises along the scenic coastline of Maine.
Maine Windjammers
These are not your usual cruise ships. The Maine Windjammer Association is North America's largest fleet of historic schooners.
Some vessels even date back to 1871, and several have been designated National Historic Landmarks.
Windjammer cruises are all-inclusive; meals, excursions and accommodations are included. (See our video: Sailing on a Maine Windjammer.)
There is usually no set itinerary; the captain sails where the wind takes him or her, stopping at tiny islands and coastal villages along the way. You may even get to help with the sailing.
Windjammer cruises are a new concept for many. As part of our ongoing 5 Questions series, we asked the experts at the Maine Windjammer Association a few key questions about cruising with one of these historic windjammers:
What is a windjammer?
In the old days, it was a derogatory term used by steamboat captains to refer to the cargo ships that operated under sail.
Nowadays, it just means any large traditional wooden sailing vessel that carries guests on overnight trips.
Most of our windjammers are called schooners, too, which refers to their unique sailing rig. They all have at least two masts, with the forward mast being a little shorter.
Where do the windjammer cruises sail?
The Maine Windjammer fleet is based in Camden and Rockland, located in mid-coast Maine. All of the trips start in Penobscot Bay, but over the course of a week, you can sail all the way to Bar Harbor or Boothbay and back.
There are dozens of interesting towns and hundreds of islands and anchorages in between, providing endless opportunities to explore Maine's nooks and coastal crannies.
Favorite anchorages include Gilkey Harbor on Islesboro, Pulpit Harbor on North Haven, Stonington, Castine, Bass Harbor near Acadia National Park, and Burnt Coat Harbor on Swan's Island, just to name a few.
Guests enjoying a glass of wine on board. Photo courtesy Stephen Tabor

What's different about a windjammer cruise vs sailing on a larger cruise ship?
Maine's windjammers are relatively small, carrying only 16 to 40 guests, depending on the size of the ship. They're able go "off the beaten path" to places largely inaccessible to cruise ships.
In most cases, your windjammer will be the largest boat you see all week. Windjamming is intimate, so you get to know your fellow shipmates pretty well over the course of the cruise.
Unlike cruise ships that normally reposition at night and are in port during the day so passengers can take excursions, the windjammers sail about 6 hours during daylight hours, then drop the hook in a new anchorage where guests can go ashore and explore.
Excursions are free, and might include an informal lighthouse tour, a visit to the world-famous WoodenBoat School, a couple of hours in a bustling fishing village like Stonington or an historic town like Castine.
For guests who haven't had enough time on the water, there are small sailboats, rowboats, paddleboards and kayaks to enjoy while at anchor. One night, everyone goes ashore for a lobster bake on a deserted beach.
Other differences: food is prepared on woodstoves and served family-style. Cabins are simple, without all the amenities that staterooms offer.
Entertainment is low-key, like listening to acoustic folk music, star-gazing, playing a game of cards, enjoying a glass of wine on deck while listening to loon calls.
With limited cell service, technology is kept at bay and there is no TV.
Guests on the Angelique enjoy an island lobster bake. Photo courtesy Angelique

What is a typical day like on a windjammer cruise?
Early-risers can enjoy a quiet cup of coffee watching the sunrise, followed by a full breakfast at eight o'clock. There's time to go ashore and explore before getting underway midmorning when the wind comes up.
Guests are invited to participate in sailing the vessel if they like, or to just sit back and enjoy the ever-changing scenery. Lunch is served underway so as not to miss the view.
Maine's coast features lighthouses, yachts, lobster boats, eagles, seals, porpoises, a rugged coastline topped with spruce.
There are beautiful sandy "pocket" beaches, occasional puffin and whale sightings, berry-picking opportunities depending on the season, and even Northern Lights if one is very lucky.
At the end of the afternoon, the captain picks a new anchorage, sails are furled and guests can enjoy a shore trip that might involve hiking, swimming or visiting an art gallery or boutique.
Dinner is served back on board family style, followed by a yummy dessert (blueberry pie with hand-cranked ice cream perhaps) and impromptu entertainment that might involve music, stories, games or just quietly enjoying the night.
What else is there to do on a windjammer cruise?
While most guests are content to unplug from their regular routine and enjoy the simple rhythm of life at sea for a few days, there are lots of cruises that combine windjamming with a special interest or event.
These range from knitting and birding cruises to photography and wine-tasting. There are offshore whale-watching cruises to Stellwagen Bank, a kayaking tour through Stonington's island archipelago and even health and wellness cruises that include yoga.
Additionally, for guests who want to view the whole fleet under sail, there are annual races, parades and rendezvous that offer spectacular sailing and photography opportunities.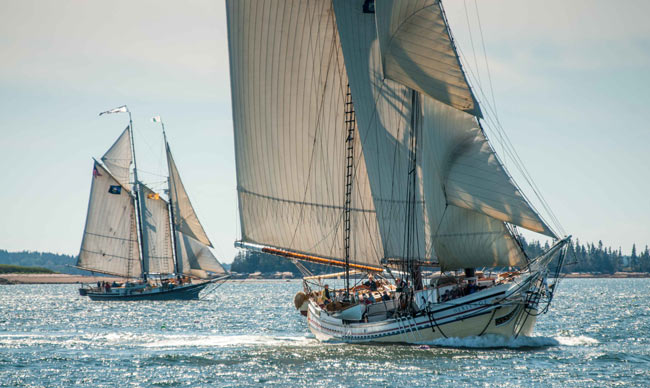 If You Go
Read More: A Visit to Boothbay Harbor, Maine