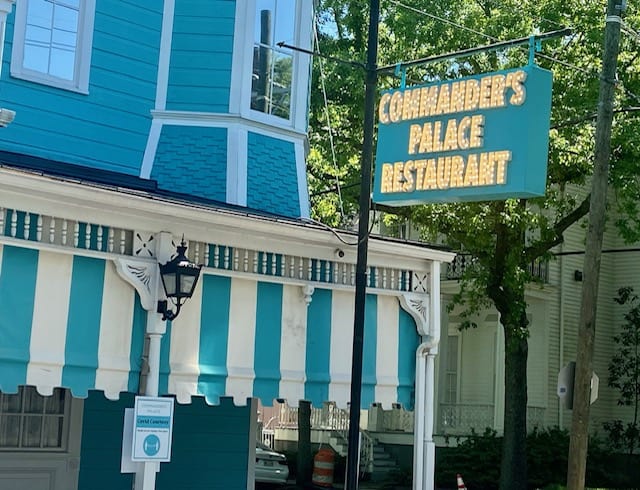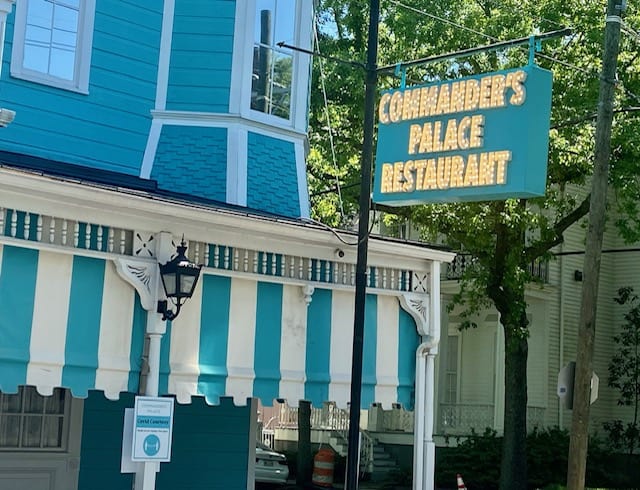 I was dining alone but experienced the ultimate two-top: each of the most popular, time-honored restaurants in both New Orleans and Houston…and they're operated by siblings.
A "two-top" in the restaurant business is a table sized for two people. But this story is about my solo meals at two-top tables in the top two restaurants of their respective cities: Commander's Palace in New Orleans and Brennan's of Houston. They're operated by siblings who grew up in a culinary world both surrounded and orchestrated by their mother Ella Brennan, who owned the establishments and famously said, "I don't want a restaurant where a jazz band cannot come marching through." Brennan, before her passing in 2018 at age 92, told people she would see them someday at the "saloon in the sky."
I never had the good fortune to be in the presence of Brennan but I visited her children – Ti Adelaide Martin and Alex Brennan-Martin – at the iconic restaurants they've inherited in New Orleans and Houston.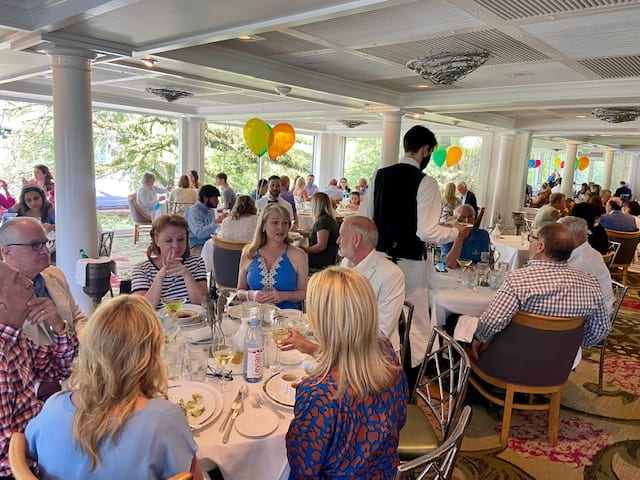 Commander's Palace Alive and Well in the New Orleans Garden District
Commander's Palace occupies a corner in the fanciful, stately, tree-lined Garden District of New Orleans. The restaurant drew my attention while I was on one of Robert Florence's famed New Orleans Historic Walking Tours. Our small tour group was standing in the sun across the street peering through the iron gates of the historic 1,000 above-the-ground wall vaults and tombs of Lafayette Cemetery founded in 1833. The cemetery pre-dates Commander's Palace by only 60 years, but the restaurant is compelling to view for a different reason.
The stately mansion it occupies is festive to look at in contrast to the compelling, haunting tone cemetery tombs. While the gravestones are cement gray, the Commander's Palace storefront and awnings bedazzle the restaurant with an iconic slightly-deeper-than robin's egg blue color so famous it is literally available in paint stores by the name "Commander's Blue."
Florence, New Orleans Historic Walking Tours' founder, himself an expert historian and enthusiastic presenter, confirmed my curiosity.
"If you have to choose one restaurant in New Orleans, Commander's Palace is an institution. Commander's Palace does not rest on its laurels. It's always rated in the James Beard surveys," he said.
The blue color is evidence of that philosophy of innovation, according to Ti Adelaide Martin, the new generation co-proprietor of Commander's Palace, told me. It was her late mother, the grande dame Ella Brennan, who turned the exterior of the restaurant into the eye candy it is today: blue with white-trimmed windows and striped awnings.
"My parents started working in the restaurant day-to-day when I was a kid in 1974. At that time Commander's Palace, like the rest of the beige of white homes in the beautiful Garden District, was a tasteful beige color. We lived a couple blocks away and one day I drove my banana seat bicycle over and I saw this giant patch of aqua blue on the Commander's Palace building. I pedaled my bike home as fast as I could and told my mother 'You cannot paint the restaurant blue! I won't even be able to go to school in the morning!'"
Martin said her mother reassured her the paint would be perfect by saying, "It will tell people that we are shaking things up."
A Command to be Fresh, Innovative and Lively
Commander's Palace has been shaking things up ever since the paint job Martin insisted.
"I have no interest in being a historical restaurant. It's fine…but we're not about that. We're about what we're doing next and moving forward and constantly evolving."
When I compared Commander's Palace to significant American restaurants with national reputations such as Joe's Stone Crab in Miami Beach or 21 in New York or the Polo Lounge in Beverly Hills, Martin expressed admiration for those institutions but bristled.
"If we're the greatest neighborhood restaurant in the world everything else will work out. If we're the restaurant New Orleanians are proud of – the place they come for special occasions as well as just on Tuesday nights – we love that. We're as good as the last meal we serve and the last gin fizz we pour."
And the latest menu twist, she insisted.
"It's lovely we're in a gorgeous, Garden District neighborhood and I like history when it comes to architecture – but not so much when it comes to my food. Some dishes can survive and some we like to go back to, but that's not what this restaurant is about. We like to be aware of history but not reigned-in by it," Martin said in her charming Southern accent. "Our menu changes all the time. This is about leading-edge creole cuisine and we want to be constantly pushing. We keep pushing what creole means to us and that is a very rich territory. We can mine the depths of that for the rest of my life very easily."
Star Search
Lively with a firm but gracious presence, Martin met with me near the Chef's Table at which guests sit and dine literally in the restaurant's lower-floor kitchen – a table that books up a year out.
"It's America's third oldest chef's table. Charlie Trotter did it in Chicago. Then my brother Alex copied the concept at Brennan's of Houston. Then we copied him," said Martin of the special, immersive experience. "At our chef's table you're in the midst of it all – it's no glass room. We have a professional, quiet kitchen but I'm not saying you won't hear a little slang now and again."
It sounds like there was more than "a little slang" when, in 1975, Paul Prudhomme, who became one of the original celebrity chefs, ran the kitchen at Commander's Palace. Or did he?
"Creole and Cajun cuisine crashed here in the kitchen because mom was doing Creole and Paul was doing Cajun…and they just fought it out. The result is the food in New Orleans has never been the same," said Martin.
Emeril Lagasse came next in 1982 and spent just over seven years as the Commander's Palace chef before his television and entrepreneurial career led him to widespread endeavors. Martin's fame grew, too, and by now also an author and civic leader. She founded the 93,000 square-foot New Orleans Culinary Hospitality Institute with her cousin and serves on many boards while appearing as an industry authority on national television shows beyond the Food Network.
"Rachel Maddow and I are friends. She's very into cocktails, and I wrote a book on cocktails, so we've had dinner a few times," said Martin, who insisted she is still behind the line tasting every day. It's how she got to know the cooks and she recalled cooking in the kitchen herself under the celebrity she helped create: Emeril. "He's a special guy. We grew up in this restaurant together like drinking buddies. We'd work and then we'd go out. He was very ambitious and driven and talented," said Martin, who then posed a chicken and egg question. "Emeril was pushed by my mother. So…did we find great chefs…or did my mother make them? I think it's a lot of both."
What it's Like to Lunch at Commander's Palace
Making a lunchtime pilgrimage to the most famous restaurant in any town fills me with a "first date" feeling. (Depending on how much one has studied ahead, it can be like a blind date, too.) Commander's Palace is always dressed its best in striped blue and the bright, light-bulb sign outside suggests a carnival atmosphere. But it was more like a rodeo once I got into the vestibule and noticed the roundup of baby strollers beside the initial hostess stand. Family fun was ahead, but so was sophistication.
Commander's Palace is full of different-sized rooms with varied atmospheres ranging from business to balloons, so I was taken upstairs to a two-top in a quieter room at the back of the house overlooking the neighboring home in which the walking tour guide told me Ella Brennan lived. From there I received delicious dollops of southern hospitality:
Martiza, the dining room manager, checked on me from time to time and made pleasant conversation. I presumed she did this because she saw I was lunching alone. Multiple people waited on me with such attention to detail that at one point I noticed Yumi actually swooped in to replace my full water glass with another one with fresh, floating ice!
Nash, my waiter, was a motivational type who assured me, "You're important, Mr. Shiels. Don't forget that."
Out of the corner of my eye I could see yet another waiter, this one named Harold, headed to my table to ask me a question. But when Harold, in full stride, saw me take a bite from my fork, he, smoothly, with the precision of a figure skater and the grace of a ballet dancer, subtly adjusted course to curve toward another customer. I thought about how many times people are left to awkwardly mumble when caught with a spoonful of souffle while asked, "How is everything? Can I get you anything?" by a waiter. I know Harold, in his attempt not to disturb me, was hoping I didn't see his smooth move, but I sure am glad I did.
Ti Adelaide-Martin smiled proudly when I recounted these tales after lunch.
"This restaurant is about the entire experience. It's about people coming in here and relaxing and having fun and being pampered in an oasis from the world," she said. "We want you to have a good time. This is about the joie de vivre: the joy of life. You see balloons and silly colored drinks."
Silly Colored Drinks
Commander's Palace is famed for its silly colored drinks…at a stupefying price: the 25-cent martini. It may sound too good to be true, but it is!
"Our parents used to do it in the Mad Men era on Royal Street. It really just creates a festive atmosphere," Martin insisted, and then explained the method to the madness. "It ends up being a boom for the restaurant. Say you and I are going to lunch and I wasn't going to have a drink but you order a 25-cent blue martini. I'm not going to let you drink alone so I order, say, a glass of wine…now the house just won: the check average went up. No other restaurants have figured it out and that's fine with me."
The martini menu reads: Limit three per-person 'cause that's enough.
I drank three of the "silly-colored" flavors available: Commander's; Cosmopolitan; and Ray's Melon, which seemed to match nicely with my chosen courses of turtle soup au sherry; crispy des Allemands catfish; and Ponchatoula strawberry shortcake.
It was my first foray into turtle soup and fried catfish, but if I was ever going to try it, Commander's Palace was the place, Martin confirmed.
"The turtle soup recipe came with the restaurant when my family bought it in 1969. It takes three days to make. It's got 22 ingredients. I think turtle soup was in my baby bottle so I'm partial to it."
Is it actually…turtle?
"It is a turtle. We do mix in some veal. One of the many keys to that soup is veal stock. Veal stock is very, very expensive to do, but it gives in a richness…plus the eggs and the sherry. The sherry is poured in at the table, as you saw, but we cook some in, too. I swear to God I think we might buy more sherry than anyone in America."
Brennan also revealed the secret to good fried catfish.
"There is an art to frying. You have to fry right. You have to fry lightly. It is not unhealthy because you take it out of the oil before you start hearing that hissing sound because that's when the oil starts going in. We love the flavor of it."
There are plenty of flavors to savor on the Commander's Palace menu. Offerings included crawfish linguine; corn-fried gulf oysters; wild Louisiana white shrimp curry; Café Pierre lacquered Texas quail; and Creole bread pudding. Chef Meg Bickford's favorite item is the Parade Route Po-Boy: crispy gulf shrimp doused in sticky hot sauce with homemade tasso, sweet onions, pickled okra mayo, and Crystal hot sauce pulp.
Commander's Palace has even learned to export its Louisiana favorites across the country.
"We are now shipping food through Goldbelly.com," Martin told me. "Who would have known people would want turtle soup, shrimp and grits, quail and pecan pie all across America? We had to learn to freeze things. We don't really have a freezer because we use fresh food. We get fresh ingredients every day and serve them."
Frozen Gin Fizz Finale
In addition to the three, 25-cent martinis, the Commander's Palace drink menu overflows with creative cocktails including their modern-day interpretation of the Sazerac, which is the official cocktail of New Orleans. Roses and Rhubarb features a house-infused rose monk fruit syrup; Washington Avenue is made with Monkey Shoulder scotch. And if you needed to be "good during Lent," the Root Beer Fleauxt was an option. The bartender made me a frozen gin fizz.
"If you're some stuffy restaurant that takes life too seriously that's no good. We take the food and the service seriously but we want you to have a ball. You would not believe the things that have gone on in this restaurant because people know we want them to have a good time," said Martin of Commander's Palace. "If you come to New Orleans and don't have a good time something's wrong with you."
She's a prominent ambassador for The Big Easy – a curious community she spends so much effort supporting and is still seeking to understand and convey. "There is a whimsey to the elegance of New Orleans – a decadence. For me New Orleans feels like another member of the family. And you know how you can get really mad at members of your family but you still love them and you'd do damn near anything for them? That's how we feel about New Orleans. We want to give and give and give."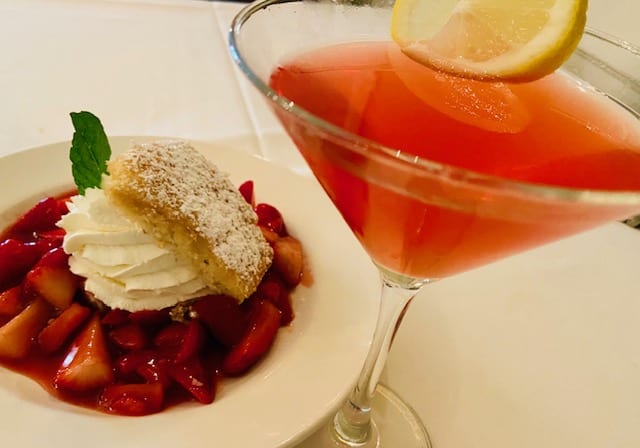 And with that, Ti Adelaide Martin sent me on a five-hour drive to see her brother Alex Brennan-Martin at the other family landmark restaurant: Brennan's of Houston.
To be continued in part two…The Hit of Houston – Brennan's Restaurant
Read more on Michael Patrick Shiels' travel blog, The Travel Tattler. Contact Travel Writer Michael Patrick Shiels at [email protected]
Latest posts by Michael Patrick Shiels
(see all)