Say what you will about 007's adversaries, but they certainly have intriguing taste in architecture. So, when I compare THE OMNIA in Zermatt, Switzerland to the posh pad of a Bond baddie, it's with utmost admiration.
When it comes to a proper lair, it's all about location, location, location, and THE OMNIA certainly has the dramatic setting covered. This 30-room boutique property is set high on a bluff above the chalet-strewn village of Zermatt, cradled in a valley near the base of the Matterhorn.
Best Tips & Tools to Plan Your Trip
The resort is popular for skiing in winter and walking and cycling in summer, but it's best known as a base for mountain climbers keen on conquering the Matterhorn's oddly tilted tip, which towers over Zermatt's humped foothills.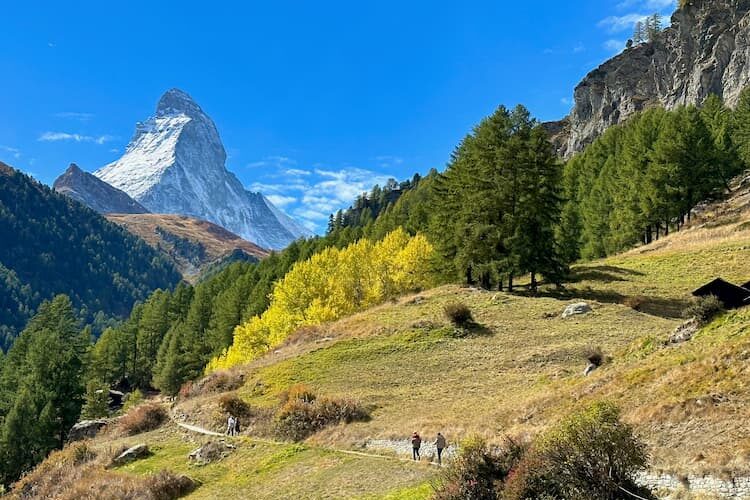 Arriving in Style
Of course, one doesn't just waltz up to a villain's hideout and ring the doorbell like a cheeky trick-or-treater. An eccentric entrance is de rigueur, and THE OMNIA does not disappoint.
When my better half and I disembark at the Zermatt train station, we're greeted by a liveried driver in an electric shuttle—basically, the stretch limo version of a golf cart–emblazoned with the hotel's ALL CAPS moniker. (Zermatt city center is ostensibly "car free," although pedestrians can still enjoy the Frogger-style adrenaline rush of dodging electric vehicles, scooters, and bicycles).
Within minutes, we arrive at what seems to be a dead-end at the bottom of a bluff…until a set of sliding glass doors whispers open, and our shuttle shoots through the gap into a dimly lit tunnel. This cavern leads to an elevator that whisks us into the midst of a 21st Century Alpine aerie, which the late New York-based architect Ali Tayar might have designed with Ian Fleming in mind.
Amenities Galore
The reception area feels like a chic, contemporary living room, with leather sofas and armchairs, a stone fireplace with an industrial-looking flu, and a library niche that houses a varied collection of whiskies, as well as tomes on art and photography.
One flight below, there's a spacious "Wellness" area, where guests can bask in an indoor-outdoor pool (thankfully devoid of the toothsome sharks 007 encountered in Thunderball), poach in an outdoor whirlpool bath overlooking the Matterhorn, and relax in a Finnish sauna, Turkish bath, and steam room.
If your bones still haven't turned to jelly, I recommend a Lomi Lomi massage with Rebecca, whose skillfully applied pressure stops just short of forcing you to reveal the nuclear launch codes. Bliss.
The restaurant is in keeping with the hotel's sleek Scandi aesthetic, with pale wood floors, sturdy granite tables, and a fireside sofa. Chef Tony Rudolph focuses on sustainable, seasonal, regional delicacies, including a Pangea-sized wiener schnitzel and deliciously gooey raclette.
But he's renowned for his creative vegetarian tasting menu, which diners are more than welcome to supplement with fish or meat if they want to go off-piste. To paraphrase 007's famous exchange with Auric Goldfinger, "You expect me to talk?" "No, Mr. Bond, I expect you to…dine!"
After dinner, bellies bursting, we step into a glass elevator offering a view of Zermatt's twinkling lights and zip up to our Tower Suite, which is, indeed, sweet.
The décor is minimalist and modern, with a large living/dining room flanked by a semi-circular sofa and a polished granite fireplace, a wet bar furnished with a complimentary decanter of bourbon, two bathrooms, and a king-sized bed topped by a downy marshmallow duvet.
Matterhorn Mystique
The most impressive feature, however, is the view. Floor to ceiling windows encompass two walls and lead onto a pair of balconies overlooking the valley and snow-dusted summits. Chief among those mountains is the Matterhorn—or so we're told.
On the first day of our visit, a coiling mist unfurls through the lowlands and slithers up the slopes, so that the nippled peaks seem to be performing an erotic fan dance with the clouds. We're afforded not so much as a glimpse of the Mata Hari Matterhorn, despite a telescope in our room aimed toward that tantalizing temptress.
Refusing to be foiled by this meteorological cloaking device, I decide to get to the bottom (if not the top) of the mountain's mystique with a visit to the Matterhorn Museum, a five-minute walk from THE OMNIA.
The entrance resembles a little glass igloo, but like an iceberg, there's much more beneath the surface. Two subterranean levels include a theater showing breathtaking footage of climbing expeditions, and a recreation of Zermatt as it might have appeared in the 1800s, with rough-hewn timber structures lining a cobblestoned street.
There's a cramped cottage, a church, and several farm buildings surrounded by a zoo-full of taxidermized animals, from an exotic ibex to a humble chicken and even a mule. (If it stood still long enough, they stuffed it).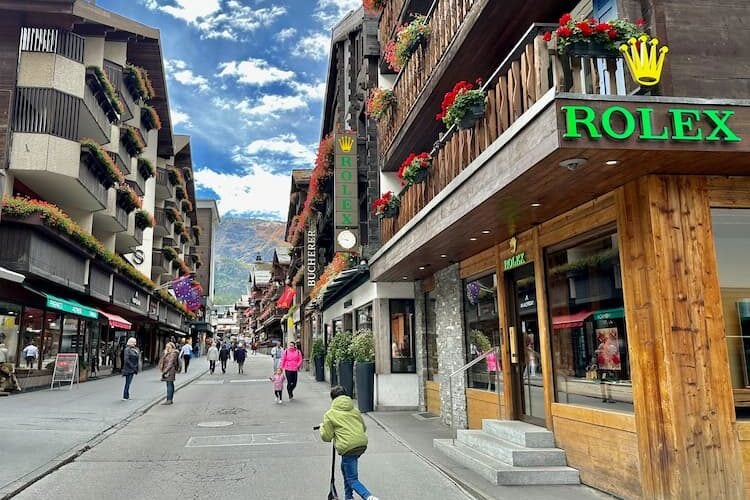 But the most interesting structure is the Historic Alpine Museum, filled with grainy old photographs and actual artifacts from expeditions, including a frayed rope from 1865, in which seven climbers made it to the summit for the first time, only to lose four of their number on the descent when this lifeline broke.
The adjacent Mountain Guides' Hut includes a model of the Matterhorn with buttons you can push to light up various routes of ascent, as well as plaques listing the names of climbers who have mounted the crooked beast. Many who did not survive are interred near the museum in the Mountaineers' cemetery, a sobering memorial to those intrepid men and women.
From Zermatt with Love
From here, I'd suggest a wander through the "Hinterdorf," the oldest part of the village, where a handful of charming log structures date back to the 16th century. Then stock up on souvenirs on the Bahnhofstrasse, where stores sell mainly what you would expect—outdoor gear and apparel, wine and cheese, Swiss army knives, luxury timepieces, etc.
But Davis offers something extra, tempting passers-by with gleaming model race cars, speedboats, and airplanes; gold and silver jewelry; and eye-catching gadgets like a Steampunk-style bird with moving wings—the perfect gift for the Q in your life.
Robin Ceha, whose father, Peter, opened this store 30 years ago, has seen a big increase in international visitors over the decades. "Zermatt, I think, for tourists feels like Disneyland," he says, "but it doesn't mean that things are fake. Yes, there are big businesses. There is a McDonald's. But people are very good at hospitality and the core, the root, the spirit of the village is still there."
That spirit is embodied by the iconic Matterhorn, and the day before we depart, we're delighted that she deigns to grace us with an appearance. As an unrelenting sun burns away the mist, the mountain relinquishes her gauzy veil, and suddenly, there she is, in all her naked glory.
I've salivated over countless Toblerone bars emblazoned with those distinctive slopes, and the sight of her silhouette against a bright blue sky leaves me breathless.
At the end of the day, you only live twice. So, if you're looking for a view to a thrill, head to Zermatt. Bond babes may come and go, but the Matterhorn is forever.
If You Go:
Where to stay: THE OMNIA, https://www.the-omnia.com/en/hotel. Note: Construction work near the hotel is expected to be ongoing through September 2024.
Getting around Switzerland: Swiss Travel Pass.
https://www.myswitzerland.com/en-us/planning/transport-accommodation/tickets-public-transport/swiss-travel-pass/
Peak Pass. (Not valid for skiing). https://www.matterhornparadise.ch/en/Book/Online-tickets/Peak-pass.
What to do: Matterhorn Museum, https://www.zermatt.ch/en/museum.
Mountaineer's Cemetery: https://www.zermatt.ch/en/Media/Attractions/Mountaineers-cemetery
Take a hike: For a short but steep scenic hike, about five miles (8 km) round trip from Zermatt, check out Zmutt. https://www.zermatt.ch/en/Media/Attractions/Hamlet-of-Zmutt
More information: https://www.myswitzerland.com/en, https://www.zermatt.ch/en
Author Bio: As a UK-based writer and photographer attempting to conquer her fears through her adventures, Amy Laughinghouse has paraglided in the Swiss Alps, walked with lions in Mauritius, swum with sharks in French Polynesia, and–her most terrifying challenge ever–taken ballroom dance lessons in London. She has written about travel and architecture for Better Homes & Gardens, the Irish Times, Qantas' in-flight magazine, and A Pink Suitcase: 22 Tales of Women's Travel, among other publications. You can also find her work at AMYLAUGHINGHOUSE.COM and follow Amy on Twitter and Instagram