Editor's Note: We're all dreaming of travel ahead. Here's some inspiration for future adventures. We share places, products and activities we recommend. If you make a purchase using a link on our site, we may earn a commission.
As the mother of American skiing, Sun Valley has never lost her charm or her good looks. At 86 years old this season, she is the epitome of elegance befitting her star-studded past.
Sun Valley, Idaho
I love Sun Valley, Idaho, as much for its ski heritage as for its skiing. I never tire of looking at the vintage black and white photos lining the walls of the venerable Sun Valley Lodge. There's Clark Gable, Gary Cooper and Lucille Ball.
There are the Kennedys, Brooke Shields, Clint Eastwood and Ernest Hemingway, who completed For Whom the Bell Tolls while staying in suite 206. When the resort opened in 1936, it became an instant playground for the rich and famous, some who learned to ski and some who came just because it was the newest chi-chi place to be in the West.
LIFE Magazine reported that first year: "Since Christmas, it has been packed . . . with as fancy a crew of rich socialites as have ever been assembled under one roof in the U.S."
In 1941, Olympic figure skater Sonja Henie starred in the romantic comedy film Sun Valley Serenade with priceless footage of skiing and skating at the resort. That boosted the celebrity interest even more, and to this day, every TV in the lodge runs the movie continuously on its local channel.
The World's First Chairlift
Averell Harriman, head of Union Pacific Railroad in 1936, was exploring rail traffic to the West.
An avid skier, he envisioned a winter sports resort that evoked the charm of the Alps. He found both in the little town of Ketchum next to Dollar and Proctor Mountains.
Gentle slopes, abundant snowfall, sunny days and natural hot springs were nature's contributions to Harriman's perfect place. He provided an elegant lodge with glass-enclosed pools, gourmet food, impeccable service, nightly live music and an ice skating rink.
After cutting runs on Dollar and Proctor, Harriman wanted a more civilized way than a rope tow for his skiers to ascend the mountain.
One of his U.P. engineers in Omaha, Nebraska, designed a single-seat chairlift modeled after banana-loading conveyors used on cargo ships in the tropics.
It was the first chairlift in the world, running at an average of four to five miles an hour and revolutionizing the sport. Retired from duty, the chair is on display in the U.S. National Ski and Snowboard Hall of Fame in Ishpeming, Michigan.
Proctor Mountain was later closed for skiing, its northern exposure being too chilly for Sun Valley's sun-seeking skiers.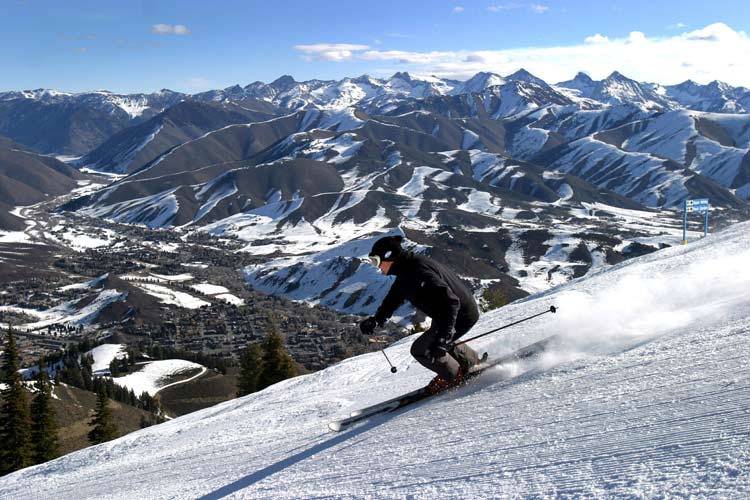 Sun Valley Skiing Today
Today, the treeless beginner runs of Dollar Mountain and open bowls and smooth slopes of Baldy (Bald Mountain opened for the fourth season) make up Sun Valley's skiing and boarding options.
Baldy is a fun mountain. The vertical drop is a consistent 3400 feet, and there's very little extreme terrain spread out over 2,500 acres. Everything is doable for the intermediate skier and rider.
In fact, there's nothing finer than a fast run down the freshly buffed groomers (the longest run is nearly three miles) between 10 a.m. and 2 p.m.
However, venturing off-piste into the Seattle Ridge bowls can be dicey except after a fresh snowfall. The famous Sun Valley sun that shines 80 percent of the time can turn that snow to mush; then it sets up overnight to choppy conditions.
For that reason, I mostly ski the prepared runs.
Idaho's Over-The-Top Day Lodges
The day lodges at Sun Valley are world-renowned. After Earl Holding (Sinclair Oil and Little America chain) bought the resort in the late 70s, he built the lodges in keeping with his level of excellence for the entire resort.
You can find every outfit you'll need for a trip like this from being on the top of the mountain to lounging by the resort fire at Colombia Sportswear. Check out their winter selection here.
River Run and Warm Springs Day Lodges at the bases of Baldy, Seattle Ridge Day Lodge atop Baldy, and the newest Carol's Dollar Mountain Lodge beckon you off the slopes with gourmet food, grand staircases, brass railings and elegant furnishings.
Holding also refurbished the original Roundhouse Restaurant, named one of the top mountain restaurants by Vanity Fair.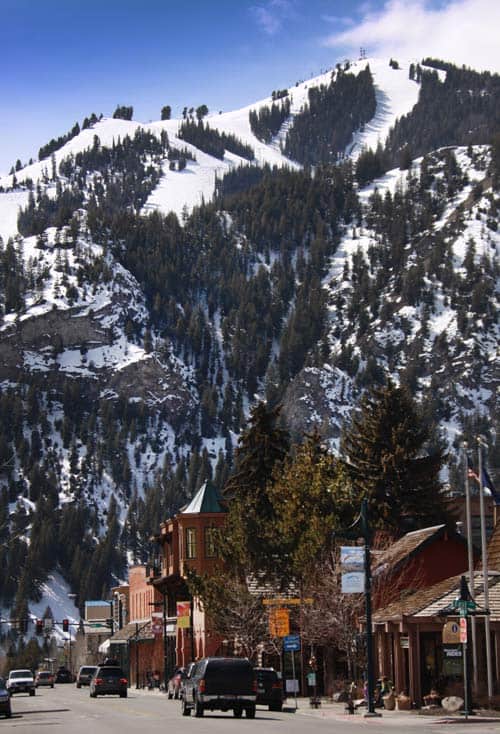 Entertainment and Activities in Sun Valley and Ketchum, Idaho
A few shops, eateries, a movie theatre and a bowling alley, make up the small walkable village of Sun Valley nestled between the Sun Valley Lodge and Sun Valley Inn.
About in the middle sits The Boiler Room, a historic nightclub venue famous for featuring comedy acts and lively après ski entertainment all these years. Free buses run from the village to each of the base areas and downtown Ketchum about a mile away.
Here you'll find a variety of excellent restaurants, shops and typical resort amenities. Other activities include sleigh rides, ice skating and cross-country skiing. What I love most about skiing here is the unparalleled beauty of the surroundings.
There's an ordinance that prohibits development on the mountains, vastly different from most resort areas where high-rise condos, trophy homes and roads dot the hillsides.
So, when you look at the horizon from atop Bald Mountain, all you see are billowing mounds of snow like marshmallows floating in a cup of hot chocolate. It's the most delicious ski area I've ever skied.
If You Go:
Sun Valley sits about in the middle of Idaho, 150 miles southwest of Boise.
United, Delta and Alaska Airlines have daily direct flights right into Sun Valley from Denver, Chicago, San Francisco, LA and Salt Lake City. Or you can fly into Boise and drive 2.5 hours to Sun Valley.
Learn more about the ski area and current COVID protocols from Sun Valley. This season daily lift tickets are limited to maintain social distancing, so advanced purchase is necessary. For lodging, transportation and dining, visit the Sun Valley website or call 800-786-8259.
Find the best deals here for these direct flights through the easiest travel planning site available, Kiwi. To plan more activities, see hotel reviews and scope out the restaurants of the area check out Travelocity and TripAdvisor.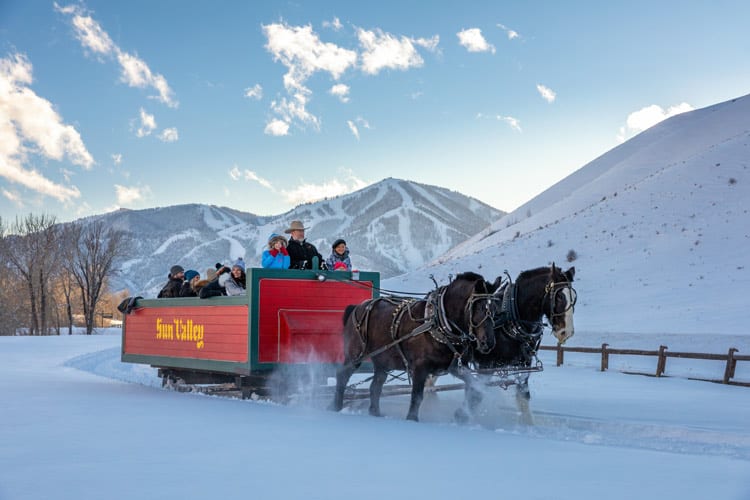 Other Resorts near Sun Valley
Brundage claims to have the "best snow in Idaho," and that moniker fits the two times I've skied there. The snow was soft as a kitten's fur, and the runs were long, fast and fun!
The glades in Lakeview Bowl provide perfect tree skiing. Though I've not done it, friends who have told me snowcat skiing is the best in the country.
Just 16 curvy miles up the mountain from Boise, Bogus Basin is a local ski area owned by the community.
Its 2600 skiable acres offer a mix of interesting terrain; the best way to see it all is to take a free guided tour with the fun mountain hosts (weekends only).
A full Nordic Center, a tubing hill and Idaho's only mountain coaster (closed during the pandemic) complete its offerings.
Author's Bio: Claudia Carbone is an award-winning travel writer and member of the Society of American Travel Writers, North American Travel Journalists Assoc. and Denver Woman's Press Club. Currently, her work is published in The Denver Post, Colorado Expression Magazine, London Sunday Telegraph's Hotelegraph, GoWorldTravel.com, RealFoodTraveler.com, MtnTown Magazine and The Villager Newspaper. Her travel blog Sleepin' Around covers any place you can sleep on vacation.