I tossed and turned in bed, my thoughts focused on how I would demand the hotel receptionist to exchange our room for one with a mountain view. The nightly $400 price tag for a tiny, although luxuriously elegant, room looking out onto a cluster of overcrowded Swiss cottages was unacceptable.
Little did I know what morning would reveal.
The Big Reveal
As sunlight peeped through, I leaped out of bed and opened the curtains. I will never forget what I saw. Outside the window was a massive mountain. It was under attack by a violent storm, the wind hitting against its steep face and blowing copious amounts of snow. The mighty Matterhorn stood in front of me.
We soon discovered that no matter where you were in Zermatt, Switzerland, on any slope, on any street, you could always see the Matterhorn. The mountain beckoned to you all the time.
Look at me! Look at me! I turned to my daughter who was alternately tugging at my shirt and hanging off me and said to her, "I have finally found the right term for you. You have the Matterhorn complex."
The Impressive Matterhorn
Rising a dramatic 14,600 feet above sea level, with four steep faces, one for each cardinal direction, the mountain dominates the sky. Matterhorn is a German name derived from the words matte meaning "meadow" and horn meaning "peak". The mountain straddles the frontier between two countries: Switzerland and Italy.
The first light of the sun hits the east face. The sun later disappears behind this monstrosity creating a halo of light, before setting in the west. As the wind hits the steep faces it creates a surge of snowstorms: a testimony to the sheer force of nature.
If you have ever eaten a Toblerone and wondered about its triangular shape, here is your answer. The all-time favorite candy was invented by chocolatier Theodor Tobler, inspired by the mighty Matterhorn.
Winter in Zermatt is a Skiers Paradise
Zermatt is as close to winter paradise as it gets: with sugar-coated peaks touching the clouds. It's traffic-free except for electric public transport like buses and taxis.
Furthermore, the tap water is cleaner than bottled water, the mountain air is untainted and the locals pour their hearts out for you. All this makes for a destination that connects you to nature at its purest.
A skier's dream come true; Zermatt lends itself to skiing almost year-round. The resort has it all: from beginner blues to intermediate reds to acres of off-piste trails for adventure junkies. The longest run through the mountains is 13 km with a vertical drop of 2200 m.
Stay warm through all your skiing adventures with heated jackets, gloves, beanies and more from GOBI Heated Apparel. Check out their selection here.
The resort is massive with three interlinked areas: Sunnegga-Blauherd-Rothorn, Gornergrat-Stockhorn and Trockener Steg-Schwarzsee. These are accessible by a network of cable cars, gondolas, a train and a high-speed funicular.
Even four days are not enough to ski all the slopes; the amazing pistes satisfy both beginners and the most avid skiers.
An Unexpected Adventure
Off-piste skiing was not on my list of things to do. Let's just say getting down a beginner slope without event or injury was enough of a feat. Yet one of the days on the slopes took a disastrous turn. 
When we skied down the mountain and reached the Zermatt gondola station, the gondola had closed for the day. The gondola was our only way to the village as the snow had melted downhill from that point.
After trying, but failing, to hitch a ride on one of the tow-trucks, we were directed to an off-piste slope. This slope had a place on the map and even an official sign. What the sign didn't mention was that it was an untrodden treacherous path through forest, ditches, slippery narrow trails and icy tarmac roads.
When we finally reached the village bus stop, I was on the verge of collapse. But we made it and had a great story to tell. 
A Thrilling Ride and An Ice Castle
When we needed a break from ski boots, we would head up to Rotenboden for a high-speed, thrill-packed toboggan run. It is the highest one in the Alps and certainly the most breathtaking. The Iglu-dorf nearby was also a bucket list item: a hotel and restaurant created by artists entirely with snow crystals.
The hotel houses 6 rooms accommodating 24 guests for those who are brave enough to spend the night in an ice castle fit for Elsa. We decided to pass and simply took a tour of the ice rooms with the admirable crystal sculptures. Then we crawled into the igloos and curled up with hot chocolate in the ice restaurant.
Evenings of Delicious Decadence
Every evening we would head down to the quaint streets of Zermatt. Shops here offered an abundance of local ware from watches to Swiss knives, lacy silk aprons to hats and jewelry. Chocolatiers such as Lindt, Sprungli and Laderbach delighted our taste buds with mouthfuls of creamy, chocolatey decadence.
All this, while the cutesy shops and restaurants-with lanterns, floral pots, sleighs, bears and dwarfs- transported us to a land of fairy tales.
After working up an appetite we were faced with a delicious array of dinner options. First, no winter in Zermatt experience would be complete without a Swiss cheese fondue at the Cheese Factory.
Then there's Japanese hibachi-style steak at Myoko. Plus crepes, quiche and homemade pizza-the culinary offerings were endless. Fresh local ingredients cooked to perfection with a dash of love.
Finally, we would head to our hotel for a relaxing spa experience, sauna and steam or a de-stressing massage before the nostalgia of a wintery wonderland lulled us into a deep slumber.
If You Go:
Getting there:
Fly into Zurich airport. Take the train from Zurich airport to Zermatt. The average travel time between Zermatt and Zurich is 3h 20m. Ticket prices increase as you get closer to your travel date, so if your travel plans are confirmed make sure to book well in advance.
Where to stay:
We stayed at the Hotel Carina with newly renovated, luxurious rooms. There are no TVs: the windows overlooking the Matterhorn are all you need. Breakfast includes the creamiest cream and butter ever to accompany homemade dishes made with the freshest seasonal ingredients. Spa treatments are also available.
Where to eat:
Cheese factory: Swiss cheese fondue and raclette
Myoko: Hibachi grill, seafood, tempura, sushi, green tea ice-cream
Skiing:
Ski passes are much cheaper compared to counterpart resorts in the United States. And as a bonus, kids under 9 ski free. Most hotels have a storeroom for skis, complete with heated shoe racks. One of Zermatt's unique offerings is being able to ski from Switzerland to Cervinia, Italy.
If you buy an international ski pass you can ski in both the Italian and Swiss mountain areas. But one word of advice: do not lose track of time in Cervinia because if you miss the last chairlift be prepared to spend the night in Italy.
Getting around in winter in Zermatt:
Walk, walk, walk. And then there is also the option to take the ebus or the cute etaxi.
Book This Trip
Start planning your winter escape to Zermatt today. Find more information on how to get around, hotels and VRBO accomodations, local restaurant recommendations and more through TripAdivisor and Travelocity.
Check out the best flight deals, train tickets and car rental options on OMIO Travel Partner. Be sure to protect your trip plans from flight cancellations, lost luggage issues, last minute sickness and any other unexpected circumstances with customized travel insurance from Squaremouth.
Make the most of your trip with more winter activities in Zermatt, skip-the-line tickets and expert-led tours with GetYourGuide. Find more information and book your activity dates here.
To learn more: Visit matterhornparadise.ch for more information.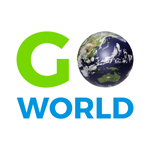 Latest posts by Go World Travel Magazine
(see all)