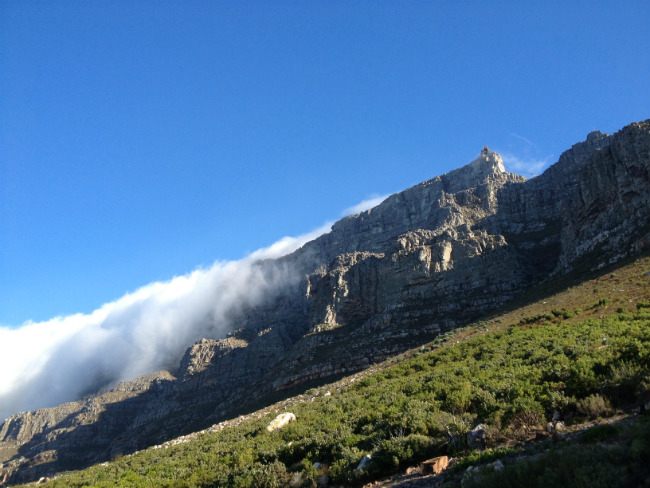 The sun beams glistening around the clouds give off a golden sparkling effect as your cable-car slowly ascends at a snail's pace – which is a good thing, because you don't want to miss anything. Brilliant beams of light peeking through the clouds bring you a warm sensation. The view is truly alluring and overwhelming.
Tablecloth Over Table Mountain
This prominent landmark overlooking the city of Cape Town in South Africa is the Table Mountain. Aptly called the 'Tablecloth over Table Mountain' by locals, seemingly, this is when the cloud cover overhangs at the sides of the mountain. Table Mountain is appropriately named for its resemblance to a table and its flat top. Viewing it from below – it looks so powerful and majestic 'on its high horse.'
Taking the Cable Car Up Table Mountain
The one-way ride from the lower cable station to the upper station takes about five minutes. The floor of the circular cabin rotates a full 360 degrees, giving us a full view of Cape Town and the nearby peaks of the smaller surrounding mountains. There are always two cable cars operating together at all times. It counter-balances each other – as one goes up, the other comes down. They cannot operate independently.
Colorful fynbos can be spotted amongst the rocks as you go higher and higher into the clouds. Catch glimpses of the dassies, small animals that look like outsized fluffy guinea pigs, hastily scurrying around as you ride up.
You only realize the enormity of the mountain when you alight the cable car.  You can also take the cableway to the top and hike down the mountain. A handful of courageous hikers braved the heat and the pain, hiking up the mountain.
You are now above the clouds. It looks and feels so heavenly, it is hard to believe this is all real. You think you can just reach out and touch the clouds. You want to go 'snowboarding' on the clouds.
Sitting here all alone with your thoughts and doing nothing for hours would be so gratifying. (I say 'would be', because no-one comes here alone, it's a happy place with family and friends.) Everyone's so cheerful, smiling and in good spirits all around you.
Quite a few people can be seen sitting quietly on the rocks, sketching away. It is so peaceful and serene up here.
Sit quietly in a secluded spot and you are bound to see the rock hyrax, also known as the dassie. Lizards are frequently spotted all over this rocky mountainous terrain, the most common one being the agama, with its bright blue head sticking up, always looking startled and alert.
Although there are many people on the mountain at any given time, surprisingly, it doesn't feel overcrowded. The cable car carries up to 65 people at a time, so you can imagine how many are still there. You are free to spend as much time as you want, once you are up there.
The saying, 'time flies when you're having fun' is literally true. You think you have been here for a short time, until you look at your watch, and realize 'oh my gosh,' I've already been here for four or five whole hours!
There are four gift and curio shops befittingly named 'The Shop at the Top' and another called 'The Little Shop at the Top,' where you can buy souvenirs for your loved ones left behind back home, or you could spoil yourself with a reminder of this phenomenal place you visited.
These shops offer a wide range of exquisite beaded jewelry and local crafts. You can also find a vast array of clothing, scarves, caps, stationery and toys all displaying Table Mountain memorabilia, and not forgetting the traditional postcards. For last minute purchases you can quickly dash into 'The Exit Shop' before leaving.
Recently Table Mountain proudly installed eco-toilets.  Did you know that we waste between 9 – 11 liters of fresh clean water each time we flush our normal conventional toilets? Here, with the eco-toilets, the water use per visitor is brought down to a mere 0.75 liters per flush.
Continued on next page