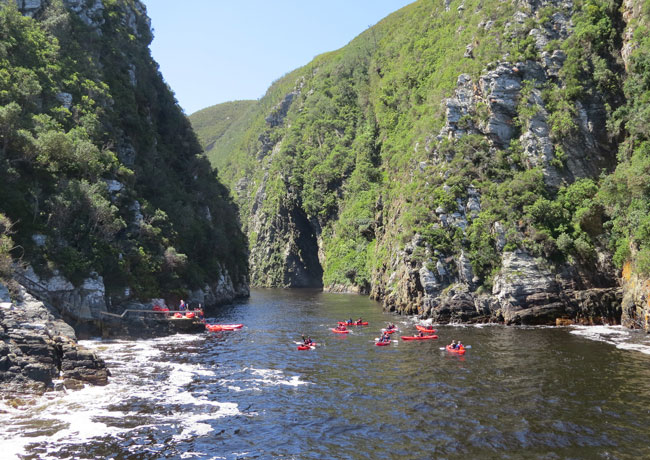 "Um…I've never actually seen it this bad before."

Our South African Guide
These words, uttered by our experienced South African guide, weren't exactly the wise words of encouragement I'd been looking for.
I was about to dive headlong onto a lilo with a temperamental rapid to my left, roaring and ready to pull unsuspecting victims downriver.
Some assurance would've been appreciated during this adventure in South Africa.
And yet, as the incoming tidal surge returned, I decided to throw caution to the ever-increasing wind, plonked onto the lilo (an air-filled pad), and paddled ferociously upstream to join the rest of the group.
Like a fledgling turtle on her maiden voyage, I flapped about until settling into a smooth rhythm, my arms cutting through the pitch-black water.
The lilo created ripples in the otherwise flat water, which had stilled for a moment between surges.
As I glided along and took in the cliffs rising up on either side, creating a sliver of sky above that narrowed further down the gorge, a calmness settled over me.
Until I got an eyeful of a particular overhanging cliff. The particular cliff I'd previously promised my competitive self that I would be jumping off of. I was starting to rethink that decision.
Tsitsikamma National Park in South Africa
Earlier that day, my family and I had pulled into the parking lot of the Storms River Mouth Rest Camp in the Tsitsikamma National Park.
It is a section of South Africa's Garden Route National Park. It is part of the South African National Parks system, and is an hour-drive away from where we were staying in Plettenberg Bay.
Storms River, slicing through the sheer cliffs and high forest area of the Tsitsikamma Forest as it flows towards the Indian Ocean, also marks the end of a stretch of South African coast known as the Garden Route.
The morning had been filled with sunshine and optimism – excited chatter over breakfast about the possible sightings of otters, stingrays and juvenile ragged-tooth sharks.
The ongoing debate of who would be partnered up with whom for the paddle.
But, as we (still seated in the car) watched the waves continue to rise, the wind blowing back their foamy caps into menacing tendrils.
It then crash violently onto the sharp rocks, I felt all that optimism seep away. A sense of foreboding replaced it.
No one stirred. I simply watched the waves we would supposedly be paddling over, transfixed by their unrelenting peaks and dips.
"They don't call it Storms River for nothing," my mother's words broke into my thoughts as my imagination was starting to run wild.
It was time for action. Not one to be put off by some menacing waves, off I went on a recon mission – would the tour go ahead as planned, unexpected storm surge and all? Yes, it would indeed.
Kayaking Storms River Mouth
Our kayak and lilo tour with Untouched Adventures was set to start in the Storms River Mouth.
This section, where the river turns green as it meshes with the ocean, is sheltered slightly by the mountains. Yet, here too, the ocean was a dangerous, lilting mess of white foam.
Even the speed boat which usually takes tourists out on sea excursions had been pulled out of the water. This didn't seem like a good sign.
Yet, as we shook hands with our tour guides, we were steadily informed that, instead of beginning in the ocean and paddling through the river mouth and under the suspension bridge that StormsRiver is famed for, we would begin our journey after the bridge.
At this point, the river water would apparently be manageable, in contrast to the ocean beyond. My mother's sigh of relief was audible – she, the designated worry wart of the family, couldn't argue with that logic, either.
To reach the point of departure, we followed our guides on a short 20-minute hike. Through the forest we trekked, up and down steep flights of narrow wooden steps.
This otherwise doable route was made tricky by the fact that each of us was brandishing a paddle, trying to navigate the narrow path and avoid a debilitating blow to one of our fellow adventurers – or other tourists, enjoying their meander to the suspension bridge.
"Okay people, bum's first!"
The guides had to shout to be heard over the waves, still audible even after the bridge. Bum first, I plopped into the seat of the red kayak after my dad.
Before I knew it, our little vessel was pushed out in the water, and we paddled in graceful circles while the rest of the 15-strong group boarded their kayaks.
I looked out towards the ocean, where the suspension bridge spanned the gap in the mountain through which the river flows, silently willing it to remain at relative peace.
We turned the kayaks around, caught a baby wave and began the journey down the gorge.
As the river narrowed, the water became calmer and soon all thoughts and fears of capsized little red boats were forgotten.
The guides stopped here and there to tell of bat-filled caves and rocks stained brown by tannins in the water.
But, I was too busy craning my neck up and marveling at the patterns in the rocks, and the birds in their nests, the sheer impossibility of Mother Nature's beauty in all her untouched glory.
All seemed still and right. I expected to continue in this gentle, soul-soothing way. I was wrong. It got better.
We soon rounded a bend and were instructed to pull up the boats at a pebbled bank. The river was too narrow upstream for kayaks, and we'd be disembarking and continuing the journey by lilo.
But, as we were about to navigate towards the bank, I felt the current shift under the boat and its strength pull the vessel in the opposite direction – towards a rapid that hadn't been there moments before. My dad helped maneuver our boat in the right direction.
Kayaking in South Africa
Then it clicked – the waves back in the ocean were so strong, their force could still be felt this far down the gorge.
As the ocean surged inwards, the river was pushed over the rocks with such strength that a rapid was created. There was a moment of stillness, before the ocean retreated again and repeated the pattern in reverse.
My spine prickled. But, before I could let the fear – and the tour guide's unexpected announcement that the conditions were more dangerous than normal – sink in.
I had boarded the lilo and let the incoming surge from the ocean take me upstream, past the cliff jump and away from that demon of a rapid.
We gently floated along, seeming at ease. Yet, a sense of panic still lingered – did I really need to throw myself off that cliff, into volatile black waters that could morph into rapids at any second?
The time came on our way downstream, just before boarding our boats for the homeward stretch. I decided not to think twice about it.
Seemingly within the blink of an eye, I'd scrambled up the mountain side, leaving my lilo on the bank down below, taken a deep breath and a gallant leap, and – with a very ungraceful splash – was back in the water once more.
Still treading water, I looked up at the cliff to watch my elder brother take the 4-metre jump, finally grasping what I'd just done. It was exhilarating.
I couldn't help but smile with secret pride. It's worth putting your fears aside for that feeling.
Strangely, the water had remained glassy during these jumps. The tidal surges had seemingly subsided, and I was starting to think, on our way back to the jetty, that the ocean up ahead had settled. Not so much.
On our return, the waves roaring towards us from under the suspension bridge were so high, the wind pushing the kayaks in such wayward directions that we couldn't dock and hop off to safety.
We just sat there, bobbing up and down. I watched the guide pull out his cell phone and make a call for back-up.
"That's it," I thought. "We're going to die." Not that I'm over-dramatic or anything, but I was having all sorts of visions of stormy seas engulfing boats, arms flailing in the air and helicopter rescues.
My dad, seated in the rear of our kayak, encouraged me to keep the vessel perpendicular to the rising swell. I was told repeatedly not to panic.
"I'm not panicking!!" I wanted to shriek. I was in full-on panic mode.
Eventually, thankfully, there was a break in the swell, and we all managed to scramble off the boats and onto the jetty.
I had to sit down for a moment, to focus on my feet to stop the tears of relief from welling up.
And then I started laughing – that was the single most ridiculous little adventure I'd ever been on.
It was a roller coaster of emotions – overwhelmed by the beauty of the river mouth one moment, racked with fear at its sheer power the next. Like I said, not over-dramatic at all.
Though I'd spent the past three hours tiring myself out with hiking, paddling, cliff jumping and panicking, the hike back to base – meant to be the final, exhausting slog – felt short and effortless in comparison.
I didn't care how many steps I had to climb on the way back, I was just so glad to have said steps planted firmly on solid ground. My hands continued to shake the whole car ride home.
"So, how was it?" We were asked by a neighbor, having returned from Storms River. All he got was a collective grunt in response.
"That boring, right?"
Not quite. It had been a morning of such excitement, such adrenaline and terror and joy and wobbly sea-legs, and none of us had the words to describe it.
Not just then.
IF YOU GO
We booked our Storms River kayak and lilo tour with Untouched Adventures.
While we might not have had the best conditions, our guides were not only professional and informative, but they also remained at ease to ensure we all made it to safety.
If you're worried about weather conditions, phone ahead or plan your excursion to coincide with low tide – we went during spring tide, during which the sea was exceptionally high and rough.
The best time to visit this area for a summer-time adventure is arguably between January and March, when the weather is still warm, but the area has calmed down after the busy festive season.
Storms River Mouth is also a beautiful spot for snorkeling – on clearer days, I've spotted stingrays, starfish the size of my face, sand sharks and fish in vibrant shades – or for simply lazing on the small beach and enjoying the Summer sunshine.
Author Bio: Emma Strumpman is a Film & Media graduate student, currently living in Cape Town, South Africa. She is always up for an adventure, whether it's discovering a new hiking trail, finding a body of water to dive into or a sandy beach to meander along, meeting new people, trying new foods, hanging out with some wildlife or, of course, travelling. You'll hardly find her without notebook or camera, as these experiences she loves to record in words and photographs.