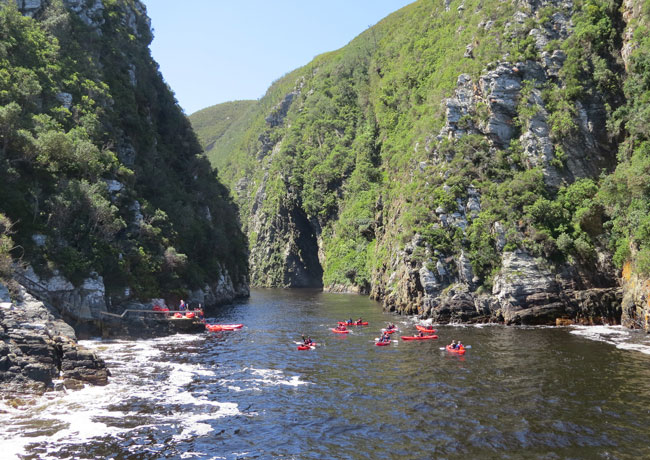 "Um…I've never actually seen it this bad before."

These words, uttered by our experienced South African guide, weren't exactly the wise words of encouragement I'd been looking for. I was about to dive headlong onto a lilo with a temperamental rapid to my left, roaring and ready to pull unsuspecting victims downriver. Some assurance would've been appreciated during this adventure in South Africa.
And yet, as the incoming tidal surge returned, I decided to throw caution to the ever-increasing wind, plonked onto the lilo (an air-filled pad), and paddled ferociously upstream to join the rest of the group. Like a fledgling turtle on her maiden voyage, I flapped about until settling into a smooth rhythm, my arms cutting through the pitch-black water.
The lilo created ripples in the otherwise flat water, which had stilled for a moment between surges, and as I glided along and took in the cliffs rising up on either side, creating a sliver of sky above that narrowed further down the gorge, a calmness settled over me.
Until I got an eyeful of a particular overhanging cliff. The particular cliff I'd previously promised my competitive self that I would be jumping off of. I was starting to rethink that decision.
Tsitsikamma National Park in South Africa
Earlier that day, my family and I had pulled into the parking lot of the Storms River Mouth Rest Camp in the Tsitsikamma National Park, a section of South Africa's Garden Route National Park. It is part of the South African National Parks system, and is an hour-drive away from where we were staying in Plettenberg Bay.
Storms River, slicing through the sheer cliffs and high forest area of the Tsitsikamma Forest as it flows towards the Indian Ocean, also marks the end of a stretch of South African coast known as the Garden Route.
The morning had been filled with sunshine and optimism – excited chatter over breakfast about the possible sightings of otters, stingrays and juvenile ragged-tooth sharks, and the ongoing debate of who would be partnered up with whom for the paddle.
But, as we (still seated in the car) watched the waves continue to rise, the wind blowing back their foamy caps into menacing tendrils, and then crash violently onto the sharp rocks, I felt all that optimism seep away. A sense of foreboding replaced it.
No one stirred. I simply watched the waves we would supposedly be paddling over, transfixed by their unrelenting peaks and dips. "They don't call it Storms River for nothing," my mother's words broke into my thoughts as my imagination was starting to run wild.
It was time for action. Not one to be put off by some menacing waves, off I went on a recon mission – would the tour go ahead as planned, unexpected storm surge and all? Yes, it would indeed.
Continued on next page