I was delighted when my husband and I received Betty's invitation to join her for a picnic at Sunset in the Palms, an adults-only, all-inclusive resort in Negril, Jamaica. The setting was lush, the food and wine enticing.
Conversation, though, was a tad strained. Betty's recent history was a bit dicey. She was recently married; rumor says it was a shotgun wedding. Seems Betty had been knocked up and the kids already there. It was hard for her to attend to them and focus on her guests. Still she was already back at work maintaining the grounds — Betty is a very resilient goat. And one of Sunset's favorite staff members.
Sunset at the Palms Resort
Sunset at the Palms Resort is an airy, compact oasis in the middle of a jungle. Wood-filled and woodsy, the abundant foliage makes the transition from outside to inside seamless, with towering masses of greenery at every turn of the head. It's a change from many of the large, bustling, antiseptic resorts that often line Caribbean beaches.
From the resort, the beach is just a short way. It's free of the seaweed currently plaguing so many Caribbean shores. In many places, spotting a red flag usually indicates a warning. But here, placed in front of your chaise lounge, it simply means please bring me another Piña Colada.
Chase and Bonnie Pilcher from Blacksburg, VA were "super impressed with everything. The rooms are beautiful, everyone so friendly…" Their voices drifted off as their colorful Bob Marley drinks were served chaise-side. I didn't blame them.
Tranquil was a word I heard a lot. Maybe because the all-inclusive resort is adults only — except for Betty's kids of course, and they're not likely to be running down the halls.
And as appealing as reggae music is in the Caribbean, it is often ear-splitting along the beaches and the bars. Here, it is mellow – though, admittedly, for some, that might seem an oxymoron.
But it is just that mellowness that so appeals to Liz Smelts from Ontario, Canada. On her fourth visit, she loves the peace and relaxation, the environment and the food, the friendliness of the staff. "It feels like home," she says.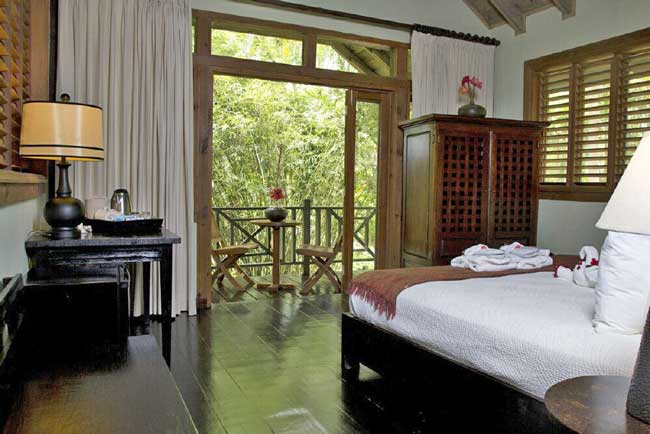 The resort comes by its name honestly. All the rooms resemble palm-fringed treehouses. The hammock on our tree-topped balcony was just a bonus. One morning, I was awakened by an unaccustomed sound only to find, Betty, her husband, Royal Brown, and kids bleating greetings below our balcony.
Sunset is all about service. Everyone sports a badge saying, "I am your personal concierge," which I initially mistook for … well… the actual concierge. And indeed, there did seem to be a more genuine camaraderie between staff and guests than I've seen at other resorts, possibly because so many are repeat customers.
Taking the pampering of guests to an extreme, there is a crossing guard to usher you across the street to the beach. Admittedly, I felt like I was in grade school again and petulantly assured the poor guard that I had been crossing the street by myself for decades without mishap.
Continued on next page