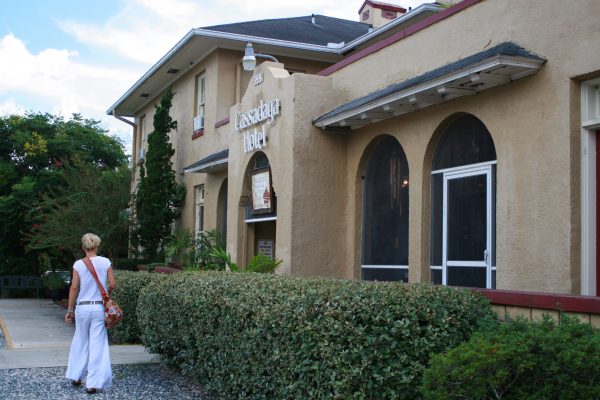 We each had very different experiences with our readings at the hotel, except for MaryBeth and Colleen, who both had Kat as a reader. She was specific in a scary way about their husbands, kids, finances, etc.
Torre, my medium, arrived out of breath and had to catch it for 15 minutes. She told me she had been healing all day and looked worn-out by the effort. I listened to a little commercial about her upcoming Halloween witches event at the hotel. I had read that she does events at Universal Studio, so I was expecting some drama.
Her visions and communications with those "on the other side" were general. Some I could have made fit into what has been going into my life. I did not ever feel she was not authentic, although I did at one point think I should terminate.
There was a genuine goose-bump moment when she connected with a friend, but then again she was general, and I made that connection myself. She asked if there was anything or anyone I wanted to know about, but I was more or less testing what she could tell me.
For instance, she asked me my birth date. Shouldn't she know that, I wondered?
Her takeaway message was that I was going to have a big change within a month. And the cards (she did use cards and palms) showed a new romance. I am happily married, FYI.
Karyn had a similar experience with a woman outside of the hotel, as if the mediums were just a little too tired to focus? I don't know. What I do know is that we had been trying for a couple of years to get back for a séance at the church, but they always filled up quickly. So we settled for one of the bi-monthly séances at the hotel with medium Mary Hayes. Here about 20 of us gathered in a room upstairs and one by one instructed Mary to ask questions of one dearly departed. Boxes of tissues were distributed throughout the room, and most of the participants became emotional. Call us cynical, but we remained dry-eyed. We, in fact, stifled giggles at times.
I'm told that the experiences outside the hotel, within the camp, are more authentic, but perhaps for the cynical there's just no point. Heck, Arthur didn't even show up during the night we spent in the old hotel. But even if your experience in Cassadaga doesn't quite reach paranormal, it's guaranteed to be well to the far side of Florida normal.
Cassadaga Hotel 386-228-2323, www.cassadagahotel.net
Cassadaga Spiritualist Camp 386-228-3171, www.cassadaga.org
Author Bio: Chelle Koster Walton  has lived in Southwest Florida since 1981. She is a freelance travel and food writer and editor who has authored and co-authored more than a dozen guidebooks and apps, including Fodor's guides, the Sarasota, Sanibel Island & Naples Explorers Guide, The Bahamas Explorer's Guide, and DK Eyewitness Florida Family Guide. Her work has appeared in publications from USA Today to CruiseCritic.com along with documentaries and lifestyle segments for WGCU Public Television.
[mappress mapid="990″]