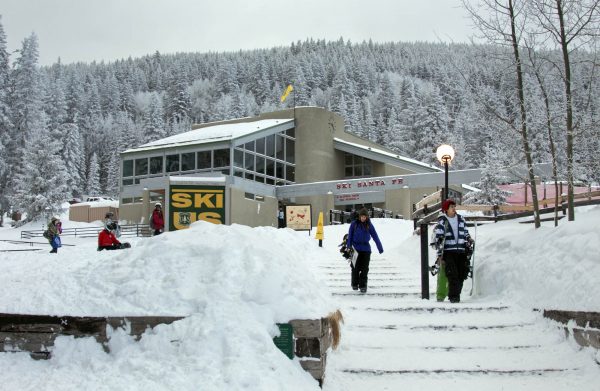 A few seasons ago they unveiled a huge addition to the beautiful La Casa base lodge, doubling seating capacity in the sunny cafe. It's open for breakfast and lunch, serving better-than-average ski-cafeteria food.
Ski Santa Fe tripled the size of the rental shop that operates a state-of-the-art paperless rental system. And sometime within the next decade, they will develop Raven's Ridge on the north border, Benny says, into a "neat little family ski area." The other borders are protected wilderness.
And then there are the signature glades—the area's "piste" de rèsistance—where the trees are spaced just perfectly for making turns in the best fresh snow on the mountain.
Every summer Benny and Ben fell select trees with their own hands to make the glades even more skiable.
"We are the fellers," Benny says with a grin. "We'll take about 25 percent out of the glades, leaving the natural environment as is."
How does he know where to cut? "I cut 'em like I like to ski 'em!" Another grin. They sell the timber for firewood and donate the proceeds to charity.
With some of the country's best hotels and inns down in the city, there's no need for lodging at the ski area. Instead, you must drive 30 minutes up the winding road from Santa Fe that starts at Otero and Artist Road, that, to be honest, can get dicey in winter. Or, take the Blue Bus that now operates between town and Ski Santa Fe with three round trips per day on weekdays and seven on weekends and holidays. It makes quite a few stops along the way. One is at Ten Thousand Waves, the famous spa where you can present your bus transfer token for a $5 discount on a treatment or food.
Continued on next page