Nestled at the edge where the Sangre de Cristo Mountains of northern New Mexico spread westward toward the sage brushed mesas and plains is a land of vast expanse and open skies.  Here you'll find the enchanting high desert town of Taos, a historic art colony and world-class outdoor recreation mecca. 
Visitors to Taos often remark on the magnetic-like pull the town seems to possess, drawing them back time and time again. They are enamored by the jagged peaks, sun-drenched landscape and the almost spiritual vibes that this magical destination emits with its age-old traditions.
History is honored here, as for centuries, people from the Pueblo Indians and the conquistadors to Mexican settlers and Anglo ranchers have made Taos their home. The town is also known as a community that has nurtured the creative spirits of artists from all over the world.
Explore Taos Plaza
Stroll around the Taos Plaza with its eclectic shops and galleries. The plaza is over 300 years old and still retains its original shape. Built for defense, windows and doors face into the plaza, allowing the limited entrances to be barricaded when necessary.
This is one of only a handful of places in the country permitted to fly the American flag day and night. Story has it that a group of patriots guarded an American flag on the plaza during the Civil War and because of their efforts, the plaza was given this distinguished honor.
The large cross also pays tribute to the many townspeople who died in the Bataan Death March during WWII.
Best Tips & Tools to Plan Your Trip
Go Shopping on Bent Street
Bent Street and the John Dunn Shops connect the plaza, a delightful pedestrian-friendly locale with some more unique stores.
Check out Coyote Moon's array of Southwest folk art and La Tierra Mineral Gallery, which boasts a great collection of rare minerals, fossils and carvings. New Mexico sustainable goods are the focus at Seconds Eco Store, where you'll find unique recycled creations.
Tour Taos Pueblo
The Taos Pueblo is a must-see for all visitors. It's the only living Native American community designated both a World Heritage Site by UNESCO and a National Historic Landmark. For over 1,000 years, the multi-storied adobe buildings remained continuously inhabited and the Puebloan culture remains intact.
Houses are made of adobe, in the traditional way, by mixing dirt with straw and water, and they are passed on from generation to generation and maintained by each family.
Although today, access to the structures is via a doorway, you can still see ladders that lead to rooftop entrances, reminiscent of the past when such construction was necessary for defensive purposes. 
To enhance your experience, take a tour of the place and learn more about the history, as well as the Puebloan way of life. Before you leave, stop in at one of the homes that also serve as shops selling art, jewelry, pottery and Native American food, such as the quintessential fry bread.
The residents are usually more than happy to chat about their childhood, education, the Pueblo government and the current state of affairs in their community. 
Go Museum Hopping
Museums are another of the town's popular attractions. History comes alive at the Kit Carson House & Museum, where you can take a guided tour of the adobe house that Indian scout and mountain man, Kit Carson, gave to his wife Josefa Jaramillo as a wedding present in 1843.
Now wonderfully restored and filled with information and artifacts of Carson's life, the museum is a window into the Wild West days. When you leave, make your way to the Historic Kit Carson Cemetery, where Kit, his family members and other persons of historical interest are buried.
Also of note is the Hacienda de los Martinez, one of the few northern New Mexico style, late Spanish Colonial period "Great Houses" remaining in the American Southwest. Built in 1804, this fortress-like building became a significant trade hub for the northern boundary of the Spanish Empire.
Today, the Hacienda, listed on the National Register of Historic Places, provides visitors with a glimpse of the rugged frontier life and times of the early 1800s. 
For art aficionados, there are several museum options. My personal favorites include the Harwood Museum of Art, the Blumenschein Home and Museum and the Taos Art Museum at the Fechin House. At the Harwood, you'll experience a complete story of art in Taos, from traditional to cutting-edge.
The Blumenschein celebrates the lives and art of Ernest Blumenschein, his wife Mary and their daughter Helen, as well as works from the Taos Society of Artists. Blumenschein was a founder of the society and he became one of the Southwest's best known painters of Pueblo Indian genre.
Over at the Fechin, you'll find the hand-carved furnishing and art of Russian-born artist Nicolai Fechin, who made his home in Taos.
About four miles south of the town is the famous San Francisco de Asis Church. Built in the early 1800s, it's the only original church that remains intact in the Taos area.
Numerous 20th Century artists, including Georgia O'Keeffe and Ansel Adams, were fascinated by the building's design elements. Their artistic renderings of the structure have made it nationally famous. 
Go for a Hike in Taos Ski Valley
A half-hour drive will take you to the Taos Ski Valley, an outdoor playground for all seasons. Mountain bikers enjoy the magnificent terrain that skiers love during the winter. Hikers take to the trails, with paths for all levels and abilities, from popular Williams Lake to challenging Wheeler Peak, the highest point in New Mexico.
After you complete your adrenaline-pumping fun, head to Taos Cow in the nearby village of Arroyo Seco for some homemade ice cream with southwestern flavor combinations, like piñon caramel and Mexican chocolate.
Take to the Skies in a Hot Air Balloon
It's one thing to explore the dramatic scenery of Taos on foot; it's another to experience it from a bird's eye perch high above ground. Only then are the wonders of this northern New Mexico locale fully realized.
Such perspective is best obtained during a hot air balloon ride at sunrise when the majestic Sangre de Cristo Mountains are a deep purple and the sky is streaked with brilliant hues of pink and orange. At the same time, the mighty Rio Grande Gorge appears as an eerie and otherworldly formation. 
It was a calm summer morning when I joined a group of fifteen passengers, two balloon pilots, and their chaser crews from Pueblo Balloon Company. We headed to the departure point, driving on what was once an old stagecoach road.
Before helping to participate in the set-up process, our group gathered to watch as one of the crew members sent a small, helium-filled balloon or "piball," up in the air in order to check wind conditions.
Then show time commenced, with the exciting inflation of Arrows and Major Tom, the two balloons that would carry us up, up and away. Once the basket was upright, we got in, watched as the balloon's crown line was released and said adios to terra firma for the next hour. 
It's amazing how quiet it is once you're up in the air, with only the whooshing sounds of the burners as they are utilized to gain lift. The picturesque panorama unfolded around us and I found myself captivated by the balloon's shadow casted on the ground and against the Rio Grande Gorge's basaltic walls.
The gorge is a 37-mile rift created by a separation in the earth's crust caused by faulting and other earth movements millions of years ago. It's a stunning high desert chasm that elicits plenty of oohs and aahs from viewers, who never tire of its rugged beauty.
This section of the historic Rio Grande is the nation's first Wild and Scenic River, and from late spring through early fall, it's a popular area for rafting and kayaking. 
Pueblo Balloon is well known for its skilled and experienced pilots and impeccable safety record, as well as for its famed "splash and dash" experience in the Rio Grande. If the conditions are right, your pilot will take the balloon down into the Gorge and let the basket skim along the river.
Some folks like to call it the "dip and drip," but our pilot, Chris, prefers to describe it as "balloon rafting." For passengers, it's a unique thrill and a definite highlight of the trip, but it's also exciting to watch another balloon in front of you as it rides the waves, providing that perfect photographic moment.
Another highlight during our adventure was coming upon dozens and dozens of bighorn sheep as they raced across the land in Serengeti-like migration form. The males or rams, with their distinctive curled or spiral horns, were the stars of this display and as observers from above, we reveled in this special sighting.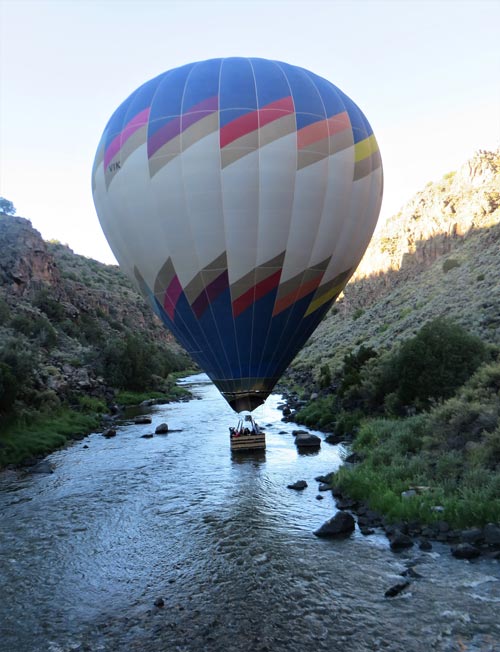 Learn About Hot Air Balloon History
Hot air balloons have been around for a long time, with the first documented flight made in 1783 by Joseph and Etienne Montgolifier, two brothers from France who were in the paper manufacturing business.
The men, Joseph and Etienne Montgolifier, developed a new paper which was a combination of paper and silk. When they watched it burn, they observed that little pieces of unburned paper and ashes would rise into the air.
This phenomenon fascinated them and they decided to explore the possibility of capturing this air and using it as a means for man to fly. Their first flight lasted 25 minutes and their balloon rose to 1,500 feet and traveled a total distance of five miles.
Ballooning eventually became the rage in Europe and later in the U.S. Today, hot air balloons are popular everywhere. Nearby city, Albuquerque, New Mexico, has the notable distinction of being the ballooning capital of the world.  
There have been many advancements made in ballooning over the years, but steering wheels aren't one of them. Pilots can control ascents and descents via the burners.
When the air inside the envelope or fabric bag is heated, the balloon goes up. To descend, the pilot allows the air to cool and the balloon subsequently becomes heavier than air. Once airborne, balloons just float with the wind. 
Though the pilot doesn't know exactly where the balloon will land ahead of time, he still has control over the landing. Our pilot had a general plan as he set out, but Mother Nature can be fickle, showing us that flexibility and adaptability are essential in the art of ballooning.
During our time in the gorge, the winds changed direction from their original course, forcing the pilots to alter their routes. They tried to land at one spot, but it proved impossible, so plan B was quickly put into place. We eventually touched down without issue in an open field covered with sagebrush.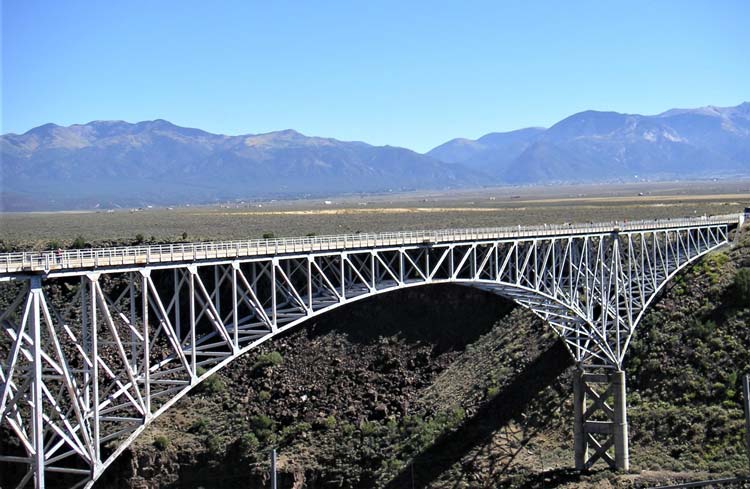 Celebrate Your Ride at the Rio Grande Gorge Bridge
After the ride, we drove over to the Rio Grande Gorge Bridge, the fifth highest bridge in the U.S. and a famous landmark in the state. At a picnic table overlooking this scenic wonder, we toasted to our success with "sunrises," a combination of orange juice and champagne, more commonly known as mimosas.
The pilots told us we had proven to be "brave and daring souls" during this adventure of a lifetime and they welcomed us into their elite group of aeronauts.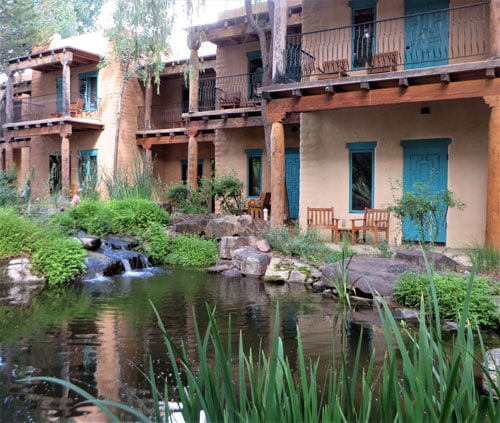 Plenty of Lodging Choices in Town and in the Ski Valley
Taos boasts a host of accommodations, from quaint inns and contemporary hotels to rustic lodges and cabins. On the luxe end, there's El Monte Sagrado Living Resort and Spa.
The hotel's décor is a creative meld of American West, Mexican, Spanish, Native American and Eastern influences, and there's beautiful artwork on display inside, as well as interspersed throughout the grounds.
The lush 10-acre property features an aquatic center with an invigorating salt water hot tub and pool surrounded by waterfalls, plants and flowers. The Living Spa, named one of the Top 100 U.S. Resort Spas by Conde Nast Traveler, is an eco-conscious rejuvenation center with an extensive menu of treatments that incorporate the use of wild-crafted indigenous plants, flowers and aromatic skin oils inspired by the high desert. 
If staying in the Ski Valley is your aim, The Blake, a popular property, has ski-in/ski-out and easy trail accessibility. Located in the center of the Village at Taos Ski Valley, this attractive alpine hotel boasts eighty well-appointed rooms and suites, along with a spa, swimming pool and restaurant.
For unique, off-the-grid digs, check out Earthship Biotecture, a company that specializes in eco-construction and sustainable living. There's an Earthship community outside of Taos and you can stay in a house made from natural and recycled materials, where water harvesting is practiced, along with the use of solar heating/cooling and wind electric power. 
Find more helpful information: www.taos.org
Author's Bio: Debbie Stone is an established travel writer and columnist, who crosses the globe in search of unique destinations and experiences to share with her readers and listeners. She's an avid explorer who welcomes new opportunities to increase awareness and enthusiasm for places, culture, food, history, nature, outdoor adventure, wellness and more. Her travels have taken her to nearly 100 countries spanning all seven continents, and her stories appear in numerous print and digital publications.