Editor's Note: Travel is complicated right now. Please check local regulations and location openings before you go. We share places, products and activities we recommend. If you make a purchase using a link on our site, we may earn a commission. This is an evolving story. Please visit resort websites for updated information.
In probably the most anticipated ski season ever since it abruptly came to a halt last March, Colorado ski resorts will be open for business this winter.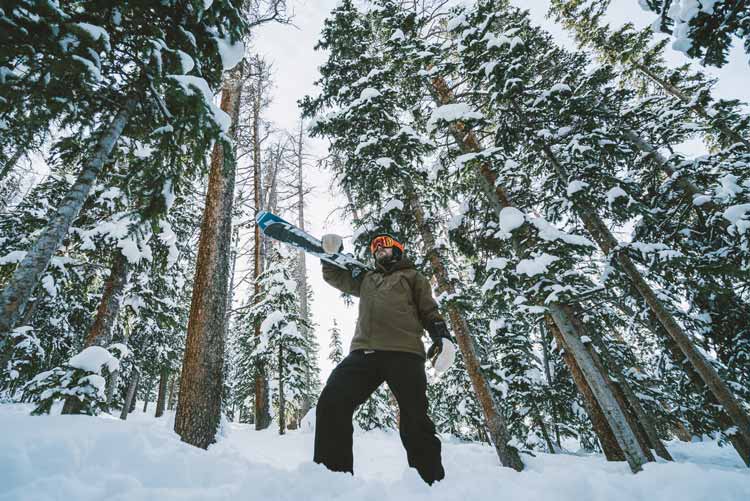 After months of cocooning in our homes, we are anxious—no, desperate—to be back on the slopes, breathing the fresh mountain air and sliding on snow.
The question is: in the age of COVID-19, how will we get on those slopes smoothly and safely?
When Will Colorado Ski Resorts Open?
First of all, ski areas have a leg up on other recreational venues. They offer wide-open terrain and inherent social distancing as skiers and riders avoid getting close to one another.
Where it gets tricky is in lift lines and on the lifts.
"Once we get people on the snow, everything will be fine," said Kent Sharp, CEO of SE Group, a Colorado-based international consulting firm in the mountain resort industry.
Sharp has been working with ski areas and National Ski Areas Association (NSAA) to figure out the right level of visitation and mountain capacity for a comfortable ski day during the pandemic.
Lifts and Lift Lines at Colorado Ski Resorts
The two sectors that are most problematic are lift loading and lift lines, Sharp said. Physical distancing will happen automatically in the queue due to tip-to-tail spacing of ski and snowboard lengths.
However, loading the lift will take a more concentrated effort. A ski area meeter/greeter will orchestrate the procedure, ensuring people ride only with their acquainted group.
The greeter will not pair up guests with people they do not know. Even a party of one will ride a chair alone. (Oh, the sacrilege! Remember how people in long lift lines would yell at someone who inadvertently ended up riding solo?)
Further, two unrelated singles will sit on opposite sides of a four-person lift; two related singles or two related doubles on each end of a six-person chair; or two singles on opposite sides of a large gondola cabin.
Find other open activities near the slopes in Vail here.
"Lift capacity will be lower and the maze might be a little longer," Sharp said, adding that skiers and riders will just have to take a breath and chill.
Once onboard, riding the lift provides continuous airflow as chairs, 50 feet apart, travel seven feet per second. High-speed chairs go about 17 mph and are about 100 feet apart. In closed cabins of gondolas and trams, windows and vents can be opened for fresh air.
Plan Ahead for Your Ski Vacation in Colorado
This year, planning ahead will pay off big time, and season pass holders win even more. To ease capacity, some ski areas have implemented a mountain access reservation system.
In a letter to guests, Vail Resorts CEO Rob Katz outlined how that will work at its five Colorado resorts: Beaver Creek, Breckenridge, Crested Butte, Keystone and Vail.
"As we evaluate the dynamics of our operations, we may decide that we no longer need the reservation system at certain resorts," Katz said. But until then, he believes it's the prudent thing to do.
Alterra Mountain Company, which owns Aspen, Snowmass, Buttermilk, Aspen Highlands, Steamboat, Winter Park, Copper Mountain, Arapahoe Basin, and Eldora, does not require mountain access reservations for its Ikon Pass holders at this time (keywords) but does require purchasing lift tickets in advance.
Each resort has its own pass and ticketing strategy. For example, at Monarch Mountain, you will have to reserve in advance only on weekends and the week after Christmas.
Getaway to Breckenridge, CO with these flexible cancellation vacation rentals from Vrbo!
Yes, it's confusing, as there is not a unified policy for all resorts. Most require advanced booking also for rentals, lessons and, at some areas like Copper and Eldora, parking.
Chris Linsmayer, the spokesman for Colorado Ski Country that represents 22 of the state's ski areas, said it is recommending a Know Before You Go slogan. He urges people to check individual ski area websites and social media channels for their COVID protocols, ticketing and parking requirements, and refund policies, and to plan ahead.
You can also visit ColoradoSki.com/COVID-19 for up-to-date information and tips, and vail.com for Vail Resorts. "Ski mid-week if you can," he urges.
Sadly, the Winter Park Express train will not run this season.
Be Flexible
Vail Resorts has had the benefit of learning what worked and what didn't at its Australian ski resort Perisher that opened last July.
"The most important thing we learned is planning for different scenarios and remaining agile so that we can adjust to changing expectations," said Pat Campbell, president of Vail Resorts Mountain Division.
In a Zoom conference sponsored by North American Snowspnorts Journalists Association (NASJA), she further stated: "We are committed to taking in the best information and expert advice and making sure we act on that. We need people to be flexible. That is going to be our theme."
Old School Skiing
I contacted my Australian friends, Roland and Sue Everingham, who skied at Perisher in late July. They said given the challenges, the resort and Vail Resorts "are doing a fantastic job." For the most part, they liked the changes.
"We skied Saturday, which is the busiest day of the week," said Roland. "But once out of the main area, there were no queues and lots of space. I told Sue it reminded me of skiing in the 70s!"
"Guests are encouraged to bring their own food," he said. "We arrived at 7:30 a.m. and a surprising number of people were cooking breakfast from the back of their trucks. The car park had a very happy vibe compared to the usual race for the lift line."
For other packing needs, don't miss out on Samsonite's end of the year sale:
Sale – Up to 50% off Luggage, Bags, and Accessories. Plus, take an extra 30% off with code EXTRA30.
If you skied in the 70s, you likely had picnics in the snow with cheese, crusty bread, apple slices and a bota bag (google it) filled with wine. Time to look in the attic for that old wineskin!
Mountain restaurants and lodges will limit occupancy and follow the same protocols we all got used to this past summer, such as spaced outdoor seating, cashless transactions and no bars.
In its "preseason" opening plan, Wolf Creek is scratching all amenities—including drinking fountains—and offering "the great outdoors in its simplest form" until further notice.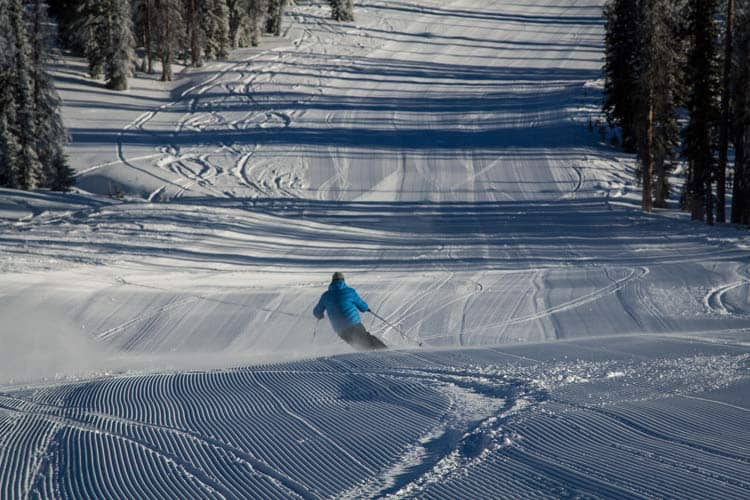 Wear a Mask
By now, everyone is trained to wear a mask when not social distancing; and of this writing, Colorado is under a mask mandate.
Face coverings, like goggles and neck gaiters, are standard gear for skiers and snowboarders, as are gloves or mittens (which will be required on lifts and shuttle buses.) Just remember to keep your face covering on when you go inside the lodge.
We suggest this bestselling mask for all-weather wear and with ski gear:
Copper Fit Guardwell Face Cover and Neck Gaiter
"Face coverings are part of the culture in our industry," said Kelly Pollack, president and CEO of NSAA, which developed Ski Well, Be Well best-practice guidelines for its ski areas.
The country's ski industry leaders established these best practices based on scientific guidelines from infectious disease experts, including the CDC and WHO. Ski areas will comply with additional federal, state and local regulations as they are implemented.
"Success for this season can only happen with close collaboration and partnership in each community," Pollack said.
Our mountain towns enjoyed great summer and fall seasons as they figured out ways to host visitors safely. Hopefully, that success will carry over to the winter months.
Here are the 2020 Opening Dates for Colorado Ski Areas:
Author's Bio: Claudia Carbone is an award-winning travel writer and member of Society of American Travel Writers, North American Travel Journalists Assoc. and Denver Woman's Press Club. Currently, her work is published in The Denver Post, Colorado Expression Magazine, London Sunday Telegraph's Hotelegraph, GoWorldTravel.com, RealFoodTraveler.com, MtnTown Magazine and The Villager Newspaper. Her blog Sleepin' Around covers any place you can sleep on vacation.