Sintra is Portugal's fairy tale land—a perfect little picturesque town in the mountains situated within the greater Lisbon region, about half an hour from Lisbon by car or 50 minutes by train. Even Lord Byron described Sintra as a "glorious Eden."
We—my wife, Nataliya, daughter, Nicole, and son, Alex—arrived by train from Rossio Station in Lisbon's Bario Alto, using the Rossio-Sintra route for only a few euros a ticket each way.
The town of Sintra, and especially the castles within it as you go higher up, are cloaked in mist and clouds. When it's clear skies, sunny and hot in Lisbon, it's cloud-spotted, breezy and cool in Sintra.
A short walk from Sintra's train station and you're in the old town area, complete with shops, cafes, and restaurants—not to mention the first of the palaces we saw: the National Palace of Sintra. But we decided to come back to this palace on our way out.
Pena Palace
We usually like to save the best for last, but in Sintra, we decided that going right to the top—and taking in the exquisite Pena Palace before it began getting overcrowded—was the best move. It's worth noting that this was not our first trip to Sintra, so we had a feel for the lay (or rise) of the land.
"Should we walk?" Alex asked as we looked above us.
"We can walk down," I said. "But we definitely don't want to walk up. We're only here for a day."
So, what is the best way to ascend to Pena Palace? Most cars and most busses are not permitted to drive on the winding roads leading to Pena Palace—only authorized vehicles with permits—so you have two options: walk, or hire a little vehicle or an authorized bus to take you up.
With four of us, it was actually more cost effective to hire a private driver in a little buggy than it was to hop on a bus. Zipping around the hilly mountainside roads in a four-seated vehicle reminiscent of a dune buggy was a fun way to travel, and our driver entertained us with frequent stops and commentary on the way up.
Along the way we got a nice tour of several other mansions and mini-palaces, including one that was featured in a Johnny Depp film (The Ninth Gate).
"From what I can remember," the driver cracked as though part of a regular routine with American passengers, "this view is more entertaining than watching the film."
Castle in the Clouds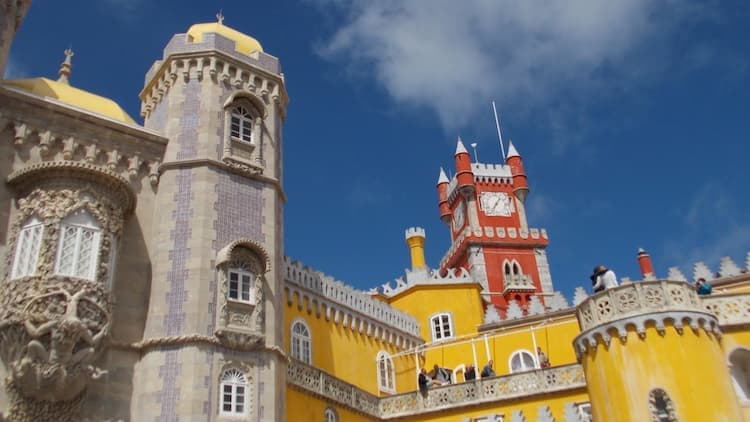 We arrived at Pena Palace around 9:30 a.m. and only waited five minutes in line. (When we left about two hours later, the line had increased tenfold.)
Pena Palace tops the highest peaks of the Serra de Sintra (or the Sintra Mountains). The Palace was the dream home of Dom Fernando II, the "artist King" of Portugal, husband of Queen Maria II and cousin to Prince Albert. Fernando began construction on the extravagant storybook palace in 1869. Construction concluded in 1885—the year of his death.
The grand yellow domed tower is home to the last king of Portugal's bedroom, Manuel II. His portrait hangs above the room's fireplace. But the best view of this tower is from the outside.
In fact, the most impressive views of Pena Palace are actually from the outside—from the front entrance, courtyards, walk-around balconies, and the area before and behind the castle that are only accessible after you enter. That said, a tour of the well-preserved interior is definitely worthwhile.
Inside, the castle is filled with oddities from around the world and mixes eclectic styles, including neo-gothic, neo-Manueline, neo-Islamic, neo-renaissance, and arabesque styles.
Even inside the palace, some of the best views are looking out of the tower and corridor windows at the spectacular scenery of Sintra: the surrounding gardens, the other palaces below, including the Morish fortress ruins. Undoubtedly, the ideal view is one of the main reasons the king wanted to build his dream house in this location.
Back outside, an entrance arch is studded with turrets, leading to connected sections of the palace painted yellow, red, and blue. When I looked up at the clock tower for the time, I half expected to see an imprisoned maiden let down her golden hair.
The mountainside palace is surrounded by a large park with trees, bushes, flowers. After our tour of Pena Palace, inside and out, we entered that garden.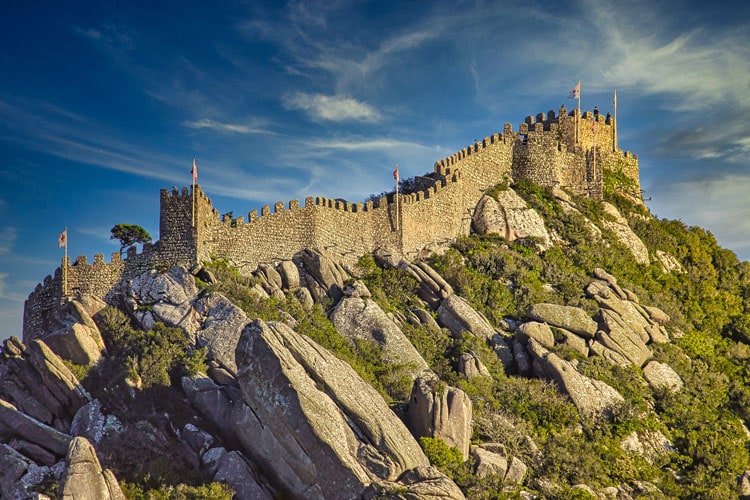 Descending to Old Town
From Pena Palace, we went into the trails in the palace garden and headed for the remains of the Moorish Castle from the 10th century, about 10 minutes away, which snake over the top of the Serra.
From the remnants of the castle walls, you can see Pena Palace on the nearby peak from another perspective.
What in some places may be the main attraction seemed more like a distraction in a place like Sintra, so after about fifteen minutes of exploring the ruins, overview, and landscape, we walked back into the wooded mountainside and descended the trail headed back down to town.
"This is like a regular nature hike back home," Nicole said.
"Only a lot more scenic," Nataliya added. Every few minutes along the wooded hike, we would come to a clearing that allowed breathtaking views of the palace above or the town below—the mountain and greenery in between.
Descending through the wooded garden, another pleasant half hour stroll brought us into lower Sintra, where another palace awaited.
Chimneys like Towers
The National Palace of Sintra dates back to the 14the century, built by Joao I on a site once occupied by the Moors. The most striking feature of the palace: the two conical chimneys rising high above the palace like the towers you might expect to see emerging from a castle.
Wide and heavy at the bottom, narrower at the top, the white chimneys were a sight to see. Aside from this distinct feature, the palace seemed unremarkable after Pena, with a plain gothic façade.
Inside Sintra Palace, the most interesting feature was the large kitchens beneath the enormous chimneys, which opened wide into large fireplaces for cooking royal banquets.
Sintra's National Palace is certainly worth a visit and is filled with tiled rooms, original furnishings, and antique household items—but if you only have time for one palace in Sintra, ride the rising cream to the top and visit Pena.
A Darker Palace
The nearby Quinta da Regaleira is a palace built between 1904 and 1910. Its gardens feature occult symbols and religious references, some of which are a mystery—statuary and stone benches carved with animals. The palace's façade is graced by gargoyles, capitals, pinnacles, and an octagon tower.
The "initiation well," an 88-foot deep "well" (never actually used for water) was built for ceremonial purposes and includes a winding spiral staircase of stone, featuring columns along the way and nine landings.
Each of the nine landings is separated by 15 steps, representing Dante's nine circles of hell, nine sections of purgatory, and nine skies of paradise.
The floor at the well's bottom is a mosaic compass in the form of a Knights Templar Cross—and legend has it that it was a coat of arms.
There are multiple paths, and which path you take is supposed to determine your fate. The well leads to an underground labyrinth. These tunnels connect the grottoes, chapel, waterfall lake, and Leda's Cave beneath the tower. The Initiation Well connects to other tunnels.
A second well, known as the "unfinished well," connects a series of ring-shaped floors, similar to the Pozzo di S. Patrizio in Italy—a likely inspiration.
"This feels like a scene from Pan's Labyrinth," Alex said as we walked in the shadows of the well's under-garden passages.
"Or a setting for one of your Clive Allen thrillers." Nataliya said what I'd been thinking.
Adding to the mystery of this unusual home: It was owned by a Japanese company for 10 years and shut up, until the Sintra government purchased it, renovated, and opened to tourism.
One wonders what may have happened during those 10 years, and what interest the Japanese company had with it. What might they have found within the grounds—and what might still be waiting to be discovered.
Whether traveling by train, bus, or automobile, you're likely to start and end your time in Sintra in the old town. On our way back to the train station, we stopped for a bite to eat—pork, fish, and beef—followed by some Sintra-centric pastries, including their version of an egg custard and a sort of almond and chocolate cookie.
Old Town Sintra's cafes, restaurants, and shops provide a nice gateway into and out of the city. We visited several shops and found both a local artist painting decorative tiles by hand, and a shop selling old ceramic tiles that came directly from some of Sintra's oldest buildings. Selling these authentic pieces of history in order to restore historic buildings with fresh tiles seemed like a worthy cause.
We took one last look up at the top of the mountain—Pena Palace looking down on us with a red, blu-gray, yellow glow—and boarded our train back to Lisbon.
If You Go:
Most people visiting Sintra are already on a visit Lisbon. If you're coming especially for Sintra, you'll still want to fly into Lisbon, make your way to Rossio Station, and take the Rossio-Sintra line to Old Town Sintra.
Most people make a day-trip out of Sintra and have accommodations in Lisbon. However, it is easy to find guest rooms, suites, and accommodations in Sintra. Two great sources for finding places are Booking.com and Airbnb.com.
Vehicles are a commodity in Sintra. Everything is within walking distance. Traveler's Tip: take an authorized vehicle up to Pena Palace—the highest point—and walk slowly down. It's a lot easier than starting at the bottom and walking up.
Plan even more fun by booking some unique Sintra adventures and expert-led tours through Bookmundi. Find more information and vacation packages here.
Inspire your next adventure with our articles below:
Author Bio: Eric D. Goodman is author of six books, the latest being Wrecks and Ruins, set in Baltimore and Lithuania. His Thriller, The Color of Jadeite is set in China. Learn more about Eric and his writing at www.EricDGoodman.com