Since moving from Germany to Southern California in April, visiting Seal Beach has become a regular habit for my wife and me. Seal Beach, California, which is also the name of the town, is the westernmost beach in Orange County just 20 minutes from our apartment in Carson.
Plus, it's only 20 minutes south of the better-known and always busy Long Beach. In contrast, Seal Beach is usually not too crowded, not touristy and has many affordable food options.
Furthermore, its shallow water makes it especially suitable for families with children or people that don't swim. It is easily possible to walk into the open ocean for about 30 meters without having to swim.
A Hot and Busy Day at Seal Beach California
One particularly hot day my wife and I set off to Seal Beach California. We expected a  high number of people, potentially causing a shortage of parking. Although we were planning on leaving early on Saturday morning, we didn't get to the beach until 11:30 AM.
As expected, the parking lot looked full but we tried it anyway. Luckily, we spotted a family packing up and were able to park rather quickly which is not often the case on a beautiful weekend.
We grabbed our essentials (towel, water, sandwiches)  and planned to return for the surfboard, beach chairs and camera if needed, depending on the conditions of the water.
Once on the beach, we sat down and enjoyed our delicious sandwiches while staring at the ocean. We just love the sound of ocean waves. However, today we were to be disappointed.
Best Tips & Tools to Plan Your Trip
We heard the voices of playing children, birds singing and distant sirens. What we did not hear was the sound of waves. This was because there were no waves, big or small. Simply no waves at all. The water looked more like a lake than an ocean.
My wife immediately regretted not bringing her stand stand-up paddleboard to use in these perfect water conditions. But at least it would be great for swimming. We finished our sandwiches and walked back to the car to get the rest of our belongings.
In the meantime, one of the friends we were waiting for joined us at the beach. The three of us were debating whether we should go in the water then or later. A decision that was soon taken from us.
Chasing Dolphins
Half an hour after meeting our friend, I was skyping with my parents back home in Germany to tell them about my new life in California.
Occasionally, I turned the camera around to show them the palm trees, some surfers or lifeguard jeeps passing by. Suddenly, I spotted something in the water. Definitely a fin, but which one? Shark or dolphin?
As soon as I focused on the area where I spotted the fin I saw many dolphins in the water. The absence of waves made it really easy to spot them.
Interestingly, the dolphins were not swimming or quickly passing by, they were just hanging out in the calm waters. There were a bunch of them playing together in small groups while others floated around separately, sticking their heads out randomly.
Turning the phone's camera once more to show the dolphins to my parents I told them that I would call them back soon. I then made my way to the water while drawing the attention of my wife and our friend. They followed immediately.
Ignoring First Warning Signs
A few seconds after spotting the dolphins, the three of us were in the water when my wife mentioned that something hit her foot. We didn't think too much about it. I started swimming towards a calmly floating dolphin that was only about 20 meters away from the shoreline.
At this point, I had tunnel vision and blocked out everything that happened around me for a moment. I swam calmly and tried to not scare the dolphin.
Although I got quite close, the animal moved a little further away. I was not sure where so I turned around to see whether my wife or our friend had spotted its movement.
However, something was wrong. The dolphin was not the only thing that suddenly disappeared. Neither my wife nor our friend was in the water behind me.
Luckily, I have good eyesight and spotted both of them back on the beach next to our towels and chairs. Feeling that something wasn't right, I swam back and made my way to my wife.
The Painful Stingray Encounter
 All I hear as I approached my wife was "I am in so much pain." I asked her what happened and she just pointed at her ankle while saying "I don't know, it hurts so much."
I took a brief look and spotted a small wound that looked very much like a bee sting. My best guess was that this could have been a stingray, but I didn't know for sure. And even if I was sure, I had no idea how to treat it.
I immediately made my way to the closest lifeguard tower. Luckily, I didn't have to go all the way, as one of the lifeguards was just passing me with a jeep.
They usually drive really slowly, which made it easy for me to walk up to the vehicle and approach the driver through the open window.
I was not even halfway through explaining what happened when he interrupted me by saying "most likely a stingray". He asked me about the location of my wife and told me to meet him there.
As already mentioned, the lifeguards drive extremely slowly along the beach (unless it is an emergency), so both the lifeguard and I arrived to my wife at the same time.
Also joining us at this point was another woman that seemed to have the same issue. The lifeguard took a brief look at my wife's ankle and confirmed that the puncture wound was, just as predicted, caused by a stingray. As was the wound of the women that joined us. But what now?
Treatment of a Stingray Wound
What followed was a very detailed and informative lecture about stingrays. First, the lifeguard called in the incident and requested an insulation bag containing really hot water.
My wife was told to put her foot inside this bag and to keep the foot as hot as possible for the next couple of hours (ideally above 40 °C / 110 °F).
Apparently, the venom protein, which was released by the stingray, is temperature sensitive and denatures under the influence of heat. We were told that following this advice strictly would lead to rapid pain relief.
With one foot inside a yellow bag (that had the word "stingray" written on it along with some outlines of stingrays) my wife limped towards the lifeguard van, sat on the cargo area of the jeep and got a ride to our car.
My friend and I followed the car slowly, carrying all our beach gear. On the way, we met the fourth person of our group who had finally arrived. We told her about the incident.
Nevertheless, she said she would quickly put her feet in the water and then meet us at our house. We arrived at the car to find my wife still in a lot of pain. As we hurried to pack the car and get her home her cell phone rang.
Remember that friend that just arrived and quickly wanted to put her feet in the water? Well, she did manage to put her feet in the water. She also managed to get stung by a stingray.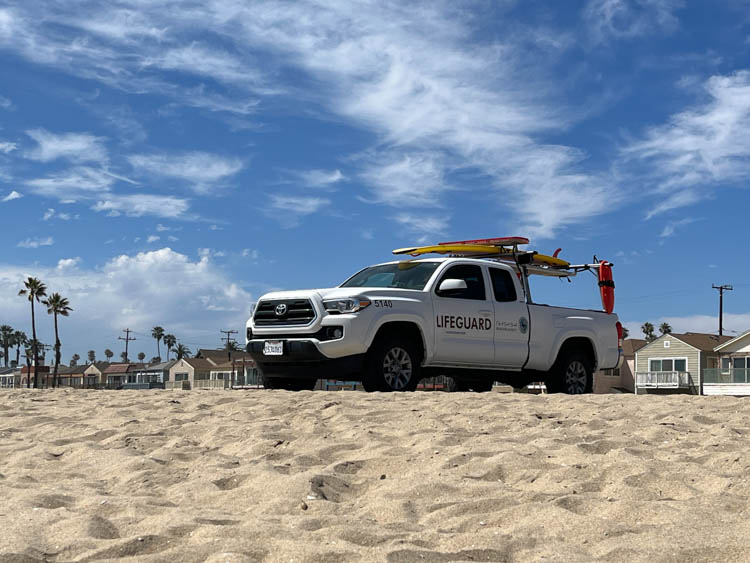 So Many Stingray Victims
Within 30 minutes, 2 out of 4 people in our group fell victim to stingrays. We had also seen a person walk past our car with a yellow "stingray bag" around his foot.
At this point, it felt a bit weird. There were not that many people in the water so statistically, this meant that the shallow water must have been full of stingrays.
The lifeguard was still next to our car, so I asked him what he thought of this situation. He told me that stingrays love warm water. Accordingly, the combination of the hot weather and the absence of waves created the perfect environment for them. While telling us that this was not an everyday situation, he was called to help out another stingray victim.
The four of us drove home and enjoyed the rest of the day at the pool area of our apartment. Some with and some without yellow plastic bags around our feet.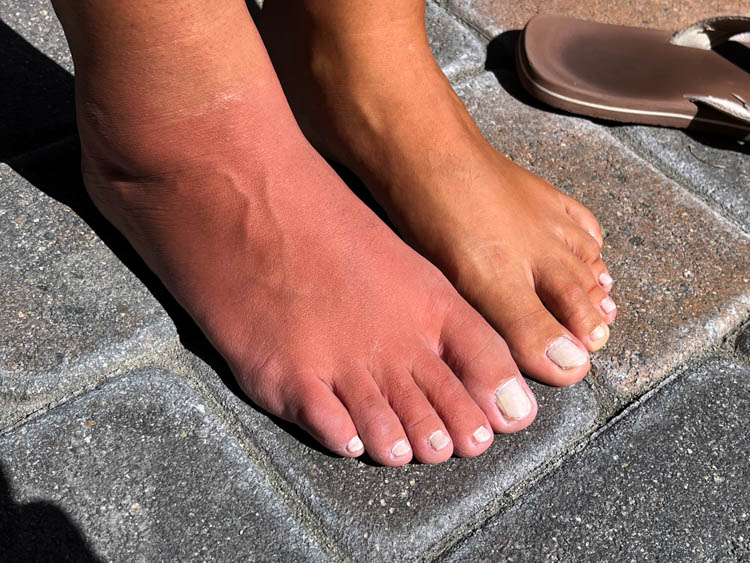 The Day After
Although the lifeguard told us that the area around the puncture wound may get infected or feel sore for a few days, my wife was perfectly fine the following day. This was probably since she took the "keep your foot as warm as possible" advice seriously.
We decided it wasn't too late to continue the beach weekend we intended to have, so we returned to Seal Beach California. On arrival at the official parking lot, we immediately saw a warning sign that we must have missed the day before.
Besides warning of various beach hazards, such as strong breaking waves, rip currents, or underwater objects, the sign lists stingrays at the very top. To be honest, even if we had seen this sign, we still would have gone into the water. These signs are placed on almost every beach in southern California.
We passed the sign and walked over to the lifeguard tower. I was curious to hear more about yesterday's stingray situation. I told the lifeguards about what happened to my wife and our friend and wanted to know how many people got stung in total. The response was shocking. By the time the lifeguard tower closed, 62 cases had been reported.
The lifeguards also told us that, considering the short time frame during which all the incidents happened, this was a new record.
It now made sense that the nickname of Seal Beach in fact is "Ray Bay". Although there were signs pointing out that stingrays represent a general hazard, the rate of accidents was never that high.
We immediately thought of all the children that we saw playing in the water. Some of them running, some even submerged with their faces in the water. Luckily, nothing really bad seemed to have happened. Hopefully, it never will.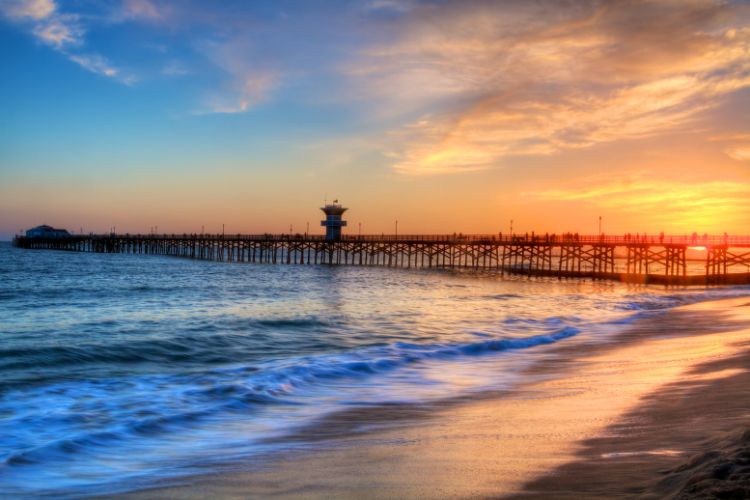 Still Want to Visit Seal Beach California?
Seal Beach California is a perfect place for those who want to explore the typical beach life of southern California without the presence of too many tourists.
Whereas its two main neighboring beaches, Long Beach and Huntington Beach, are cluttered with tourists, Seal Beach is rather untouched and remains an inside getaway for locals.
When I say "untouched", I don't mean that there is nothing to do. In fact, there are shops and places for everything. Just not as many as elsewhere along the coast.
For example, you can rent bikes at Main Street Cycles to explore the area. If you are into surfing, Inflight Surf Shop offers all kinds of rentals, such as wetsuits and bodyboards.
One of our favorite places for a quick break from exercise or sunbathing is Bogarts Coffee House. This place is known for its Hawaiian shaved ice and often has live music acts. Also, make sure to take a short walk on Seal Beach Pier to see some pelicans and maybe even some wild dolphins.
However, if you are planning to go inside the water, pay careful attention to the surrounding circumstances and watch for stingrays.
If the ocean is somewhat wavy close to the land where you enter the water, you should be okay. We learned that it becomes more likely to encounter stingrays with calmer water and hotter weather.
One way to be on the safe side is to shuffle your feet. This is also called the "stingray shuffle." What this means is that you should not move through the water with actual steps.
Instead, put your feet on the ground and drag them forward as you are moving. This way, the animals will feel the vibrations of your feet and have a chance to swim away (as compared to walking and stepping on them).
I hope that some of you still find your way to this beautiful and calm place and that you stay safe.
Book This Trip
Start planning your beautiful beach vacation to California today. Get prepared with knowledge on the best little beaches, hotel and VRBO accommodations, local restaurant favorites and more through TripAdvisor and Travelocity.
Plan even more fun by booking some unique California activities near Seal Beach, skip-the-line tickets and expert-led tours through GetYourGuide. Find more information and book your dates in advance here.
For exclusive flight deals, car rental reservations and vacation packages, check out CheapOair.
Author Bio: Thomas Später is an experienced backpacking traveler that specializes in adventurous trips around the globe. He has traveled to remote and exotic places, such as Namibia or Mongolia and focuses on landscape and wildlife photography to share the beauty of our planet with others. In 2021, Thomas published a (German) book about Overpopulation and overconsumption (Die Überbevölkerung). With his awareness of current global issues, he uses his travels to support particularly local hotels and restaurants to raise awareness for the nature and culture of his destinations.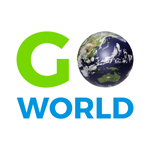 Latest posts by Go World Travel Magazine
(see all)