Go World Travel is reader-supported and may earn a commission from purchases made through links in this piece.
"Buy a dog," they said. "It will be fun," they said. "Dogs need company," they said. "Two dogs are no more trouble than one," they said.
What they didn't say is you'll love your dogs so much you will worry about them when you go away. We decided to try and solve that by hiring an RV for a few days and taking the pooches with us.
Our dogs are Golden Retriever brothers – Albus (two) and Harry (one). They are very affectionate and lazy – one walk a day is enough. They're also great at cafes.
Our dog training skills are not high, but we must go to a lot of cafes as they behave very well there. They don't like the heat and they drop a lot of hair. A LOT!
Taking a Break and Seizing the Day
We are in our mid-fifties and have recently sold our business and are taking a break. My Husband (Andrew) thinks the break will be permanent. I am not so sure. However, we both agree that, with the business gone and our children all finished school, this is the time of our lives to travel as much as we want.
We live in Melbourne, Australia. Melbourne is a wonderful city, but it does have an unwanted crown. It is the city with the longest time locked down due to COVID in the world. Those interminable lockdowns brought into focus that we needed to "seize the day." "Adventure before dementia" as the saying goes.
Best Tips & Tools to Plan Your Trip
Our adult kids live at home, so leaving the dogs should be easy. But adult kids don't like to be tied down (ours don't anyway) and two, big dogs are a responsibility.
Our dogs are also spoiled by someone nearly always being home. So, they are known to misbehave when they are left alone for long periods. Whoever said you needed cushions on a couch or TV remote controls anyway?
Exploring Travel Options With Dogs
We are exploring options of travelling with the dogs by road. The first trial is an RV (or, as we call them in Australia, a motorhome). We thought that a caravan was too much hassle for a trip of only a few days.
This proved to be right. Towing and unhitching for a holiday of only four nights would have been too stressful for van life beginners.
Albus and Harry are well used to the car. Of late, though, they have started wandering towards the driver's seat whilst we are driving. So, we bought doggie seat belts. The last thing we needed was two, thirty kilo dogs jumping on our laps whilst hurtling down the highway.
Hiring an RV
We hired a 2019 Knaus by Avan luxury motorhome and organised a pick up and hand over. One tip – we opted not to pay for a cleaning. This meant that we spent a few hours cleaning the motorhome (mainly vacuuming up dog hair) so think about that. Not the best way to finish a holiday, especially one of only a few days.
The owners of the motorhome were super organised and had prepared short YouTube videos about all aspects of the motorhome. We watched them before we picked up the van.
We also had a very thorough handover of about an hour and a half by our motorhome owner. By the end, we felt that we knew what we were doing.
Having not thought about leaving our car on the host's street, Andrew took the wheel of the motorhome and followed me in the car back to our house.
If you are comfortable with leaving your car on the host's street (and this is allowed), it might be a better idea to do. It was a bit daunting for Andrew to drive a 7.62m (25 feet) long motorhome unassisted. Luckily he is used to driving a big 4WD and towing boats and is confident with towing. I would have been way too nervous.
The advantage of coming home with the motorhome was that we could see what supplies there were. Also and what storage there was and pack accordingly.
Our First RV Test Run
Once we were packed up and had the dogs belted in, we took off for a pretty country town called Bright – about 3 and a half hours drive away. We had not been to Bright for years and felt it was far enough to feel like a holiday but not too far that we couldn't come back easily if the trip was a failure.
Another tip – we intended to stop for groceries when we arrived at Bright but, at the last minute, we decided to take ingredients for a basic pasta and some drinks. Just as well because, by the time we set off and were delayed by traffic and roadworks.
It was after 7 pm when we arrived at the caravan park. It was much easier to pull up at that time knowing we had dinner sorted.
Whilst it was still light, we connected our water, grey water runoff and power, turned on the gas and set up our table and chairs. Easy peasy.
Andrew had come prepared and stocked "the garage" of the motorhome with all manner of things including a firebox that had a grill on it. Some caravan parks (including the one we were staying in) allowed open fires so we cooked our pasta over the fire. The dogs had to stay on a lead, but they were happy to be with us.
Space and Size Matters
I am claustrophobic (worse as I get older for some reason and worse in the dark) and I was worried about sleeping in a small space with two dogs. Sometimes, I wake up "panicky" and need to get up and walk around for a bit.
I knew I couldn't do that when the dogs were sleeping in the motorhome with us, and I was worried that even getting up would wake them and set them off barking. Not what you want in a caravan park.
Luckily, we were travelling in a quiet time and we were not hemmed in by others. But I didn't love sleeping in the motorhome. I kept my window open all night and I needed to keep the light on in the toilet. Poor Andrew is used to my "issues" so had packed a sleeping mask but not ideal. Lesson for us – I need a bigger sleeping space.
In this motorhome (model SUN TI700 LEG), the bed is elevated as it sits above "the garage." The garage was a great bonus – it stores a washing machine, table, chairs and all manner of toys that you might want to bring. The negative was that it made the bed area smaller. You need to decide what works for you.
There were only three other negatives of the motorhome – it was cramped for two adults and two big dogs, the lounge seating wasn't spacious enough for us and it was noisy whilst driving. The first two are personal choice but the noise surprised us.
If we wanted to have a conversation whilst driving, we had to turn the radio off and raise our voices. For a 2019 motorhome, we thought that was odd.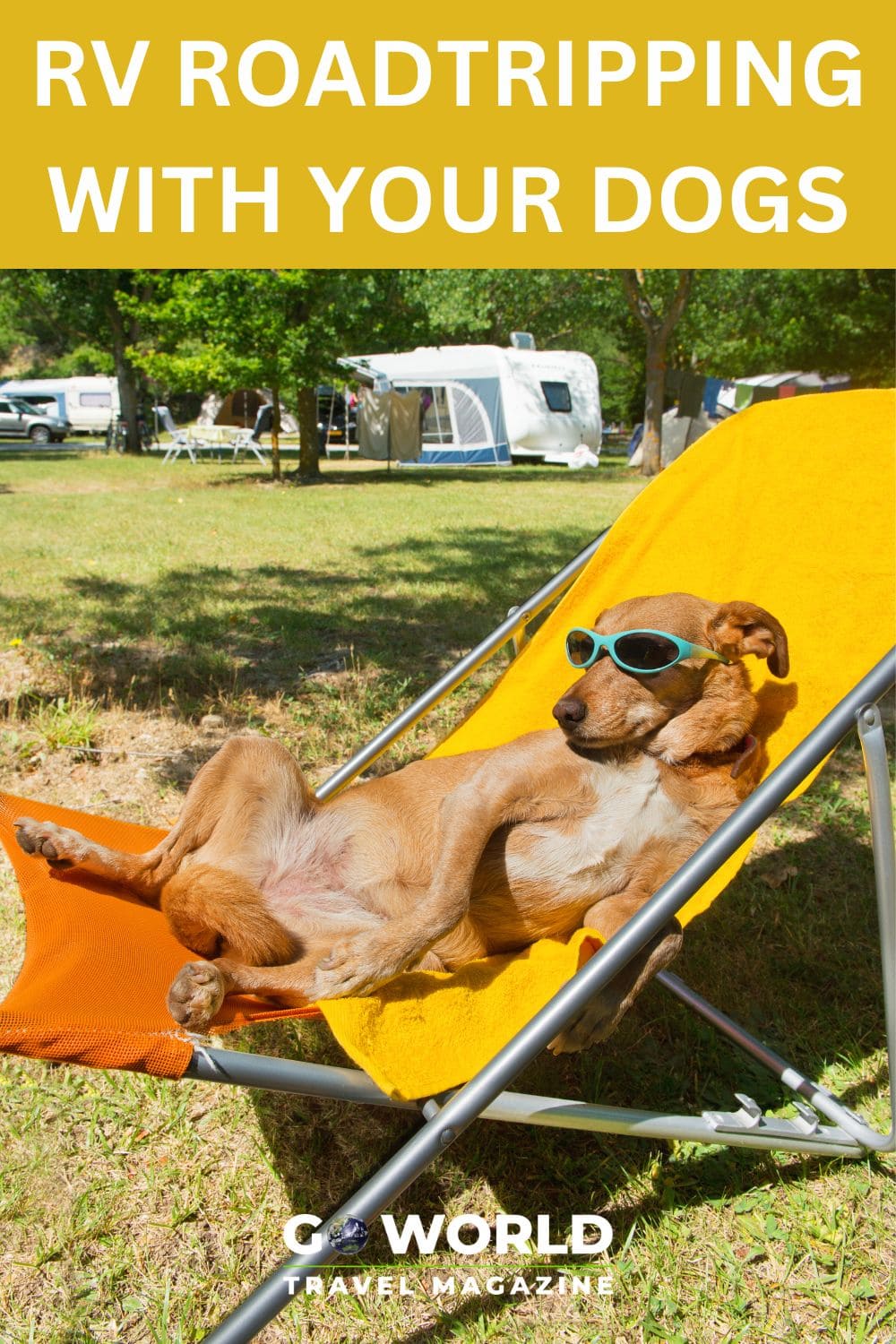 The Upsides of Our RV Experience
Enough with the negatives, though because the positives outweighed them. The motorhome was clean as a whistle, very well-equipped and schmick. Everything was so smartly designed.
From the screens across the windscreen to the combined privacy and fly screens to the toilet door which closed off the entire bedroom and bathroom area. Plus, the driver and passenger seats swivelled into armchairs for watching the TV, everything was compact and clever.
We spent our few days wandering in country Victoria including a visit to a fully fenced dog park.
This was another surprise. We had not given any thought to the fact that our big dogs would be on leads every time they were outside the motorhome (all hours except when they were sleeping.) They were even tethered to eat. We felt that this was cruel and will try a cabin or a caravan in a more dog-friendly environment next.
Lessons Learned
We learned to pick a shady spot in the caravan park as the summer heat beating down is a killer. Also, you don't always have WIFI and caravan parks are full of happy, friendly people who are loving life.
In addition, we learned that caravan park facilities are super clean (shame on me for assuming otherwise) and that motorhoming equals freedom. We enjoyed the convenience of having everything with us and unpacking once.
We also learned that three full days is not enough to get in the groove, that a motorhome is tricky to park and that two, big dogs probably need more space than a 25-foot motorhome provides.
­Author Bio: Leonie Jarrett lives in Melbourne, Australia with her Husband of 3 decades, her 4 adult children and her 2 Golden Retrievers. Leonie has variously been a lawyer and a business owner. Now that she is semi-retired, Leonie is loving writing about her life, her travels and her experiences.