Sass, party of four. That's us. Although recently, we adopted a fifth honorary family. Her name is June, and no, she doesn't have a tail. She does, however, have four wheels, two comfy beds, a bathroom with a cassette toilet and a kitchen complete with a fridge, cooktop and sink.
June – a purebred Winnebago Solis – also has hot water and a high-efficiency propane furnace. We may be biased, after all she's family now, but we think she's the best campervan for a Colorado vacation.
Half-house, half-vehicle, June is a whole lot of fun. We recently rented her for a weekend trip to Pearl Lake. This picturesque state park is about 180 miles northwest of Denver where we picked up June from Titus Adventure Company.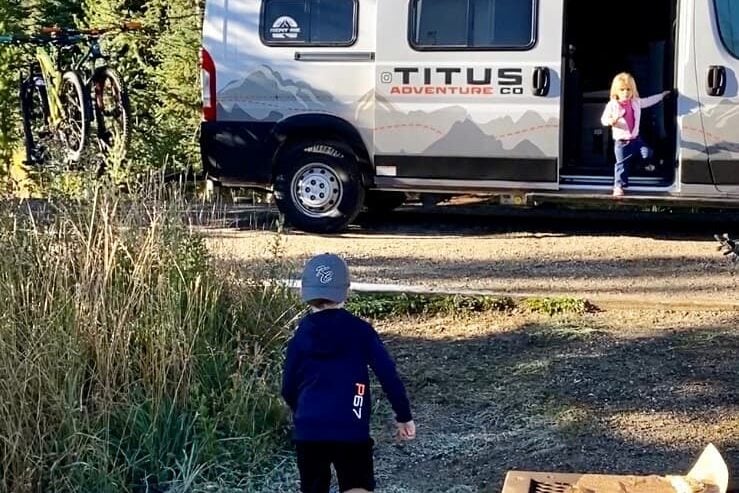 Our two little kids, who normally ask "Are we there yet?" before we even pull out of the driveway, almost didn't want the three-hour road trip to end.
Traveling With June Was Different
In a normal car, which just takes you from point A to point B, they would have gotten restless. But in June, where we'd be staying and cooking our meals for the next three days, it felt like we were already having an adventure.
Even my husband TJ and I enjoyed the drive. Our SUV has never been a head-turner, but June? She got plenty of attention – the good kind – and it was neat to see how many people were curious about van life.
Of course, we weren't using June as our primary residence. We were using her to go camping. Normally, we tent camp so this was our first time in a campervan. (Knowing what we know now, it won't be our last.)
As much as I love camping, I dread all the packing that's involved. But with June, everything from sleeping bags to silverware was already loaded and in its proper place. Since we treated ourselves to the Deluxe Camping Package, we were even more spoiled.
Among other things, the package included a propane fire pit and propane tank for outdoor cooking, a Bluetooth speaker for dance parties under the stars and Yeti water bottles which TJ and I were really excited about. (We got to keep them, and they're not cheap!)
The kids, meanwhile, were thrilled to learn our package came with something they deemed critical to surviving any camping trip: S'mores supplies.
There Were Different Packages
Titus Adventure Company also offers a cool biking package. Basically, it's BYOB (bike). Everything else, from pumps to tools to bike racks, is all included. While TJ and I definitely now see a campervan MTB vacation in our future, we also know that winter is coming.
Fortunately, Titus Adventure Company has cold-weather add-ons including ski racks, snowshoes and even sleds that all come with your vehicle of choice. For spring and summer fun, add-ons include standup paddle boards and packrafts.
Of course, for our first trip with June, we just focused on enjoying each other's company. And since set-up and clean-up was so simple and fast, we logged tons of quality time together. Normally when we tent camp, it takes at least an hour (and maybe a bribe or two for the kids) to get everything unloaded and assembled.
But this time, we didn't need to worry about arriving at the campsite after dark. We just pulled up, parked and whipped out the propane fire pit. Within minutes we were roasting marshmallows and playing I Spy: constellation edition.
Come bedtime, we all appreciated having a bathroom in the van and water for brushing our teeth. It's never fun fumbling around for a flashlight and trying to find campsite toilets (or suitable trees) at night. And unlike tent camping, we didn't need to inflate sleeping pads or air mattresses and worry about finding level ground.
Alena and I slept on the main bed, a comfy queen-sized mattress with plenty of storage space underneath. Everett and TJ slept up top in the pop-up sleeping area. Their bed took 30 seconds, max, to set up.
Within minutes, we were all fast asleep with the peace of mind that comes with knowing you're not going to wake up cold or wet (something tent camping can't promise).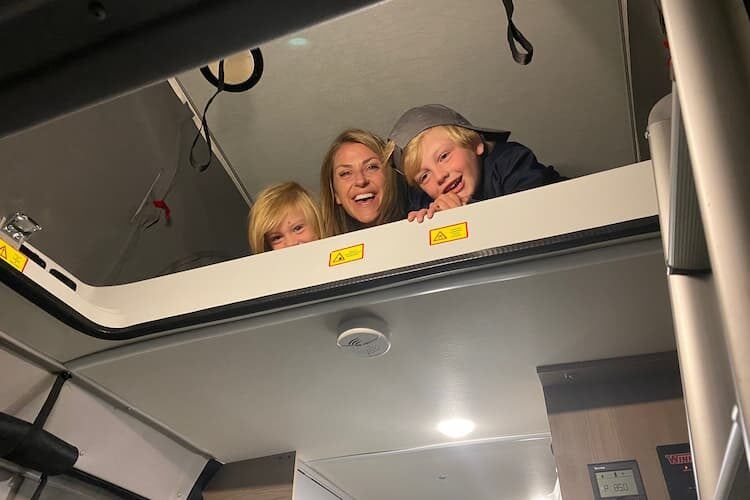 The Amenities Came in Handy
In the morning, we took advantage of June's compact kitchen and made coffee and eggs on the stove. But as good as our breakfast was, it couldn't compare to the beauty outside. That was definitely the best part of waking up.
In fact, with June's back doors wide open, we could all stay in our PJs and lay on the main bed taking in the incredible lake views. When we finally left camp to hike, we liked not having to worry about our stuff being out. It was already safely stored in the van.
As much as we wanted to adopt June – she's basically the ideal four-season, mobile homebase – and make her a permanent member of our family, eventually we had to return her. It wasn't easy. (A tear or two may have been shed.) But we did it. Of course, saying goodbye was easier knowing we could always rent her again. (And we will.)
Wanna go with a pro?
Titus Adventure Company also offers guided overland trips in Colorado. Leave the hard work to the experts and just enjoy the ride on these four-day, 4×4 safaris exploring the state's best backroads. Trips run year around and can accommodate up to 10 guests.
Inspire your next adventure with our articles below:
Author Bio: Living across Europe and South America unlocked Carri's passion for traveling. Never shying away from a new adventure, whether swimming with the pigs in the Bahamas, bird-watching in the Galapagos, or heli-hiking in British Columbia, you never know where you will catch Carri next. She resides in Colorado between freelance trips with her husband and two kids, where they enjoy hiking, mountain biking, and skiing. You can catch her adventures at CatchCarri.com