Oberammergau: Small Town with a Passion
Not far from Garmisch-Partenkirchen, we drive to the village of Oberammergau. This little town keeps its promises. In 1634, bubonic plague swept through the village. The inhabitants promised God that they would perform a passion play every 10 years if they were spared. After that, not one citizen died of the plague – and they have been performing the play every decade since then. (The play takes place on years ending with 0.) Oberammergau is small, yet half of the town takes part in the play – some 2,000 people.
Unfortunately, we're not here during play time, but we still enjoy the town. Oberammergau has a scenic alpine setting, and its narrow streets are lined with homes painted with Lüftlmalerei (wall frescoes that tell a story). The town is famous for its woodcarving, and has almost 50 woodcarving shops today. I find a hand-carved Christmas ornament for our family tree. It will be a tiny, but strong remembrance of our time here.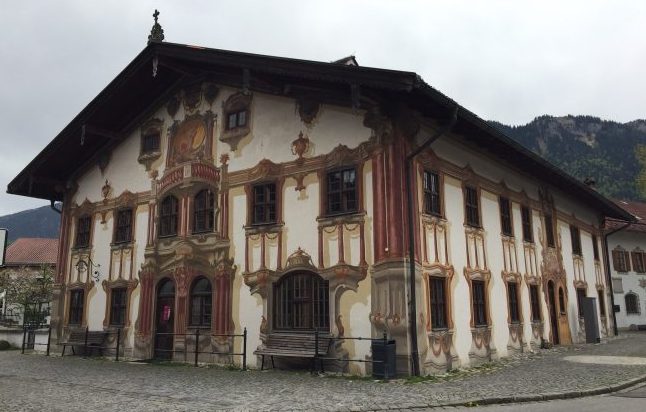 Oberammergau is a walkable town, but all this exploring can make a person hungry. We stop at one of the many outdoor beer gardens in town for a huge schnitzel and a beer. I'm not a huge beer drinker, but in Germany, it only seems right to sample the local fare. I've come to like Radlers, a German drink which is made of half beer and half Sprite. In the heat of a summer day, these really hit the spot.
Beer isn't the only thing I like in Germany. Later we tour the basilica at Ettal Monastery, and then stop by the monastery's Schaukäserei (show cheese factory). Not only do we get to watch how cheese is made, but we sample four different varieties of cheese. Delicious!
Aristocratic Heritage in Germany
Germany's royal heritage runs deep, and no visit to the country would be complete without a stop at a palace or castle. In the beautiful Ammergauer Alps region near the town of Ettal, we stop at Linderhof Palace, a summer place built by King Ludwig II of Bavaria in 1878. We spend the afternoon exploring the palace, where we take an informative tour led by a guide with a fun sense of humor, and then hike up into the gardens. We even take a tour of the palace Grotto. The King built an artificial stalactite cave where Richard Wagner's operas were performed just for him.
Continued on next page