"Some listen to baseball on the radio for the analytics, there are some who like it for entertainment, and some who like it for company." – Dodger broadcaster Tim Neverett
My son Harrison and I looked down from right field, upper deck reserve seats watching the Los Angeles Dodgers slapping hands and celebrating a 5-3 win over the San Diego Padres in the first game of the best-of-five-game National League Division Series.
Randy Newman's hit song "I Love L.A." was playing amidst the crowds cheering at Dodger Stadium – as it does after every win. The Dodgers notched a team-record 111 wins in the regular season, including many wins over the Padres, so their victory in the first game of the Major League baseball postseason was not unexpected. What was unusual was the light, misty rain blowing across the ballpark lights in the Los Angeles night sky.
Harrison, getting a little wet, pointed out it hadn't rained in the arid City of Angels in a long time. "Can we get going, Dad?"
I found the rain eerie, and it provoked me to consider that anything can happen.
"Let's give it a minute to soak it all in," I said, aware of the pun but referring to the victorious scene on the field. "You know, it's the only win we're really guaranteed. You never know…it might be our last game of the season."
He nodded and acknowledged my point, but nobody really thought four days later, on a rainy night down in San Diego, the Padres would beat the mighty Dodgers dragon a third-straight time and knock them out of the Word Series chase.
My cautioning admonition that night in right field proved prophetic. It turned out Harrison and I had actually been witnessing the final time the Dodgers would win. And it was the last game we'd experience together that season.
And it was a lesson to make "tomorrow now," because in life, no matter the logic of what you anticipate, tomorrow is not guaranteed.
Those "bucket list trips?" Take them now. Or at least plan and book them now. The Virtuoso Travel Network advises making a "Wanderlist" at Virtuoso.com
Baseball and Bonding
My 26-year-old son Harrison moved from the University of Michigan to Los Angeles to attend Southwestern Law School after his undergrad in Ann Arbor. On my first springtime visit to see him, we attended a Dodger game because I'd always wanted to see scenic Dodger Stadium. I remember first laying eyes on the beautiful ballpark when walking up from the Sunset Gate area of the parking lot. It was colorful and retro and cool with palm trees interspersed and views of both nature's mountains and cityscape of downtown L.A.
It was April of 2021 – the first season fans were allowed into games after the pandemic, but seats were still separated by a zip-tie around alternating seats so no one could sit directly next to anyone in the open air. As Harrison and I clamored into the row of our seats, I immediately broke the zip-tie to free up the seat so father and son could sit beside each other enjoying a Dodger Dog and a can of Estrella Jalisco while we watched the game and caught up on conversation.
It was early season quality time.
Take the Field and See It for Yourself
On a subsequent visit, while Harrison was in class, I took the Dodger Stadium Tour, which, for $50 dollars, was a top-quality experience that is available even in the off-season (as is the official team store full of souvenirs and apparel. I confess to now being fully outfitted!)
The guides go everywhere in Dodger Stadium as they lead small groups into places players only go – onto the field, into the dugout and clubhouse where the lockers and workout areas are. Tour guests see the inner sanctum lined with a tunnel of golden gloves. As a media member, I enjoyed the tour's access to the Vin Scully Press Box.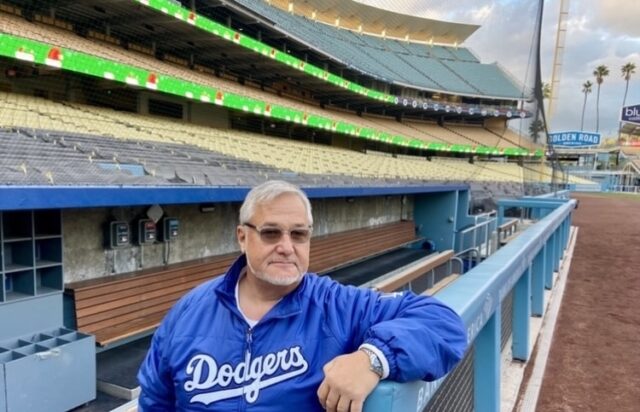 The stadium itself has many museum elements to it, including a pile of the actual crates used to move the team out from Brooklyn where Major League Baseball's first team west of the Mississippi initially played in the Los Angeles Coliseum. Guides explain the somewhat sensitive story of how the current big ballpark was built at Chavez Ravine. I learned the thoughtful reason the levels of seats are different colors, and how the innovative owner Walter O'Malley designed part of the stadium for drive-up fans like a theater.
"I loved pitching in Dodger Stadium," All-Star-turned-broadcaster Lary Sorenson told me. Sorenson's journeyman career found him taking the hill for seven Major League teams. "Dodger Stadium was always remarkably clean. And you had the show-biz element to it. We got to attend celebrity parties because some of the players shared agents with movie stars."
Questions and photos during the Dodger Stadium tours are encouraged. It's an experience I'd happily pay for again.
These mounting experiences began to deepen my Dodger fandom.
If You Broadcast It, They Will Come
When I was back home in Michigan or on the road broadcasting my radio show or covering travel destinations, it occurred to me that I could listen to local Los Angeles games via streaming audio on the Dodgers Audio Network. I realized this gave me an opportunity to bond with my son Harrison from afar. We'd done something similar when he first moved west by playing Madden NFL games against each other long-distance via Xbox. When we played Harrison always wanted to simultaneously connect on the facetime camera. I suspect he enjoyed watching me grimace in angst every time he intercepted my pass attempts or beat me with a bomb touchdown pass.
Now we could attend Dodger games together virtually via radio listening. And, I will admit, by betting on them.
Vamos Los Doyers!
The first time I tried listening to a game online was during the final few games of the 2021 postseason when I happened to be at Casa de Campo, the famed golf resort in the Dominican Republic. The resort provides personal golf carts, and I recall driving back from a Mexican dinner at Altos de Chavon with my smartphone pressed to my ear.
Harrison, who took Spanish classes and, during his undergrad, chose a term of foreign study in Spain, told me he tuned into the lively Spanish language Dodger games called by Jaime Jarrin. Jarrin had called the games on radio since 1959 while his counterpart and mentor, Vin Scully, broadcast from the next booth even longer. Scully, who also called television, retired in 2016.
Charley Steiner, a former ESPN anchor, joined the Dodger broadcast team in 2005 and is the current play-by-play announcer along with color commentator Rick Monday, a former player with a deeper, crystal clear, commanding voice. I find Steiner's delivery to be garrulous and declarative with lots of thoughtful detail and culture references. He is truly "writing out loud."
Tim Neverett, a very pleasant "listen" with lots of baseball broadcasting experience gained through stints with the Rockies and Red Sox, calls the road games with Monday and has his own cool catchphrases such as "the bases are full of Dodgers."
My subsequent listens were often late since I was in the east where "first pitch" out west often wasn't until after 10 p.m. That made it a "short sleep" for me since my own radio show started at 6 a.m.
Going "All In"
I started listening to the 2022 Dodger season beginning with April's Opening Day. Harrison may or may not have been listening, but I felt hearing Steiner talk about the beautiful game time weather and temperature in Southern California gave me a little connection to the lifestyle my son was living.
At some point during that chilly Spring in Michigan and sunny skies at Dodger Stadium, Harrison and I figured we could bet on select games and have a little action going. This is when the real collaboration began, as we caucused on whether or not to bet the "money line" or the "run line" before each game, or whether a low return on "investment" or risk level made it, as Harrison would say, a "no-touch game" and we would lay off.
"Let's agree to never force it," Harrison said.
The betting was a good deal for him. If we lost the bet, I paid up. If we won, he got to keep the money. I paid; he collected. As a law school student and son, he bore none of the risk. No downside.
We rarely lost…and neither did the Dodgers.
Daily Devotional
I listened to game after game as April progressed and at some point, after I sensed the "appointment listening" piling up, I decided to go "all in." What would it be like to listen along to an entire season of 162 Dodger baseball games? I planned to go for it.
Sometimes the timing of the games was convenient. Sunday games were almost always played in the afternoon, so frequently I could listen at 4 p.m. eastern time while I drove across Michigan back to the capital after visiting my mother in Detroit.
The Dodger Audio Network helped my health, too, as I got thousands of steps listening while walking along the Detroit River or through the Trenton Art Fair or to dinner and back.
I even listened when I happened to find myself in other ballparks that season, including home games for the Detroit Tigers; Colorado Rockies; Lansing Lugnuts; Erie Seawolves; and Portland Seadogs (where Dodger star Mookie Betts got his start.)
Radio Daze
By listening to the almost daily Dodger games, I began to experience the ebb and flow, and even the monotony, of a baseball season that slowly developed the arc of a storyline.
The Dodger radio broadcast troika of Steiner, Monday, Neverett, and Jose Mota, who mainly worked the Spanish-language broadcasts but moved over to fill in when needed. Steiner missed a few games, for instance, after testing positive for Covid-19 in May. Mota is the Dominican-born son of longtime Dodger player and coach Manny Mota.
The Dominican Republic was the first, but certainly not the only destination, at which I listened to the Tim Cates-hosted "Dodger Talk" pre-game show and call of the games on the online Dodger Audio Network. I heard the streamed AM 570 LA Sports playing its' Southern California commercials for the likes of Sweet James Accident Attorneys; Daniels Jewelers ("where you diamond dreams come true"); In-n-Out Burger ("what a hamburger should be"); Shakeys and Chevy ("find new roads") and more.
And, at gametime, I would hear the voice of the retired, yet beloved, longtime Dodger broadcaster Vin Scully pronounce proudly: "It's time for Dodger baseball!"
Location Listening
I wonder what the Venetian people on the veranda at Hotel Londra Palace along the Grand Canal thought when they overheard me listening to an American baseball broadcast instead of a Vivaldi arrangement?
The poolside people in Belize at the Sirenian Bay Resort and Villas heard and saw me swim through the first game of a double-header.
I was outside the famed Zingerman's Deli in Ann Arbor in an April shower listening to learn if Clayton Kershaw could pitch a perfect game. Once inside I dropped my Tarb's Tenacious Turkey Sandwich on the table when I heard, through my headphones, that Dodger manager Dave Roberts, after seven perfect innings and 80 pitches, took the ace out in order to protect his arm!
While "getting my Vegas on" at FireKeepers Casino and Hotel in Battle Creek, Michigan, you can bet I was watching right fielder Mookie Betts' bat battle pitchers on one of the many huge flat screens in their Dacey's Sportsbook and Tap House.
It was a 10-hour trip on the June day I drove down to Cincinnati to see the Dodgers defeat the heat and the Reds. The Hilton Netherlands Plaza Hotel was walking distance to the Queen City's Great American Ballpark. I even listened to the Los Angeles audio feed on my headphones while I watched the game unfold from right behind the visiting Dodger dugout.
Rich Audio Experience
Though I listened in locations and destinations, part of the magic of radio – and particularly the KLAC Dodger audio feed – is that it transports the imagination to the ballpark of the day. Santiago the fisherman, in Ernest Hemingway's Pulitzer Prize winning novella Old Man and the Sea, wishes he had a radio to hear the results of the "Yankees of New York and the Tigers of Detroit."
To pass the dark hours in the boat, when he could only see the distant glow of Miami or Havana, he imagined baseball games. The Dodger broadcasts of today, especially the ones originating from Dodger Stadium, are so-well mixed by the audio engineers and placement of microphones, the blend of broadcasters and stadium sounds is richly conducted and combined to an orchestral level.
Dieter Ruehle is effectively the Phantom of Dodger Stadium, playing the most distinctive organ in "the bigs." In Hollywood, he effectively scores the games by choosing the songs he selects based on the on-field activities. For instance, as trailing opponents bat their last licks in the ninth inning, Ruehle plays Time to Say Goodbye.
Stadium announcer Todd Leitz plays it straight with his booming voice.
In addition to the in-game presentation for fans in the stands, the audio mix makes for brilliant broadcasting.
Listening on the radio from faraway was like being transported to the ballpark. Having been to Dodger Stadium, I could vividly picture the scene while hearing the broadcast play-by-play and commentary; the organ music; the batters' "walk up songs" (which I came to know by heart); and Leitz's announcement in the background.
Storybook Season Arc
It was Leitz, at the startling, sudden early end to the postseason, not with his voice but rather via Tweet, profoundly stated:
"The capriciousness of baseball is both beautiful and terrible in its ferocity and finality. Thanks to the nearly 4-million fans who came out for this historic season and the millions who followed on tv, radio and streaming."
Listeners like me heard the ultimate finality unfold on the air in the middle of the baseball broadcast on the night of August 2 while the Dodgers played the Giants in San Francisco. Coming back from a commercial break Rick Monday, his professional voice choking, announced the passing of the legendary Dodger broadcaster and his friend Vin Scully. Scully was 94 and, until he retired in 2016, called the games on radio and also television for 64 years.
Monday and play-by-play man Tim Neverett, with heavy hearts, performed professionally with the sadness of life's spontaneity. They managed to call the rest of the game accurately but minimally. Recognizing the gravity of the moment, the experienced Neverett queried Monday about his decades of memories and experiences with Scully and took a phone call from Charley Steiner back in Los Angeles.
The recording of that game should be taught in broadcasting schools as a study in dignity under pressure.
It was pressure and the passing of time for St. Louis slugger Albert Pujols, who'd announced he'd retire at the end of the 2022 season. I happened to be driving, on September 23, past the post-game fireworks outside Coors Field in Denver, on a night in which the Rockies had beaten the Padres. I was listening to Steiner, anchoring the Friday night home game in L.A., where he spontaneously adjusted to the moment and submitted the broadcast to a celebration of the Cardinals' Pujols. Running out of games before retirement to become only the fourth player in history to 700 career home runs, Pujols hit career HR's number 699 and 700 under the Dodger Stadium lights.
"The night belongs to Albert Pujols," Steiner stated generously more than once as the Dodgers fell 11-0.
Home Games
Just as listening to radio while away allowed me to "see and feel Dodger Stadium," being at the ballpark from time to time harkened back to the broadcasts.
When I was lucky enough to find myself in California at Dodger Stadium watching the game in person, I harkened back to the radio listening. I knew, for instance, the broadcast bumper music back after the seventh inning stretch would be a jazzy Latin version of "Take Me Out to the Ballgame."
When I watched a homerun ball fly over the fence, I reflexively heard the voice of Rick Monday in my head telling me about Daniel's Jewelers and how I could pick up a free team bracelet there. Sometimes for fun I would even recite what I could remember of the commercials out loud, which both amused and annoyed Harrison.
"Dad I am not sure about this "super fan status" you have reached is such a good thing," he joked.
Sometimes in Dodger Stadium we'd still share headphones and listen to the radio play-by-play even though, due to satellite technology, it lagged well-behind the actual play on the field.
"It's like hearing instant replay," Harrison remarked.
The radio may have been behind the play, but conversely, Harrison and I were never late to Dodger Stadium for games. My so-called "super fan status" meant, much to Harrison's dismay, that we got through the gates early. I saved $30 in parking if we walked up from a nearby Chavez Ravine-area Street, but the main draw was the atmosphere inside Dodger Stadium is the best happy hour festival in town.
We (or, especially I) enjoyed wandering the food court plaza behind the outfield with its live television stage, walk-up Estrella Jalisco beer bars, picnic seating, and, amidst all of the museum artifacts and a spot underneath the stands where you can virtually stand in centerfield. Tacos and Shake Shack burgers are options, but it seems a Dodger Dog and michelada are the most traditional, local California culinary choices – unless you count California Pizza Kitchen.
"Well, the game doesn't start for an hour. What do we do now?" Harrison asked, shrugging his shoulders like a human emoji.
During pre-game I liked to go down as close to the field as possible (before the ushers start monitoring tickets) between the Dodger dugout and home plate. There is an energy there with on-field television interviews and batting practice and VIP's hanging out in the Southern California sunshine before it sets behind the third-base seats.
Harrison liked seeing the heat, though, when I took him over to the bullpen area to watch the pitcher, Julio Urias, warm up. Harrison stared at the pitcher's action that resulted in 100 mile-per-hour fastballs. He was so curious about it he took me, the next day, to the Castle Batting Cages, in Sherman Oaks, to try hitting even 50 mile-per-hour pitches.
"You're a baseball fan so this will help you have a better appreciation for what you're watching," Harrison said. We left the batting cage with sore hands even after lots of strikes!
At Dodger Stadium we always made sure we bought tickets for the 50/50 charity raffle, and some nights we collected promotions, such as "Mookie Betts Bobblehead Night."
Cultural Infusion
"Mexican Heritage Night" was one of the promotional nights on which we received special Los Angeles jerseys with the colors of the Mexican flag. The mariachi band playing that night, and on other select nights, makes for such a festive, cultural infusion.
I wonder why, in the seventh inning stretch, a second verse of Take Me Out to the Ballgame is not sung in Spanish?
Another of the Mexico-inspired game promotions, Dia de Los Dodgers, on September 20, touched Harrison's heart when I explained its meaning.
"Dia de Los Dodgers echoes the sentiment of Dia de los Muertos, Mexico's Day of the Dead, which is full of prayer and remembrance for friends and family members who have passed," I explained to Harrison, who has studied Spanish. Dia de Los Dodgers was created to honor the spirit of memories of your beloved family member or friend who introduced you to the love of baseball and the Dodgers."
I said to Harrison, "One day you will do this for me."
"Wow," is all he answered.
Turning Out the Lights
The heavily favored Dodgers World Series hopes were muertos after four games of the NLDS thanks to the Padres. The morning after the loss at San Diego, the Los Angeles Dodgers organization issued a statement:
"Although the 2022 season did not end the way we wanted it to, we can't forget all of the incredible moments that took place throughout the year. Dodger Stadium hosted its first All-Star Game in over 40 years, we honored Jaime Jarrín as his remarkable 64-year run as the Spanish voice of the Dodgers came to a close, and we set a new franchise regular season wins record. Sadly, we lost our legendary broadcaster Vin Scully this year as well. In his passing, we were able to celebrate his legacy and the indelible mark he left on the organization. These are memories we will always have."
By listening to an entire season of Dodger baseball I experienced other memorable moments, including play interrupted by drones flying over the field…and a goose landing on the Dodger Stadium field during game two of the NLDS.
"There's a duck sitting in the outfield," Steiner cried out. "And I'm not even kidding!"
There was early season drama when Dodger ace Clayton Kershaw was six outs away from pitching his first perfect game – a baseball rarity – when manager Dave Roberts pulled him from the game to protect his early-season arm after 80 pitches.
Dodger first baseman Freddie Freeman had a tear-filled return to Atlanta for a series against the Braves – the team he'd taken to a World Series win the season before. During free agency negotiation Freeman, a California native, made a financial decision to sign with the Dodgers, but still makes his home in Georgia. Some of his Dodger teammates may, or may not, have felt slighted by Freeman's open homesickness.
Signing Off…
When the Dodgers, down one game to two to the Padres, reached an unlikely elimination game, the Los Angeles Times wrote: The unthinkable might happen. The best team in Dodger history could soon become the most disappointing team in Dodger history."
My radio producer and friend Tony Cuthbert told me he disagreed with the premise. He texted: "No matter what happens, this will have been a very memorable season for you and Harrison."
I'd purchased advance seats for the National League Championship Series for Harrison and I and was ready to pay dearly for World Series tickets if I could, but that NLDS game in Dodger Stadium, in fact, did become that last game of the home season.
And once again, Harrison also gave me perspective.
"The last game we attended was a win. And we also won our run line bet that night. And it was a fun night together," he said.
And radio had brought us together all season.
Dodger broadcaster Tim Neverett, in my radio interview with him, told me people use his Dodger broadcasts differently: "Some follow it very closely," Neverett said. "Some are in it for the analytics. There are some who like it for entertainment. And some who like it for company. Believe it or not some of the younger generation listeners are new to radio and discovering sometimes you can 'see the game' better on radio than you can on television."
Harrison and I used it for father and son bonding, hearing the games, and seeing each other.
Read more on Michael Patrick Shiels' travel blog, The Travel Tattler. Contact Travel Writer Michael Patrick Shiels at [email protected]