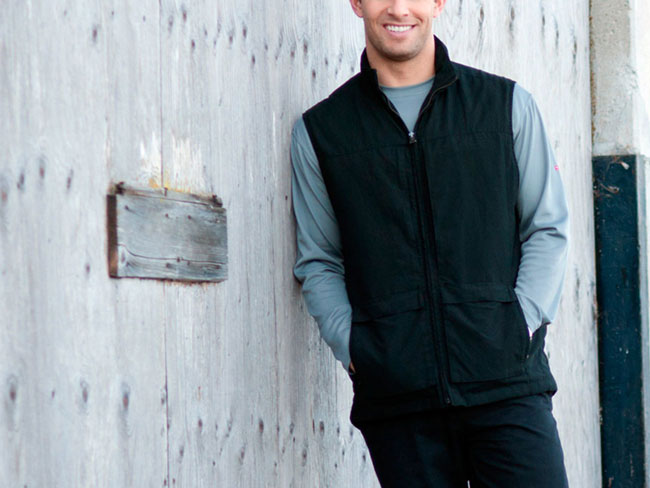 At Go World Travel, we're committed to writing editorially independent reviews of top travel products you can use. If you like our work, you can support us through our chosen links, which earn us a commission.

Review: Q.U.E.S.T. Men's Tech Vest 
I recently got a chance to try out the new Q.U.E.S.T. Men's Tech Vest on a long trip to the Maldives. The vest has 42 pockets — yes, you heard that right — and is technology-enabled, which made it a big plus for a travel geek like me.
Having 42 pockets in one vest means you'll never need a carry-on again. The days of carrying your wallet, spare change, camera, travel documents and more in your backpack are gone. This vest has a pocket for everything and everything has a pocket.
This vest was a lifesaver while we spent 30 hours traveling around the globe. I could easily keep our tickets and passports safe and easily accessible through security, at the gate, and on the plane.
I didn't have to worry about emptying my pockets as I went through security at the airport. With this vest, everything was already in a pocket so I just took the vest off, placed it in a bin and walked on through.
And I didn't have to go digging through a backpack for my iPad, I simply unzipped the front pocket and pulled it out to put in its own bin. It was fun to watch the TSA person's face as the vest went through and the eyes lit up as she realized all the stuff I had in my vest. Give a man 42 pockets and he'll make that thing work.
The vest is comfortable to wear and fits nicely on my frame. I've got big shoulders and a small mid-section and this vest looks good and feels good. While the vest is breathable, I found it to be a little on the hot side if worn constantly during our 30-hour travel day.
It was great to be able to have everything I wanted during our 12-hour flight right in the vest. Instead of having to get into my backpack in the overhead compartment, I was able to have it all right on me. Being an overly organized individual, I liked having my chargers, iPad, headphones all readily available in their own separate pockets.
The RFID-blocking pocket gave me peace of mind knowing that my credit cards and passport were safe from RFID skimmers. Using the Scottevest's Personal Area Network (PAN), I had easy access to my cell phone while running the power cord through the vest to the battery pack in another pocket.
Bonus: I could even keep my water bottle upright in the vest using the water bottle loop.
The vest retails for $175 and is available from SCOTTeVEST. While the vest is tech-friendly, no devices, wires, or battery packs are included. One caution: The product may interfere with pacemakers.